Ask me for a recommendation on a laptop and I'll have over a dozen options loaded and ready to go depending on your needs; but tell me you are looking to spend less than $500 and those options dwindle rapidly. It's not that there isn't anything available at that price range, but there are typically so many compromises that I have a hard time telling you not to just save up a little more to get something really good.
That's why I had some trepidation when the $499 Lenovo Duet 5 Chromebook crossed my desk for review and why I was so ecstatic after less than a day with it as I knew I now had a go-to answer anytime asked me for a laptop under $500. This 13-inch detachable 2-in-1 Chromebook with its dazzling OLED display is better than it has any right to be for its price, which makes it an ideal primary or secondary laptop for a wide range of people.
Let's take a quick look at what makes this my best laptop under $500.
OLED or bust!
There's a lot to recommend about the Lenovo Duet 5 Chromebook, but 13.3-inch OLED touchscreen display is the showstopper. Delivering 85.2% of the DCI-P3 color gamut (compared to the 70% Chromebook average) and an excellent 361 nits of brightness, again destroying the Chromebook average of 270 nits.
The 16:9 panel is a pleasure to watch video on and makes even web browsing a little more colorful. And if you are a photographer, it's 0.22 score on the Delta-E color accuracy test means it's an outstanding reference display for using one of the photoshop alternative for Chromebooks.
Fun with 2-in-1s
At 13.3 inches the Duet 5 is a bit of a handful as a tablet, but the detachable form factor makes it an excellent portable TV to use around the house or use on a flight once you remove the keyboard. The built-in stand on the back allows you to put it at exactly the right viewing angle no matter where you want to watch it.
When you are done the fabric keyboard snaps right back on. While it isn't sturdy enough to use in your lap, the keyboard is outstanding when placed on a desktop. I was able to easily cruise to 85 words per minute typing on it, only 1 wpm off my typical speed. The 4.2 x 2.4-inch touchpad will help you navigate around the display when you don't feel like using the touchscreen.
Battery life for days
The Lenovo Duet 5 Chromebook came up just shy of our laptops with the best battery life with 13 hours and 31 minutes on a single charge. That's only 35 minutes shy of the MacBook Air M2, which weighs an additional 0.7 pounds and costs another $700.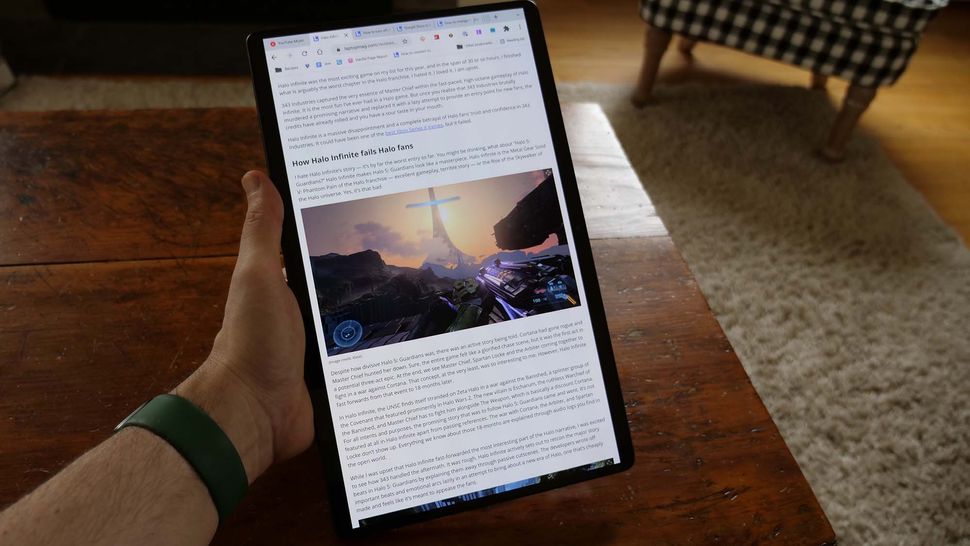 So what's the catch?
I awarded the Duet 5 Chromebook 4.5 out of 5 stars and an Editor's Choice award, but that means it isn't perfect, so what cost it that half point? The performance isn't outstanding.
It's a Chromebook, so you wouldn't assume it's going to take the place of a gaming laptop (although GeForce Now Ultimate might be pretty great on it) or a content creator laptop. However, as long as your use case for a laptop is a pretty common blend of web browsing, productivity work, and content consumption the Duet 5 Chromebook is more than equal to the task. I was able to easily juggle a couple of Google Chrome tabs with two 1080p YouTube videos running while also working in Google Docs and there was no stuttering or slowdowns.
Final thoughts
As I said at the outset, you are going to make some trade-offs if you want to spend under $500 on a laptop, the key with the Lenovo Duet 5 Chromebook to me is that it makes the right trade-offs, while delivering outstanding value in other areas.
The display and battery life are fantastic, easily on par with laptops twice its price. I love the 2-in-1 form factor and the fabric cover feels great and gives it a unique look. That Lenovo managed to make a keyboard cover this thin work as well as it does is similarly mystifying.
As long as you aren't planning to edit video, get into engineering, or game natively on the Duet 5 Chromebook, this laptop should be able to keep up with your needs without blowing your budget. If you're looking for a sub-$500 laptop, congratulations, your search is over.