Quick Menu
1. Quick list
2. Best overall
3. Best budget
4. Best business
5. Best 2-in-1
6. Best gaming
7. Best workstation
8. Best 13-inch
9. Best 16-inch
10. Best Chromebook
11. Choosing the right HP laptop
13. How we test HP laptops
HP is one of the most trusted computer manufacturers around, and that's pretty darn commendable. However, what really earns our respect is its reputation for making some of the industry's best laptops and computers. Over the years we've reviewed an incredible assortment of HP machines, and our list brings together the best of the best when it comes to HP's current offerings.

Our selection spans HP's vast and varied line-up of laptops, so whether you're looking for the premium, executive feel of the awesome Spectre lineup; the pulse-raising gaming potential of the Victus; the brilliant-for-business Dragonfly; or the budget-friendly Pavillion; there's something here for you.

If you know what kind of laptop you want but aren't fully committed to any one brand, then check out our other best picks from a wider selection of devices to get to know the best laptops you should keep on your radar. However, if you're looking to put your faith in one of tech's most trusted, let's check out the best HP laptops of 2023.
Quick list
Best 13-inch
Elegance personified, with enough performance to excite most on-the-go business users. The Spectre line-up houses one of the best 13-inch convertibles thanks to this small and spritely machine.

Read more below
Best 16-inch
A laptop designed to cater to a specific need is great, but a laptop that can do it all is greater. Performance, presentation, and premium build combine to make you the Envy of those around you.

Read more below
Best Chromebook
9. HP Dragonfly Pro Chromebook
HP's Chromebook is more than deserving of the Dragonfly name thanks to its premium design, fantastic performance and stellar webcam. It's a surefire for students and brilliant for business.

Read more below
Best overall
You won't believe the battery runtime on the HP Elite Dragonfly G3! According to our in-house testing, it lasted a whopping 14 hours and 20 minutes. A typical premium laptop lasts about 10 hours, so we were pleasantly surprised to see that the Elite Dragonfly G3 surpassed that threshold by more than four hours.
The Elite Dragonfly G3 is packed with 12th Gen Intel Core i5 and i7 processors, at least 256GB of SSD storage, and a minimum of 16GB of RAM. The cheapest configuration is about $1,900, but the total could climb to $4,000 if you need 32GB of RAM, 1TB of SSD storage, 5G support, and a 12th Gen Intel Core i7 vPro processor.
Best of all, the Dragonfly G3 actually has a good webcam. It has a 5MP shooter, which is a step above the 720p and 1080p webcams that continue to plague the laptop market.
See our full HP Elite Dragonfly G3 review.
Best budget
The HP Pavilion 14 isn't the type of sexy powerhouse that will change your life. However, it is a stable everyday performer that won't blow your budget and will keep you pushing documents out at a good clip. It ticks off a lot of the boxes for students and workers participating in remote or in-person learning.

At $549.99, the Pavilion offers an attractive, affordable laptop with solid performance for day-to-day document pushing and content viewing.

Its combination of performance, lightweight, and budget price is very hard to beat, making it an excellent choice for those on a budget who only need a laptop to handle the basics and enjoy some content.

See our full HP Pavilion 14 (2022) review.
Best business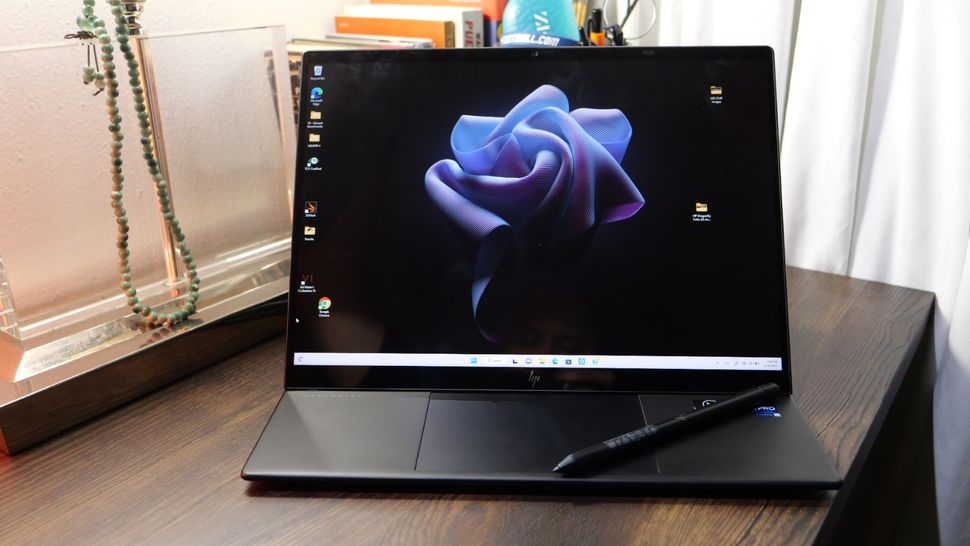 Business doesn't have to mean boring — a case HP have stated in full with the Dragonfly Folio G3. With its soft, faux-leather lid, ultraportable frame, and black slate design, HP's fantastic 2-in-1 laptop oozes executive style. It's premium build is noticeable from every angle, but the parts you can't see are by no means any less impressive.

Our review unit was outfitted with a 12th Gen Intel Core i7 processor — tuned for performance and efficiency, 16GB of RAM, a speedy 512GB SSD, and Intel Iris Xe graphics. The combination of which results in a machine that can might light work of the heaviest of jobs.

Rounding the Dragonfly Folio G3 out as one of the best business laptops on the market is the inclusion of a crystal-clear 13.5-inch touchscreen display; a well performing backlit keyboard with a sizable 4.6 x 3.2 inches touchpad; and an 8MP, 100-degree field-of-view webcam that delivers phenomenal pictures for video calls and conferencing.
See our full HP Dragonfly Folio G3 review.
Best 2-in-1
The question is: does the HP Spectre x360 16 with its 12th Gen Intel CPU measure up to what Intel's latest 13th Gen processors can offer? Absolutely. The Spectre still exceeds what it takes to be a premium 16-inch, 2-in-1 laptop that's more than worth considering.

HP's take on a 16-inch convertible laptop already impressed with a premium form factor and dazzling OLED touch screen, and now it's taken it a step further by bringing decent performance, too.

Again, the 2-in-1 laptop is an added bonus. for those that enjoy a sizable tablet — one that can be used with HP's added Rechargeable Tilt Pen — it does a fine job.

If you're after a 16-inch 2-in-1 laptop with a premium design, look no further.

See our full HP Spectre x360 16 (2022) review.
Best gaming
'Budget-friendly' and 'gaming laptop' aren't two things you often find in the same sentence. However, HP's Victus line-up of laptops focused on delivering laptops perfectly fitting of both descriptors. The Victus 15 is one of those laptops, and while it won't satisfy the thirst of those with ray-tracing in mind it absolutely has its own audience.

AAA titles aren't everyone's cup of tea, if you're a fan of the golden oldies, emulating the classics, or consider yourself something of an indie gaming connoisseur then this is the laptop for you. The Victus' Nvidia GTX GeForce 1650 graphics are by no means top of the line anymore, but it sure beats attempting to game on integrated Intel Iris Xe, or AMD Radeon graphics GPUs.

If you think the Victus' GPU is an indicator of an inferior machine, think again. The Victus 15 actually houses an Intel Core i5-12450H processor, 8GB of RAM and 512GB of SSD storage. That alone is a pretty impressive amount of 'oomf' to find in a machine of its price-range.

See our full HP Victus 15 review.
Best workstation
As if you needed another reminder that we live in the future, meet the monstrous HP ZBook Fury 17 G8, a workstation laptop that simply doesn't know the meaning of "overkill."

It can come fully loaded with an Intel Xeon W-11955M CPU (+$1,239), discrete Nvidia RTX A5000 graphics (+$3,147), a 3840 x 2160 LED touchscreen display (+$483), 64GB of RAM (+$820), a 1TB SSD (+$365), and a few other bells and whistles, jacking the price all the way up to $6,421 total.
Granted, you don't have to shoot for the moon as you're spec'ing out your config; there are ten different Intel Core i5, i7, and i9 processors to choose from, not to mention six different Nvidia cards. Is the HP ZBook Fury 17 G8 the best workstation on the market? I suppose that depends on your budget and configuration, but if your pockets are deep enough for an Intel Xeon processor and Nvidia RTX A5000 graphics (boy howdy!), this is about as future-proof as laptops get right now.

See our full HP ZBook Fury 17 G8 review.
Best 13-inch
The latest edition of the HP Spectre x360 13.5 easily earns our Editors' Choice badge due to it being the premium 2-in-1 laptop to beat. Its elegant, sturdy design, boasting a fine chrome diamond cut look, belongs on a runway.
The Spectre x360 13.5 features solid performance thanks to its strong 12th Gen Intel Core i7 processor, and while it may not dish out the fastest processing speeds we've tested, it still delivers superb document-pushing power. Even better, its dazzling OLED touchscreen with a 3:2 aspect ratio is wonderful to devour video content on.

It easily takes a spot in our list of best 2-in-1 laptops, and if high style and substance are your thing, you'll want to check this Spectre x360 13.5 out.
See our HP Spectre x360 13.5 (2022) review.
Best 16-inch
The HP Envy 16 is a stellar premium laptop for work, personal use, or even casual gaming.

Inside, you'll find powerful specs to match the sleek aluminum chassis, giving this laptop all-around premium vibes. There's a 12th Gen Intel Core i9 CPU, an incredible 32GB of RAM, 2TB of storage, and an Nvidia GeForce RTX 3060 GPU with 6GB of VRAM that can run new games with ease. Of course, beefy specs are nothing without a gorgeous display, but lucky for you, the HP Envy 16 checks that box, too, with its stunning 16-inch, 4K OLED display.

The HP Envy 16 packs all kinds of power and performed swimmingly on most of our tests, even when it came to playing video games. As long as you expect some fan noise and know that your games won't run well at 4K — which shouldn't really be a surprise to anyone who plays video games on a laptop — the Envy 16 is perfect for casual gaming.

See our full HP Envy 16 review.
Best Chromebook
Blurb

See our full HP Dragonfly Pro Chromebook review.
Choosing the right laptop
As one of the top laptop brands, HP has a laptop for every occasion, from premium business laptops to budget-friendly Chromebooks. That extensive selection might make it tough to decide which laptop is right for you, so here's a handy guide to the various model lines offered by HP.
Spectre: Premium, lightweight designs that offer portable power and beautiful displays are hallmarks of HP's best model line.
Envy: If attractive design, vibrant displays and premium audio are your focus, HP's line of Envy laptops has style to spare.
Elite Dragonfly: HP's new premium business laptop, the Elite Dragonfly series sports a stunning, premium design that's both durable and lightweight. Expect the latest, top-of-the-line features and components, along with a sky-high price to match.
EliteBook: HP's business laptops, with IT support, strong performance and premium designs. For better portability, the thin-and-light EliteBook Folio is the name to look for. If you go with this line, be sure to check out our 5 essential accessories for EliteBooks.
ProBook: For business-capable laptops without the premium price tag, the ProBook line delivers no-nonsense designs and performance for everyday office productivity.
ZBook: For professionals needing workstation-class performance, HP's ZBooks offer all the power you need, along with robust security and rugged designs.
Notebook: If HP's "Notebook" line sounds generic, that's because it is, but these simple designs offer everyday performance that won't break the bank.
Pavilion: For a happy medium between the bland, budget-friendly "Notebook" line and HP's premium Envy laptops, look no further than the affordably-priced Pavilion. These mid-range laptops come in all shapes and sizes, but all offer decent performance with solid feature sets.
Omen: HP's gaming brand, Omen laptops have a bit more pizazz and a lot more graphics power, delivering a decent gaming experience for (relatively) reasonable prices.
Stream: For a Chromebook-style laptop that still offers WIndows, check out HP's brightly colored, ultra-budget Stream laptops.
Chromebooks: Ranging from $200-500, the HP Chromebook line offers Google's Chrome OS in several well-made laptops.
How we test laptops
We put HP laptops through extensive benchmark testing -- both synthetic and real-world -- before they end up in the hands of our reviewers. We evaluate everything from speed and battery life to display brightness, speaker volume and system heat.
We use a Klein K10 colorimeter to detect the brightness and sRGB color gamut of a laptop's display. For performance benchmarking, we run the laptop through a gauntlet of benchmarks, including Geekbench 4.3 and 5.0 and 3DMark professional graphics tests.
To determine real-world performance, we task the laptop to convert a 4K video to 1080p resolution and to duplicate a 4.97GB multimedia file. Our real-world graphics test is the Dirt 3 benchmark with medium settings and 1080p resolution.
We also run heat tests by playing a 15-minute full-screen video and our battery test consists of continuous web surfing over Wi-Fi at 150 nits of brightness. We consider everything over the category average (8 hours and 36 minutes) to be a good result. Of course, these tests are complemented with hands-on testing from our reviewers.