The best laptops under $1,000 in 2023
These are the best budget laptops for your wallet
QUICK LINKS
1. The list in brief
2. Best Windows laptop
3. Best gaming laptop
4. Best Chromebook
5. Best MacBook
6. Best battery life
7. Best OLED laptop
8. Best 14-inch laptop
9. Best premium Chromebook
10. How to find the right laptop
11. How we test
12. Why trust Laptop Mag
The best laptops under $1,000 will offer spectacular performance, impressive battery life, and portability without breaking the bank. What does this mean? Getting a fantastic notebook doesn't have to cost you an arm and a leg. With Black Friday and Cyber Monday deals behind us, do not fret; you can still find one of these laptops on sale this holiday shopping season.

Depending on who you are and what you need, there are some features you'll be willing to sacrifice — others, not so much. For example, you should be fine with a lower-end CPU if you need a laptop for casual web surfing and productivity apps. However, if you're constantly on the move and use your laptop outdoors, you may be unable to sacrifice a screen with high brightness or a computer with good battery life.

That said, there are plenty of brilliant sub-$1,000 options, whether you need a business laptop for working on the go, a gaming laptop that lets you fold on a budget, or a 2-in-1 laptop that allows you to transform your computer into a tablet. Check out the best gaming laptops under $1,500 if you're after something with more power.

The more some things change, the more that others stay the same. You may notice a lot of movement in our top rankings as we warmly welcome the HP Dragonfly Pro Chromebook to the bottom of the charts. As a Google Pixelbook sequel in all but name, we're huge fans of its webcam, audio, performance, and ultra-premium stylings for under a grand.
Alongside that, we were floored by the Lenovo ThinkBook X13s as an ultraportable workhorse with a perfect battery, and the Dell G16 is arguably the best big-screen gaming value you can get!
Meanwhile, you may notice a couple of old timers that can still hold their own amongst our picks. Trust me, we're also stunned at just how well the M1 MacBook Air holds up over two years later — it is seriously still that good!
As we approach the end of the year and prepare for all the new laptops we will learn about at CES2024, our best laptops under $1,000 may see some rapid changes. This is partly due to Chromebook Plus laptops gaining potency and a slew of new Windows-based laptops we expect to see in the upcoming weeks. 2024 is going to be a fascinating year for laptops.
The Quick List
Best Windows Laptop
Best Windows laptop
The Envy 13 is HP's direct competition to the Dell XPS 13, and you can see a lot of this ultrabook DNA exist in its sturdy, utilitarian, understated build quality, hiding the pure capability of its power under the hood.
Best Gaming Laptop
Best gaming laptop
Looking to get into PC gaming on a budget? The Dell G15 is a fantastic way to get into it — packing a 12th Gen Intel Core i7 and RTX 3050 Ti graphics and packing it all into a sleek, sturdy chassis with a big, bright display.
Best Chromebook
3. Acer Chromebook Spin 714
Best Chromebook
The Spin 714 is a prodigious, potent, productive 2-in-1 Chromebook, which packs an Evo-certified Intel Core i5-1235U chipset, a vivid 14-inch WUXGA touchscreen on a 360-degree hinge, and a sturdy, stylish build quality.
Best MacBook
4. Apple MacBook Air (M1, 2020)
Best MacBook
The M1 MacBook Air is still impressive to this date — offering impressive performance that still stands up to competition to 2023, incredible battery life, and an ultra-premium aluminum unibody construction. Plus, it's getting more and more affordable by the day.
Best Battery Life
Best battery life
Are you always on the go with your work? The Lenovo ThinkPad X13s is the perfect option for you. The ARM internals are capable of keeping most multitasking productivity running smoothly, while offering a mind-blowing 15 hours of battery life!
Best OLED Laptop
6. Asus Zenbook 14 OLED UM3402Y
Best OLED laptop
Not only does the Asus Zenbook 14 pack a gorgeous OLED display, but its 11-hour + battery life ensures longevity on the go. With a light frame and a low cost, this is a great pick.
Best 14-inch Laptop
Best 14-inch laptop
The 2022 HP Pavilion 14 gets the formula for a 14-inch laptop just right with a lightweight, sleek design, impressive thermal management for its Intel Core i7-12700H to run without throttling, and a colorful display — all for an affordable price.
Best Premium Chromebook
Best Premium Chromebook
For those who want an uber luxurious Chromebook experience, the HP Dragonfly Pro is where it's at. From the crisp and colorful display and strong performance, to a gorgeous webcam and metal design that screams "premium."
Best Windows Laptop
Best windows laptop under $1,000
Specifications
CPU:
Intel Core i5-1135G7
Display:
13.3-inch, 1080p touchscreen
Size:
12.1 x 7.7 x 0.7 inches
Reasons to buy
+
Bright, vivid display
+
Attractive design and clicky keyboard
+
11+ hours of battery life
Reasons to avoid
-
Plastic touchpad
-
No IR camera option
HP addressed almost every shortcoming of the previous Envy 13, a laptop that already had very few faults. The latest model introduces a Thunderbolt 4 port and slims down the display bezels, resulting in a modern, compact design.

Everything else about the Envy 13 is either better or as good as it was before. The 1080p display is bright and vivid, the keyboard is a joy to type on, and you still get a Thunderbolt 4 input along with two USB Type-A ports for connecting mice, keyboards or webcams. Bringing an 11th Gen Intel CPU onboard has improved a winning formula. Our Core i5 model impressed in real-world and benchmark tests, and the Envy 13 lasted for almost 11 hours on a charge.

The Envy 13 gets you a nearly flagship-level laptop at a not-so-flagship price.

See our full HP Envy 13 (2021) review
Best Gaming Laptop
Best gaming laptop under $1,000
Specifications
CPU:
Intel Core i7-12700H
GPU:
NVIDIA GeForce RTX 3050 Ti
Display:
15-inch 165Hz IPS (2560 x 1600)
Dimensions:
14.1 x 10.7 x 1.1 inches
Reasons to buy
+
Impressive gaming performance
+
Phenomenal for productivity
+
Decent display brightness
Reasons to avoid
-
Mediocre battery life
-
Runs hot during gaming
With a Intel Core i7-12700H processor, Nvidia GeForce RTX 3050 Ti graphics card, 16GB of RAM, and a 512GB SSD, the Dell G15 is a quality 15-inch gaming laptop that doesn't cost a fortune.
We're not going to pretend this thing is a miracle, but its performance metrics are pretty impressive considering it managed to survive decently against its more expensive competitors without falling too far behind. It's also important to keep in mind the RTX 3050 Ti GPU has 4GB of VRAM, which means you will be limited to how high you can set your graphic settings.
But the Dell G15's greatest strength is that its productivity performance outclasses every other gaming laptop on this list. With a Geekbench 5.4 score of 12,043, this makes a phenomenal pick for anyone who needs a laptop that isn't expensive while also good at both work and play.
It's far from perfect, however. The Dell G15's abysmal color depth is my biggest pet peeve personally, as any and all gamers deserve to see the hues of the environments, characters and effects represented with as much depth and accuracy as possible. But the laptop falls behind competitors, reproducing only 75.3% of the DCI-P3 color gamut, which means you won't be wowed by this screen.
Other flaws include mediocre battery life at only four hours in non-gaming mode, weak speaker system that emits each sound at a muffled consistency, and a chassis that runs a little too hot during gaming sessions.
See our full Dell G16 review.
Best Chromebook
Best Chromebook under $1,000
Specifications
CPU:
12th Gen Intel Core i5-1235U
RAM:
Intel Iris Xe graphics
Display:
14-inch 1920 x 1200 (WUXGA) touchscreen
Dimensions:
12.3 x 8.8 x 0.7 inches
Reasons to buy
+
Bright, colorful display
+
Speedy performance
+
Excellent design
+
Great keyboard and stylus combo
Reasons to avoid
-
Speakers could be better
Acer's Chromebook Spin 714 is the best Chromebook of 2023. It's a prodigious, potent, productive 2-in-1 Chromebook with subtle chrome accents that give it a hint of posh curb appeal.
This Intel Evo-certified laptop comes with an Intel Core i5 1235U processor, Intel Iris Xe integrated graphics, 8GB of RAM, and 256GB of storage — the Spin 714 is not your garden-variety Chromebook.
It's a super portable, productivity-focused laptop meant for doers, whether they're a student, a teacher, or remote worker.
Read our full review of the Acer Chromebook Spin 713.
Best MacBook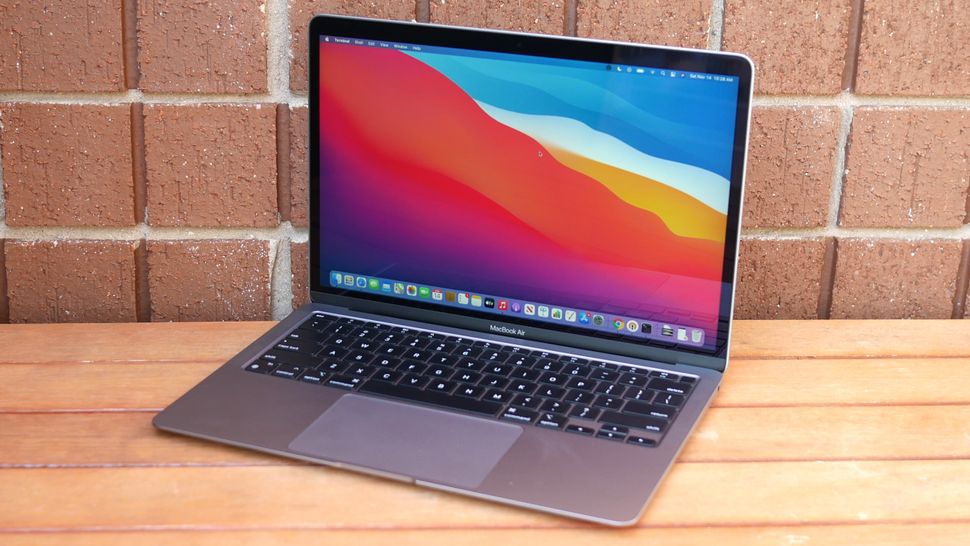 Best MacBook for under $1,000
Specifications
Display:
13.3-inch, 2560 x 1600-pixel
Size:
11.9 x 8.4 x 0.6 inches
Reasons to buy
+
Breathtaking performance
+
Outstanding battery life
+
Slim unibody aluminum chassis
+
Great speakers and Magic Keyboard
If you prefer macOS to Windows 10, then go with the Apple MacBook Air. The biggest improvement to this year's model is the new M1 chip, which delivers outstanding performance and excellent battery life, making the new MacBook Air the fastest ultrathin laptop ever.

Apple's powerful M1 MacBook Air makes the cut thanks to its brilliant $999 price tag. Even better, you'll find plenty of deals knocking down that price even lower. You get unrivaled performance along with 14 hours and 41 minutes of battery life. This is a combination you'll only find from the very best Windows 10 laptops, and even they can't compete in head-to-head performance.

Apple's least expensive 13.3-inch model is also its most portable, coming in at only 0.6 inches thick and 2.8 pounds. It's one of the best college laptops around, and for those looking to spend just under $1,000, you're in for a treat.

See our full Apple MacBook Air (M1, 2020) review
Best Battery Life
Best battery life under $1,000
Specifications
Display:
13.3-inch (1920 x 1200)
CPU:
Qualcomm Snapdragon 8xc Gen 3
Reasons to buy
+
Outstanding battery life
+
Good webcam performance
+
Keyboard is top notch
Reasons to avoid
-
Windows on ARM software incompatibilities
-
Lack of OpenGL support
With people returning to the office and traveling for work again the lightweight Lenovo ThinkPad X13s is perfectly positioned to take center stage in this new hybrid-work landscape.
This portable workhorse is an ideal travel companion thanks to its exceptional battery life (over 15 hours), 5G connectivity, and ability to meet your daily document-pushing needs. The built-in webcam and 3-mic setup are excellent as well, but there are some caveats you need to consider.
Namely, from a performance perspective, it is merely average, and the ARM architecture does mean there are some Windows software compatibility issues, as well as a lack of OpenGL support.
If you can work around those, this is an ideal portable with stamina to match even the most hardcore of travelling schedules.
See our full Lenovo ThinkPad X13s review.
Best OLED Laptop
6. Asus Zenbook 14 OLED UM3402Y
Best OLED laptop under $1,000
Specifications
Display:
14-inch, 2880 x 1800, OLED, 16:10, 90Hz
Size:
12.35 x 8.69 x 0.67 inches
Reasons to buy
+
Stunning, colorful 14-inch OLED display
+
Excellent audio
+
Lightweight
+
Battery life
+
Sturdy, gorgeous design
The Asus Zenbook 14 OLED creates a happy medium between cost efficiency and a gorgeous display. This is an ideal machine for movie or TV show fanatics who refuse to settle for an inferior screen. Boasting a phenomenal 14-inch, 2880 x 1880-pixel display with 346 nits of brightness.
And for just $869, it packs an AMD Ryzen 7 7730U processor, AMD Radeon Graphics, 16GB of RAM, and a 512GB SSD. Beyond having great specs, its 11 hours and 13 minutes of battery life mean it'll make an excellent accessory to bring along on trips.
See our full Asus Zenbook 14 OLED UM3402Y review
Best 14-inch Laptop
Best HP laptop for affordability
Specifications
Display:
14-inch FHD (1920 x 1080)
Size:
12.8 x 8.53 x 0.67 inches
Reasons to buy
+
Lightweight
+
Solid performance (for the price)
+
Runs cool
Reasons to avoid
-
Below-average battery life
The HP Pavilion 14 isn't the type of sexy powerhouse that will change your life. However, it is a stable everyday performer that won't blow your budget and will keep you pushing documents out at a good clip. It ticks off a lot of the boxes for students and workers participating in remote or in-person learning.

At $549.99, the Pavilion offers an attractive, affordable laptop with solid performance for day-to-day document pushing and content viewing.

Its combination of performance, lightweight, and budget price is very hard to beat, making it an excellent choice for those on a budget who only need a laptop to handle the basics and enjoy some content.

See our full HP Pavilion 14 (2022) review
Best Premium Chromebook
Best premium Chromebook under $1,000
Specifications
Display:
14 inch, 2K LCD Touchscreen (2560 x 1600)
Reasons to buy
+
Great webcam
+
Crisp and colorful display
+
Sturdy, sleek metal design
+
Excellent audio
Reasons to avoid
-
Less than 10 hours of battery life
Thanks to Google's heavy involvement during the development of the HP Dragonfly Pro Chromebook, you get the feeling this is a glimpse at what the next Pixelbook could've been. Thanks to its potent Intel Core i5 CPU and a generous 16GB of RAM, this beast can handle just about any task you set before it — except tasks that require a potent GPU.
However, suppose you're like many people working in the new norm of at least partially remote. In that case, it's a great option to slip into your bag and lug back and forth thanks to being lightweight and capable of handling your daily document-pushing in Google Workspace with ease.
See our full HP Dragonfly Pro Chromebook review.
How to choose the best laptops under $1,000
When shopping for one of the best laptops under $1,000, there's an awful lot to consider. Here's a good breakdown of how to find the best laptop for you.
What's your budget?
Sure, you can find some diamond-in-the-rough Windows laptops and high-quality Chromebooks for under $500, but you may have to deal with a low-performing CPU or a poor multitasker. If you're a light laptop user, those will be OK, but if you need something more powerful, you may want to aim higher — the best mainstream laptops typically cost more than $700. If you can, we suggest aiming for the $700 to $900 range.
Do you want a 2-in-1 or a clamshell?
If you enjoy the awesomeness of converting your laptop into a tablet, 2-in-1 laptops are a good choice. Just keep in mind that most times, you'll be able to get a lower price and stronger-performing features with a traditional laptop.
How much battery life do you need?
If you're on the go, you're going to need to make sure you snag a laptop that lasts more than 10 hours. But if you're a homebody or you're tied to your desk all day, perhaps you can sacrifice some battery life and save some money in the process. Check out our laptops with the best battery life list.
What specs do you need?
Aim for a Core i5 CPU if you want decent performance. Memory and storage, you should aim for 8GB of RAM and a 256GB SSD. As far as display, don't get anything less than a 1080p screen — your eyes will thank you later.
You can spend a lot of time delving into specs, but here are the key components to think about. If you just want really good mainstream performance, go for a Core i5 CPU, 8GB of RAM, a 256GB SSD, and a 1080p screen.
Gamers and content creators will likely want a laptop with discreet graphics, but finding a high-performing GPU under $1,000 might not be an easy task.
How we test the best laptops under $1,000
We put each laptop through extensive benchmark testing — both synthetic and real-world — before they end up in the hands of our reviewers. We evaluate each aspect of the laptop, including its performance, battery life, display, speakers and heat management.
In our benchmark testing, we use a Klein K10 colorimeter to detect the brightness and sRGB color gamut of the laptop's display. For performance testing, we run the laptop through a gauntlet of benchmarks, including Geekbench 4.3 and 5.0 and 3DMark professional graphics tests.
To determine real-world performance, we task the laptop to convert a 4K video to 1080p resolution and to duplicate a 4.97GB multimedia file. Our real-world graphics test is the Dirt 3 benchmark with medium settings at 1080p resolution.
We also run heat tests by playing a 15-minute full-screen video and measuring temperatures in different areas of the laptop. Last but not least, our battery test consists of continuous web surfing over Wi-Fi at 150 nits of brightness. For MacBooks and premium Windows 10 laptops, a runtime of over 9 hours is considered a good result whereas gaming laptops and workstations that can stay powered for longer than 5 hours deserve praise.
These tests are complemented with extensive hands-on testing from our reviewers who critique everything from the laptop's materials to the feel of its touchpad.
Why Trust Laptop Mag
Laptop Mag reviews over one hundred different laptops every year, from paperweight ultralights to everyday workhorses to lumbering gaming notebooks that scorch the frame rates of even the hottest AAA games. We're not just experts in the laptop field, as we go one step further by meticulously testing smartphones, tablets, headphones, PC accessories, software, and even the latest in gaming.
We are 100% independent and have decades of experience to help you buy with confidence. In fact, Laptop Mag has been testing and reviewing products for three decades, and we continue to deliver trustworthy reviews you can rely on.
Our experienced team of writers and editors scour the available information about the laptop and put it through its paces to determine which is best for you. But before they start, the testing team subjects each system to a rigorous regimen of synthetic and real-world tests to see how a system handles the type of work and games you're most likely to throw at it.
Our editorial trustworthiness is enforced by one of the world's largest technology publishers, Future Publishing. As a company, we have unrivaled experience across every tech sector — and we're the group's specialist for all things mobile tech.