Best touchscreen laptops in December 2023
The best touchscreen laptops we've tested
The best touchscreen laptops are a must have for anyone who enjoys working with a screen directly. These are highly responsive to your touches, support stylus input for taking notes or drawing, and as a cherry on top, we prioritize the ones that treat your eyes to vibrant and bright panels.
Sure, Black Friday might be over now, but it doesn't change that December is rolling around and it's still a great time to purchase a new touchscreen laptop. And when it comes to our favorites, we want to unshackle you from the confines of your keyboard and touchpad with immersive, interactive displays.
Traditional laptops with touchscreens are great, but if you really want the full benefits of touch support, buy one of the best 2-in-1 laptops. And if you're a student, check out our list of the best college laptops. If you're not certain you'll need a touch screen, then check out our best laptops page, which includes non-touch models.
The Quick List
Best Dell
7. Dell Inspiron 16 2-in-1
Best Dell
Dell has a swath of touchscreen displays, but the one laptop that caught our eye is the Inspiron 16 2-in-1. Not only did it wow us with its incredible 14-hour battery life, but it also has a decent 16-inch 1920 x 1200-pixel display that will meet your needs. As mentioned, it's a 2-in-1, so that means you can bend it into a number of different postures.
Best overall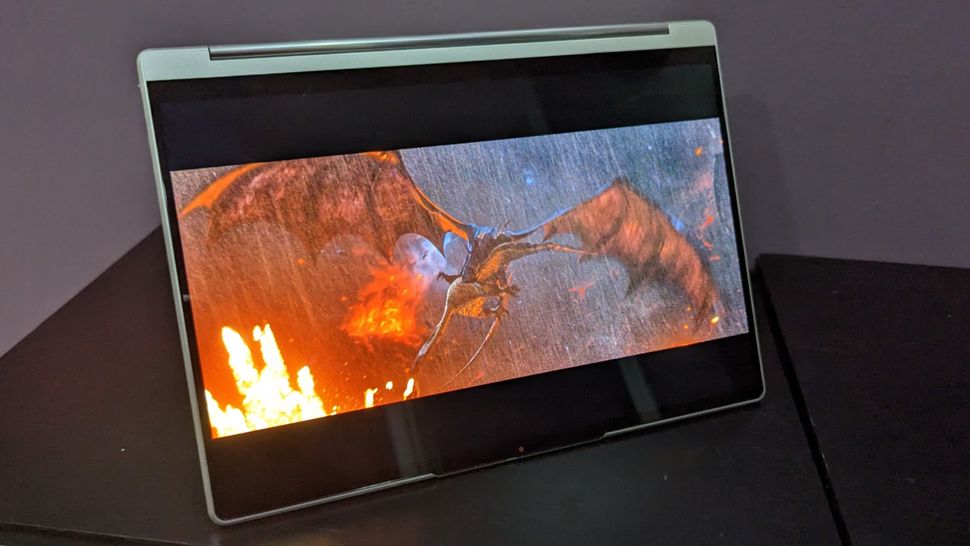 The best touchscreen for most people
Specifications
Display:
14-inch, OLED,1880p
Size:
12.5 x 9.1 x .6 inches
Reasons to buy
+
Stunning 2.8K OLED display
+
Great productivity performance scores
+
Amazing battery life
Reasons to avoid
-
Display could be brighter
Not many laptops earned our prestigious Editor's Choice badge this year, but the Lenovo Yoga 9i 2-in-1 managed to snag one. This touchscreen beauty won our hearts with its slick, sharp and attractive 14-inch vibrant OLED display. It lasts quite long on a charge, too, delivering a battery runtime of 10 hours. Its SSD is extremely fast, and it offers top-of-the-line performance for anyone seeking seamless productivity for work or school.
Lenovo's 2-in-1 is a classy touchscreen laptop with tons of potential in the right hands. Whether you're using in in tablet mode or as a traditional laptop, the Yoga 9i is a fantastic all-around option capable of suiting almost anyone.
See our full Lenovo Yoga 9i review.
Best Chromebook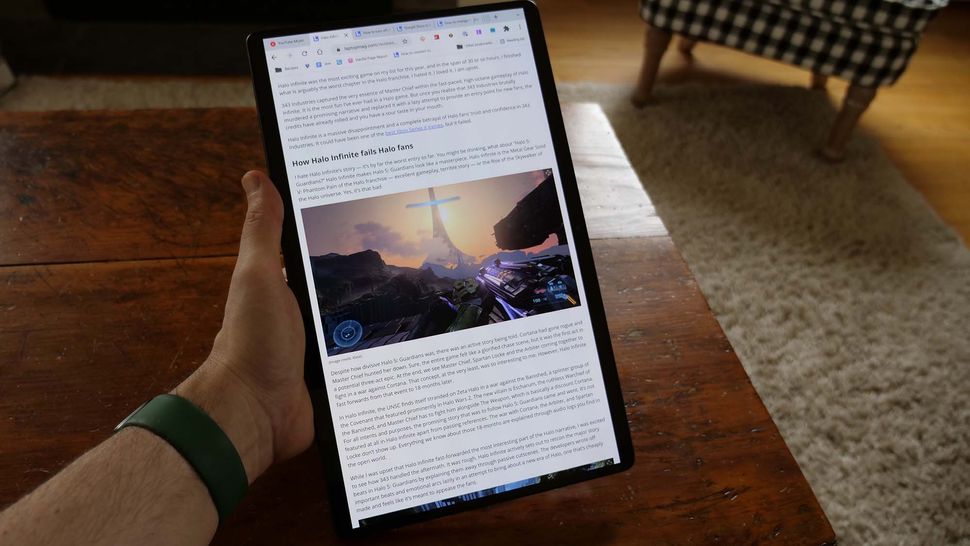 Best Chromebook
Specifications
CPU:
Qualcomm Snapdragon 7c Gen 2
Display:
13.3-inch, 1920 x 1080-pixel
Size:
12 x 7.4 x 0.28 inches
Weight:
2.24 pounds with keyboard
Reasons to buy
+
Awesome battery life
+
Detachable, 2-in-1 design
+
Bright, vivid OLED display
+
Keyboard and cover included
There's a reason why we called the Lenovo Duet 5 Chromebook a "near-perfect" laptop in our review. It has a spectacular OLED touchscreen display, a compact detachable 2-in-1 design, and comes with a cover and keyboard. As a cherry on top, it lasts more than 13 hours, so you don't have to be tethered to an outlet all day, whether you're a busy worker bee or a student.
The only downside is that if you want the stylus paired with this Chromebook, you'll have to purchase it separately, but it's well worth the purchase and opens a new way to interact with your device, especially when in tablet mode if you're a fan of digital art of jotting notes instead of typing.
See our full Lenovo Duet 5 Chromebook review.
Best 14-inch convertible
Best 14-inch convertible
Specifications
CPU:
12th Gen Intel Core i5/Core i7
Display:
13.5-inch, 1920 x 1280-pixels IPS or 3K2K OLED
Size:
11.7 x 8.7 x 0.67 inches
Reasons to buy
+
Striking, luxurious design
+
Gorgeous OLED and FHD display options
+
Decent battery life
+
Comfortable keyboard
The Spectre x360 14 is one of the best 2-in-1 laptops ever. This 13.5-inch model builds upon its predecessors, but adds useful new features, including 12th Gen CPUs. Highlights of this laptop include a stunning design, bright and vivid 1920 x 1280-pixel IPS and 3K2K OLED display options, epic 10+ hour battery life and fast overall performance.
Add to that a generously sized touchpad that is silky to the touch as well as a comfortable keyboard, excellent security options (fingerprint sensor and facial recognition), and a good selection of ports, and well, it's easy to see why we like this laptop so much.
We recommend buying the Spectre x360 14 over the Envy 13 if you have the money, especially if you need the flexible design. In fact, the Spectre x360 14 is the best laptop if you want a convertible notebook, period.
See our HP Spectre x360 14 review
Best 16-inch convertible
Best 16-inch convertible
Specifications
Display:
15.6-inch AMOLED, 1080p
Size:
14 x 9.93 x 0.5 inches
Reasons to buy
+
Sleek, ultra-lightweight design
+
Drop-dead gorgeous display
+
Comfortable typing experience + huge touchpad
+
Surprisingly good webcam and speakers
+
S Pen included
Reasons to avoid
-
Underwhelming screen brightness
-
Battery life fell off from previous gen
-
No S-Pen silo
Looking for a touchscreen 2-in-1 that is perfect for your content creation and digital artistic needs? Stop looking right now. The Samsung Galaxy Book 3 Pro 360 fits the bill. First of all, it ships with the beloved S Pen, the stylus that is one of the biggest selling points for the Samsung Galaxy S-series flagship phone line. Now, you can use that stylus to take notes and draw with precision on the Galaxy Book 3 Pro's 360 display.
It also has a sweet, vivid, 15.6-inch AMOLED, 1080p display. It also outputted outstanding performance in our benchmarks, outpacing its rivals. Our only serious complaint is that the battery life has fallen off since last year, but overall the Galaxy Book 3 Pro 360 remains an outstanding option for artists or anyone looking for a solid big-screen 2-in-1 with stylus support.
See our full Samsung Galaxy Book 3 Pro 360 review.
Best Acer
Best Acer
Specifications
CPU:
MediaTek Kompanio 828 ARM Cortex A76
Storage:
64GB of flash memory storage
Display:
14-inch FHD (1920 x 1080) IPS touchscreen
Size:
12.7 x 8.9 x 0.7 inches
Reasons to buy
+
Record-breaking battery life
+
Inexpensive
+
Decent performance
Whoa! Can we talk about the battery life on the Acer Chromebook 514 for a second? On the Laptop Mag battery test, which involves the laptop surfing the web over Wi-Fi at 150 nits of brightness (until it taps out), the Chromebook 514 lasted a shocking 14 hours and 8 minutes on a single charge!
The average Chromebook lasts about 9 or 10 hours, so imagine our surprise when we saw Chromebook 514's results. On top of stellar battery life, the Acer Chromebook 514 has excellent good speakers for a sub-$500 laptop, so you can enjoy Spotify, Netflix, and other entertainment apps with decent-sounding audio. It also has a simple, pleasant aesthetic that will fit in any environment. Plus, it's performance is pretty good, too. And best of all, it won't break the bank.
See our full Acer Chromebook 514 review.
Best design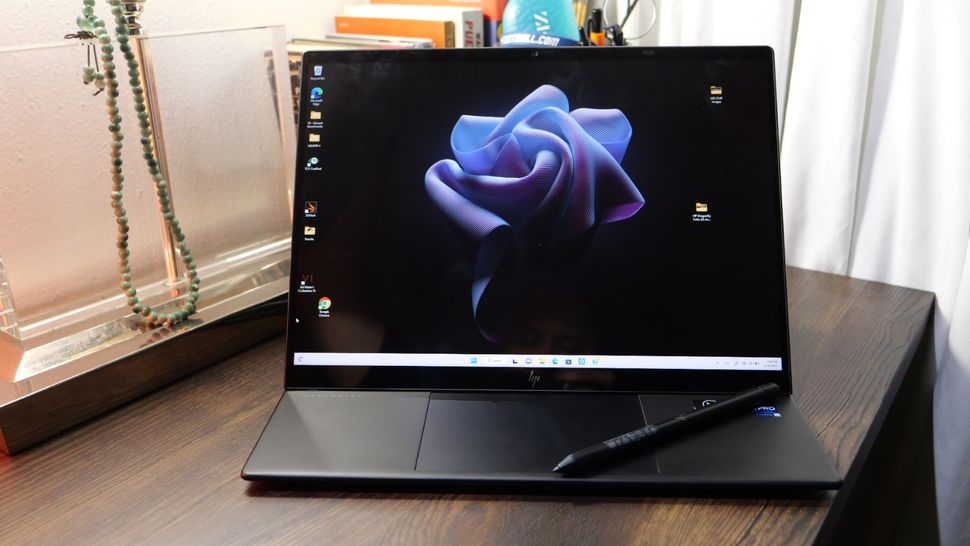 Best business
Specifications
GPU:
Intel Iris Xe Graphics
Display:
13.5-inch, 1920 x 1080-pixel
Size:
11.7 x 9.21 x 0.7 inches
Reasons to buy
+
Sharp, colorful display
+
Accurate, useful pen
+
Strong performance
+
Soft faux leather lid
Reasons to avoid
-
Battery life could be better
If you like your touchscreen displays to be packed inside a stylish laptop, the HP Dragonfly Folio G3 is the best choice for you. It has an eye-catching pull-forward design that is not only alluring and entralling, but useful, too, particularly if you love to take notes and/or draw. While in pull-forward mode, the display angles itself like an easel, allowing you to make use of the 1920 x 1280-pixel touchscreen display.
Plus, our review gushed about the Dragonfly Folio G3's crisp, colorful panel, accurate and useful stylus, and strong performance. And let's not forget that the Dragonfly Folio G3 is covered in a you-can't-stop-touching-it faux leather material. Whew! I wouldn't pass this up if I were you.
See our full HP Dragonfly Folio G3 review.
Best Dell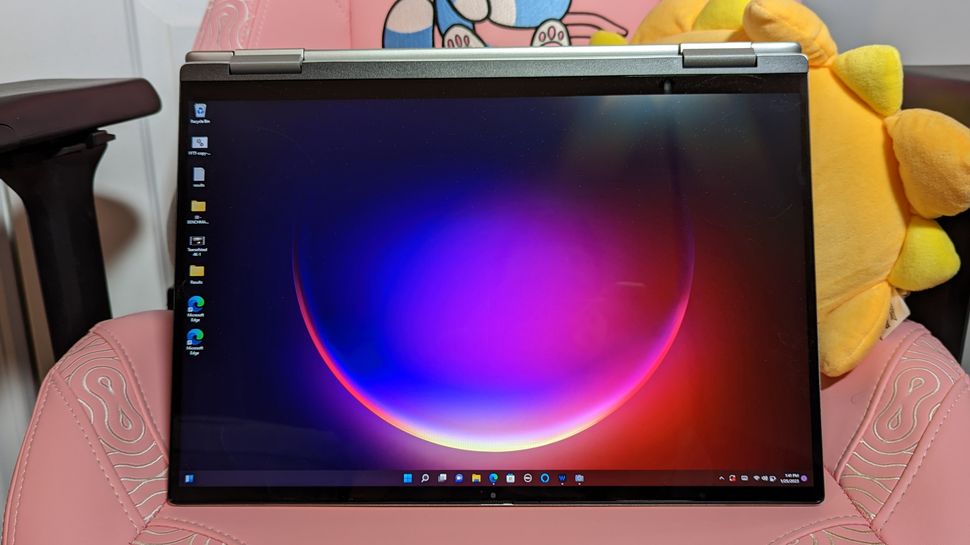 The best laptop for most people
Specifications
GPU:
Intel Iris Xe graphics
Size:
14.1 x 9.9 x 0.6~0.7 inches
Reasons to buy
+
Premium design
+
Bright display
+
Strong performance
+
Amazing battery life
Reasons to avoid
-
Keyboard could be better
Looking for an awesome touchscreen display among Dell's vast laptop portfolio? Look no further than the Inspiron 16 2-in-1. The most attractive aspect of the Inspiron 16 is that it has excellent battery life. Most of the PCs we test barely surpass the 9-hour battery life mark, but the Dell Inspiron 16 2-in-1 managed to last nearly 14 hours on a single charge.
As a cherry on top, on a good day, you can catch the Dell Inspiron 16 2-in-1 with a price tag that under $1,000. Plus, you'll love this 16-inch laptop's sleek, premium design and productivity-ready performance. Packed with a 1920 x 1200-pixel touch display and a 16:10 aspect ratio, the Dell Inspiron 16 2-in-1 would be awesome as your next laptop companion.
See our full Dell Inspiron 16 2-in-1 (7620) review.
How we test touchscreen laptops
When testing the best touch screen laptops in our lab, we focus on the display. First, we experiment with the screen's responsiveness. Not-so-great touch screen laptops may lag or fail to keep up with our gestures. The best touch screen laptops can handle all our touch gestures, such as pinch-to-zoom and finger scrolling, without any hiccups.
We also look for crispness and high definition when it comes to our touch screen displays. What fun is it to have a touch screen if the display isn't visually appealing? We test the display's sRGB gamut coverage as well as its brightness. We also test the color accuracy by observing its Delta-E score. We also test for display's graphics capability with industry benchmarks.
If the laptop comes equipped with a stylus, we channel our inner artist and we test how well the pen can keep up with our strokes on popular drawing software.
Aside from the display, we also test for battery life, overall performance, multitasking muscle and more. This way, you can choose a touchscreen laptop that best fits your lifestyle.
How to find your perfect touchscreen laptop
You may be wondering, "Which touch screen laptop should I buy?" The answer is dependent on who you are and what you're hoping this touch screen laptop can accomplish for you. If you're an artist, you'll want to keep an eye out for touch screen laptops that have a comfortable, zippy stylus that can keep up with your erratic drawing strokes. You'll also want to make sure you're satisfied with the display's color coverage and screen solution. You may also want to make sure the touch screen laptop has a sufficient number of ports to make file transferring a smooth experience.
If you're a power user who loves the productivity boost that touchscreen provides, you may want to look for a touch screen laptop that is power efficient and doesn't die too quickly while you're plowing away with work and other tasks.
Take a look at some other aspects of a laptop you should consider aside from the touchscreen display.
Screen Resolution: If possible, get a display with a 1920 x 1080 (aka 1080p, or Full HD) or higher resolution.
CPU: An Intel Core i5 provides good mainstream performance. Some budget systems will come with Core i3, Celeron or Pentium CPUs, which are good for basic tasks, but not heavy multitasking. Get a Core i7 or Core i9 (serial number ends in HQ or HK) for gaming or high-end productivity tasks such as video editing and 3D modeling.
RAM: 8GB is ideal for most users, but power users will want 12 or 16GB. 4GB is acceptable for budget systems. Secondary laptops and Chromebooks may have less.
Storage: Unless you're a gamer or a power user, 256GB of internal storage is probably enough. If possible, get an SSD (solid-state drive) rather than a hard drive, because it's going to make your computer a lot faster.
Graphics Chip: Gamers and creative professionals need to do some research and figure out which discrete GPU from Nvidia or AMD is good enough to run their favorite software. Everyone else will be happy with the built-in Intel HD Graphics that come with the CPU.
Why Trust Laptop Mag
We put touchscreen laptops through extensive benchmark testing — both synthetic and real-world — before they end up in the hands of our reviewers. We evaluate each aspect of the laptop, including its performance, battery life, display, speakers and heat management.
In our benchmark testing, we use a Klein K10 colorimeter to detect the brightness and sRGB color gamut of the laptop's display. For performance testing, we run the laptop through a gauntlet of benchmarks, including Geekbench 4.3 and 5.0 and 3DMark professional graphics tests.
To determine real-world performance, we task the laptop to convert a 4K video to 1080p resolution and to duplicate a 4.97GB multimedia file. Our real-world graphics test is the Dirt 3 benchmark with medium settings at 1080p resolution. Gaming laptops go through an entire library of games at high settings to see how their discrete GPUs keep up.
We also run heat tests by playing a 15-minute full-screen video and measuring temperatures in different areas of the laptop. Last but not least, our battery test consists of continuous web surfing over Wi-Fi at 150 nits of brightness. For MacBooks and premium Windows 10 (and soon Windows 11) laptops, a runtime of over 9 hours is considered a good result whereas gaming laptops and workstations that can stay powered for longer than 5 hours deserve praise.
These tests are complemented with extensive hands-on testing from our reviewers who critique everything from the laptop's materials to the feel of its touchpad.
Stay in the know with Laptop Mag
Get our in-depth reviews, helpful tips, great deals, and the biggest news stories delivered to your inbox.
Kimberly Gedeon, holding a Master's degree in International Journalism, launched her career as a journalist for MadameNoire's business beat in 2013. She loved translating stuffy stories about the economy, personal finance and investing into digestible, easy-to-understand, entertaining stories for young women of color. During her time on the business beat, she discovered her passion for tech as she dove into articles about tech entrepreneurship, the Consumer Electronics Show (CES) and the latest tablets. After eight years of freelancing, dabbling in a myriad of beats, she's finally found a home at Laptop Mag that accepts her as the crypto-addicted, virtual reality-loving, investing-focused, tech-fascinated nerd she is. Woot!