Best budget laptops: 7 cheap laptops under $500
The best laptops under $500 might be cheap, but they certainly don't suck
The best laptops under $500 are cheap laptops that shouldn't leave you feeling like you dug them out of the bargain bin. There are value-priced notebooks that include full-HD displays, solid performance, and long battery life.
Whether you are looking for a typical clamshell laptop or you want a 2-in-1 convertible laptop that can walk the line between a tablet and a laptop, we've got some great affordable options for you. Our top pick even managed to find its way onto our best laptops page. Remember, if you can't find a laptop that meets your expectations for the budget, you can always look at some of the best tablets or best kids tablets for your needs. If you're looking for other Chromebooks, check out our best Chromebook deals.
The Quick List
Best battery life
Best battery life
The Acer Chromebook 514 is outfitted with an MediaTek Kompanio 828 ARM Cortex A76 processor, Mali-G57 MC5 integrated graphics, 8GB of LPDDR4X RAM, and 64GB of flash memory storage; it lasted 14 hours and 8 minutes on our Laptop Mag battery test.
Best overall
Best laptop under $500
Specifications
CPU:
Qualcomm Snapdragon 7c Gen 2
Display:
13.3-inch, 1920x1080, OLED
Size:
12 x 7.4 x 0.28 inches
Reasons to buy
+
Excellent battery life
+
Detachable 2-in-1 design
+
Bright, vivid OLED display
+
Keyboard and cover included
The Lenovo Duet 5 Chromebook is a significant departure from the original Chromebook Duet, which you'll find later on this list. Although the higher price tag may drive some away, the considerable hardware upgrades make this 2-in-1 just as compelling.
The Duet 5 still features a fabric rear case and keyboard cover like the previous model, but open it up and the 13.3-inch OLED display will make you check that sub-$500 price again. The changes run deeper than that with a dramatically improved Qualcomm Snapdragon 7c Gen 2 processor, while also delivering over 13 hours on a single charge.
While it may not be the scrappy budget champ that the original Chromebook Duet was, the Duet 5 has bulked up and is ready to take on some heavyweight competition, making it the best laptop under $500.
See our full Lenovo Duet 5 Chromebook review.
Best Windows laptop
Best Windows laptop under $500
Specifications
Display:
12.3-inch, 2400 x 1600
Size:
11.5 x 8.3 x 0.3 inches
Reasons to buy
+
Solid performance
+
Good audio quality
+
Responsive keyboard
+
Long battery life
+
Competitively priced
Reasons to avoid
-
Pen not included
-
Dim and dull display
-
Only one USB-C port
As far as affordable laptops go, the Lenovo IdeaPad Flex 5 is a good choice. While the dim display is disappointing, our reviewer found this sub-$500 Windows laptop to be a joy. Surfing the web is smooth no matter how many tabs were open, and you can rely on the long battery life (14 hours and 16 minutes in our testing) to keep you entertained and powered up throughout the day. And while it's made mostly of plastic, the Flex 5 still looks and feels like a sleek, sturdy device that's well worth the investment.
When we first reviewed the IdeaPad Flex 5 it hovered around $500-$650 depending on the configuration, but you can now find it for under $500 or even $400 for the base model, making it an even better value and easily the best Windows laptop under $500.
See our full Lenovo IdeaPad Flex 5 14 (Intel) review.
Best lightweight Chromebook
Best lightweight Chromebook
Specifications
GPU:
Integrated Arm Mali-G72 MP3
Display:
10.5-inch, 1900x1200, touchscreen
Size:
12.7 x 8.9 x 0.68 inches
Reasons to buy
+
Excellent battery life
+
Detachable 2-in-1 design
+
Durable
+
Built-in stylus
Reasons to avoid
-
Weak performance for the price
The Asus Chromebook Detachable CM3 cloaks itself in the guise of a tweed-bound journal. However, lift the cover and you've unlocked a versatile 2-in-1 laptop that happens to include a stylus in case you did want to do some journaling.
While the Detachable CM3 isn't the most powerful of Chromebooks, its vibrant display and convenient form factor make it an excellent content consumption and web browsing device that can easily slip into any bag. While it's pricey for having a MediaTek processor inside, the CM3 makes up for it with nearly 12 hours of battery life and a durable chassis. It's easily one of the best laptops under $500.
See our full Asus Chromebook Detachable CM3 review.
Best 17-inch laptop
Best 17-inch laptop under $500
Specifications
CPU:
Intel Pentium Silver N6000
Display:
17.3-inch, 1920x1080
Size:
15.8 x 10.5 x 0.9 inches
Reasons to buy
+
Massive display
+
Spacious keyboard and touchpad
+
Decent battery life
Reasons to avoid
-
Dim display
-
Middling performance
The Acer Chromebook 317 is the world's first-ever 17.3-inch Chrome OS laptop. When I first heard this, I thought, "Why?" Is there a target audience of Chromebook lovers who've been beseeching the gods for an unwieldy, clunky laptop? Don't most Chromebook owners want a mobile, easy-to-carry, travel-friendly device? However, after spending some time with this laptop, there is a method to Acer's madness.
There is an audience for the Chromebook 317, and it's targeted at large-handed folks who are tired of feeling as if they're typing with thick, meaty sausage links. This laptop is for consumers who live by the "go big or go home" maxim. However, in this case, you'll have to do both: go big and go home. The Chromebook 317 isn't particularly travel friendly, so you'd be better off leaving the laptop stationed in your home office.
No, the Chromebook 317 doesn't have the brightest display, the most powerful processor, nor the longest battery life, but it's adequate for those who'd sacrifice those perks for an intact bank account and a spacious Chromebook with a massive display.
See our full Acer Chromebook 317 review.
Cheapest Chromebook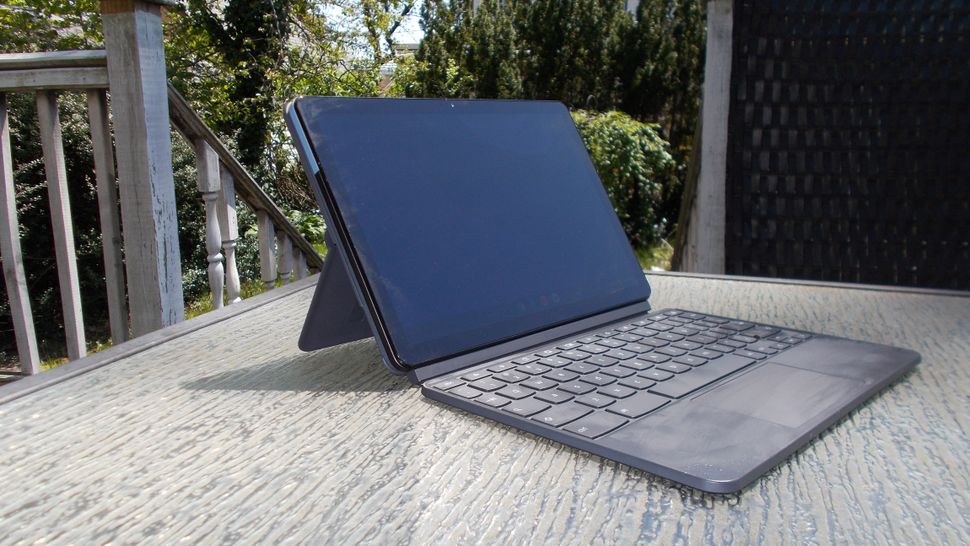 Best Chromebook under $300
Specifications
Display:
10.1-inch, 1920 x 1200
Size:
9.6 x 6.7 x 0.7 inches
Reasons to buy
+
Lasts long on a charge
+
Comes with keyboard/kickstand
+
Colorful display
+
Decent performance
At first glance, The Lenovo Chromebook Duet (reviewed at $279) looks like an innocuous journal, but open that bad boy up, and it's a small laptop with a colorful 10.1-inch display.
But this device's transformative capability isn't its only alluring feature — the Lenovo Chromebook Duet lasted almost 13 hours on our battery test, which beats the 10-hour average runtime for Chromebooks. The price is another big selling point of the Lenovo Chromebook Duet. For under $300, you can own a lightweight machine that can endure all your intensive web multitasking.
The Lenovo Chromebook Duet sports a 10.1-inch, 1920 x 1200 display that's impressively colorful. However, the tablet's screen has chunky bezels that might turn you off if you're seeking a more modern look. But the Duet is a budget-friendly Chromebook, so we can concede the lack of slim bezels as a reasonable trade off.
See our full Lenovo Chromebook Duet review.
Best keyboard
Best typing experience
Specifications
CPU:
Intel Core i3-10110U
Display:
13.3-inch, 1920 x 1080
Size:
12.2 x 8 3 x 0.7 inches
Reasons to buy
+
Flexible 2-in-1 design
+
Touchscreen with pen support
+
Exceptional keyboard
Reasons to avoid
-
Below-average battery life
-
Dim display
The Lenovo Flex 5 Chromebook (reviewed at $409) is easy on the pockets, but let us tell you, it doesn't feel, look or act cheap. This Chromebook may have "Flex '' in its name, but ironically, its solid metal chassis is stalwart with a premium-feeling, part-aluminum body. At first glance, you may dismiss the Lenovo Flex 5 Chromebook as another gray, clamshell laptop, but this shape-shifting device can also transform into a tablet thanks to its sturdy 360-degree hinge.
You're going to love the Flex 5 Chromebook's keyboard; it's the laptop's most standout feature next to its build quality. This backlit, island-style keyboard has one of the clickiest, bounciest keys we've ever had the pleasure of reviewing to date. The Flex 5 Chromebook is perfect for productivity work because the keyboard will have you flying through any word-processing tasks with rhythmic speediness.
See our full Lenovo Flex 5 Chromebook review.
Best battery life
Best battery life
Specifications
CPU:
MediaTek Kompanio 828 ARM Cortex A76
Display:
14-inch, 1920 x 1080
Size:
12.7 x 8.9 x 0.7 inches
Reasons to buy
+
Record-breaking battery life
+
Simple but pleasant aesthetic
+
Inexpensive
+
Decent performance
The Acer Chromebook 514 is outfitted with an MediaTek Kompanio 828 ARM Cortex A76 processor, Mali-G57 MC5 integrated graphics, 8GB of LPDDR4X RAM, 64GB of flash memory storage, and a 14-inch FHD (1920 x 1080) IPS touchscreen all for just $460.
This Chromebook, like most, fulfills a simple aesthetic with a silver chassis that comes in at 12.7 x 8.9 x 0.7 inches and 2.9 pounds. Packed within that build is a pair of top-firing speakers and performed surprisingly well. We listened to several hit songs that translated voices crisply and clearly.
You're not going to be breaking down any digital doors with its processor, but you'll get some decent performance from the Acer Chromebook 514, as it managed to compete with an 11th Gen Intel Core i3-1115G4 CPU.
What you'll be happy about the most to see is its incredibly long battery life. The Acer Chromebook 514 lasted 14 hours and 8 minutes on our Laptop Mag battery test. That's way more than the 9:03 Chromebook average. If you're using this for work or school, you'll get more than a day's work out of this.
See our full Acer Chromebook 514 review.
How to choose one of the best laptops under $500
Do your intensive daily workloads require more RAM than the average Joe? Are you a video editor who needs extra storage? Are you a gamer who wants a powerful GPU? Sorting through the best laptops to fit your lifestyle is a tricky business.
To make your shopping process a little easier, our Editor-in-Chief Sherri L. Smith has put together some tried-and-true guidelines to help you choose the best laptop.
Budget: What you get for the money.
You can find decent Windows laptops and high-quality Chromebooks for under $500. However, better mainstream laptops usually cost more than $700 and premium Ultrabooks can run over $1,000. The best gaming laptops can cost $2.000 and up, but you can play the latest titles at decent frame rates on gaming laptops under $1,000.
Screen Size: 12 to 14 inches for Portability
Knowing a laptop's screen size tells you a lot about its portability overall. If you want to use your computer on your lap or carry it around a lot, go for one with a 12, 13 or 14-inch display. If you want to use the computer on tables and desks and won't carry it around much, a 15-inch model may give you more value. Some gaming rigs, media machines and workstations even have 17 or 18-inch screens, but those are hardest to carry.
2-in-1 or Clamshell?
More and more of today's laptops are 2-in-1s with screens that either bend back 360 degrees or detach so you can use them as tablets. If you like the idea of using your laptop in slate mode for drawing, media consumption or just using it standing up, a 2-in-1 could be for you. However, you can often get better features or a lower price by going with a traditional clamshell-style laptop.
Battery Life: 8+ Hours for Portability
Unless you only plan to use your laptop on your desk, battery life matters. Even within the home or office, having plenty of juice enables you to work on the couch or at the conference table, without being chained to the nearest outlet. For the best portability, we recommend getting a laptop that lasted over 8 hours on the Laptop Mag Battery Test. The longest-lasting laptops endure for over 10 hours.
Specs: 1080p / Core i5 / 8GB Are Best Bets
You can spend a lot of time delving into specs, but here are the key components to think about. If you just want really good mainstream performance, go for a Core i5 CPU, 8GB of RAM, a 256GB SSD and a 1080p screen.
How we test the best laptops under $500
We put each laptop through extensive benchmark testing — both synthetic and real-world — before they end up in the hands of our reviewers. We evaluate each aspect of the laptop, including its performance, battery life, display, speakers and heat management.
In our benchmark testing, we use a Klein K10 colorimeter to detect the brightness and sRGB color gamut of the laptop's display. For performance testing, we run the laptop through a gauntlet of benchmarks, including Geekbench 4.3 and 5.0 and 3DMark professional graphics tests.
To determine real-world performance, we task the laptop to convert a 4K video to 1080p resolution and to duplicate a 4.97GB multimedia file. Our real-world graphics test is the Dirt 3 benchmark with medium settings at 1080p resolution.
We also run heat tests by playing a 15-minute full-screen video and measuring temperatures in different areas of the laptop. Last but not least, our battery test consists of continuous web surfing over Wi-Fi at 150 nits of brightness. For MacBooks and premium Windows 10 laptops, a runtime of over 9 hours is considered a good result whereas gaming laptops and workstations that can stay powered for longer than 5 hours deserve praise.
These tests are complemented with extensive hands-on testing from our reviewers who critique everything from the laptop's materials to the feel of its touchpad.
See this page on How We Test Laptops for more details on our benchmarking procedures.
Why trust Laptop Mag
Laptop Mag reviews over one hundred different laptops every year, from paperweight ultralights to everyday workhorses to lumbering gaming notebooks that scorch the frame rates of even the hottest AAA games. We're not just experts in the laptop field, as we go one step further by meticulously testing smartphones, tablets, headphones, PC accessories, software, and even the latest in gaming.
We are 100% independent and have decades of experience to help you buy with confidence. In fact, Laptop Mag has been testing and reviewing products for three decades, and we continue to deliver trustworthy reviews you can rely on.
Our experienced team of writers and editors scour the available information about the laptop and put it through its paces to determine which is best for you. But before they start, the testing team subjects each system to a rigorous regimen of synthetic and real-world tests to see how a system handles the type of work and games you're most likely to throw at it.
Our editorial trustworthiness is enforced by one of the world's largest technology publishers, Future Publishing. As a company, we have unrivaled experience across every tech sector — and we're the group's specialist for all things mobile tech.
Stay in the know with Laptop Mag
Get our in-depth reviews, helpful tips, great deals, and the biggest news stories delivered to your inbox.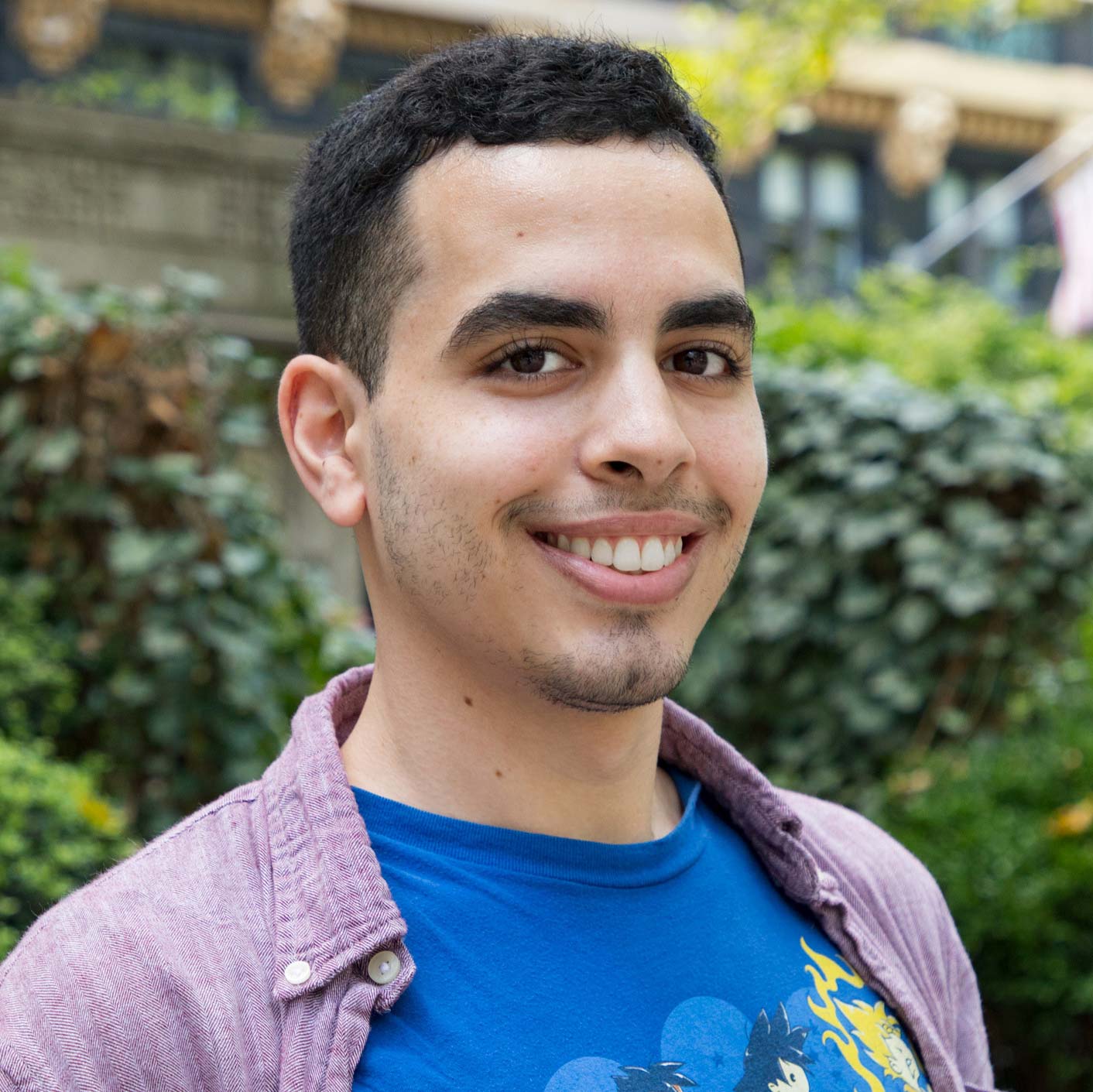 Rami Tabari is an Editor for Laptop Mag. He reviews every shape and form of a laptop as well as all sorts of cool tech. You can find him sitting at his desk surrounded by a hoarder's dream of laptops, and when he navigates his way out to civilization, you can catch him watching really bad anime or playing some kind of painfully difficult game. He's the best at every game and he just doesn't lose. That's why you'll occasionally catch his byline attached to the latest Souls-like challenge.