The best laptops under $500 won't leave you unsettled because you didn't pay a premium price. There are value-priced notebooks that include full-HD displays, solid performance and long battery life, plus all the ports you need. You can even get a laptop with a touch screen in this price range, though it will be on the smaller side. Some of these even made it on our best laptops (opens in new tab) page.
After reviewing dozens of value-priced systems, the best laptops under $500 with a Windows 10 operating system are the 15-inch Acer Aspire E 15 and the Acer Aspire 5. We even wrote a face-off comparing the Acer Aspire E15 vs. Acer Aspire 5 to help you choose between the two. Meanwhile, the best Chromebooks under $500 that you'll find are the HP Chromebook x2 and Lenovo Duet 5 Chromebook. We recently reviewed the new Acer Swift 3, which starts at $499, but it didn't perform well enough to make this list due to its mediocre battery life.
Check out our best cheap laptop deals for deep discounts on already affordable laptops. Also, if a tablet might be the answer for you check out our Apple iPad mini 6 review (2021), which starts at $499, or the new Amazon Fire 7 tablet (2022) is a great device for content consumption starting at just $60. If you're looking for a new e-reader, check out our Kindle Paperwhite (2021, 11th Gen) review. If you or your kid has a wild imagination and needs a fun and safe outlet for that, check out our DND tips page to get started on the world's best adventure game.
Keep in mind that you'll still have to make some compromises when you're looking for a laptop at this price. If you're looking for something for your kid, check our best kids tablets page.
The best laptops under $500 you can buy today
The Acer Aspire 5 earns its place at the top spot of the best laptops under $500 page due to its strong 8th Gen Core i3 performance, bright 1080p display and long battery life, all for an affordable price. Although the Aspire 5 is much thinner than its sibling, the Aspire E 15, the Aspire 5 boasts enough room for a battery that lasts nearly 9 hours on a charge.
It doesn't feature a DVD writer, but it still has a decent number of ports. The display emits an impressive 276 nits of brightness, which gives the screen some decent contrast. It even has an aluminum hood. To top it off, the bezels on the display are surprisingly narrow for a laptop this cheap. The Aspire 5 is one of the best cheapest laptops currently available.
See our full Acer Aspire 5 review.
The Asus Chromebook Detachable CM3 cloaks itself in the guise of a tweed-bound journal. However, lift the cover and you've unlocked a versatile 2-in-1 laptop that happens to include a stylus in case you did want to do some journaling.
While the Detachable CM3 isn't the most powerful of Chromebooks, its vibrant display and convenient form factor make it an excellent content consumption and web browsing device that can easily slip into any bag. While it's pricey for having a MediaTek processor inside, the CM3 makes up for it with nearly 12 hours of battery life and a durable chassis. It's easily one of the best laptops under $500.
See our full Asus Chromebook Detachable CM3 review.
Depending on which model you go for, for under $200, you won't find a better Windows laptop than the HP Stream 11. The Stream boasts a portable, 11-inch chassis, weighing in at 2.5 pounds and measuring just 0.7 inches thick. While our particular model sports a dull, black paint job, the HP Stream 11 is still adorable given its petite size.
For the price, you shouldn't expect much out of the Stream 11, but its Intel Celeron N4000 processor with 4GB of RAM was able to handle 10 Microsoft Edge tabs as well as a 1080p YouTube video. The system also lasted a solid 9 hours and 19 minutes on our battery test. While its keyboard can be a little cramped, it offers decent key travel. If you're on a tight budget, the HP Stream 11 is one of the best cheapest laptops to go with.
See our full HP Stream 11 (2018) review.
If you're looking for a ridiculously cheap Chromebook, you won't find anything better than the Samsung Chromebook 4 ($229). It survived a whole 10 hours and 36 minutes against our battery test, making it the best laptop under $500 with the longest battery life. With curved edges and a silver hue, the Samsung Chromebook 4 looks a lot like the many MacBook copycats we've seen over the years. Its aluminum top feels a little nicer than I expected, but the laptop's price shows in the plastic body.
The Intel Celeron 3000N processor and 4GB of RAM driving the Samsung Chromebook 4 provides decent power for multitasking, especially at this price. This machine is best for people who really only need to use a laptop to type, especially because it has a good keyboard, but also, the screen and audio aren't up to par. But thanks to how light it is, and its decent performance, it's a solid ultraportable laptop.
See our full Samsung Chromebook 4 review.
The Acer Chromebook 317 is the world's first-ever 17.3-inch Chrome OS laptop. When I first heard this, I thought, "Why?" Is there a target audience of Chromebook lovers who've been beseeching the gods for an unwieldy, clunky laptop? Don't most Chromebook owners want a mobile, easy-to-carry, travel-friendly device? However, after spending some time with this laptop, there is a method to Acer's madness.
There is an audience for the Chromebook 317, and it's targeted at large-handed folks who are tired of feeling as if they're typing with thick, meaty sausage links. This laptop is for consumers who live by the "go big or go home" maxim. However, in this case, you'll have to do both: go big and go home. The Chromebook 317 isn't particularly travel friendly, so you'd be better off leaving the laptop stationed in your home office.
No, the Chromebook 317 doesn't have the brightest display, the most powerful processor, nor the longest battery life, but it's adequate for those who'd sacrifice those perks for an intact bank account and a spacious Chromebook with a massive display.
See our full Acer Chromebook 317 review.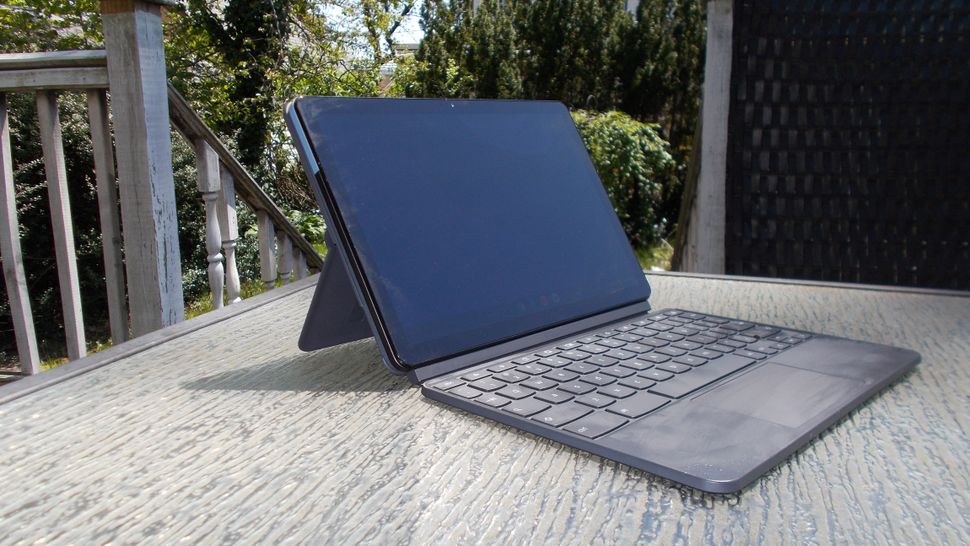 At first glance, The Lenovo Chromebook Duet (reviewed at $279) looks like an innocuous journal, but open that bad boy up, and it's a small laptop with a colorful 10.1-inch display.
But this device's transformative capability isn't its only alluring feature — the Lenovo Chromebook Duet lasted almost 13 hours on our battery test, which beats the 10-hour average runtime for Chromebooks. The price is another big selling point of the Lenovo Chromebook Duet. For under $300, you can own a lightweight machine that can endure all your intensive web multitasking.
The Lenovo Chromebook Duet sports a 10.1-inch, 1920 x 1200 display that's impressively colorful. However, the tablet's screen has chunky bezels that might turn you off if you're seeking a more modern look. But the Duet is a budget-friendly Chromebook, so we can concede the lack of slim bezels as a reasonable trade off.
See our full Lenovo Chromebook Duet review.
Previously, the HP Chromebook x2 wouldn't be anywhere near this page, but the detachable Chromebook has since landed below the $500 price range. The HP Chromebook x2 offers quite a few things that other budget laptops don't, such as a colorful 2400 x 1600 display and a solid pair of speakers. As I watched the Captain Marvel trailer on the HP Chromebook x2, I admired its 2400 x 1600-pixel panel. Colors looked great on the x2's display, from the jade of Captain Marvel's uniform to the rich, inky black of a dark corridor she walked through.
Additionally, the Chromebook x2 offers a comfortable keyboard and a battery that lasts nearly 9 hours on a single charge. But the cherry on top is that it comes included with HP's Active Pen, which kept up with even our fastest drawings. The HP Chromebook x2 is one of the best Chromebooks around for the price.
See our full HP Chromebook x2 review.
The Lenovo Duet 5 Chromebook is a significant departure from last year's affordable Chromebook Duet. Although the higher price tag may drive some away, the considerable hardware upgrades make this 2-in-1 just as compelling.
The Duet 5 still features a fabric rear case and keyboard cover like the previous model, but open it up and the 13.3-inch OLED display will make you check that sub-$500 price again. The changes run deeper than that with a dramatically improved Qualcomm Snapdragon 7c Gen 2 processor, while also delivering over 13 hours on a single charge.
While it may not be the scrappy budget champ that the original Chromebook Duet was, the Duet 5 has bulked up and is ready to take on some heavyweight competition among the best laptops under $500 today.
See our full Lenovo Duet 5 Chromebook review.
If you're itching for a Chromebook with a bigger, sharper display for an affordable price, then your best best is the HP Chromebook 15. For just $469, you get a Chromebook with Core i3 performance and a comfortable keyboard packed into a refreshing design. The white, metal hood bears a glossy, silver HP logo and a blacked-out Chrome logo in the top left corner. The HP Chromebook 15 also has a round, circular hinge that curves inward on each end, giving the machine a more elegant, softer look.
On top of that, you get a battery life that'll last you for 9 hours and 51 minutes. It also packs a decent number of ports as well, including two USB Type-C ports, a USB Type-A port and a microSD card slot. While the display isn't that colorful, it offers great real-estate, it's sharp and relatively bright as well. It's easily one of the best cheapest laptops around.
See our full HP Chromebook 15 review.
The Lenovo Flex 5 Chromebook (reviewed at $409) is easy on the pockets, but let us tell you, it doesn't feel, look or act cheap. This Chromebook may have "Flex '' in its name, but ironically, its solid metal chassis is stalwart with a premium-feeling, part-aluminum body. At first glance, you may dismiss the Lenovo Flex 5 Chromebook as another gray, clamshell laptop, but this shape-shifting device can also transform into a tablet thanks to its sturdy 360-degree hinge.
You're going to love the Flex 5 Chromebook's keyboard; it's the laptop's most standout feature next to its build quality. This backlit, island-style keyboard has one of the clickiest, bounciest keys we've ever had the pleasure of reviewing to date. The Flex 5 Chromebook is perfect for productivity work because the keyboard will have you flying through any word-processing tasks with rhythmic speediness.
See our full Lenovo Flex 5 Chromebook review.
How to choose the best laptops under $500 for you
Choosing the best laptop under $500 for you really depends on where you are at with your budget. Our top performers, the Acer Aspire E 15 and the Acer Aspire 5, typically range around $300 to $400, so you won't even need to expand your budget to $500. Even if these laptops are slightly out of budget right now, you should consider saving if you can, as they boast Intel Core i3 processors, which you won't find in most laptops under $500.
However, if you don't mind using the ChromeOS, it might be best for you to use a Chromebook. Here me out. It's cheap, and since the operating system is stripped down, it will perform better than your average Windows 10 laptop for the same price. Laptops like the HP Chromebook 15, HP Chromebook x2 and Samsung Chromebook 4 are examples of great chromebooks you can buy under $500.
How we test the best laptops under $500
We put each laptop through extensive benchmark testing — both synthetic and real-world — before they end up in the hands of our reviewers. We evaluate each aspect of the laptop, including its performance, battery life, display, speakers and heat management.
In our benchmark testing, we use a Klein K10 colorimeter to detect the brightness and sRGB color gamut of the laptop's display. For performance testing, we run the laptop through a gauntlet of benchmarks, including Geekbench 4.3 and 5.0 and 3DMark professional graphics tests.
To determine real-world performance, we task the laptop to convert a 4K video to 1080p resolution and to duplicate a 4.97GB multimedia file. Our real-world graphics test is the Dirt 3 benchmark with medium settings at 1080p resolution.
We also run heat tests by playing a 15-minute full-screen video and measuring temperatures in different areas of the laptop. Last but not least, our battery test consists of continuous web surfing over Wi-Fi at 150 nits of brightness. For MacBooks and premium Windows 10 laptops, a runtime of over 9 hours is considered a good result whereas gaming laptops and workstations that can stay powered for longer than 5 hours deserve praise.
These tests are complemented with extensive hands-on testing from our reviewers who critique everything from the laptop's materials to the feel of its touchpad.