If you want a portable laptop, go with one of the best Ultrabooks. When a laptop is designated an Ultrabook, you can trust that it will be thin and lightweight yet offer long battery life. But as these ultraportable laptops grow in popularity, it becomes more difficult to choose the right one. Fortunately, we've done the hard work for you and ranked the best ultrathin laptops on the market.
If you need a work machine, see our best business laptops rankings. Or if you're a student, we've put together a list of the best laptops for college. It's also worth checking out our best 13-inch laptops page as most of those listed below fall into this category, along with our list of best laptops under $1,000.

TL;DR: the best thin and lightweight laptop right now is the Huawei MateBook X Pro (2022), which has a sleek design, incredibly fast performance, and a gorgeous display. If you don't want to spend so much fast, consider the Envy 13 (or Envy x360) — a $900 laptop that offers just about everything the Dell delivers. If you're after an Ultrabook that packs power, the Dell XPS 13 is the way to go. However, there are plenty more incredible Ultrabooks on this list, and they're all worth checking out.

CES 2023 is in full swing, and the biggest laptop brands are showing off their latest notebooks with next-gen specs. Speaking of, you'll want to check out the world's thinnest laptop: the LG Gram Ultraslim. Keep an eye out for the biggest laptops coming out in 2023 making their way onto this list.
The best Ultrabooks you can buy
Why you can trust Laptop Mag Our expert reviewers spend hours testing and comparing products and services so you can choose the best for you. Find out more about how we test.
The Huawei MateBook X Pro is one of the best Ultrabooks you can buy today — providing convenience that the Dell XPS 13 Plus omits and standing up to the M2 MacBook Air with a gorgeous display, 12th Gen Intel power, fantastic touchpad and keyboard, and a seriously sleek design.

Sure, the battery life is a little lacking and the 720p webcam is pretty poor, but it overwhelmingly nails the essentials of an ultra-productive ultraportable with 12th Gen Intel power, a stunning touchscreen display, an ergonomic keyboard, a brilliantly spacious trackpad, and better speakers than you could ever imagine in a laptop this small — all enclosed in sleek, sexy chassis.

It even blows the M2 MacBook Air and Dell XPS 13 Plus out of the water in performance, with a jaw-dropping Geekbench 5.4 multi-core score of 11,142.

Unfortunately, there is no direct availability (or support) in the U.S., but those in the U.K. and Europe can get their hands on it. If you can, you should, as it's one of the best laptops you can get.

See our full Huawei Matebook X Pro (2022) review
The Dell XPS 13 OLED is what happens when the best laptop meets the latest display technology. Combining the two creates something close to magic — an ultra-portable device capable of running most tasks while providing a cinema-like viewing experience. Everything we love about the other XPS configurations remains, including the fast performance, striking design, and top-rate touchpad.
The latest XPS 13 model debuts a gorgeous OLED panel that provides rich picture quality for when you're streaming movies at home or editing videos for work. Is it worth the tradeoff to battery life? If you need a high-res display, then yes. The 3.5K OLED display outlasted the 4K IPS config in our battery test and is capable of producing a wider range of colors. Equipped with an Intel Core i7-1185G7 CPU with 16GB of RAM, the XPS 13 is small but mighty.
Overall, the XPS 13 OLED brings an excellent display upgrade to what was already our favorite laptop, and it does so without too many sacrifices.
See our full Dell XPS 13 OLED (2021) review
The Dell XPS 13 is a serious workhorse. Powered by up to an 11th Gen Intel Core i7 processor with Iris Xe graphics, the notebook is ready for work or play. And with over 12 hours of battery life, you've got plenty of time for both, The notebook consistently performed either better or on a par with competing systems.
But rest assured, the laptop is just as pretty as it is powerful. The company managed to make a laptop that's smaller and lighter than previous models. Despite the smaller size, Dell added some big changes, including a larger trackpad and keyboard. Plus, you get a 13.4-inch, near-bezeless display on every side –– the first in the world to do so.
It's an exercise in patient restraint, improving the notebook in a bunch of small ways that add up to a big leap for the system. If you're looking for the total package, the Dell XPS 13 is the laptop for you.
See our full Dell XPS 13 (late 2020) review. If you want to upgrade the screen, read our Dell XPS 13 4K review.
The HP Elite Dragonfly G3 is the third-generation entry of the well-received Dragonfly line — and man, these laptops just keep getting better.
The touchpad is more spacious, it packs new 12th Gen Intel processors, and sports a new 3:2 aspect ratio for a taller display and more screen real estate. Another selling point worth mentioning is the Elite Dragonfly G3's 5MP webcam, which is a standout feature compared to many laptops on the market.

As a cherry on top, the Elite Dragonfly G3 has superior battery life, far surpassing the 10-hour runtime of the average premium laptop. As such, if you're an on-the-go busy bee who often finds themselves video conferencing with friends, family members, and colleagues while traveling from A to B, the Dragonfly G3 is worthy of being on your shortlist.

See our full HP Elite Dragonfly G3 review
The HP Envy 13 is the best laptop for under $1,000 and one of the best 13-inch laptops on the market. While it still has a plastic touchpad, the Envy 13 is a fantastic value if you want the best laptop for less than four figures. What makes this such a great deal is its entirely aluminum design and the excellent 11th Gen Intel Core CPUs.
In our testing, we found that an Envy 13 with an Intel Core i5-1135G7 delivers fast performance for almost any task. This specific Envy costs just $900 and can outmuscle laptops that cost well over $1,000. Moreover, the Envy 13 has a bright, vivid 13.3-inch display and a comfortable keyboard.
There is very little we don't like about the Envy 13. If you can get over the lack of an IR camera (there is a fingerprint sensor), then it is the ultimate money-saving laptop.
See our HP Envy 13 (2021) review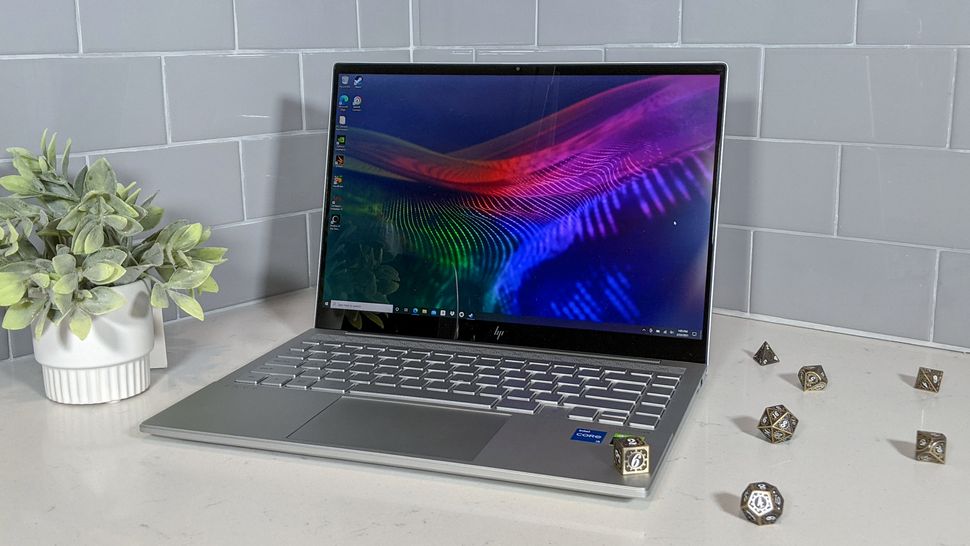 We can see the HP Envy 14 as the perfect laptop for many people. It has a powerful Intel Core i5-1135G7 processor and Nvidia GeForce GTX 1650 Ti Max-Q GPU packed into a sleek aluminum chassis. Not to mention a vivid 14-inch, 1920 x 1200-pixel, 16:10 display and more than 9 hours of battery life. On top of that, you get a great keyboard.
All these perks make the Envy 14 the best laptop for people who wants a premium machine but aren't willing to pay HP Spectre prices. The HP Envy 14 (2021) has room for improvement, but overall, it's a great performance laptop wrapped up in a small package.
See our full HP Envy 14 review
The refreshed Acer Swift 5 comes with a new 12th Gen Intel Core i7 CPU that outperforms its rivals. It also has a sharp, alluring and bright 2.5K display. As a cherry on top, it has a refined, sophisticated design scheme and a lightweight chassis — I mean, what's not to love?

The last-gen Swift 5, packed with an 11th Gen Intel CPU, blew us out of the water with its 13-hour battery life, stellar performance, attractive design, and palatable price tag. Now, the current-gen Swift 5 is $200 more, but the minor price hike is worth it. It's got a faster SSD, zippier performance, impressive video transcoding, breakneck file-transfer speeds — and it still manages to be lightweight and pleasing to the eye with an attractive dark-green-and-gold color scheme.

See our full Acer Swift 5 (2022) review
Last year's Galaxy Book Pro 360 was a welcome surprise after a rocky few years for Samsung's laptops, and while the Samsung Galaxy Book 2 Pro 360's long-winded, verbose name is a mouthful, just about everything else about this laptop is brilliant.
Samsung fixed two of our complaints from last year with a brighter display and stronger hinges while keeping the rest of the experience at the same high level. The new 12th Gen Intel Core i7-1260P processor is more than enough power for this paper-thin 2-in-1, and with nearly 12 hours of battery life, it should easily get you through a full day.
The 15.6-inch display in a 3.1-pound laptop remains remarkable while delivering a 2-in-1 form factor that makes it a dream laptop for traveling. Not only that, but it more than doubles the Geekbench performance of its predecessor, meaning that unless you have incredibly demanding needs, this vanishingly thin laptop has more power than you will likely ever need.
If portability isn't a priority for you, there are certainly more powerful 15-inch laptops out there, but if you need to lug your laptop around with you, the versatility, size, and performance of this laptop are hard to beat.

See our full Samsung Galaxy Book 2 Pro 360 review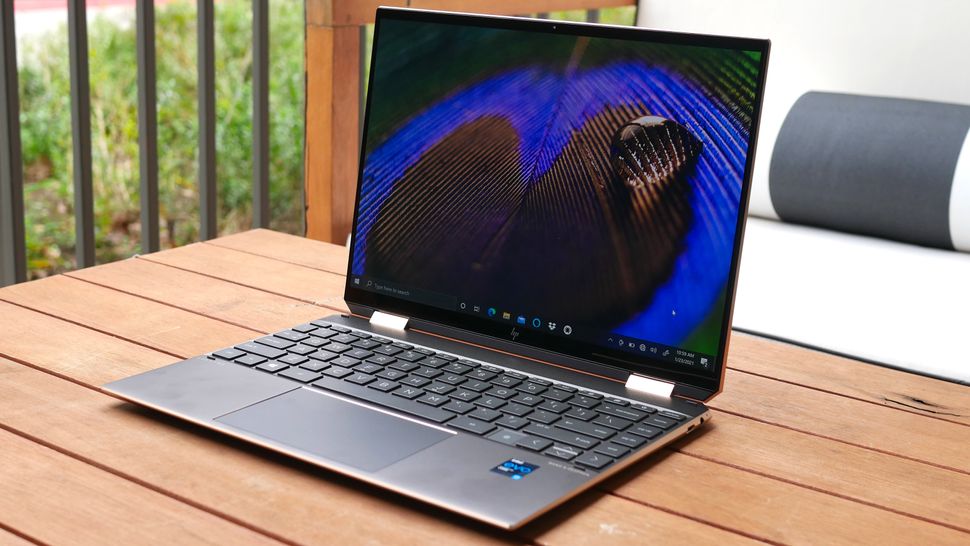 (opens in new tab)
The Spectre x360 14 is the best 2-in-1 laptop ever. Newly released for 2021, the 13.5-inch model builds upon its predecessors but adds useful new features including a 3:2 aspect ratio display and 11th Gen Intel CPUs with Iris Xe graphics. Highlights of this laptop include a stunning design, bright and vivid 1920 x 1280-pixel IPS and 3K2K OLED display options, epic 12+ hour battery life and fast overall performance.
Add to that a generously sized touchpad that is silky to the touch as well as a comfortable (albeit shallow) keyboard, excellent security options (fingerprint sensor and facial recognition) and a good selection of ports, and well, it's easy to see why we like this laptop so much.
We recommend buying the Spectre x360 14 over the Envy 13 if you have the money, especially if you need the flexible design. In fact, the Spectre x360 14 is the best HP laptop if you want a convertible notebook. Sure, it has a few faults, but those are easily forgotten once you get this beauty in your hands.
See our HP Spectre x360 14 review
Lenovo made several welcome changes to the 9th Gen edition of its flagship business Ultrabook. Along with fast performance from 11th Gen Intel CPUs, you get epic battery life, powerful quad speakers, a new 14-inch display with a 16:10 aspect ratio, and plenty of ports, all in an impossibly lightweight chassis (2.5 pounds).
But it's still those classic ThinkPad features — a durable design (with MIL-STD-810G strength), best-in-class keyboard, and stealthy black/red aesthetics — that carry the X1 Carbon to greatness.
Yes, we wish the ThinkPad X1 Carbon hadn't ditched the SD card reader in the previous, and top configurations can get very expensive, but you'd be hard-pressed to find a better overall business machine.
See our full Lenovo ThinkPad Carbon X1 (Gen 9) review
Are you ready for the future? Dell certainly is, and for them, the future is the XPS 13 Plus. Although the laptop sports an incredibly minimalistic and polarizing design, it doesn't skimp in the power department — thanks to its Core i7 processor. The 4K OLED display is a vision of loveliness and the keyboard is comfortable, which just serves to sweeten the pot.

Some will be drawn to the ultra-minimalistic aesthetic while others will take issue with the invisible touchpad and absent headset jack. Either way, you're getting a sleek, uber minimalist Ultrabook worth checking out. Dell does what it does best, streamlining and optimizing to create one of the best portable powerhouses on the market.
The successor to the excellent Yoga C940, the Lenovo Yoga 9i takes a proven formula and refines it. Subtle design improvements, long battery life (11:15), and refreshed 11th Gen Intel processors make the Yoga 9i a worthy successor to one of last year's top 2-in-1 laptops.
As you'd expect from a Yoga-series laptop, the Yoga 9i has a premium, ultra-portable chassis, and a unique hinge that doubles as a rotating soundbar speaker. As a 2-in-1, that hinge can rotate 360-degrees to convert the Yoga 9i into a tablet or be placed in tent mode so you can watch movies without a keyboard in the way. When it comes to viewing content, the Yoga 9i's 1080p (4K is available) display is crisp, vibrant, and bright.
For all the basics it gets right, my favorite things about the Yoga 9i are its extra features, which include a webcam cover (no more need to buy tape), a slot for the improved Active Pen, and a fingerprint sensor. Unfortunately, there is no IR camera.

The Lenovo Yoga 9i Gen 7 is the latest edition, and it's a fantastic choice, too.
See our Lenovo Yoga 9i review
Good luck finding a better laptop than Asus' ZenBook 13 UX325EA for under $1,000. Want a gorgeous chassis? You got it! Want long battery life? Of course, you do! And the ZenBook 13 delivers here, too. And if you want quick performance and a great keyboard, well, I think you can guess where I'm going with this. But wait, don't the other laptops in this list deliver in those areas as well? Yes, but not for only $999.
Asus' ZenBook line has historically delivered on value and now it returns with the ZenBook 13 UX325EA after a brief hiatus. For $999, you can the latest Intel 11th Gen Core i7-1165G7 CPU with Iris Xe graphics, 16GB of RAM and a 1TB M.2 PCIe SSD. It's a specs-to-price ratio you just won't find in premium laptops from other brands. The icing on the cake is the 13 hours and 47 minutes of battery life, which makes this one of the longest-lasting laptops we've ever tested. So yes, the ZenBook 13 UX352EA is a fantastic choice.
See our Asus ZenBook 13 UX325EA review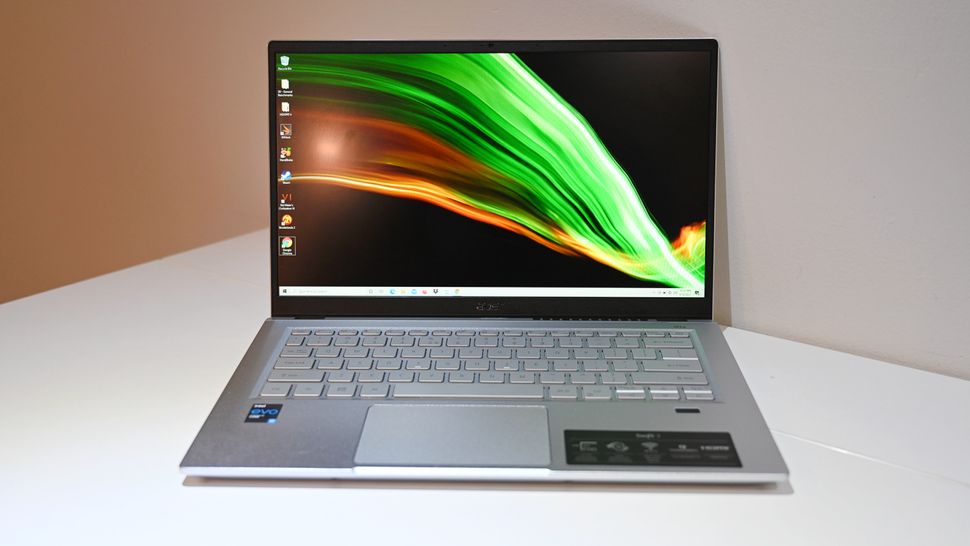 The Acer Swift 3 is an ultra-thin, sleek, silver, peppy performer meant to make your college-bound students transition to the next level of their education and life much smoother. At just 2.6 pounds, and less than an inch thick, the Swift 3 is lighter and smaller than most.

Also, it's an actual computer where you can get some serious work done thanks to its 11th Gen Intel Core i7 CPU, 16GB of RAM and 512GB of storage. With a 14-inch IPS FHD display, the Swift 3 is a fantastic choice.

The Acer Swift 3 (2020, AMD) is also an excellent option, and it comes at a cheaper price than its Intel variation.
See our full Acer Swift 3 (2020, AMD) review
It's a bit thicker than some of the other options in this roundup but the ZenBook 13 earns its spot for having an innovative secondary display and discrete graphics in a relatively portable chassis. Speaking of the chassis, the ZenBook 13 is a gorgeous laptop whose dark blue aluminum frame stands out against its bland peers and is tested to military-grade durability.
If that indigo hue doesn't catch your eyes, the ScreenPad 2.0, a touchpad that doubles as a mini display, certainly will. You can use the extra screen real estate to extend the main display or you can launch and control apps straight from your touchpad. While the ZenBook 13 has a dim display, it makes up for it with good audio, a decent selection of ports and a discrete GPU.
Read our full Asus ZenBook 13 UX334FLC review
We know. While not technically an Ultrabook, seeing as it doesn't sport an Intel CPU, it's still a brilliant option as a portable laptop — and that's the main takeaway for Ultrabooks.

The latest chapter in the MacBook Air's saga is compelling, to say the least. The laptop eschews the wedge design of old for a look that puts it squarely in MacBook Pro territory. But staying true to its name, the Air is 20% smaller than its predecessor in terms of volume. You even get some snazzy new colors to choose from this time around. Apple's also added a few other new goodies such as a 1080p webcam, a new speaker setup, and a bigger display.
But the real star of the show is Apple's M2 chip, which offers great performance for an ultraportable laptop. It's faster and more powerful than the previous model and is ideal for anyone looking for a super-light workhorse. Plus, it lasted over 14 hours on our battery test and has fast charging. It's a tantalizing mix of portability and performance that makes it perfect for work and play.
See our full MacBook Air M2 review
What is an Ultrabook good for?
The word "Ultrabook" officially refers to notebooks that meet Intel's strict standards for weight, thickness and usability. These days, nonbusiness laptops rarely carry the chipmaker's official Ultrabook label, but many people still use the term to describe super thin and light laptops of all kinds.
We've listed our favorite lightweight Ultrabooks on this page. If you're shopping for one, consider the following:
Three Pounds or Less: If you want a system that's really easy on your arms, look for one that's under this threshold.
9+ Hours of Battery Life: What good is a highly portable laptop if you need to re-charge it every few hours? Look for systems that last at least 9 hours on the Laptop Mag Battery Test (check out the laptops with the best battery life).
The Right Ports: Decide what ports you absolutely need, before you buy. Some Ultrabooks only have USB Type-C or Thunderbolt 3 ports, while others have a mix of both next-gen and legacy connectors.
Touch or Non-Touch?: If you're buying a 2-in-1, a touch screen comes standard. However, if you're getting a clamshell laptop, touch may cost extra and could drain battery life.
How we test Ultrabooks
We put Ultrabooks through extensive benchmark testing -- both synthetic and real-world -- before they end up in the hands of our reviewers. We evaluate everything from speed and battery life to display brightness, speaker volume and system heat.
We use a Klein K10 colorimeter to detect the brightness and sRGB color gamut of a laptop's display. For performance benchmarking, we run the laptop through a gauntlet of benchmarks, including Geekbench 4.3 and 5.0 and 3DMark professional graphics tests.
To determine real-world performance, we task the laptop to convert a 4K video to 1080p resolution and to duplicate a 4.97GB multimedia file. Our real-world graphics test is the Dirt 3 benchmark with medium settings and 1080p resolution.
We also run heat tests by playing a 15-minute full-screen video and our battery test consists of continuous web surfing over Wi-Fi at 150 nits of brightness. We consider everything over the category average (8 hours and 36 minutes) to be a good result. Of course, these tests are complemented with hands-on testing from our reviewers.