Best Lenovo laptops in 2023
The best Lenovo laptops, from ThinkPad to Legion
The best Lenovo laptops consistently rank near the top of our overall best laptops rankings. From the excellent ThinkPad business laptops to the sleek Yoga notebook and affordable IdeaPad laptops, Lenovo offers something for all types of laptop users.

Whether it's the best business laptop or the best 2-in-1 laptop on the market, Lenovo will always have a laptop that's among the best of them. It comes as no surprise that Lenovo makes some of our favorite laptops, from the business-focused ThinkPads to the gaming-centric Legion laptops. In fact, the Lenovo ThinkBook Plus Gen 3 nabbed our Best Innovation award in our best of CES 2022.

Still not sure which Lenovo business laptop to buy? Check out our best Lenovo ThinkPad guide that compares the top models. And to maximize productivity at work, make sure you buy the right ThinkPad accessories. If you're a business user and aren't sold on buying a ThinkPad, check out the best Dell Latitude and Precision laptops.
Quick List
Best dual-screen laptop
7. Lenovo ThinkBook Plus Gen 3
Best dual-screen laptop
The ThinkBook Plus Gen 3's second screen placed on the deck isn't a gimmick. It's extremely useful for cross-referencing several documents. It can be a little buggy at times, but the rival-beating performance and a gorgeous primary ultra-wide display make up for it.
Best Chromebook
8. Lenovo Duet 5 Chromebook
Best Chromebook
Lenovo's Chromebook equivalent to a Surface Pro packs a gorgeous OLED display, over 13-hours of battery, a tactile keyboard cover and a premium 2-in-1 design. The Snapdragon 7c chip may not be as snappy as an Intel chip, but it's enough to get the job done.
Best Workstation
9. Lenovo ThinkPad P15 Gen 2
Best Workstation
The monster workstation of the group. The Lenovo ThinkPad P15 delivers unbelievable raw performance, an excellent array of ports, a super bright and color-accurate display, and another class-leading keyboard in a durable build.
Best overall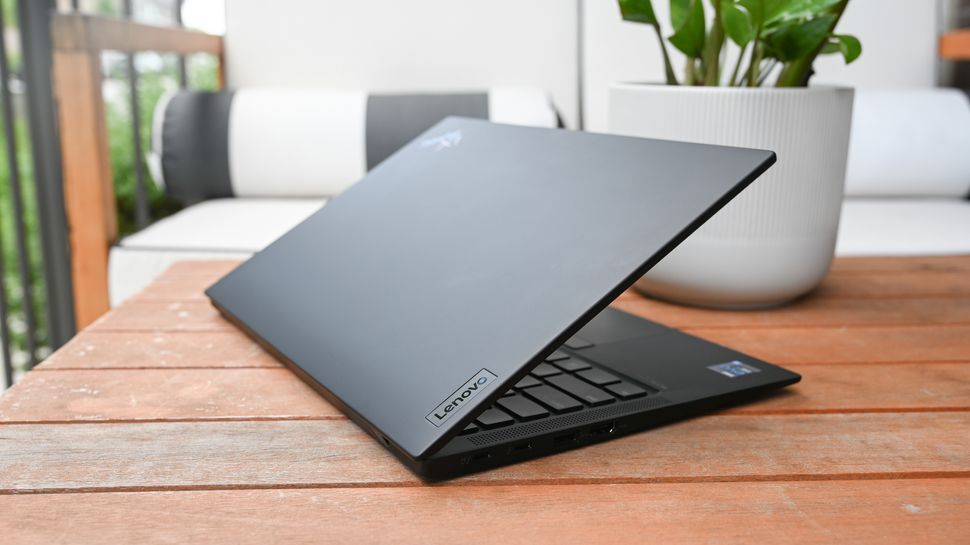 Best overall business laptop
Specifications
CPU:
11th Gen Intel Core i5/Core i7
Storage:
256GB/512GB/1TB SSD
Display:
14-inch, 1920 x 1200-pixel 16:10
Size:
12.4 x 8.7 x 0.6 inches
Reasons to buy
+
Slim, lightweight design
+
Good 14-inch, 16:10 FHD+ display
+
Class-leading keyboard
+
Great quad speakers
+
Epic battery life
Reasons to avoid
-
Poor 720p webcam
-
No card slot
Lenovo made several welcome changes to the 9th Gen edition of its flagship business model. On top of fast performance from 11th Gen Intel CPUs, you get epic battery life, powerful quad speakers, a new 14-inch display with a 16:10 aspect ratio, and plenty of ports, all in an impossibly lightweight chassis (2.5 pounds).
But it's still those classic ThinkPad features — a durable design (with MIL-STD-810G strength), best-in-class keyboard, and stealthy black/red aesthetics — that carry the X1 Carbon to greatness.
Yes, we wish the ThinkPad X1 Carbon hadn't ditched the SD card reader in the previous, and top configurations can get very expensive, but you'd be hard-pressed to find a better overall business machine.
See our full Lenovo ThinkPad Carbon X1 (Gen 9) review
Best under $500
2. Lenovo IdeaPad Flex 5i Chromebook Plus
The best laptop for under $500
Specifications
GPU:
Integrated Intel UHD Graphics
Display:
13.3-inch, 1080p
Size:
12.3 x 8.6 x 0.7 inches
Reasons to buy
+
Speedy AI-infused performance
+
Great keyboard
+
Sturdy hinges
+
Attractive
Reasons to avoid
-
The display could be brighter
A Lenovo laptop for under $500? It's time to have a chat with your IT manager. The budget-friendly IdeaPad Flex 5i with a Intel i3-1315U processor delivers some of the best elements of the IdeaPad lineup at a much lower price than we're used to.
Some of those features include excellent battery life at nearly 10 hours of longevity, a lightweight 14-inch build that comes in at 3.57 pounds, and surprisingly good performance considering its price. You can also expect the potency of Google's AI-enhanced ChromeOS to pack a great performance boost.
See our full Lenovo IdeaPad Flex 5i Chromebook Plus review
Best 2-in-1
The best 2-in-1 laptop
Specifications
Display:
14-inch, OLED, 2880 x 1880-pixel touchscreen at 90Hz
Size:
12.5 x 9.1 x .6 inches
Reasons to buy
+
Breathtaking 2.8K OLED display
+
Great productivity performance
+
Blisteringly fast SSD
+
Loud and impactful audio
+
Decent battery life
Reasons to avoid
-
Display could be brighter
The Yoga 9i is a superb 2-in-1 laptop that quickly soared up in the ranks as one of Laptop Mag's most beloved of the year. In fact, the very writer of this blurb, Momo Tabari, considers it her favorite laptop.
Its balance between a gorgeous 2,880 x 1,880-pixel OLED touchscreen, phenomenal productivity performance with its Intel Core i7-1360P processor, excellent aluminum build, and great speakers make the ideal system for those picky about their experience using a laptop. When lifting the lid on the Yoga 9i and going to town on studying, working, or watching films/TV, it never feels as if the experience is lesser.
See our Lenovo Yoga 9i review
Best gaming laptop
Best Lenovo gaming laptop
Specifications
GPU:
Nvidia GeForce RTX 4070
Storage:
1TB M.2 PCIe SSD
Display:
16-inch, 2560 x 1600, IPS, 165Hz
Size:
14.3 x 10.25 x 0.86-1.05
Reasons to buy
+
Exceptional performance
+
Decent color and brightness
+
Sturdy chassis and hinge
+
Perfect keyboard
+
Highly affordable
Reasons to avoid
-
Subpar battery life
-
Grainy webcam
The Lenovo Legion 5 Pro is the best mid-range gaming laptop out there and it's no contest. Boasting superb RTX 4070 performance that outperforms its many competitors without a sweat, alongside excellent productivity scores to satisfy your needs in everyday tasks.
The Legion 5 Pro also has a personal favorite keyboard, and I even went as far to call it my keyboard soulmate earlier this year. By giving the arrow keys its own little nook, featuring its own touchpad, and having a wonderful feeling 1.5mm of key travel, it stands out and excels as one of the best.
And while the Legion 5 Pro doesn't have the best display, it is surprisingly high quality for a laptop at this price point. Managing a DCI-P3 score of 82.4% and 319 nits of brightness at this cost is often unprecedented. It even has a surprisingly powerful audio system.
With a AMD Ryzen 7 7745HX, 16GB of RAM, and a 1TB SSD, this laptop excels with a Geekbench 6 score of 13,063, alongside only taking 4 minutes and 5 seconds to convert a 4K video into 1080p resolution through the HandBrake app. And with the final cherry on top being 2,150 megabytes per second transfer rate, every aspect of its performance is unbelievable.
See our full Lenovo Legion 5 Pro review
Best 16-inch laptop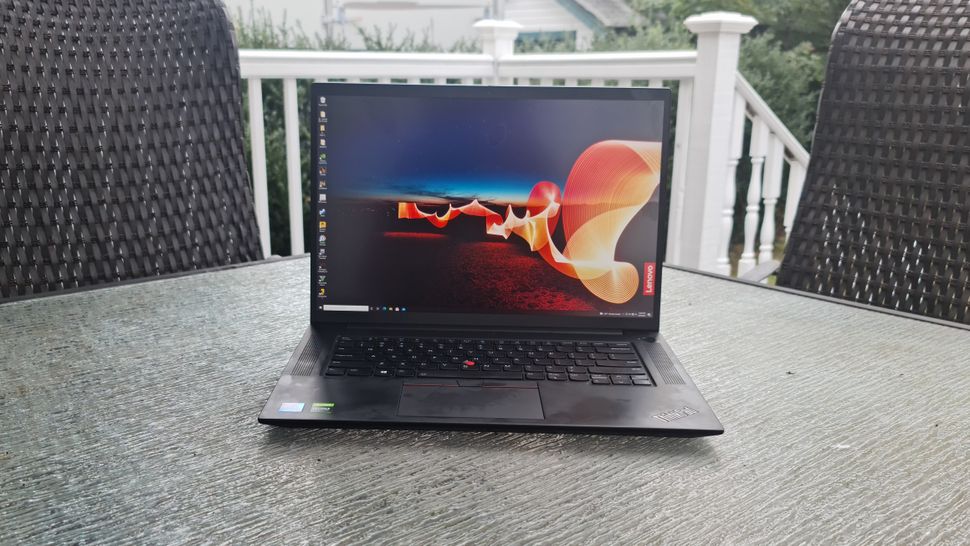 The best 16-inch laptop for professionals
Specifications
CPU:
Intel Core i7-11800H
GPU:
Nvidia GeForce RTX 3060 (6GB of VRAM)
Display:
16-inch, 2560 x 1600-pixel
Size:
14 x 10 x 0.78 inches
Reasons to buy
+
Durable chassis
+
Ultra-fast file-transfer rates
+
Zippy video transcoding
+
Robust speakers
+
1080p webcam
Reasons to avoid
-
Fingerprint-attracting chassis
Lenovo couldn't have picked a better name for the ThinkPad X1 Extreme Gen 4 — extreme is the operative word here. This 16-inch laptop, packed with extreme internals such as a top-of-the-line 11th Gen Intel Core i7 CPU and powerful Nvidia 30-series graphics, was built to make its rivals sweat. Someone check on the Dell XPS 15!

The ThinkPad X1 Extreme Gen 4 is ideal for handling extreme workloads for professionals, whether you're a creator, architect, or engineer. As a cherry on top, they can relax and play their favorite graphics-intensive games after a long day of productivity. With a durable chassis, crisp 1080p webcam, great performance, and graphics, the Lenovo ThinkPad X1 Extreme Gen 4 is one of the best business laptops on the market.

See our full Lenovo ThinkPad X1 Extreme Gen 4 review
Best Ultraportable
The best ultraportable
Specifications
CPU:
AMD Ryzen 7 Pro 6850U
Size:
11.59 x 7.86 x 0.55 inches
Reasons to buy
+
Gorgeous, premium build quality
+
Super small and lightweight
+
Decent AMD Ryzen performance
+
Impressive battery life
+
Ergonomic keyboard (and Trackpoint)
Reasons to avoid
-
Just two USB-C ports
-
Slow SSD speed
-
Tinny speakers
-
Pretty mid display
The Lenovo ThinkPad Z13 is easily the most gorgeous ThinkPad I've ever seen. It's almost as if the ThinkPad just went through a hot girl summer — hitting the beach and putting a lot of other laptops to shame with its sleek size and ultra luxurious aesthetic.
However, this thing isn't just about looks. The battery life is insane, the ergonomics of that keyboard are oh-so-sweet, and the performance under the hood is surprisingly good for conquering your workload.
Sure, there are compromises in the lack of ports, that touchpad, and the average IPS display. But if you're always on the go and you require something that suits your lifestyle, this is up there as one of the best options.
See our full Lenovo ThinkPad Z13 review
Best dual-screen laptop
Best Lenovo dual-screen laptop
Specifications
CPU:
Intel Core i5-12500H
Display:
17.3-inch, 3,072 x 1440-pixel, touchscreen
Second display:
8-inch, 1,280 x 800-pixel, touchscreen
Size :
16.1 x 9.0 x 0.6~0.7 inches
Reasons to buy
+
Rival-beating performance
+
Extremely useful second display
+
Innovative, smart design
Reasons to avoid
-
Buggy, slow second screen
-
Mushy keyboard
The Lenovo Thinkbook Plus Gen 3 is the first laptop of 2023 to actually wow us. Dreary-gray clamshell notebooks, lame-o Chromebooks, and black business workstations have been boring us to tears, and Lenovo has hit the scene with this invigorating dual-screen laptop.
The Thinkbook Plus Gen 3 has a beautiful main 17.3-inch, 3K display. It's ultra-wide AF with a dazzling 21:10 aspect ratio. (I don't think I've ever reviewed a laptop with a 21:10 aspect ratio!) And the secondary display is a sight to behold — it looks like someone shoved the keyboard to the left, cut a rectangle into the deck, and dropped in an 8-inch tablet for maximum productivity.
As someone who's constantly cross-referencing different documents on Google Docs and Sheets, this dual-display setup has boosted my workflow beyond my wildest expectations.

See our full Lenovo ThinkBook Plus Gen 3 review
Best Chromebook
The best Chromebook
Specifications
CPU:
Qualcomm Snapdragon 7c Gen 2
Display:
13.3-inch, 1920x1080-pixel OLED touchscreen
Size:
12 x 7.4 x 0.28 inches
Weight:
2.24 pounds (with keyboard/case); 1.5 pounds (tablet only)
Reasons to buy
+
Excellent battery life
+
Detachable 2-in-1 design
+
Bright, vivid OLED display
+
Keyboard and cover included
Reasons to avoid
-
Stylus not included
-
Weak performance for the price
The Lenovo Duet 5 Chromebook is a significant departure from last year's affordable Chromebook Duet. Although the higher price tag may drive some away, the considerable hardware upgrades make this 2-in-1 just as compelling.
The Duet 5 still features a fabric rear case and keyboard cover like the previous model, but open it up and the 13.3-inch OLED display will make you check that sub-$500 price again. The changes run deeper than that with a dramatically improved Qualcomm Snapdragon 7c Gen 2 processor, while also delivering over 13 hours on a single charge.
While it may not be the scrappy budget champ that the original Chromebook Duet was, the Duet 5 has bulked up and is ready to take on some heavyweight competition.

See our full Lenovo Duet 5 Chromebook review
Best Workstation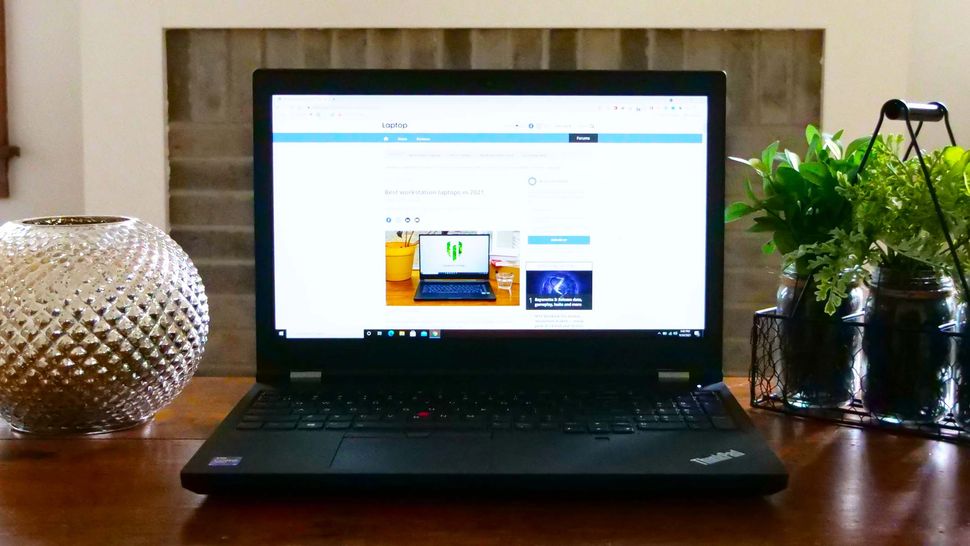 The most powerful workstation
Specifications
CPU:
Intel Core i7-11950H vPro
Display:
15.6-inch, FHD (1920x1080)
Size:
14.7 x 9.9 x 1.2 inches
Reasons to buy
+
Class-leading performance
+
Excellent array of ports
+
Bright display
+
Durable build
The Lenovo ThinkPad P15 Gen 2 improves on what was already a winning formula with the original ThinkPad P15 with upgraded performance and stellar battery life for the 1080p model.
The laptop's 11th Gen Intel Core i9-11950H CPU, Nvidia RTX A5000 GPU, and 32GB of RAM make it an absolute workhorse of a workstation. If raw performance is your goal, it will be hard to beat the ThinkPad P15 Gen 2. The one concern for creatives will be the display, but if that's crucial for you consider the OLED panel option or perhaps an external display.
See our full Lenovo ThinkPad P15 Gen 2 review
How to pick a Lenovo laptop
Lenovo's our top-rated laptop brand for good reason. The company offers an extensive product lineup with some of the best notebooks you can get from any manufacturer. Lenovo makes laptops for just about every type of user, from children in school to gamers and business executives.
We've listed our favorite current Lenovo laptops above, but if you're doing research, it helps to know the difference between the company's major product lines.
ThinkPad: Lenovo's business laptops have some of the best keyboards in the world and many have extremely long battery life. They're a great choice, even if you're not planning to use them for work.
Yoga: These premium 2-in-1s have great designs, colorful screens, and strong battery life.
Legion: The gaming line offers solid performance at reasonable prices.
Flex: A line of 2-in-1s that is less expensive than Yoga, but still full-featured.
IdeaPad: These mainstream consumer laptops range in price from low-end budget systems to more premium Ultrabooks.
How we test Lenovo laptops
Why you can trust Laptop Mag Our expert reviewers spend hours testing and comparing products and services so you can choose the best for you. Find out more about how we test.
We put each Lenovo laptop through extensive benchmark testing — both synthetic and real-world — before they end up in the hands of our reviewers. We evaluate each aspect of the laptop, including its performance, battery life, display, speakers and heat management.
In our benchmark testing, we use a Klein K10 colorimeter to detect the brightness and sRGB color gamut of the laptop's display. For performance testing, we run the laptop through a gauntlet of benchmarks, including Geekbench 5.0 and 3DMark professional graphics tests.
To determine real-world performance, we task the laptop to convert a 4K video to 1080p resolution and to duplicate a 25GB multimedia file. Our real-world graphics test is the Sid Meier's Civilization VI: Gathering Storm benchmark with medium settings at 1080p resolution.
We also run heat tests by playing a 15-minute full-screen video and measuring temperatures in different areas of the laptop. Last but not least, our battery test consists of continuous web surfing over Wi-Fi at 150 nits of brightness. For MacBooks and premium Windows 10 laptops, a runtime of over 9 hours is considered a good result whereas gaming laptops and workstations that can stay powered for longer than 5 hours deserve praise.
These tests are complemented with extensive hands-on testing from our reviewers who critique everything from the laptop's materials to the feel of its touchpad.