Samsung Galaxy S24 Ultra rumors: release date, price, specs, and more
Everything you need to know about the Samsung Galaxy S24 Ultra!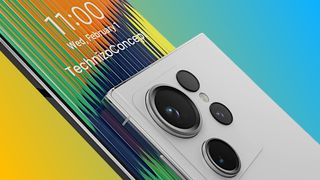 (Image credit: Technizo Concept)
Samsung has its work cut out for it if it wants the Galaxy S24 Ultra to remain a contender for the best smartphone on the market – especially after such impressive showings from the iPhone 15 Pro series and the Google Pixel 8 Pro.
Thankfully, from everything we know so far about Samsung's flagship device, the Galaxy S24 Ultra is shaping up to be another quality offering. Not only that, it could be heading our way sooner than we expect, full of gusto and ready to flex on the competition with some incredible specifications, in true Samsung fashion.
Let's dive into the latest and see what the latest rumors and leaks have to say about the Samsung Galaxy S24 Ultra.
Samsung Galaxy S24 Ultra: Latest news (updated: Oct. 25, 2023)
Samsung Galaxy S24 Ultra: Preorder and release date (rumored)
Samsung is expected to unveil the Galaxy S24 Ultra in the first quarter of 2024 at one of Samsung's Galaxy Unpacked events. Typically, Samsung's event takes place in February, with products becoming available to preorder the day of and ready to purchase roughly two full weeks later.
However, recent reports indicate that the South Korean tech wizards are pushing for an earlier showcase in the face of middling sales of its Z-Series foldables – not to mention the launch of the Pixel 8 and iPhone 15.
Just how early are we talking? Well, if Twitter tech tipster Revegnus is to be believed then we can expect Samsung to take to the stage at some point in early January. This is further backed up by similarly reliable leaker and cat avatar donning Ice Universe, who claims that Samsung's flagship device will likely make it to store shelves around Jan. 18, 2024.
If we take this information as fact, then we can likely predict Samsung's Galaxy S24 Ultra release schedule as such (preorder/release date):
Samsung Galaxy S24 Ultra: Price (rumored)
How much will the Samsung Galaxy S24 Ultra cost? That's something many of us are wondering after being inundated with rumors surrounding the fluctuating prices of other recently released flagship devices.
One such rumor came from yet another reliable tipster on Twitter, Yogesh Brar. Brar claimed in August 2023 that we could see price jumps across all major flagship devices of $50-$200 – referencing the Galaxy S24-Series by name as one of those included.
We will be seeing a $50 - $200 price jump on all major flagships depending upon the variants.This includes:- Google Pixel 8 series- iPhone 15 series- Xiaomi 14 series- Samsung Galaxy S24 seriesAugust 17, 2023
But did Brar's info stand the test of time? Yes and no. Of the devices mentioned that have been released so far, only the Pixel 8 Pro saw a price increase ($100), with the iPhone 15 Pro Max retaining the same price while dropping its cheaper 128GB model.
We can't say for sure in which direction Samsung will take the Galaxy S24 Ultra, but we can reasonably assume that its price will start at somewhere between $1,199 and $1,399.
Samsung Galaxy S24 Ultra: Specifications (rumored)
An assortment of reliable tips have given us an indication of what specifications to expect when the Samsung Galaxy S24 Ultra arrives in 2024. Primary of which is the Qualcomm Snapdragon 8 Gen 3 chipset – a powerful new octa-core processor that has shown some incredibly promising scores in leaked Geekbench results.
Swipe to scroll horizontally
| Geekbench results | Single-Core score | Multi-core score |
| --- | --- | --- |
| Galaxy S24 Ultra Prototype SM-S926B (Snapdragon 8 Gen 3) | 2,067 | 6,520 |
| iPhone 15 Pro Max (A17 Pro) | 2,890 | 7,194 |
| Pixel 8 Pro (Tensor G3) | 1,760 | 4,442 |
| Galaxy S23 Ultra (Snapdragon 8 Gen 2) | 1,881 | 4,985 |
However, while these numbers are impressive to see, they do come from a pre-production prototype and could be falsely indicative of the Galaxy S24 Ultra's final performance.
That being said, if they are accurate we could be looking at not only Samsung's most powerful device to date, but the closest on-paper competitor to Apple's awesome A17 Pro chipset.
As for the phone's graphical performance? A recent report showcasing Vulkan GPU benchmark results has shown some wild numbers in play.
The benchmark was seemingly performed on a Qualcomm Snapdragon 8 Gen 3 processor within a prototype Galaxy S24 Plus (potentially indicating that Qualcomm's powerful chip may feature in some variants of the base S24 models), and shows a dramatic increase in GPU performance of over 81% when compared to the Galaxy S23 Ultra.
Swipe to scroll horizontally
| Vulkan GPU Benchmark | Score |
| --- | --- |
| Galaxy S24 Plus Prototype SM-S926U (Snapdragon 8 Gen 3) | 17,031 |
| Samsung Galaxy S23 Ultra (Snapdragon 8 Gen 2) | 9,379 |
Does this mean the Snapdragon 8 Gen 3 equipped Galaxy S24 Ultra will be a gaming powerhouse? That's hard to say. These results are still from test units and don't give a full picture on real-world performance. However, it's impressively promising to say the least.
How best can all of this computational power be used? Well, according to SamMobile, the S24 lineup is set to adopt a host of AI features – including generative AI tools like text-to-image capabilities and potentially ChatGPT-like improvements to Samsung's digital assistant Bixby.
Moving on, thanks once more to Twitter tipster Revengus, we also have a general idea of what to expect when it comes to the Galaxy S24 Ultra's memory and storage.
S24Ultra has 2TB options😯Furthermore, it's almost certain that the RAM for the 256GB variant will be 12GB. However, there could be a 128GB model with 8GB of RAM.August 28, 2023
Revegnus' tweet/post not only indicates that there'll be 8GB and 12GB RAM configurations available for the S24 Ultra, but also that there'll be an abundance of storage configurations too – capping out with a whopping 2TB of internal storage.
Swipe to scroll horizontally
| Header Cell - Column 0 | Samsung galaxy S24 Ultra |
| --- | --- |
| Price | $1,199 and $1,399 |
| Processor | Qualcomm Snapdragon 8 Gen 3 |
| RAM | 8GB, 12GB |
| Storage | Up to 2TB |
| Display | 6.8-inch AMOLED M13 LTPO |
| Resolution (ppi) | 3200 x 1440 (463) |
| Refresh rate | 1Hz - 144Hz |
| Peak brightness | 2,500 nits |
| Front camera | 12MP (Selfie) |
| Rear Camera(s) | 200MP (Main) |
| Row 10 - Cell 0 | 12MP (Ultrawide) |
| Row 11 - Cell 0 | 10MP (Periscope, 5x optical zoom) |
| Row 12 - Cell 0 | 50MP (Telephoto, 3x optical zoom) |
| Dimensions | 6.38 x 3.11 x 0.33 inches |
| Weight | 233 grams (8.21 ounces) |
Samsung Galaxy S24 Ultra: Design and display (rumored)
From what we know so far, the Galaxy S24 Ultra will look a lot like its predecessor at first glance, though there will be some noticeable changes when it comes to design and display.
The most basic is a new collection of colors according to Ross Young of Display Supply Chain Consultants. His sources indicate that the standard colors will include Black, Titanium Grey, Violet, and Yellow. Online exclusives for the S24 should include Orange, Light blue, and Light green.
According to an Ice Universe tweet/post, while retaining the same overall look, the Galaxy S24 Ultra will do away with the curved display, switching to a flat screen. This has led some to believe that leaked measurements indicate chunkier bezels, however, this could be explained by the remaining curvature of the all-new titanium chassis.
Galaxy S24:147 × 70.6 × 7.6mm 6.2" 168g 4000mAhFHD+ resolution, 2500nit, 25wGalaxy S24+158.5 × 75.9 × 7.7mm 6.7" 195g 4900mAhWQHD+ resolution, 2500nit, 45wGalaxy S24 Ultra:162.3 × 79 × 8.6mm 6.8" 233g 5000mAhWQHD+ resolution, 2500nit, 45wSeptember 29, 2023
The Samsung Galaxy S24 Ultra's improved 6.8-inch, WQHD+ (3200 x 1440-pixel, 463 ppi) display is rumored to make use of an AMOLED, M13 LTPO panel – the very same rumored to appear in the iPhone 16. The Galaxy S24 Ultra's next-gen display will reportedly be more power efficient and offer a dynamic refresh rate of 1Hz - 144Hz.
Capping things off on the display front is the incredible rumor that the Galaxy S24 Ultra will feature a record-breaking peak brightness of 2,500 nits – a 750 nit increase over the Galaxy S23 Ultra's already impressively bright panel.
Samsung Galaxy S24 Ultra: Cameras (rumored)
According to both Yogesh Brar and Ice Universe, Samsung's Galaxy S24 Ultra will retain the 23 Ultra's whopping 200MP main, 12MP selfie cam, 10MP periscope lens (down to just 5x optical zoom), and 12MP ultrawide shooters while adding a game-changing 50MP telephoto (3x optical zoom) lens to its impressive arsenal.
Samsung Galaxy S24 UltraRear Cam: 200MP + 12MP (UW) + 50MP (tele) + 10MP (periscope)Selfie: 12MPBattery: 5,000mAh, 45W chargingSoC: Qualcomm Snapdragon 8 Gen 3 / Exynos 2400August 16, 2023
Samsung's 10x optical zoom was a big deal for the S23 Ultra, so rumors of its exit have left many puzzled. However, thanks to a larger sensor size and wider aperture, the improved 50MP telephoto shooter may offer similar results to the periscope's 10x optical zoom without sacrificing much in the way of image quality.
Stay in the know with Laptop Mag
Get our in-depth reviews, helpful tips, great deals, and the biggest news stories delivered to your inbox.
Rael Hornby, potentially influenced by far too many LucasArts titles at an early age, once thought he'd grow up to be a mighty pirate. However, after several interventions with close friends and family members, you're now much more likely to see his name attached to the bylines of tech articles. While not maintaining a double life as an aspiring writer by day and indie game dev by night, you'll find him sat in a corner somewhere muttering to himself about microtransactions or hunting down promising indie games on Twitter.