The best smartphones aren't quite as predictable as they once were with a number of new options emerging, including many in the $500-$750 range. Now you aren't going to get a folding screen or a 50x zoom at that price unless you bump up to the full $1,000 and up flagships, but those features don't matter to everyone.
True flagships still have their place, they push the boundaries of what's possible in a smartphone form factor, but some of the best smartphones can do everything most need them to do for far less. Whether you want the latest and greatest or just the best smartphone for your specific needs, it's a great time to be in the market for a new phone.
Google's new Pixel 7 and Pixel 7 Pro were recently announced and the blend of value, unique software offerings and typically outstanding cameras make them serious contenders for this list. Our reviews are just getting underway, but we'll have them soon. If you can't wait, Pixel 7 pre-orders are open already and if you are looking for a good deal on any phone then check out the Prime Early Access Sale October 11-12.
We've spent hundreds of hours reviewing and researching all of the best smartphones available today and whether you value productivity, photography, gaming, social media, videography, or battery life, these phones are the best of the best.
What is the best smartphone?
Why you can trust Laptop Mag Our expert reviewers spend hours testing and comparing products and services so you can choose the best for you. Find out more about how we test.
Despite the launch of the iPhone 14 Pro, the iPhone 13 Pro is arguably still the best smartphone on the market for most people. You should be able to find it for under the original $999 retail price and the dramatically improved cameras, stellar battery life and unmatched software support make it a compelling smartphone investment.
Apple's A15 Bionic processor in the iPhone 13 Pro has been overtaken by the A16 Bionic, but it still tops anything available outside of an iPhone. The triple-cameras on the back of the iPhone 13 Pro produce excellent photos and the best video of any phone on the market and it matches the camera specs of the iPhone 13 Pro Max identically.
For Android fans, depending on your budget there are a number of other fantastic options as well. The Samsung Galaxy S22+ is the best Android phone for most people with its Snapdragon 8 Gen 1 processor and a triple-camera array that allows you to get fantastic photos near or far with up to a 30x digital zoom.
On the other end of the price spectrum is Google's Pixel 6, which at $599, is arguably the best Android value ever. The specs won't blow you away, but Google's software support is unmatched on Android and the company's new SoC is surprisingly powerful. Google's photography remains unmatched in this price category. Check out the battle between two of the best smartphones on the market: Pixel 6 vs. iPhone 13.

If you're interested in other affordable smartphones you may want to check out our best budget phones, which sticks to sub-$500 phones including Google's Pixel 6a.
That's a quick look at some of our top picks, but here's a rundown of all the best smartphones available today.
The best smartphones you can buy today
The iPhone 13 Pro claims the spot as the best overall smartphone for most users away from the iPhone 12. While the iPhone 13 certainly still has strong appeal at its more affordable $799 price point, there are far more compromises by going with the non-Pro models this year including weaker cameras, lack of 120Hz displays and a considerable drop in battery life.
The iPhone 13 Pro fixes all of our concerns with last year's model and with the exception of screen size it puts the iPhone 13 Pro on equal footing with the iPhone 13 Pro Max. This includes the incredible new triple camera system with unbelievable low-light performance when using either the wide-angle or ultra-wide lens thanks to new sensors and sensor-shift image stabilization.
While the A15 Bionic may be needlessly fast today, you'll appreciate it in a few years when your phone is still running circles around most of the competition and is getting day and date updates to the latest version of iOS likely through 2027. The $999 starting price may be daunting, but the iPhone 13 Pro is worth it.
See our full iPhone 13 Pro review
At $599 the Pixel 6 creates a clear upgrade path for Pixel fans coming from the Pixel 3a or Pixel 4a, who were underwhelmed by the Pixel 5a and want more without spending $1,000. The budget realm has been Google's bread and butter over the last few years and the Pixel 6 may perfectly fit into an underdeveloped price range in the market.
While it may lack premium features found on the Pixel 6 Pro and some and other flagship phones from Samsung or Apple, the large 90Hz display, incredible primary camera and strong software support from Google may be enough to finally push a Pixel device into the mainstream.
Google has made it clear in recent years that it wants to be known as a great "value proposition" in the market and while it is trending out of the realm of what we consider budget phones, there is no better smartphone value today than the the Pixel 6.
Read our full Pixel 6 review.
Samsung's Galaxy S22 and S22+ didn't get the major overhaul that the Galaxy S22 Ultra did this year, but the relatively subtle changes to the already excellent Galaxy S21 add up to a phenomenal phone premium smartphone buyers that aren't swayed by the S Pen or 108MP camera of the S22 Ultra.
You would be forgiven for not realizing much had changed, Samsung's only design tweaks include new colors and the Contour Cut Camera housing now matches the back of the phone rather than using a contrasting color. However, the Snapdragon 8 Gen 1, the new 50MP primary wide-angle camera sensor and Samsung's now Android leading four years of major OS and security updates are all significant upgrades over last year's model.
If you are in the market for a premium Android phone the Galaxy S22 and Galaxy S22+ belong near the top of your list.
See our full Samsung Galaxy S22 review
The Pixel 6a sticks to the same formula as last year's Pixel 5a, bringing many of the best features of Google's flagship phones to a sub-$500 price point. However, it has the benefit of following in the footsteps of the much more successful Pixel 6 and Pixel 6 Pro, which means it gets Google's powerful new Tensor chipset.
This is a dramatic performance boost from the Snapdragon 765G in the Pixel 5a and catapults the Pixel 6a to near the top of the performance charts in this price range. While it doesn't get the new 50MP primary camera of its pricier siblings, it still undeniably takes the best photos in the budget market.
Unlike some other budget phones *cough* iPhone SE *cough* you also get the exact same modern design as the flagship models and with its more modestly sized camera array and 6.1-inch display the Pixel 6a is the most pocketable and easy to carry of the current Pixels. If you are looking to spend the least amount of money on a phone that will deliver an excellent experience for several years then the Pixel 6a belongs at the top of your list.
See our full Pixel 6a review.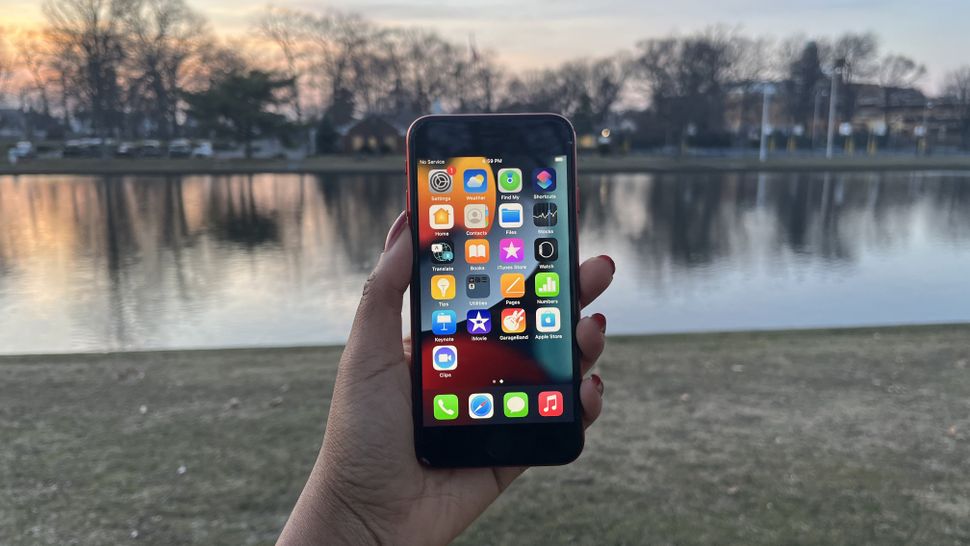 From a performance standpoint, the iPhone SE (2022) is an absolute marvel, featuring the same market-leading A15 Bionic SoC as the flagship iPhone 13 lineup. It's also a rarity in the smartphone world in 2022 for its 4.7-inch display, diminutive by modern standards. Combine this with the $429 price point, $270 less than the next cheapest iPhone, and you've got a winning combination for Apple.
With all of that said, there are certainly tradeoffs that Apple made to hit that price point. The iPhone SE 2022 still has a single rear camera and a relatively weak 7MP front-facing camera. Apple's computational photography continues to improve and it squeezes some solid results out of the middling hardware, but it's not up to flagship standards. The old-school design and Touch ID are something you'll either love or hate as it looks like you are carrying a 5+-year-old phone. Finally our biggest complaint was the relatively weak battery life, but if you are opting for the budget iPhone because you aren't a heavy smartphone user this likely won't be a problem.
See our full iPhone SE (2022) review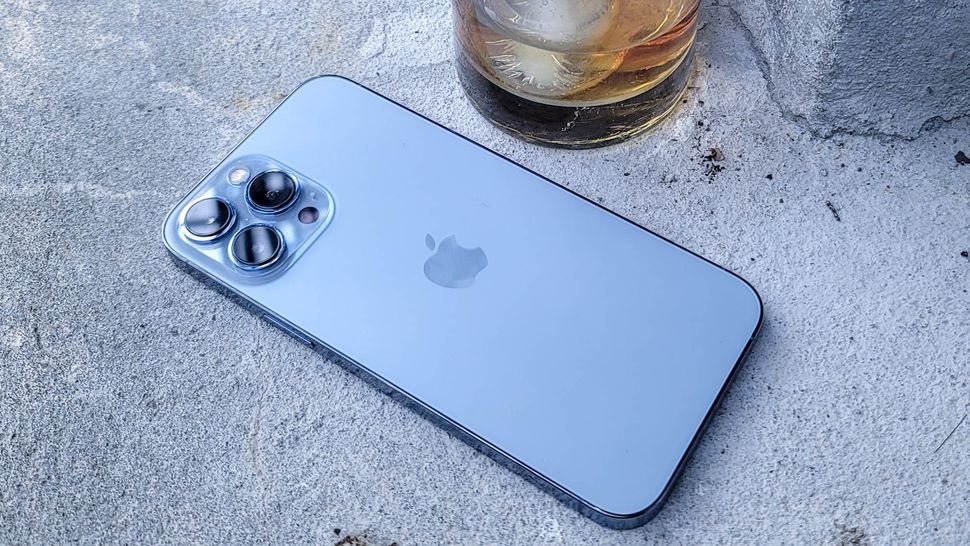 The iPhone 13 Pro Max is overpowered, gorgeous and expensive. You don't want to go with the 128GB base model, but you can probably get away with 256 or 512GB of storage, which still means you are looking at a starting price of $1,199. If that's too rich for your blood then take a hard look at the iPhone 13 Pro or even the iPhone 13.
The iPhone 13 Pro Max is a multitasking/gaming/photography machine without question. And it lasted over 12 hours on our battery test. But like the Samsung Galaxy Note 20 Ultra, the iPhone Pro Max 13 is really for heavy-duty users, not those of us who are just watching videos, trawling social media, reading books and texting,
So who do I recommend the iPhone 13 Pro Max to? Content creators, with a focus on photographers and videographers who maybe can't afford something like the BlackMagic Pocket Cinema 6K camera. It's also for people who love opulence, power and endurance and the iPhone Pro Max 13 has that in spades.
See our full iPhone 13 Pro Max review
The Samsung Galaxy Z Flip 3 should be the phone that takes foldables mainstream. While the battery life will undoubtedly present problems for some users, it isn't an insurmountable issue and is worth the trade-off if you want a full flagship experience that can fit in any pocket.
The Galaxy Z Flip 3 delivers what most people seemed to want from the iPhone 12 mini, an ultra-compact phone that doesn't compromise on the flagship experience. The 6.7-inch, 120Hz display on the Galaxy Z Flip 3 is second to none; the cameras produce fantastic photos and videos; and the Snapdragon 888 chip should be fast enough to comfortably last you through the four years of security updates you get with the phone.
We haven't reached the point where there are no sacrifices when opting for the foldable form factor, but the Galaxy Z Flip 3 gets very close. If you are willing to work around the short battery life, the Galaxy Z Flip 3 delivers a flagship phone experience unlike any other.
See our full Samsung Galaxy Z Flip 3 review
At $899 the Pixel 6 Pro is affordable compared to its flagship competitors, but it isn't the immediately obvious value that the Pixel 6 represents. With the OnePlus 9 Pro hardware eclipsing it in some areas for around the same price and Samsung's now nearly one-year-old Galaxy S21 phones having dropped in price.
The unproven Tensor chip may be tough for users that only upgrade every few years to depend on its first-gen, particularly with a proven commodity like the A15 Bionic in the iPhone 13 Pro or Pro Max. Google is back in the conversation for best pure phone camera on the market with the Pixel 6 Pro, but others beat it in some areas with Samsung's superior telephoto and Apple's video superiority.
While its raw numbers may not hold up to its competitors, Google's entire pitch for the Pixel 6 and Pixel 6 Pro essentially boils down to it being a phone that adapts to you. After having spent over a month with the phone now I love what I've seen so far and while it may not be envisioned when I asked for a flagship Pixel phone, it's exactly what I wanted.
See our full Pixel 6 Pro review
The OnePlus 10 Pro is a streamlined attack on the flagship phone market from OnePlus with a reduced price, competitive specs and a single model to avoid any confusion for buyers.
It gets the same new Snapdragon 8 Gen 1 processor as other Android flagships, a powerful triple camera array with telephoto, a vivid 120Hz adaptive display, a new design to stand out from the crowd and solid software support to assure the phone is up-to-date for years to come.
The OnePlus 10 Pro at $899 is an outstanding value that for the right buyer is the best phone available today. It offers performance on par with anything on the Android side, battery life that rivals even the iPhone, a gorgeous display that is only outdone by Samsung and fast charging that still blows away any of the competition in the U.S.
See our full OnePlus 10 Pro review.
The Xiaomi 12 Pro, starting at $999, is taking on the other flagship Android manufacturers on even ground and while that may be a slight misstep on the retail pricing front, the fact that it should typically be available for less means consumers will ultimately see it as the value brand.
To be fair, the hardware matches up well with anyone else on the market — from its beautiful LTPO 120hz display to its trio of 50MP cameras capable of up to 8K or 4K HDR 10+ video recording and powerful Snapdragon 8 Gen 1 processor. That's before we get to its mind-bending 120W charging with the bundled charger and outstanding battery life.
Xiaomi has even addressed software support with its three years of major OS updates and four years of security updates commitment. However, we still need to see how fast it manages to deliver those updates. MIUI is a more significant overlay than most, but it's good to see that level of support. While the camera performance and those occasional UI lags keep the Xiaomi 12 Pro from the top podium spots on the best smartphone list, it remains an excellent option that, with a few software updates, could be even more formidable.
See our full Xiaomi 12 Pro review.
How to find the best smartphone
There are dozens of smartphones released every year and it can be difficult to decide which is going to be the most suited to your needs. Here's a good set of questions to ask yourself as you consider which of the best smartphones is right for you.
What's your budget?
As you would probably expect, this is going to be a major deciding factor in your smartphone buying experience. There are three fairly distinct tiers in the smartphone market at the moment. Budget smartphones in the $250-$400 range can deliver a solid enough experience for many users, but will typically give up some camera quality, feature a weaker processor and offer reduced software support. Mid-tier smartphones in the $600-$750 range are enjoying a real resurgence at the moment with features that are just behind the flagships for hundreds less. True flagships start at around $999 and can go up to $1,400 and beyond, and as expected at this price, you should be getting a top-of-the-line processor, the ability to capture near DSLR quality photos and a fantastic display.
Android or iOS?
This could certainly be the first question you ask and will narrow your choices down considerably if you are set on one or the other. The truth is that the two operating systems are closer than ever in terms of overall functionality. Apple still delivers faster software updates, superior privacy and generally a better app experience. Android offers more customizability, a superior voice assistant, a wider variety of hardware and more user control.
How much battery life do you need?
All the rest of its features won't matter much if your smartphone is constantly dying before the end of the day for you. We conduct our own battery tests to see how long they will last on a single charge. And while your mileage will of course vary depending on your tasks, it will give you a general idea of how they stack up to one another.
Do you prefer a larger screen?
While the big-screen trend has largely eliminated the truly small smartphones from the market, there is still a spectrum of more compact options. Smaller phones at this point come in at or below 5.8-inches and the largest options are between 6.5-6.8 inches. For productivity and content consumption, a larger screen is definitely better, but there is certainly a portability trade-off so consider what you can carry comfortably.
How much do you value the camera?
The camera is one of the biggest differentiators as you move up the smartphone tiers. There are budget options that can capture excellent photos. However, they'll lack some of the advanced telephoto and often high-end video capture capabilities that you will find in pricier smartphones. If, like most people, your smartphone is your only camera, then it's worth considering whether the added reach or resolution of a high-end smartphone will allow you to capture photos and moments you otherwise might have missed.