Best tablet in 2023
These are the best tablets for the money based on our testing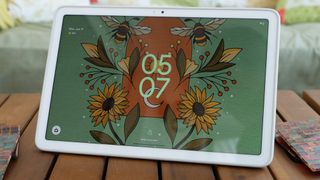 (Image credit: Laptop Mag)
The best tablets are seeing more competition than we've experienced in years recently with meaningful challengers to the iPad's once unquestioned dominance. This includes entirely new competitors like the OnePlus Pad and unique new offerings like the Google Pixel Tablet.
Whether you are looking for a tablet to just watch videos and surf the web, or you want a potential laptop replacement or portable content creation station, we've got tablets that can tick all of those boxes.
Read on and we'll take you through all of the best tablets in 2023, no matter what your budget or needs, there is a tablet on this list for you.
Prime Day Tablet Deal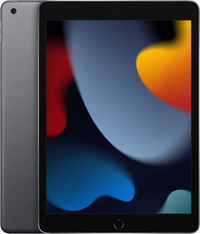 Apple iPad 9th Gen: $329 $249 @ Amazon
Save $80 on the Apple iPad 9th generation tablet via Amazon's on-page clickable coupon. This entry model iPad packs a 10.2-inch Retina display with True Tone, A13 Bionic chip, 64GB of storage and stereo speakers. It sports an 8MP wide angle primary camera on the back and a 12MP ultra-wide front camera. Touch ID and Apple Pay offer secure login payment.
The Best Tablets in 2023
The best overall tablet
Specifications
Display:
10.9-inch, 2360 x 1640-pixels
Dimensions:
9.7 x 7 x 0.24 inches
Reasons to buy
+
Sleek design with thin bezels
+
M1 chip delivers excellent performance
+
Good battery life
+
Loud, clear speakers
Reasons to avoid
-
Accessories are expensive add-ons
-
No Face ID or headphone jack
The iPad Air 5 wasn't a revolutionary update from its predecessor, but with the addition of the M1 chip and 5G it is an outstanding tablet that will last you for years. It has a 10.9-inch Liquid Retina display with thin display bezels for a portable and modern iPad design.
Under the hood is the M1 chip, the same SoC found in the iPad Pro and even the MacBook Air and MacBook Pro 13-inch. Needless to say, this is more than enough performance for any of your tablet needs. Despite this ample power it still delivers excellent battery life at 10 hours and 9 minutes in our Laptop Mag battery test.
Apple stuck to the $599 price point for the iPad Air, making it nearly double the cost of the iPad, but $200 less than the 11-inch iPad Pro. With support for the Apple Pencil Gen 2 (with magnetic wireless charging on the side) and the Magic Keyboard accessory, the Air is potentially compelling laptop replacement.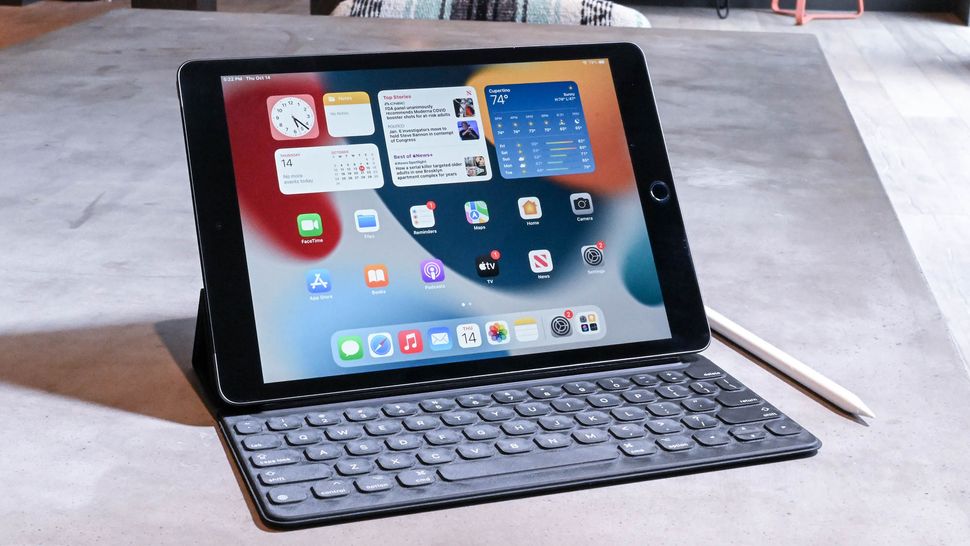 The best cheap tablet
Specifications
Display:
10.2-inch, 2160 x 1620-pixel
Dimensions:
9.8 x 6.8 x 0.3 inches
Ports:
Lightning, Headphone
Reasons to buy
+
Outstanding performance at this price
+
Excellent battery life
+
Bright, vivid 10.2-inch display
Reasons to avoid
-
Recycled design
-
Not compatible with Magic Keyboard/Pencil Gen 2
-
Lacks Wi-Fi 6 or 5G support
The ninth-generation iPad remains in the lineup to keep that $329 starting price for the iPad, and it remains a fantastic choice for those looking to save money. The A13 Bionic chip is still outstanding and the upgraded selfie camera, and True Tone display, among other small changes keep it feeling modern and relevant.
While there are enticing additions to the pricier iPads, if you aren't going to be a power user or are looking for an affordable iPad for a child, the iPad Gen 9 is still unbeatable as a budget tablet thanks to its good display, excellent build quality, and reliable performance.
Read our full Apple iPad Gen 9 review.
The best Android tablet for most people
Specifications
Display:
11.6 inches (2800 x 2000) 144Hz adaptive
Dimensions:
10.1 x 7.45 x 0.25 inches
Reasons to buy
+
Excellent design and build quality
+
Powerful, smooth performance
+
Gorgeous display
+
Excellent audio
+
Great magnetically attaching keyboard and Stylo Pen
Reasons to avoid
-
Collects fingerprints
-
Android Tablets lack of tablet-specific apps
The OnePlus Pad would be the most interesting new Android tablet in years almost by default, but it also happens to be a great tablet that costs less than $500. We were blown away by its outstanding 13.5 hours of battery life and the gorgeous 2,800 x 2,000-pixel 144Hz display.
The MediaTek Dimensity 9000 chip inside was surprisingly powerful, it churned through every app, game, and multi-tasking productivity hoop that we set in front of it. If you are looking for more of a laptop experience you can connect up the magnetic keyboard and the Stylo lets you get creative with sketching or if you prefer handwriting to typing.
While Android's tablet app selection still leaves a bit to be desired, if you are looking for a tablet for content consumption, web browsing, and light productivity work (so about 95% of tablet usage) then the OnePlus Pad is an excellent choice.
Read our full OnePlus Pad review.
The best Android tablet for casual users
Specifications
Display:
11 inches (2560 x 1600)
Dimensions:
10.2 x 6.7 x 0.3 inches
Reasons to buy
+
Slick, stylish design
+
Good audio performance
+
Fast, zippy performance
+
Seamless dock integration
+
Excellent battery life
Reasons to avoid
-
Lacks some typical tablet accessories
-
Charging Speaker Dock could do more
The Google Pixel Tablet is the most interesting new tablet in years as it doesn't set out to be an iPad killer, but instead carves out a new niche for itself as a hybrid smart display and tablet.
For casual tablet users, this should have tremendous appeal as it gives your tablet a purpose even when you aren't actively using it, so you don't feel like you spent $500 on a device that you only pick up occasionally. On its charging speaker dock the Pixel Tablet is essentially a Nest Hub, offering you all of the typical Google Assistant features, smart home functionality, and excellent audio output.
Remove the Google Pixel Tablet from its dock and it is an excellent Android tablet with almost 12 hours of battery life, powerful performance, a bright display, and stellar software support. That last one is where even the best Android tablets typically fall down, so it's a crucial benefit for the Pixel Tablet.
If you like the idea of a tablet for watching and listening to content, surfing the web, occasional gaming, and managing your smart home tech the Pixel Tablet is absolutely unbeatable.
See our full Google Pixel Tablet review.
The best mid-range iPad
Specifications
Display:
10.9-inch, 2360 x 1640-pixel
Dimensions:
9.78 x 7.07 x 0.28
Reasons to buy
+
Powerful performance
+
Solid display
+
Killer speakers
+
Great Apple Pencil
Reasons to avoid
-
Subpar battery life
-
Magic Folio is ugly
-
Expensive accessories
The standard iPad got a massive overhaul last year to match the new squared-off look of Apple's devices along with the move to USB-C from Lightning like the iPad Pro and Air. The bad news is that these upgrades also pushed the starting price of the iPad Gen 10 up to $449, rather than the $329 of year's past. If you missed it you'll see the iPad Gen 9 still on our list above as Apple kept it around to maintain that cheaper starting price.
So beyond the design and the USB-C port, what does the extra $120 get you? The iPad Gen 10 has a larger 10.9-inch display, a dramatically improved quad speaker setup, the newer A14 Bionic chipset, and upgraded cameras.
On the downside its battery life fell by about an hour, but at 10 hours and 57 minutes in our Laptop Mag battery test, it's still plenty to get you through at least a day or two of use. It's also worth noting that standby time is excellent, so light users could make it a week on a charge.
The price hike was disappointing, but the iPad Gen 10 is more of an iPad Air Jr. than a true budget tablet, so it's understandable and worth the price of admission if you want most of the high-end iPad features without spending over $500.
See our full iPad 10.9-inch Gen 10 review.
The best tablet for power users
Specifications
Display:
12.9 inches, 2732 x 2048 mini-LED
Storage:
128GB (starting)
Dimensions:
11.04 x 8.46 x 0.25 inches
Reasons to buy
+
Incredible XDR display
+
Magic Keyboard and Apple Pencil are great
+
Impressive speakers
+
Strong performance
+
Decent battery life (shorter than last year, though)
+
Killer cameras
Reasons to avoid
-
Apple tax is real
-
Needs more colors
The 12.9-inch iPad Pro is the best tablet for power users that don't want the complexity of Windows. Equipped with an M2 processor, a mini-LED (XDR) display, and 5G support, no other tablet on the market will get you as complete of a package as the iPad Pro.
Software improvements have been a big part of the last couple of iPad updates. Apple added cursor and trackpad support to make the iPad Pro is a true laptop replacement for some users. You can connect any Bluetooth mouse, wireless trackpad (like the Magic Trackpad 2) or the Magic Keyboard and use a cursor to navigate iPadOS with even more advanced features are coming soon in iPadOS 16.
Another great new feature is support for Thunderbolt 3 and USB4 so you can transfer files faster than ever or connect to multiple 4K monitors. There is also a new software magic trick called Center Stage that keeps you in the frame of a video during conference calls when using supported platforms (FaceTime, Zoom). Yes, the iPad Pro is expensive, at $1,099 starting, but you won't find a better tablet on the market.
Read our full Apple iPad Pro 12.9-inch (2022) review.
The best Android tablet
Specifications
CPU:
Qualcomm Snapdragon 8 Gen 1
Display:
11-inch, 2560 x 1600 (S7), 12.4-inch, OLED (S7+)
Size:
10 x 6.51 x 0.25 inches (S7), 11.22 x 7.28 x 0.22 inches (S7+)
Weight:
1.1 pounds (S7), 1.3 pounds (S7+)
Reasons to buy
+
Improved S pen
+
Great speakers
+
5G support
The Samsung Galaxy Tab S8 series is easily the best the Android tablet market has to offer when it comes to high-end iPad competition. These tablets deliver outstanding battery life, gorgeous displays and all three models include Samsung's excellent S Pen in the box.
The Samsung Galaxy Tab S8 and the Samsung Galaxy Tab 8+ both have excellent cameras: a 13MP main camera and a 6MP secondary ultra-wide lens. On the front is a 12MP selfie camera. The Galaxy S8 Ultra matches its siblings on the back but adds a secondary 12MP ultra-wide camera on the front.
While all three are impressive tablets in their own right, the S8 Ultra stands apart with its massive 14.6-inch 120Hz Super AMOLED display that dwarfs the 12.9-inch iPad Pro. The S8 and S8+ come in at 11-inch and 12.4-inches, respectively.
If you are looking for an affordable Android alternative to the iPad keep scrolling down as there are a number of compelling options, but if you are an Android (or Samsung) fan that wants a tablet that can be a laptop replacement or simply go toe-to-toe with the Apple's best the Galaxy Tab S8 series is the clear choice.
Read our full Samsung Galaxy Tab S8 review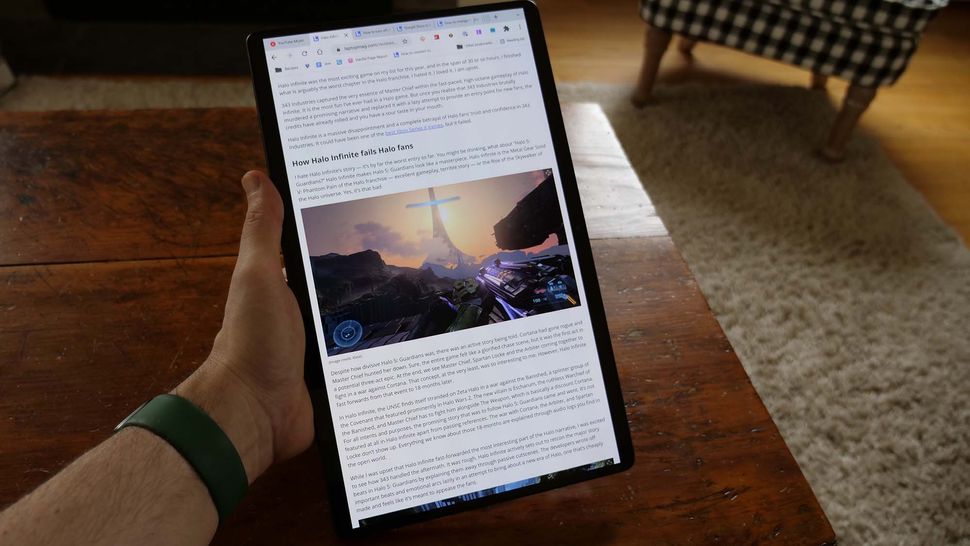 Best Android tablet under $500
Specifications
CPU:
Qualcomm Snapdragon 7c Gen 2
Display:
13.3-inch, 1920x1080-pixel OLED
Dimensions:
12 x 7.4 x 0.28 inches
Weight:
2.24 pounds w/keyboard; 1.5 pounds tablet only
Reasons to buy
+
Excellent battery life
+
Detachable 2-in-1 design
+
Bright, vivid OLED display
+
Keyboard and cover included
Reasons to avoid
-
Stylus not included
-
Weak performance for the price
This Chromebook blew our mind! The Lenovo Duet 5 Chromebook (also called the Lenovo IdeaPad Duet 5 Chromebook) is a successor to the super popular Lenovo Chromebook Duet. Now its 13.3-inch display definitely puts it at the top end of what you would consider a tablet, but if you are looking for something mostly to use around the house or as a laptop replacement it's perfect.
Three features might sell you on the Duet 5. One is that it lasted for nearly 14 hours in our battery test! 13 hours and 31 minutes to be exact, which easily outlasts just about any other tablet on this list. That's madness! Next is its bright, vivid OLED display. Whether you're watching Netflix, Hulu, HBO Max, or any other streaming platform, you can enjoy visual eye candy at any time of day. Finally the price, its full price is just under $500 and you can often find it for around $400.
And while it is a touch unwieldy if you want to carry it around as a tablet, we were impressed by its versatile, detachable 2-in-1 design; it comes with a fabric rear case and a keyboard cover. The only downside is that a stylus isn't included in the box with the Lenovo Duet 5 Chromebook, but you can always purchase the Lenovo USI Pen separately.
See our full Lenovo Duet 5 Chromebook review.
Our favorite small tablet
Specifications
Display:
8.3-inch, 2266 x 1488-pixels Liquid Retina at 60Hz
Dimensions:
7.7 x 5.3 x 0.3 inches
Reasons to buy
+
Compact size enables single-handed use
+
Fast performance from A15 Bionic
+
Sharp and bright display
Reasons to avoid
-
Magic Keyboard isn't supported
-
Apple Pencil Gen 2 sold separately
Apple improved every aspect of this pint-sized slate for 2021. The 8.3-inch screen is larger than before, and yet, slim bezels have reduced its overall footprint. The iPad mini's outstanding performance via the A15 Bionic chip is more than anyone will need, and the addition of optional 5G support cements its place as the best tablet for use outside of your home.
There are some downsides to going with the iPad mini beyond its small screen (which is an advantage for some people). At $499, the iPad mini is expensive, and while compatibility with the $139 Apple Pencil Gen 2 is welcome, the accessory costs extra.
In the end, Apple did exactly what it needed to do to breathe new life into the iPad mini, an excellent all-around tablet whose pint-sized chassis makes it a joy to have at home or on the go.
Read our full iPad mini (2021) review.
The mid-range tablet to beat
Specifications
Storage:
128GB (microSD for expansion)
Dimensions:
10.1 x 6.7 x 0.31 inches
Reasons to buy
+
Practical design
+
Loud and crisp speakers
+
Sharp screen
+
Long-lasting battery life
Reasons to avoid
-
Average cameras
-
No fingerprint sensor
-
Inconsistent auto-brightness feature
The Lenovo Yoga Tab 11 looks like no other tablet. For one, it's not a single seamless slate of metal and glass. Though the rest of the device is slim, it has a bulbous tube-shaped bottom where two of its quad speakers and the battery are located. That's not all: On the back, that tube extends into an integrated hanger-like kickstand you can pull out to prop up or "hang" the tablet however you wish. It's a unique design we haven't seen in this space before, and Lenovo hopes it's enough to draw you away from the iPad and other competition.
Apart from that, the Lenovo Yoga Tab 11 packs all the hardware you'd need, including a 2K screen and an octa-core processor, whether you're looking for your next binge-watching machine or an on-the-go workstation. It's priced competitively, starting at $280, and though there are places where Lenovo has cut corners, the Yoga Tab 11's spec sheet is still impressive.
How to choose the best tablet for you
Why you can trust Laptop Mag Our expert reviewers spend hours testing and comparing products and services so you can choose the best for you. Find out more about how we test.
Choosing the right tablet requires the same thought process as buying a laptop. As with any product, the first thing you need to decide is your primary use for a tablet. If it's to browse the web on the couch or watch Netflix in bed, then you don't need to spend $1,000 on the iPad Pro. You're probably better off with the $329 iPad or even the $400 Surface Go -- both of which have excellent displays.
If you need a tablet that can double as a laptop, then your best options are the iPad Pro or the Surface Pro 8 — tablets that can be paired with an attachable keyboard and support trackpad/mouse input. Both of these devices provide plenty of power for even the most demanding users.
The size of the tablet is another consideration. While it might not sound like it, a 12.9-inch tablet feels massive in the hand. If you want something less unwieldy, consider a tablet with a screen that is 10 inches or below. Almost all tablets are thin and lightweight but few have good connectivity options. The Surface tablet stands out in this regard, offering two USB-C ports and a headphone/mic jack.
How we test the best tablets
Our tablets go through rigorous benchmark testing before they even land in the hands of our reviewers. Our test vary slightly based on which OS the tablet runs, but the overall performance and graphics of almost all tablet is measured by the Geekbench 5 benchmark.
We also use a fancy colorimeter to quantify display quality. The device can measure the sRGB color range a display captures and the average brightness across the panel.
Our battery test gives an accurate measure of everyday runtimes. To test the endurance of a tablet, we set the display to 150 nits then run a continuous loop consisting of web browsing and video playback until the device powers off.
Stay in the know with Laptop Mag
Get our in-depth reviews, helpful tips, great deals, and the biggest news stories delivered to your inbox.
Sean Riley has been covering tech professionally for over a decade now. Most of that time was as a freelancer covering varied topics including phones, wearables, tablets, smart home devices, laptops, AR, VR, mobile payments, fintech, and more. Sean is the resident mobile expert at Laptop Mag, specializing in phones and wearables, you'll find plenty of news, reviews, how-to, and opinion pieces on these subjects from him here. But Laptop Mag has also proven a perfect fit for that broad range of interests with reviews and news on the latest laptops, VR games, and computer accessories along with coverage on everything from NFTs to cybersecurity and more.