Tablets have come a long way in the last decade. Originally viewed as good for nothing more than light web browsing and videos, companies like Apple and Microsoft have proven that the best tablets are more than just portable TVs or web browsers. Cursor support and keyboard attachments can even transform a tablet into a viable laptop replacement.
We're even seeing some experimentation in the tablet space again with our recent ZTE Nubia Pad 3D review and Android tablets not made by Amazon or Samsung are seeking relevance with the OnePlus Pad impressing and we're feeling cautiously optimistic after our Pixel Tablet hands-on review.
We've compiled the best tablets for the money, from those posing as laptop replacements like the Surface Pro 9 and the iPad Pro, to the best Android tablets like the Samsung Galaxy Tab S8 and Amazon's Kindle Fire tablets.
The iPad Air 5 wasn't a revolutionary update from its predecessor, but with the addition of the M1 chip and 5G it is an outstanding tablet that will last you for years. It has a 10.9-inch Liquid Retina display with thin display bezels for a portable and modern iPad design.
Under the hood is the M1 chip, the same SoC found in the iPad Pro and even the MacBook Air and MacBook Pro 13-inch. Needless to say, this is more than enough performance for any of your tablet needs. Despite this ample power it still delivers excellent battery life at 10 hours and 9 minutes in our Laptop Mag battery test.
Apple stuck to the $599 price point for the iPad Air, making it nearly double the cost of the iPad, but $200 less than the 11-inch iPad Pro. With support for the Apple Pencil Gen 2 (with magnetic wireless charging on the side) and the Magic Keyboard accessory, the Air is potentially compelling laptop replacement.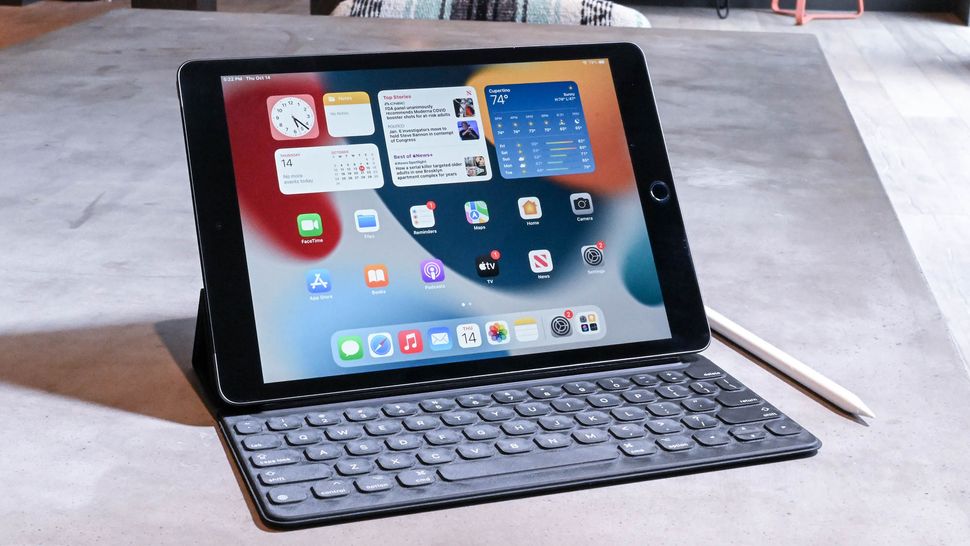 The ninth-generation iPad for 2021 packs a faster A13 Bionic chip, an upgraded selfie camera, and a True Tone display, among other small changes. These updates hardly moved the needle, so it's a good thing the iPad was so far ahead of the competition going into this launch cycle.
What keeps the iPad atop its throne are the features people care about most in a budget tablet: a good display, excellent build quality and reliable performance. The iPad delivers on these fronts thanks to its A13 Bionic chip, precision-crafted aluminum frame and bright, vivid 10.2-inch display. Even after the release of the iPad 2022 the iPad 9 is sticking around to maintain its $329 price point, while the new iPad 10 starts at $449. We'll have to see if the new model at its higher price point can bump the iPad 9 out of its spot.
Read our full Apple iPad review.
The OnePlus Pad would be the most interesting new Android tablet in years almost by default, but it also happens to be a great tablet that costs less than $500. We were blown away by its outstanding 13.5 hours of battery life and the gorgeous 2,800 x 2,000-pixel 144Hz display.
The MediaTek Dimensity 9000 chip inside was surprisingly powerful, it churned through every app, game, and multi-tasking productivity hoop that we set in front of it. If you are looking for more of a laptop experience you can connect up the magnetic keyboard and the Stylo lets you get creative with sketching or if you prefer handwriting to typing.
While Android's tablet app selection still leaves a bit to be desired, if you are looking for a tablet for content consumption, web browsing, and light productivity work (so about 95% of tablet usage) then the OnePlus Pad is an excellent choice.
Read our full OnePlus Pad review.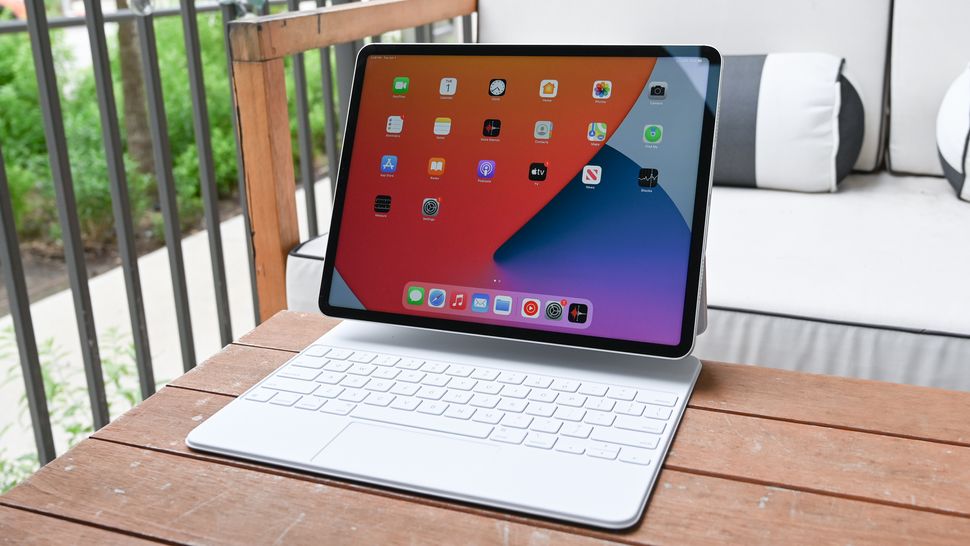 The 12.9-inch iPad Pro is the best tablet for power users that don't want the complexity of Windows. Equipped with an M2 processor, a mini-LED (XDR) display, and 5G support, no other tablet on the market will get you as complete of a package as the iPad Pro.
Software improvements have been a big part of the last couple of iPad updates. Apple added cursor and trackpad support to make the iPad Pro is a true laptop replacement for some users. You can connect any Bluetooth mouse, wireless trackpad (like the Magic Trackpad 2) or the Magic Keyboard and use a cursor to navigate iPadOS with even more advanced features are coming soon in iPadOS 16.
Another great new feature is support for Thunderbolt 3 and USB4 so you can transfer files faster than ever or connect to multiple 4K monitors. There is also a new software magic trick called Center Stage that keeps you in the frame of a video during conference calls when using supported platforms (FaceTime, Zoom). Yes, the iPad Pro is expensive, at $1,099 starting, but you won't find a better tablet on the market.
Read our full Apple iPad Pro 12.9-inch (2022) review.
The Samsung Galaxy Tab S8 series is easily the best the Android tablet market has to offer when it comes to high-end iPad competition. These tablets deliver outstanding battery life, gorgeous displays and all three models include Samsung's excellent S Pen in the box.
The Samsung Galaxy Tab S8 and the Samsung Galaxy Tab 8+ both have excellent cameras: a 13MP main camera and a 6MP secondary ultra-wide lens. On the front is a 12MP selfie camera. The Galaxy S8 Ultra matches its siblings on the back but adds a secondary 12MP ultra-wide camera on the front.
While all three are impressive tablets in their own right, the S8 Ultra stands apart with its massive 14.6-inch 120Hz Super AMOLED display that dwarfs the 12.9-inch iPad Pro. The S8 and S8+ come in at 11-inch and 12.4-inches, respectively.
If you are looking for an affordable Android alternative to the iPad keep scrolling down as there are a number of compelling options, but if you are an Android (or Samsung) fan that wants a tablet that can be a laptop replacement or simply go toe-to-toe with the Apple's best the Galaxy Tab S8 series is the clear choice.
Read our full Samsung Galaxy Tab S8 review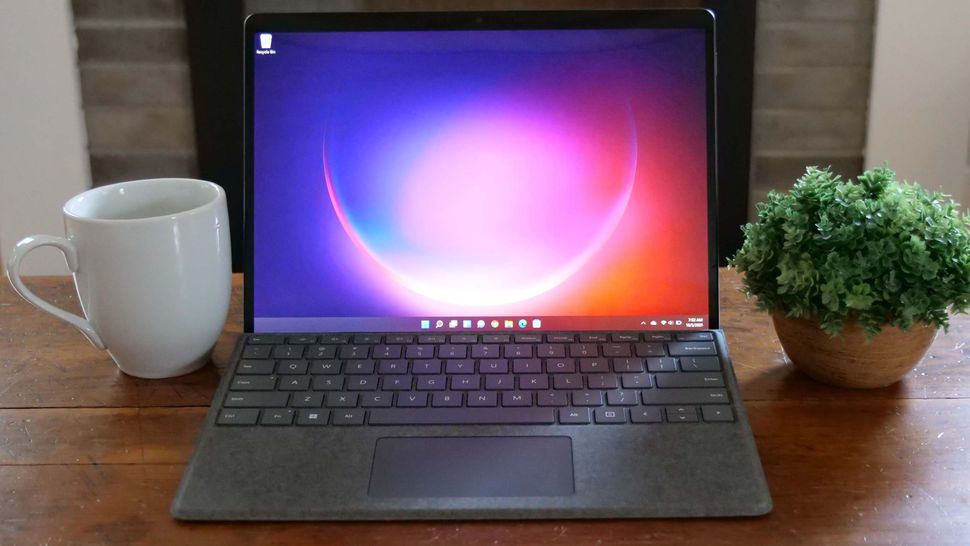 Without departing drastically from its iconic look, the Pro 8 made subtle improvements to the Surface Pro as a tablet and a laptop. Upgrades include a larger display and a more comfortable-to-use design, along with a much-needed internal upgrade. That includes an 11th Gen Intel Core i7-1185G7 processor and up to 32GB of RAM, components that bring some of the features of Windows 11 to bear.
A bit more battery life would have been outstanding and the price jump may be hard for some to swallow. However, taken as a whole, the Surface Pro 8 is a standout Windows tablet.
Read our full Microsoft Surface Pro 8 review.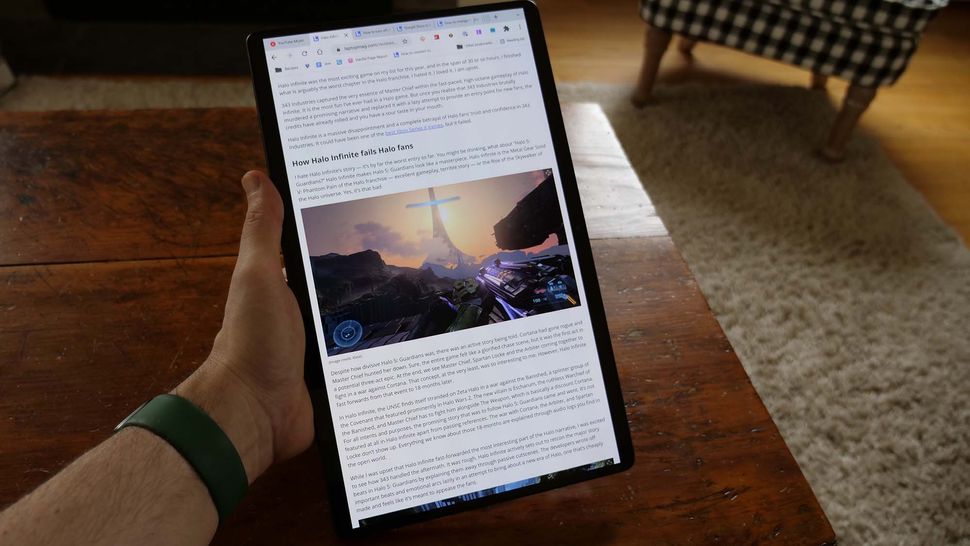 This Chromebook blew our mind! The Lenovo Duet 5 Chromebook (also called the Lenovo IdeaPad Duet 5 Chromebook) is a successor to the super popular Lenovo Chromebook Duet. Now its 13.3-inch display definitely puts it at the top end of what you would consider a tablet, but if you are looking for something mostly to use around the house or as a laptop replacement it's perfect.
Three features might sell you on the Duet 5. One is that it lasted for nearly 14 hours in our battery test! 13 hours and 31 minutes to be exact, which easily outlasts just about any other tablet on this list. That's madness! Next is its bright, vivid OLED display. Whether you're watching Netflix, Hulu, HBO Max, or any other streaming platform, you can enjoy visual eye candy at any time of day. Finally the price, its full price is just under $500 and you can often find it for around $400.
And while it is a touch unwieldy if you want to carry it around as a tablet, we were impressed by its versatile, detachable 2-in-1 design; it comes with a fabric rear case and a keyboard cover. The only downside is that a stylus isn't included in the box with the Lenovo Duet 5 Chromebook, but you can always purchase the Lenovo USI Pen separately.
See our full Lenovo Duet 5 Chromebook review.
You get a bright 10.4-inch display, an included S Pen stylus and amazing, all-day battery life all for just $350. That is what makes the Galaxy Tab S6 Lite such a compelling tablet for those in the market for an iPad alternative. Running Android 10, this slate is great for Droid owners, especially those with Samsung Galaxy smartphones.
While its performance can lag behind at times, the S6 Lite is a good choice if you just need to run basic everyday tasks, like web browsing or video streaming. In many ways, the S6 Lite fills the same role as the iPad but for those who aren't in the Apple ecosystem.
Read our full Samsung Galaxy Tab S6 Lite review.
Apple improved every aspect of this pint-sized slate for 2021. The 8.3-inch screen is larger than before, and yet, slim bezels have reduced its overall footprint. The iPad mini's outstanding performance via the A15 Bionic chip is more than anyone will need, and the addition of optional 5G support cements its place as the best tablet for use outside of your home.
There are some downsides to going with the iPad mini beyond its small screen (which is an advantage for some people). At $499, the iPad mini is expensive, and while compatibility with the $139 Apple Pencil Gen 2 is welcome, the accessory costs extra.
In the end, Apple did exactly what it needed to do to breathe new life into the iPad mini, an excellent all-around tablet whose pint-sized chassis makes it a joy to have at home or on the go.
Read our full iPad mini (2021) review.
The Lenovo Yoga Tab 11 looks like no other tablet. For one, it's not a single seamless slate of metal and glass. Though the rest of the device is slim, it has a bulbous tube-shaped bottom where two of its quad speakers and the battery are located. That's not all: On the back, that tube extends into an integrated hanger-like kickstand you can pull out to prop up or "hang" the tablet however you wish. It's a unique design we haven't seen in this space before, and Lenovo hopes it's enough to draw you away from the iPad and other competition.
Apart from that, the Lenovo Yoga Tab 11 packs all the hardware you'd need, including a 2K screen and an octa-core processor, whether you're looking for your next binge-watching machine or an on-the-go workstation. It's priced competitively, starting at $280, and though there are places where Lenovo has cut corners, the Yoga Tab 11's spec sheet is still impressive.
How to choose the best tablet for you
Why you can trust Laptop Mag Our expert reviewers spend hours testing and comparing products and services so you can choose the best for you. Find out more about how we test.
Choosing the right tablet requires the same thought process as buying a laptop. As with any product, the first thing you need to decide is your primary use for a tablet. If it's to browse the web on the couch or watch Netflix in bed, then you don't need to spend $1,000 on the iPad Pro. You're probably better off with the $329 iPad or even the $400 Surface Go -- both of which have excellent displays.
If you need a tablet that can double as a laptop, then your best options are the iPad Pro or the Surface Pro 8 — tablets that can be paired with an attachable keyboard and support trackpad/mouse input. Both of these devices provide plenty of power for even the most demanding users.
The size of the tablet is another consideration. While it might not sound like it, a 12.9-inch tablet feels massive in the hand. If you want something less unwieldy, consider a tablet with a screen that is 10 inches or below. Almost all tablets are thin and lightweight but few have good connectivity options. The Surface tablet stands out in this regard, offering two USB-C ports and a headphone/mic jack.
How we test the best tablets
Our tablets go through rigorous benchmark testing before they even land in the hands of our reviewers. Our test vary slightly based on which OS the tablet runs, but the overall performance and graphics of almost all tablet is measured by the Geekbench 5 benchmark.
We also use a fancy colorimeter to quantify display quality. The device can measure the sRGB color range a display captures and the average brightness across the panel.
Our battery test gives an accurate measure of everyday runtimes. To test the endurance of a tablet, we set the display to 150 nits then run a continuous loop consisting of web browsing and video playback until the device powers off.