Apple AirTag 4 pack, on sale or not is a solid value bundle. If you need multiple AirTags to help you locate lost items, this popular deal is still available. Amazon continues to offer the Apple AirTag 4 Pack for $89.99 . It typically costs $99, so that's $9 in savings. This is the lowest price we've seen for this 4 pack of AirTags outside of the holidays.
Amazon now offers the Apple AirTag Leather Loop for just $20 ($19 off) or 47% below retail. We typically don't see Apple deals like this outside of the holidays.
Apple AirTag 4 pack deal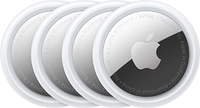 Apple AirTag 4-Pack: $99 $89 @ Amazon
Save $9 on this 4-Pack of Apple AirTag trackers. The Apple AirTag 4 Pack gives you more value for your dollar. This bundle includes four of Apple's tracking devices to make sure all your items never get lost.
Apple's bluetooth tracker, aptly called the "AirTag" helps you find lost items. It has a range of 29-feet and locates keys, luggage, your TV remote and just about anything else you don't want to lose.
In our Apple AirTag review, we praise its excellent tracking capabilities, ultra-wide band (UWB) tech and rugged, lightweight design. Although it lacks a keychain hole, we gave the Apple AirTag an overall rating of 4 out of 5-stars.
Just like the Samsung Galaxy SmartTag and Tile tracker, the AirTag is small and lightweight. Aesthetically, it's about the size of a coin or arcade token. One side is made of shiny stainless steel while the other is made of white plastic. You can order the AirTag with a variety of images or characters on the plastic side, like your initials or a special message to a forgetful friend.
Small and round with a 1.3-inch diameter and 0.3-inch thick, an AirTag is slightly larger than a stack of four quarters. It's smaller than the square-shaped Samsung Galaxy SmartTag (1.5 x 1.5 x 0.4 inches) and thicker than the Tile Mate (0.2-inches).
Now just under $90, the Apple AirTag 4 pack is a great value for the price. It's a worthy investment if you're looking to buy bluetooth multiple trackers or a practical Mother's Day gift.