The Lenovo Yoga 9i is a superb 2-in-1 laptop with a mindblowing OLED display, awesome performance, a spectacular sound system, and decent battery life. While it could be a little brighter, this doesn't prevent it from being one of the best 2-in-1s out there.
Pros
+

Breathtaking 2.8K OLED display

+

Great productivity performance

+

Blisteringly fast SSD

+

Loud and impactful audio

+

Decent battery life
Cons
-

Display could be brighter
Why you can trust Laptop Mag Our expert reviewers spend hours testing and comparing products and services so you can choose the best for you. Find out more about how we test.
Lenovo Yoga 9i Gen 8
Price: $1,699
CPU: Intel Core i7-1360P
GPU: Intel Iris Xe
RAM: 16GB LPDDR5
Storage: 512GB SSD
Display: 14-inch, OLED, 2880 x 1880-pixel touchscreen at 90Hz
Battery: 10:10
Size: 12.5 x 9.1 x .6 inches
Weight: 3.09 pounds
In our review of the previous Lenovo Yoga 9i, we were disappointed by its middling performance and weak battery life, but the company has returned with a passionate vengeance to ensure that no aspect of this 2-in-1 laptop could be described as "subpar."
Delivering a gorgeous 2880 x 1880 OLED display with mouthwatering vibrancy, phenomenally loud and impactful speakers, superb SSD speeds, a satisfying keyboard, excellent productivity scores and decent battery life, I came away from the 8th generation of the Yoga 9i with newfound love in my heart.
And as the indulgent cherry on top, the laptop's sleek and sturdy all-aluminum exterior and firm 360-degree hinge will make anyone feel premium. Our only criticism of this excellent 2-in-1 is that its display could be a little brighter, but that flaw quickly turned to dust whenever I was knee-deep in my favorite TV shows.
Needless to say, this is easily one of the best 2-in-1 laptops out there, and it might even be one of the best laptops in general. Read on to see what makes the Yoga 9i especially outstanding.
Lenovo Yoga 9i price and configurations
My Yoga 9i review unit is the base model and comes with a 13th Gen Intel Core i7-1360P CPU, Intel Iris Xe graphics, 16GB of LPDDR5 RAM, 512GB of SSD storage and a 14-inch, 2880 x 1880, OLED glossy touchscreen display with a 90Hz refresh rate, and Windows 11 Home.
It's currently available for $1,700 on Lenovo's website, although it's only available in Storm Grey while ours is Oatmeal. You can bump the SSD to 1TB for an extra $50, while upgrading that 2.8K screen to a 4K display will cost an additional $100.
Lenovo Yoga 9i design
I fell in love with the Yoga 9i as soon as I pulled it out of the box. The shiny all-aluminum chassis, rounded reflective edges at the base, and minimalistic Oatmeal aesthetic on the lid with the YOGA and Lenovo logos on opposite corners gives the whole package an exhilarating sleekness. The laptop feels lightweight and its surfaces are smooth to the touch; I love running my fingers across the lid.
Lifting the lid reveals an equally alluring smoothness with a large trackpad, another Lenovo logo with a brushed steel finish on the lower right corner, and a gorgeous reflective 360-degree soundbar. The keyboard stretches across the entire deck, with a curved indented platform harboring the keys.
No matter how comfortable I get testing laptops, I will never stop feeling the slightest bit of uneasiness when moving a 360-degree hinge into certain positions. I worry putting a bit too much pressure will cause something to inevitably snap, but the Yoga 9i's sturdiness impressed me, as you need to exert a decent bit of pressure for it to start moving. And when standing it up with its keyboard, or keeping it in tablet mode on my table, it felt well-supported and firm.
The Yoga 9i comes in at 12.5 x 9.1 x .6 inches and weighs 3.09 pounds. On the heavier and larger side are the 16-inch Samsung Galaxy Book 3 Pro 360 (14 x 9 x .5 inches, 3.1 pounds) and Dell Inspiron 16 (14.1 x 9.9 x 0.6 inches, 4.6 pounds), but the HP Spectre x360 13.5-inch (11.6 x 7.8 x 0.6 inches, 3 pounds) is smaller and lighter.
Lenovo Yoga 9i ports
The Yoga 9i doesn't have much going on in the ports department; we would have appreciated an HDMI port, but at least it delivers a solid number of Thunderbolt 4 ports.
On the left side, there is a USB Type-A 3.2 port and two Thunderbolt 4 ports with Power Delivery 3.0.
On the right side, there is a USB Type-C 3.2 port and an audio combo jack.
Lenovo Yoga 9i durability and security
The Yoga 9i passed MIL-STD-810H certification, which means it endured harsh environmental conditions potentially involving moisture, pressure, temperature, weather, shock, dust, drop tests and more. Considering how sturdy this laptop feels, it's certainly not surprising.
Security features include a security chip with TPM 2.0, a fingerprint reader, and tons of BIOS Security features including passwords for master hard disk and user hard disk. There's also a self-healing BIOS feature, while a camera privacy shutter and IR camera for Windows Hello should help you feel a little safer.
Lenovo Yoga 9i display
Sweet glorious vibrancy, the Yoga 9i boasts an electrifying 14-inch, 2880x1880-pixel OLED multi-touch glossy display with a 90Hz refresh rate. It possesses color depth that will melt your eyes and inject life in even the coldest, most bitter hearts. I could not believe what I was seeing while testing this display, and although it could be brighter, that complaint does not detract from its magnificence. If you haven't been convinced by OLED before, this screen can prove to anyone why the technology is magic.
I knew that the Yoga 9i's OLED needed a proper challenge, so I went onto Amazon Prime Video and started the first episode of The Lord of the Rings: The Rings of Power. I'm a huge fan of this show (come at me haters), so I wondered how its visually striking world would look on this beast.
My initial reaction was along the lines of "holy crap," which snowballed into an existential crisis about how underwhelming my MSI monitor looks in comparison (I played Elden Ring on that thing!). That then turned into me googling OLED ultrawide gaming monitors and wondering if I should actually spend $1,000 on a new piece of hardware. Simply put, if a display can inflict this much dread upon me, making me realize I've missed out on the good stuff for so many years, it must be phenomenal.
Image 1 of 2
During the opening war sequence where hundreds of ships sail towards an orange lumscience parting through gloomy clouds, I was stunned by the variance in hue between the glowing light in the distance and the hypnotizing darkness within the sea. When I looked at this same scene on my monitor, it not only lacked that alluring depth, but it was robbed of its satisfying black hue altogether.
Image 1 of 2
In another scene where the blindingly bright Trees of Valinor hang over the land of the Valar, the Yoga 9i beautifully represented Laurelin, an especially brilliant tree that is comparable to the Sun, with an unmatched golden radiance. I also noticed just how deep its warm glow seeped into the surrounding forests and kingdoms. But when I switched to my monitor, that comforting glow had disappeared entirely.
Swipe to scroll horizontally
DCI-P3 color gamut

| | |
| --- | --- |
| Row 0 - Cell 0 | DCI-P3 color gamut percentage |
| Lenovo Yoga 9i | 142.1% |
| Samsung Galaxy Book 3 Pro 360 | 85.2% |
| Dell Inspiron 16 | 69.5% |
| HP Spectre x360 13.5--inch | 87.7% |
To the surprise of no one, the Yoga 9i performed exceptionally in our color tests, reproducing 142.1% of the DCI-P3 color gamut, which is far deeper than the category average (91%). This score is enough to even inflict existential dread into its non-sentient competitors, as the Galaxy Book 3 Pro 360 (85.2%), Inspiron 16 (69.5%), and Spectre x360 (87.7%) are probably shaking in their boots right about now.
Swipe to scroll horizontally
Display brightness

| | |
| --- | --- |
| Row 0 - Cell 0 | Brightness |
| Lenovo Yoga 9i | 353 nits |
| Samsung Galaxy Book 3 Pro 360 | 381 nits |
| Dell Inspiron 16 | 307 nits |
| HP Spectre x360 13.5--inch | 355 nits |
The Yoga 9i didn't do quite as well in our brightness tests, as it managed an average of 353 nits. While this is by no means a poor score, it is worse than the category average (392 nits), Spectre x360 (355 nits) and Galaxy Book 3 Pro 360 (381 nits). However, Lenovo took home a win over the Inspiron 16 (307).
Lenovo Yoga 9i audio
Holy bass! As I opened Spotify on the Yoga 9i to test the quality of its speakers, the volume of the music echoing throughout my room that can so effortlessly represent chaotic ensembles caused my jaw to drop in shock. This sound system is punchy, loud and clear, offering a level of immersion that can put most other laptop speakers to shame.
While watching The Lord of the Rings: The Rings of Power, I was absolutely stunned as Galadriel overlooked the pile of skulls amidst the forlorn narration and orchestral violins making my heart swell with sadness. Another scene has Galadriel climbing up an icy mountain to chase a lead, but as the drums kick up, I was a little disappointed by how it sounded in contrast to the orchestra and narration.
I started listening to "Dogsbody" by Model/Actriz, and was stunned by the prodigious volume of the opening synths and harpsichord. This is the quieter part of the track, so I anticipated when the percussive drop occurred, it might be overwhelmingly loud. When it started to get explosive at full volume, no details were lost despite the room-filling sound. I lowered it to 60 for my own satisfaction, but it's great to see how loud this laptop can get if I need it to be.
Hearing how amazing this speaker system is, I knew I had to test it against a song I especially love. I pulled up "The Last Lost Continent" by La Dispute and blasted it at 100 volume. The opening two minutes of growing heaviness and bassiness were almost perfectly represented with an intensity that made me shiver. As the final three-minute sprawl of intense noise rock against brilliant lyrical poetry graced my ears, I aggressively bopped my head along every hit and beat from how phenomenal it all sounded. My only criticism is that some of the hi-hats got lost amidst the noise, but beyond that, the Yoga 9i boasts sound quality just a notch below a dedicated speaker system.
Lenovo Yoga 9i keyboard and touchpad
The Yoga 9i's LED backlit keyboard does not feature a number pad, but it does have a unique selection of functionality keys on the right side that quickly change settings for audio, performance, blur the webcam's background, and swap between light mode or dark mode. The fingerprint scanner is nestled in below these keys.
Interestingly, the F12 key quickly pulls up a calculator. While this might be useful for some individuals, it's admittedly a little bizarre; perhaps this is Lenovo's way of making up for the lack of a number pad. Other function keys immediately take the user to the lock screen, go into the settings, open the support menu, toggle airplane mode, and project the screen. Of course there's also brightness and volume buttons, alongside a mute and microphone on or off toggle.
I took the 10fastfingers.com typing test and managed an average of 110 words per minute with an accuracy of 99%. On my mechanical keyboard, I hit 119 words per minute at an accuracy of 98%, which is pretty close. I felt comfortable typing on the Yoga 9i's keyboard; each key is a sufficient size and it feels clicky and satisfying while I perform daily work tasks.
I initially didn't like that pressing the caps lock key pulls up a notification that remains on screen for a few seconds, but as I kept pressing the key over and over again, another notification popped up informing me that I could alter the settings in Lenovo Advantage. When clicked, it took the smallest bit of scrolling before I saw the OSD toggle option and turned it off. Good job on Lenovo for anticipating my nitpick.
The Yoga 9i's touchpad feels quick and responsive when moving it around, making it smooth to use throughout a workday. The actual click on the touchpad could feel better, as it's a little vacant and hollow, but it works fine all the same as I had no trouble opening windows and selecting documents.
Lenovo Yoga 9i performance
The Yoga 9i is built with an Intel Core i7-1360P processor, 16GB of LPDDR5 RAM, 512GB of SSD storage from SK Hynix. These specs are more than enough to handle whatever tasks you might throw at it within a workday, allowing me to easily open up dozens of YouTube, Twitch, Google Docs, and Sheets pages while working and zipping between tabs without it ever stuttering.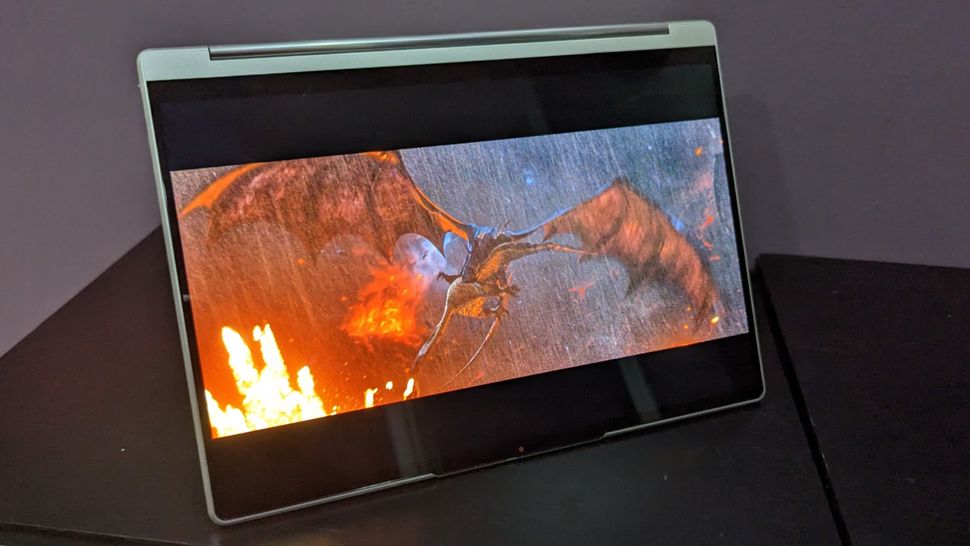 Swipe to scroll horizontally
Geekbench 5.5 results

| | |
| --- | --- |
| Row 0 - Cell 0 | Mutli-core score |
| Lenovo Yoga 9i | 9,954 |
| Samsung Galaxy Book 3 Pro 360 | 8,250 |
| Dell Inspiron 16 | 6,757 |
| HP Spectre x360 13.5--inch | 7,243 |
The Yoga 9i absolutely crushed the Geekbench 5.5 overall performance test, achieving a multi-core score of 9,954. This is superior to the premium laptop average (8,800), while the Spectre x360 (Intel Core i7-1255U, 7,243), Inspiron 16 (Intel Core i7-1260P, 6,757) and Galaxy Book 3 Pro 360 (Intel Core i7-1360p, 8,250) were all left in the dust.
Swipe to scroll horizontally
Handbrake (Video transcoding)

| | |
| --- | --- |
| Row 0 - Cell 0 | Time (min:sec) |
| Lenovo Yoga 9i | 9:45 |
| Samsung Galaxy Book 3 Pro 360 | 8:07 |
| Dell Inspiron 16 | 11:27 |
| HP Spectre x360 13.5--inch | 10:33 |
The Yoga 9i wasn't quite as incredible on the Handbrake video transcoding test, converting a 4K video to 1080p resolution in 9 minutes and 45 seconds. This is slightly faster than the Spectre x360 (10:33) and Inspiron 16 (11:27), but the Galaxy Book 3 Pro 360 (8:07) soars ahead alongside the category average (8:30).
Swipe to scroll horizontally
SSD speed test (in MBps)

| | |
| --- | --- |
| Row 0 - Cell 0 | Score |
| Lenovo Yoga 9i | 1,669 |
| Dell Inspiron 16 | 802 |
| HP Spectre x360 13.5--inch | 1,364 |
The Yoga 9i performed great in our file transfer test, duplicating 25GB of multimedia files in 16 seconds for a 1,669 megabytes per second transfer rate. This is an excellent speed and far surpassed the category average (1,311MBps), Spectre x360 (1TB SSD, 1,364MBps) and Inspiron 16 (512GB SSD, 802MBps).
Lenovo Yoga 9i graphics
The Yoga 9i is not a gaming laptop, so if you want to do anything more than solitaire on it you are going to need to look at GeForce Now or another cloud gaming service.. It comes with Intel Iris Xe graphics and we tested it on the Sid Meier's Civilization VI benchmark at 1080p resolution, managing 25 frames per second. This is lower than the Spectre x360 (Intel Iris Xe, 29 fps) and category average (49 fps), but it did better than the Inspiron 16 (Intel Iris Xe, 19 fps).
On the 3D Mark Fire Strike synthetic benchmark test, we saw the Yoga 9i hit a score of 4,927, which is inferior to the average (8,266), but easily overtakes the Inspiron 16 (3,869).
Lenovo Yoga 9i battery life
The Yoga 9i has decent battery life that should get you through most of a workday, although it could last a little longer. On the Laptop Mag battery test, which involves continuous web surfing over Wi-Fi at 150 nits of brightness, the Yoga 9i lasted 10 hours and 10 minutes, which is just slightly better than the category average (9:51).
Swipe to scroll horizontally
Battery life results

| | |
| --- | --- |
| Row 0 - Cell 0 | Time (hours:mins) |
| Lenovo Yoga 9i | 10:10 |
| Samsung Galaxy Book 3 Pro 360 | 7:46 |
| Dell Inspiron 16 | 13:38 |
| HP Spectre x360 13.5--inch | 10:12 |
This is superior to the Galaxy Book 3 Pro 360 (7:46), but the Inspiron 16 (13:38) outlasted it by quite a bit. It was nearly on par with the Spectre x360 (10:12), though. Factoring in its size, weight, and 2.8K OLED display Lenovo is doing well to push it past the 10-hour mark.
Lenovo Yoga 9i webcam
The Yoga 9i comes with a 1080p webcam featuring IR capabilities, a privacy shutter, a ToF sensor and fixed focus. Sure, you can blur your background with the click of a key, but it doesn't save the image from looking like a jumbled, grainy mess of indiscernible noise. Every image and video I took with this camera made me look exceedingly artificial.
If I could compliment this webcam on one thing, it represented the colors of my room well enough; sure the pink hues appeared a little deeper than they should, but it wasn't all that bad. If you don't want to deal with this poor camera, we recommend checking out our best webcams.
Lenovo Yoga 9i heat
The Yoga 9i remained nice and cool throughout our testing, with its highest temperatures best described as "warm." While streaming a 1080p video for 15 minutes, its hottest point reached 94 degrees Fahrenheit at the rear underside, which is just barely below our 95-degree comfort threshold. The touchpad stayed cool at 77 degrees, while the G/H keys were at 88 degrees.
Lenovo Yoga 9i software and warranty
The Yoga 9i comes with Windows 11 alongside the typical Microsoft software, but Lenovo offers plenty of additional functionality through its dedicated applications. There's even a key to these apps called "Smart Key," which is sitting to the right of F12.
This pulls up a screen to select from Lenovo Vantage, Lenovo Voice, Lenovo Smart Appearance, Vantage Toolbar and Preferences. You can even swap which apps appear on the toolbar, although Vantage cannot be removed.
Lenovo Vantage offers access to system updates and information, warranty status, Smart Lock, accessories, a quick scan, and system status or update. Other options include settings for power, audio, display, cameras, input, performance boost and other advanced options that let you use intelligent sensing, super resolution (for low quality media), and intelligent gestures. There's also a section called Meeting Manager, which can offer real-time subtitles while in an online meeting and transcribes what you say.
The Yoga 9i comes with a limited one year warranty. See how Lenovo did in our Tech Support Showdown.
Bottom line
Every moment since I lifted the Yoga 9i out of its box, all throughout my testing, and even as I'm writing these final words, I have been deeply in love with what Lenovo has crafted here. Yes, the brightness is a little below average, but this is a minor nitpick in the face of what the laptop accomplishes.
The Yoga 9i's hypnotizing OLED display possesses color depth that makes it impossible to look away, while its phenomenal sound system could easily fill a room with its clear and impactful audio. Beyond that, the satisfying keyboard, sleek design, sturdy 360-degree hinge, superb productivity performance, and blisteringly fast SSD all packed into a lightweight yet firm all-aluminum exterior makes this laptop just short of masterpiece.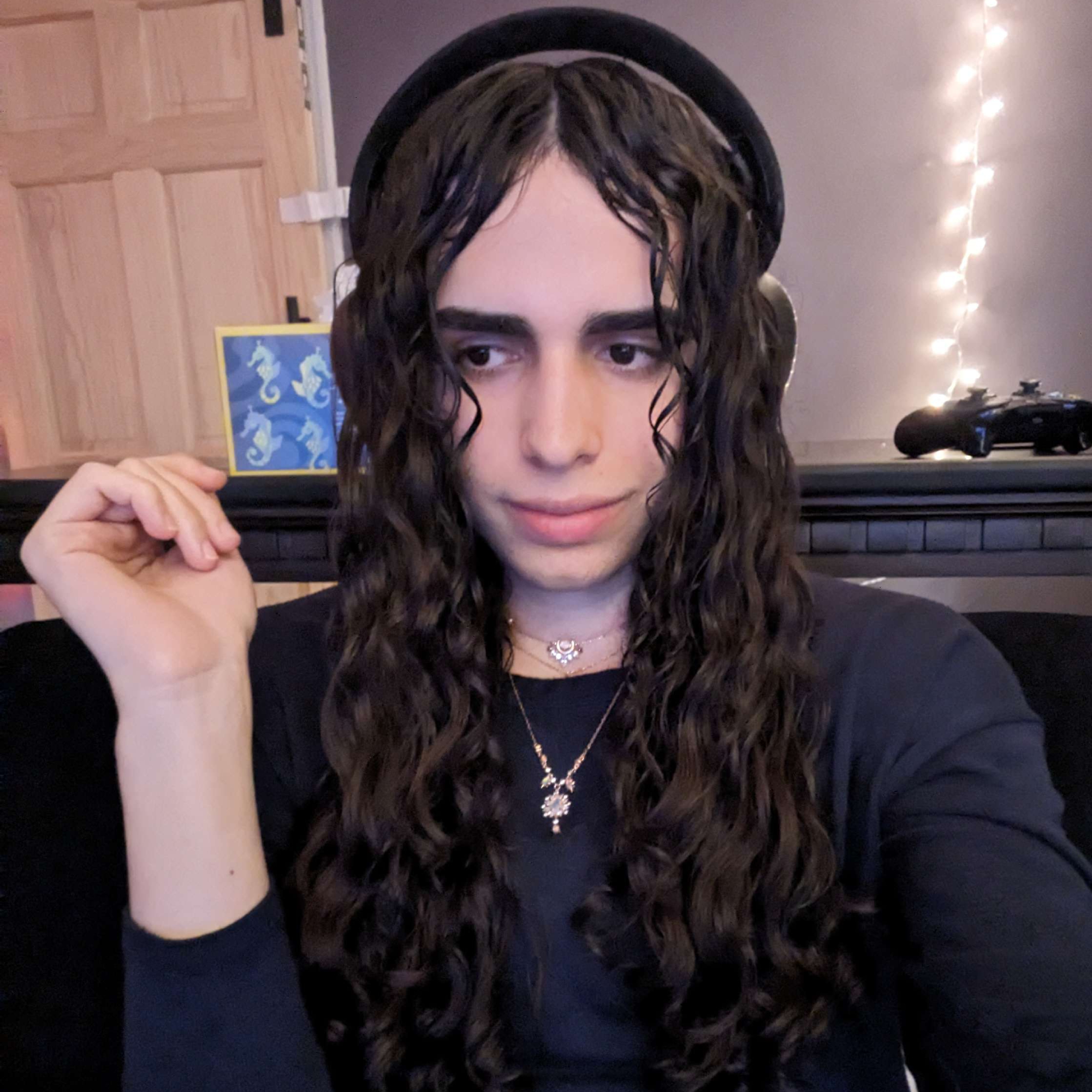 Self-described art critic and unabashedly pretentious, Momo finds joy in impassioned ramblings about her closeness to video games. She has a bachelor's degree in Journalism & Media Studies from Brooklyn College and five years of experience in entertainment journalism. Momo is a stalwart defender of the importance found in subjectivity and spends most days overwhelmed with excitement for the past, present and future of gaming. When she isn't writing or playing Dark Souls, she can be found eating chicken fettuccine alfredo and watching anime.