The Galaxy Book 3 Pro 360 breathes fresh air into its amazingly thin-and-light convertible line with a 13th Gen Intel CPU and a gorgeous, larger 16-inch, 16:10 display. Finally, it seems like Samsung has nailed the laptop thing.
Pros
+

Sleek, ultra-lightweight design

+

Drop-dead gorgeous display

+

Comfortable typing experience + huge touchpad

+

Surprisingly good webcam and speakers
Cons
-

Underwhelming screen brightness

-

No S-Pen silo

-

Battery life worse than last year
Why you can trust Laptop Mag Our expert reviewers spend hours testing and comparing products and services so you can choose the best for you. Find out more about how we test.
The Samsung Galaxy Book 3 Pro 360 is the exemplar of the ol' "third time's a charm" cliche... The past two ultra-slim convertibles provided a solid bedrock for rehabilitating the company's laptop ambitions, and the third iteration pretty much knocked it out the park.
This starts with a slew of updates, but two are the most noteworthy: a 13th Gen Intel Core i7-1360P CPU and a 16-inch, 16:10 display. The former gives you a tasty boost in performance and the latter delivers a bigger canvas for productivity — all in a frame that's very similar in size, thinness and weight to last year.
If portability is a priority for you, the Galaxy Book 3 Pro 360 will rank high on your personal list of the best 16-inch laptops to buy. There are a couple of problems, which we will cover, but let's go in on what makes this notebook stand out.
Samsung Galaxy Book 3 Pro 360 price and availability
The Samsung Galaxy Book 3 Pro 360 comes in at $1,399 for the base model, packing an Intel Core i7-1360p CPU, 16GB DDR5 RAM and a 512GB SSD. If you pre-order now, you can double that storage to 1TB for the same price. Once this promotion is over, you're paying $1,899 for that additional space.
In terms of 16-inch laptops, that's surprisingly good value for money with the Huawei MateBook 16S as its closest kin, which lands at roughly the same price when converted from British Pounds, and it's only $200 more than the base M2 MacBook Air.
I bring these up in comparison for a very specific reason, which will reveal itself as we go forward.
Samsung Galaxy Book 3 Pro 360 design
Once again, you'll be shocked by how slim the Galaxy Book 3 Pro 360 is — moreso for the improvements that have been made to it. Don't get me wrong; it's a little thicker and heavier than the previous generation 360 (the nearly four-pound Book 3 Pro 360 has dimensions of 13.99 x 9.93 x 0.5 inches), but with the same measurements elsewhere, it feels oddly baffling to hold a premium 16-inch laptop that's so light and thin.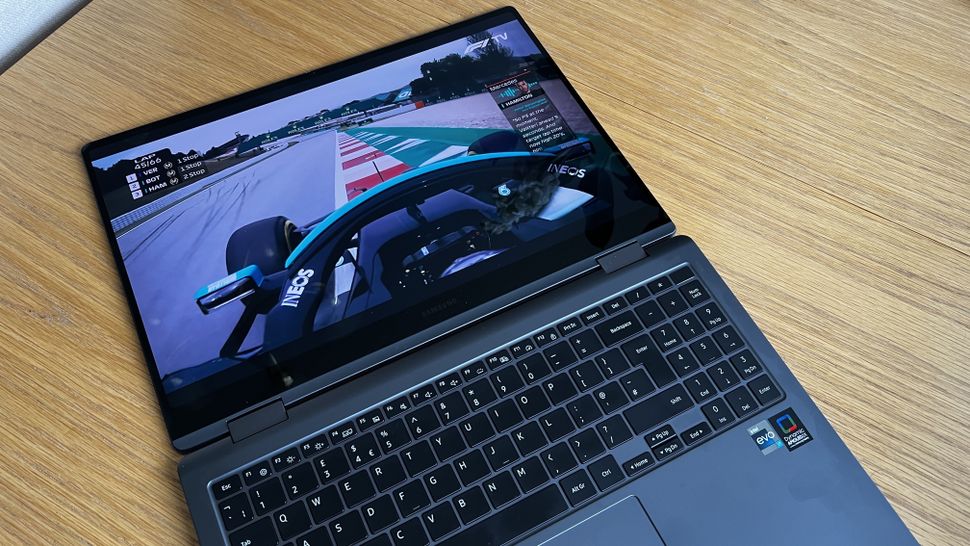 That same luxurious aluminum chassis welcomes you in with its irresistibly upmarket feel; weight distribution feels impressively balanced across its entire body. One big aesthetic improvement is whatever coating Samsung has applied to the body means that fingerprints are no more — not a single telltale smudge appeared during my time using this beauty. And of course, all of this comes with very minimal branding, which is a big win in my book.
Opening the lid, it's clear that the company has learnt a thing or two about strong hinges. No matter how rigorously you poke the touchscreen or how violent your typing style is (shout out to anyone who beats up their keyboard while writing a passive-aggressive email), that hinge keeps the display in a rock solid position. Plus, this adds an extra confidence in the rigidity of putting it in tent or tablet mode.
Meanwhile, taking these dimensions into account, you see Samsung has shaved a little length off, but made it a little heavier and thicker than the Book 2 at the same time (14 x 9 x 0.46 inches, 3.1 pounds). On the other end of the scale, the Huawei Matebook 16S is a chungus in comparison (13.8 x 9.9 x 0.7 inches, 4.4 pounds), but the far smaller M2 MacBook Air is clearly going to be more portable (12 x 8.5 x 0.4 inches, 2.7 pounds).
My only gripe about the design is Samsung still refuses to give you an S Pen silo. Of course, you can magnetically attach it to the lid, but that's not a solution to having it somewhere secure within the frame. The stylus is too easy to misplace.
Samsung Galaxy Book 3 Pro 360 ports
Like most ultraportables, the port selection is limited, but there is a decent enough array to get stuff done: two Thunderbolt 4 ports and HDMI 2.0 on the left, with a microSD card slot, USB Type-A 3.2, and a 3.5mm headphone jack on the right.
That does increase its versatility, but I would have loved to see a full-size SD card slot and a couple more USB-C ports in this array (if you're in need of extra connectivity, the best docking stations will do the trick).
Samsung Galaxy Book 3 Pro 360 display
The screen is, without a doubt, the biggest glow up of the Galaxy Book 3 Pro 360. Put simply, it's magnificent.
This year, the window to your work is a 16-inch, 3K (2,800 x 1,800-pixel) AMOLED display with a 16:10 aspect ratio and a 120Hz refresh rate. That is a gigantic step up over the 15.6-inch 1080p panel of the Book 2 Pro and the difference is striking. The additional height is awesome for productivity — the additional sharpness gives everything a gorgeous fidelity, and the new generation of AMOLED tech provides a new luscious vividity.
Watching the trailer for Apple TV+'s new sci-fi epic Extrapolations proves exactly that. The more oppressive scenes of gray tones are produced with a deep, dramatic contrast that allows the flashes of light to glow off the screen. Moving over to the warmer tones of the global warming-stricken world and it almost feels like you're looking at a moving painting of the Earth falling apart.
Our colorimeter backed this up with the Galaxy Book 3 Pro 360 panel hitting 85.2% of the DCI-P3 color gamut (for context, the Book 2 Pro hit a slightly higher score of 88%). But with that in mind, this still easily bests the Huawei MateBook 16S (76%), the M2 MacBook Air (75.9%) and matches the premium laptop average (85%). It's also worth noting we are testing the Book 3 Pro 360 display in its default setting. For a more vibrant look you can switch to its Vivid or Movie mode.
Unfortunately, brightness is still one of the letdowns of the Book 3 Pro 360, hitting an average of 380.6 nits in our testing. Don't get me wrong; that's brighter than last year's model. But with the M2 Air hitting 489 nits and the category average of 440 nits, we expected more. This is going to be more than enough for most lighting conditions, but it means you may struggle a little when working in a bright, outdoor environment.
Samsung Galaxy Book 3 Pro 360 keyboard and touchpad
Ultra-thin laptops are always a challenge when it comes to making a good typing and clicking experience. That's always been the case for the Galaxy Book Pro 360 line, but Samsungmade some important improvements that put this head and shoulders above what existed before.
Namely, the chiclet keys have a more noticeable travel to reduce any of the soreness that comes with shallow boards, and keeping the number pad makes data entry a cinch. I managed to hit a solid 85 wpm average on 10fastfingers.com with 98% accuracy, pretty much bang on with my average across all laptop keyboards.
But now, we've got to talk about that gigantic touchpad. Seriously, it's huge. At 5.9 x 4.3 inches, it is 39% larger than the Book 2 Pro 360 and significantly larger than a lot of its competition. The smooth surface allows you to glide effortlessly across it with Windows 11 gestures supported.
Plus, if you need an additional interaction option, there's that capacitive touchscreen that is super responsive to both fingers or the S Pen (in case you need to do more precise work). I'm not an artist that could make the most of this, but it's clear from the virtually zero latency between pen and (virtual) paper and the zippiness of this interaction, this still delivers best-in-class touch performance.
Samsung Galaxy Book 3 Pro 360 audio
The Galaxy Book 3 Pro 360 ups the speaker game with a quad AKG-tuned system with Dolby Atmos support. Lower tones are far more present, but as you'd expect for thin laptops, it's still an experience without any real depth. But I must applaud the impressive definition of mid and high tones nonetheless.
I listened to "2009" by Mac Miller, which proved everything I said above. The sharp stings of the 808 bass don't land as much of an impact as you'd feel in headphones or beefier speakers, but the finer details such as the cracks in Mac's voice come through loud and clear.
Obviously, for the best audio experience, you'll need a pair of wireless headphones. But if you're in a clutch moment without cans, these speakers are good enough.
Samsung Galaxy Book 3 Pro 360 performance
Let's get into the technical side of things here, and the reason why I'm pulling up the MateBook 16S and the M2 MacBook Air for comparison – I want to see how far the 13th Gen Intel has progressed, and how it stacks up against a similar notebook chipset in the Air.
The Galaxy Book 3 Pro 360 sports an Intel Core i7-1360p processor with 16GB of DDR5 RAM, and either a 512GB or 1TB SSD. In personal use, I could do plenty of multitasking including some heavier Photoshop use without breaking a sweat or kicking up the fans. Don't expect to play games or edit multiple streams on 4K video on this thing, but for other productivity needs, this will satisfy.
Time to get into the meat of this section and put up some comparative stats.
Swipe to scroll horizontally
| Benchmark | Samsung Galaxy Book 3 Pro 360 | M2 MacBook Air | Huawei MateBook 16S |
| --- | --- | --- | --- |
| Geekbench 5 (Multi-core) | 8250 | 8919 | 9337 |
| Handbrake (transcode 4K to 1080p) | 08:07 | 07:52 | 07:45 |
The P-series 13th Gen Intel Core i7 doesn't quite match up to the more powerful Intel Core i7-12700H in the MateBook 16S – neither does it beat the M2 MacBook Air. Yes, the laptop feels fast in practice, and these numbers are a good sign that Intel is getting a little closer to Apple silicon, but this isn't the year they cross the line.
Other extenuating factors could be playing a part too, such as a reduced TDP, but it's worth putting this chip into context. It's fast, but not as fast as we would've liked from a laptop at this price point.
One part I was pleasantly surprised by is the gaming performance. You won't get AAA gaming on here, but it was more than capable of playing the likes of F1 Manager 22 and Two Point Campus, alongside some indies at a smooth 60 frames per second with settings turned down to a mixture of medium and low.
Samsung Galaxy Book 3 Pro 360 battery life
What is the end result of that bigger display and slightly more powerful internals? The battery life takes a bit of a hit. The Samsung Galaxy Book 3 Pro 360 hit 7 hours and 46 minutes in our Laptop Mag battery life test, which involves continuous web surfing over Wi-Fi at 150 nits of brightness.
This is a knock down from the Book 2 Pro 360's 11 hours and 59 minutes the Book 2 Pro runtime, which is in of itself weaker than the original that achieved 13 hours and 34 minutes. This also falls below the premium laptop average (10:37), and the stonking M2 MacBook Air (14:06). Some of this is attributable to the Galaxy Book 3 Pro 360's gorgeous new 2.8K display, but it's still disappointing to see it fall that far.
Regardless of this backslide, you'll still reliably get through most of a day on one charge, which is impressive given the size and weight of this notebook. But I think we're at the point where Samsung shouldn't sacrifice anymore battery juice next year.
Samsung Galaxy Book 3 Pro 360 webcam
The 1080p webcam in the Galaxy Book 3 Pro 360 has had some software-based tweaks compared to last year, which does help improve your image on video calls. But the results are still a little rough.
Well-lit locations still produce imagery with a fair bit of noise, and when the light goes lower, you're stuck with a mushy quality as the backend does its best to contend with the challenging conditions. If you need something better, then you'll need to dip into your wallet and buy an external webcam, but this will do for the quick video conference.
Samsung Galaxy Book 3 Pro 360 heat
One benefit that comes out of some of these improved internals and better thermal management is that the Galaxy Book 3 Pro 360 is better at keeping its cool.
Under stress, the touchpad reached 80.5 degrees fahrenheit, the keyboard touched 89 degrees, and the hottest area (the underside vents) peaked at 92.5 degrees. Don't get me wrong, the MacBook Air has a superhuman nature of keeping heat to a minimum and beats these numbers (80, 82 and 84 degrees respectively), but all of the above numbers fit well below the 95-degree comfort threshold.
Samsung Galaxy Book 3 Pro 360 software and warranty
The Samsung Galaxy Book 3 Pro 360 ships with Windows 11 installed, and beyond some Samsung apps that allow for seamless integration between this laptop and the likes of the Galaxy S23, that's about it.
This is quite a turn from the Book 2 Pro 360, which came preloaded with bloatware from the likes of McAfee, making the setup process a whole lot less time consuming.
The Galaxy Book 3 Pro 360 comes with a one-year limited warranty. You can see how Microsoft generally fares on this front in our Tech Support Showdown special report.
Bottom line
And that concludes the story of what is going to be a tough laptop to beat in the big screen ultraportable space. The Samsung Galaxy Book 3 Pro 360 has updates in the areas where it matters like display and CPU, while sprucing up other elements like the keyboard, touchpad and webcam to make an excellent laptop.
Sure, some problems remain — we still don't have a place to store the S-Pen in the laptop, the battery life falls a bit short, and the screen is not as bright as we'd like.
But with impressive ergonomics and performance in something this thin and lightweight, this is an excellent addition to Samsung's lineup.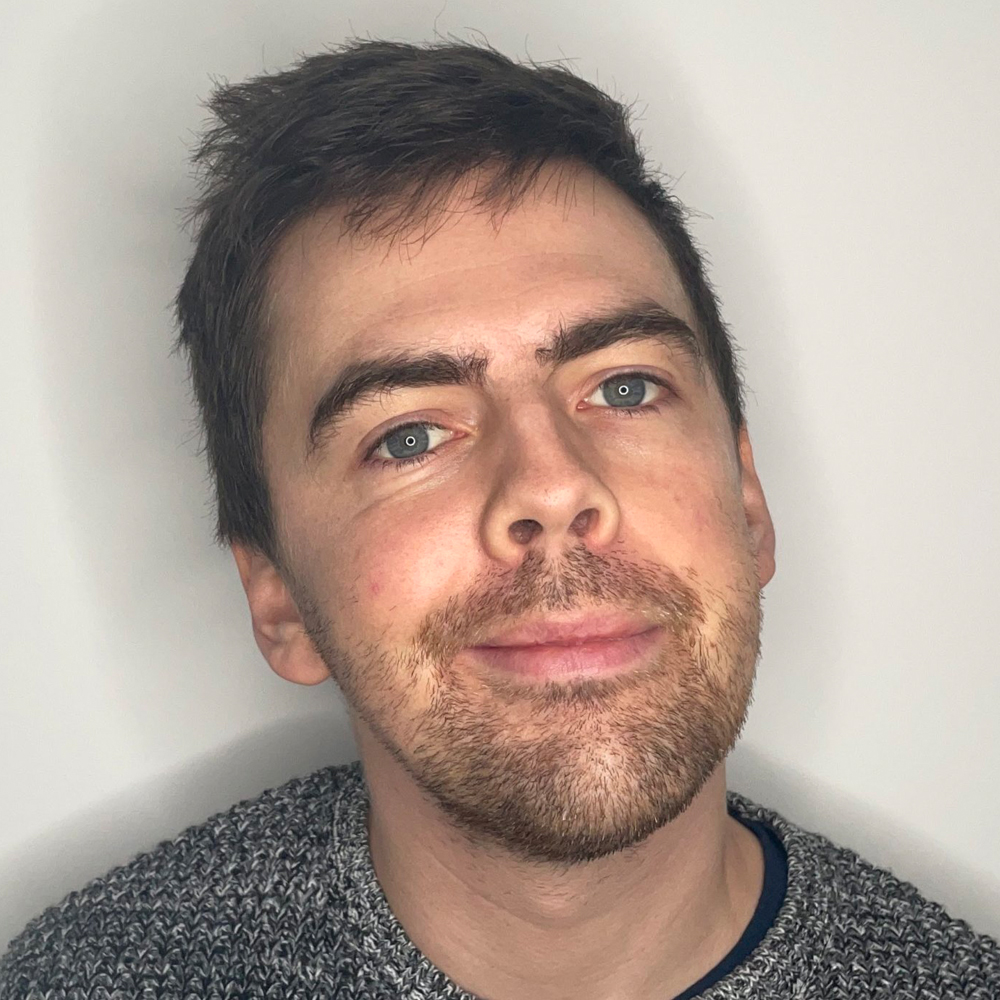 Jason brings a decade of tech and gaming journalism experience to his role as a writer at Laptop Mag. He takes a particular interest in writing articles and creating videos about laptops, headphones and games. He has previously written for Kotaku, Stuff and BBC Science Focus. In his spare time, you'll find Jason looking for good dogs to pet or thinking about eating pizza if he isn't already.