Xbox Series X vs. PS5: Which console is right for you?
The battle of the next-gen consoles between the Xbox Series X and PS5 is almost upon us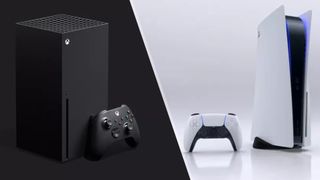 (Image credit: Microsoft/Sony)
The Xbox Series X and PS5 from Microsoft and Sony, respectively, are both going to be available in November, almost 7 years after the launch of the Xbox One and the PS4.
We have gathered up every bit of information we could find regarding the Xbox Series X and PS5 and pitted the two against each another to see which is likely to come out on top.
Sony's PS4 may have been the clear winner of the last generation, but Microsoft has learned from its early mistakes with the Xbox One and is trying not to let history repeat itself.
Now that both companies have basically all of their cards on the table let's take a look at how these two consoles stack up against one another.
Xbox Series X vs. PS5: Price and release date
Given all of the comments from both company's, it seemed unlikely that anyone was going to be the big outlier on either price or release date and that proved correct.
Microsoft was first to break its silence with the announcement that both the Xbox Series X and the Xbox Series S will be available on November 10. Starting prices for Microsoft's two next-gen consoles are $499 and $299 respectively.
If you haven't already gotten your pre-order in then your prospects of getting one on launch day seem pretty low at this point.
Sony fired back during its September 16 PS5 showcase event announcing that the PS5 and PS5 Digital Edition will launch on November 12 starting at $499 and $399.
The PS5 pre-order situation has been just about as exactly as much of a mess as with the Xbox Series X, with the odds of finding a PS5 on launch day if you haven't already pre-ordered pretty miserable as well.
Winner: PS5. On the basis of pricing alone I have to give this one to Sony due to the PS5 Digital Edition, with the exception of the disk drive it is identical to the PS5 making it the cheapest truly next-gen console. Date of availability and terrible handling of pre-orders are pretty much a wash between the two.
Xbox Series X vs. PS5: Design
The best descriptor for the Xbox Series X's design is "monolith." Microsoft has opted for an extremely minimalist design with the Xbox Series X, a rectangular "tower" that resembles a small desktop PC with an illuminated Xbox logo and a disk slot on the front.
The console is 11.8 inches tall and 5.9-inches wide and deep. While it looms large over the Xbox Series S, it's not large by any means, however, the thick rectangular design might be a difficult fit in some entertainment centers.
The single large fan at the top of the Xbox Series X will provide cooling and allow it to be positioned vertically or horizontally and should allow for relatively quiet performance. Early feedback has verified the quiet part, but there's some question as to how well the cooling is working.
While the PS5 design is not for everyone, it's not too much of a stretch to say that it is far more interesting looking than the Series X. It is also far larger than the Xbox Series X, coming in at 15.4 x 4.1 x 10.2 inches, it is indeed the largest console ever.
The box is predominately white and features sleek curves. There is a black middle section that slopes like a skateboard ramp. This is where the components are held and there appears to be some ventilation on the edges for cooling. Sony's signature blue lighting accents the edges of the box, giving the console a futuristic look. On the front of the console are USB-A and USB-C ports.
I really like how it looks but not everyone is so enthusiastic about the design. The divisive aesthetic has sparked some polarizing opinions, much like the new DualSense controller, which also features a mostly white color scheme with some black and blue accents.
Winner: Draw. Design is so subjective that our preferences don't really matter here. The PS5 is objectively a more interesting looking console, but its massive size could be a problem for some. Now if overheating actually proves to be a problem for the Xbox Series X due to its design this will definitely flip to a win for Sony.
Xbox Series X vs. PS5: Specs
Swipe to scroll horizontally
| | | |
| --- | --- | --- |
| Row 0 - Cell 0 | Xbox Series X | PS5 |
| CPU | 8x Cores @ 3.8 GHz (3.66 GHz w/ SMT) Custom Zen 2 CPU | 8x Cores @ 3.5 GHz (variable frequency) |
| GPU | 12 TFLOPS, 52 CUs @ 1.825 GHz Custom RDNA 2 GPU | 10.3 TFLOPS, 36 CUs @ 2.33 GHz (variable frequency) |
| Die size | 360.45 mm | TBD |
| Processor | 7nm Enhanced | TBD |
| Memory | 16 GB GDDR6 w/ 320mb bus | 16 GB GDDR6 |
| Memory bandwidth | 10GB @ 560 GB/s, 6GB @ 336 GB/s | 448 GB/s |
| Internal Storage | 1 TB Custom NVME SSD | 825 GB Custom NVME SSD |
| I/O Throughput | 2.4 GB/s (Raw), 4.8 GB/s (Compressed, with custom hardware decompression block) | 5.5 GB/s (Raw), up to 8-9GB/s (Compressed) |
| Expandable storage | 1 TB Expansion Card (matches internal storage exactly) | NVMe SSD Slot |
| External storage | USB 3.2 External HDD Support | USB External HDD Support |
| Optical drive | 4K UHD Blu-Ray Drive | 4K UHD Blu-Ray Drive (Not in Digital Edition) |
| Performance target | 4K @ 60 FPS, Up to 120 FPS and 8K | 4K @ 60 FPS, Up to 120 FPS and 8K |
Winner: Xbox Series X. Sony put a lot of weight into the speed of its SSD and we'll have to see what that looks like in real-world performance, but at least on paper, the Xbox Series X is the more powerful gaming console.
Xbox Series X vs. PS5: Performance
In both cases, the proof will come when we can actually see these consoles perform, but for the time being, we have the claims from both companies and they are very close to one another.
The PS5 will be capable of 4K gaming at up to 120 fps and have support for 8K with no specific frame rate target identified yet.
Support for ray tracing is another big addition for the PS5 as this will both deliver considerably more realistic lighting in games as well as some of the 3D audio effects that Sony has boasted about.
Things are fairly similar on the Xbox Series X side with 4K gaming at up 120 fps with 60 fps as the minimum target, although not all games might reach that mark. Support for 8K gaming is also present, but without specific frame rate targets. Ray tracing is also coming to Xbox Series X, although they have made no related audio claims.
Both consoles also feature custom SSDs that they are promising will deliver dramatically reduced load times versus the previous generation. Sony has been really pushing this message as it could be the winner on this front with dramatically faster (5.5 GB/s vs. 2.4 GB/s) throughput for its SSD.
Winner: Xbox Series X. With both the Xbox Series X and PS5 having virtually identical stated performance it's hard to make a determination here, but given the better overall specs of the Xbox Series X until we have real-world evidence to the contrary it seems like it will have the edge.
Xbox Series X vs. PS5: Controller
Neither company is straying far from the basic controller design of the previous generation consoles, and most of the updates look to be internal. If you want a deeper dive we have done a full comparison of the PS5 DualSense vs. the Xbox Series X Controller, but here are the highlights.
The most notable addition to the Xbox Series X controller is a prominent share button in the center of the controller to send content to friends, much like Sony introduced with the PS4's DualShock 4.
Less visible changes are the updated hybrid D-Pad and improved latency to eliminate the delay between a button press and action on the screen. Finally, the new controller is slightly smaller than the Xbox One controller and will be backward compatible with the older console.
On the Sony side, there have also been relatively minimal outward changes to the controller, flashy white colorway notwithstanding. The glowing lightbar has been removed with a glow now simply emanating from below the slightly larger touchpad. Slight changes to the angles of the triggers and the grip are meant to have improved the feel of the controller.
And like the Xbox Series X controller, there are internal changes with the controller providing dramatically improved haptic feedback capable of depicting, for example, the change in the feel of the road in a racing game, and the triggers will offer variable resistance based on the activity being performed in-game.
Winner: PS5. Some of this is going to come down to personal preference certainly, but the DualShock 4 was our favorite controller of the previous generation. Prior to testing the improved haptics and variable resistance triggers, the PS5 DualSense sounds amazing.
Xbox Series X vs. PS5: Backward compatibility
Microsoft and Sony have both promised backward compatibility with previous generation consoles.
Xbox Series X claims the title for backward compatibility champ with Microsoft promising the next-gen console will not only play all Xbox One games, but it will also include Game Pass games and over 600 Xbox 360 and original Xbox titles. In addition, Microsoft has stated that the older games will "play better than ever before" on the Xbox Series X with double the frame rate (30 to 60 or 60 to 120) on some games along with increased resolution and HDR support.
Beyond games, Xbox One accessories will also be supported by the Xbox Series X.
While Sony isn't quite up to the same standard, it has walked back some of its early statements and now boasts that the PS5 is capable of playing 99% of the PS4 games that it tested and that PS4 games will still be released for the next three to four years. Again this doesn't bring them on par with Xbox Series X, but it's a big step up from the "most of the top 100 games" talk from earlier in the year. A patent filing has given some hope that further support for PS1/PS2/PS3 titles will eventually come to the PS5 via a virtual machine emulation.
Winner: Xbox Series X. Sony learned its lesson and is at least offering backward compatibility, but Microsoft has made far more extensive commitments for those that are already invested in Xbox or would like to explore the extensive back catalog of past Xbox consoles.
Xbox Series X vs. PS5: Games
With similar architecture between the Xbox Series X and the PS5, most PC titles should find their way to both consoles given the presumably reduced developer costs of doing so.
The rest of the picture is starting to get clearer and we are keeping track of all the announced Xbox Series X games and PS5 games as they are announced.
Some of the exclusive highlights for the Xbox Series X include Halo Infinite (although not until 2021 or 2022), Dirt 5, Yakuza: Like a Dragon, Bright Memory: Infinite, and Outriders. The July 23 Xbox Series X games event gave us a look at many of the Xbox exclusives that will be coming through the first year of its release and while not everyone was thrilled, there were definitely some highlights to get fans excited.
In June we finally got a glimpse at some of the games coming to PS5, and we weren't disappointed. Among them are Horizon: Forbidden West (the sequel to Horizon: Zero Dawn), Spider-Man: Miles Morales, Demon's Souls, Ratchet & Clank: Rift Apart Sackboy: A Big Adventure (seemingly a LittleBigPlanet spin-off) and Gran Turismo 7.
Those are joined by various indie games, including Stray, Kena: Bridge of Spirits, Little Devil Inside and Bugsnax (from the folks who made Octadad).
Also, some of the major exclusives released this year, such as The Last of Us: Part II and Ghosts of Tsushima, will certainly be ported to the new console.
Here is a full breakdown of all the games Sony has revealed so far for the PS5.
Winner: PS5: Spider-Man: Miles Morales, Horizon: Forbidden West, Demon's Soul -- just naming a few of the AAA titles coming to PS5, not to mention a host of weird PS5 games that I can't wait to play. Game Pass is amazing, but until Xbox shows us more new games (perhaps from that ZeniMax purchase), Sony wins this round.
Xbox Series X vs. PS5: Outlook
While there is a lot yet to be decided, the Xbox Series X and PS5 are on a pretty level playing field with the launches just around the corner now.
The specs for the PS5 don't quite hold up to the Xbox Series X, and until Sony can show real-world results that its hardware is up to the challenge, we have to give the performance nod to the Xbox Series X.
Sony continues to have the more popular lineup of exclusive titles and no major shakeups or announced exclusives have changed this yet, although Microsoft is not shy about planning to buy up more game studios. For now, the Xbox Series X offers considerably more backward compatibility for nostalgic or lapsed gamers that want to play the greatest hits.
The PS5 also has one of the few clear differentiators between the two consoles in the form of PSVR, but with Sony dumping cold water on the idea of a PSVR 2 coming soon, it's hard to put too much weight behind VR on the PS5 either.
This is shaping up to be a much closer competition than the Xbox One vs. PS4 at launch, but based on the pricing and Microsoft suffering some blows like the delay to Halo Infinite, I think the PS5 has claimed a slight lead as time ticks down to the next-gen launch.
Stay in the know with Laptop Mag
Get our in-depth reviews, helpful tips, great deals, and the biggest news stories delivered to your inbox.
Sean Riley has been covering tech professionally for over a decade now. Most of that time was as a freelancer covering varied topics including phones, wearables, tablets, smart home devices, laptops, AR, VR, mobile payments, fintech, and more. Sean is the resident mobile expert at Laptop Mag, specializing in phones and wearables, you'll find plenty of news, reviews, how-to, and opinion pieces on these subjects from him here. But Laptop Mag has also proven a perfect fit for that broad range of interests with reviews and news on the latest laptops, VR games, and computer accessories along with coverage on everything from NFTs to cybersecurity and more.