Apple Watch Ultra 2 rumors: Release date, price, specs, features, renders, and news
Everything we know about Apple's wearable wonder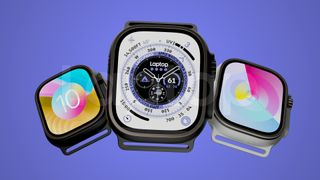 (Image credit: Laptop Mag / Rael Hornby)
News around the Apple Watch Ultra 2 is swirling faster and faster, and we're hearing more about what to expect from the next generation of Apple's premium wearable. From a new processor to an all-new color option, the Apple Watch Ultra 2 is set to be a notable refresh of an already impressive smartwatch.
With Apple's September 2023 event right around the corner, we've gathered together everything there is to know about the follow-up to 2022's Apple Watch Ultra including our expectations on its price, release date, design, and likely specifications.
Apple Watch Ultra 2: Latest News
Apple Watch Ultra 2: Release date
Apple Watch and iPhone releases go hand-in-hand, so it's almost a given that we'll see the Apple Watch Series 9 and Apple Watch Ultra 2 announced at the Apple September 12 event.
Similar to the expected iPhone 15 release pattern, it's highly likely that the Apple Watch Ultra 2 will be available for preorder on Friday, Sept. 15 with shipping and in-store availability on Friday, Sept. 22.
For a roundup of everything we expect to appear at Apple's upcoming event and up-to-date information on when and how to watch the keynote, check out our Apple September 2023 event hub.
Apple Watch Ultra 2: Price
The original Apple Watch Ultra launched in Sept. 2022 for $799, an already hefty price for a wearable. While current rumors suggest a sizable price hike for the iPhone 15 and iPhone 15 Pro models, a similar jump in price isn't likely for the Watch Ultra 2.
In fact, even though it is expected to feature a new processor, a change in Apple's regular manufacturing process could see the cost of producing the wearable drop slightly. While we wouldn't count on Apple passing these savings on to customers — there's an outside chance at the very least.
As it stands, we'd expect the Apple Watch Ultra 2 to stick to the same price point set by its predecessor.
Apple Watch Ultra 2: Design and colors
The Cupertino company has had a busy year of filing patents that give us an idea of where the Apple Watch range of wearables could be heading in the near-future — including strap-based health sensors and a built-in camera.
However, Bloomberg's resident Apple aficionado, Mark Gurman, believes that we shouldn't hold our breath on major hardware changes for either Apple Watch models. Instead, Gurman believes the biggest changes to Apple's wearables will come in the form of a "fairly extensive upgrade" through the new watchOS 10.
That being said, there are some significant changes coming to the Apple Watch Ultra 2 — you just won't be able to see them. According to all-things-Apple analyst Ming-Chi Kuo, Apple has undertaken a new approach to the manufacturing of the Apple Watch Ultra 2. One that both speeds up production and lowers costs: 3D titanium printing.
A number of the Apple Watch Ultra 2's internal components are now being 3D printed by Apple in-house. The tiny titanium parts could result in a lighter, more affordable wearable — provided Apple is willing to pass the savings in manufacturing costs onto customers, that is. The Apple Watch Ultra 2 is the first of the company's devices to get this in-house treatment, and later models are also expected to be the first device to don an Apple-built micro-LED display at some point in 2025.
According to a recent leak, options for Apple Watch Ultra 2 colors could be set to double — from one to two! The standard "natural" titanium tone will reportedly be joined by a dark titanium finish, an option Apple had previously considered for the original Watch Ultra.
A year on, Apple is apparently ready to pull the trigger on this new option for the second generation of their ultra-premium wearable. However, its limited colorway still places it behind the competition in many aspects — even against the more affordable Apple Watch Series 9's color options.
Apple Watch Ultra 2: Specs
It's all quiet on the Western front when it comes to information about the Apple Watch Ultra 2's specifications. However, we do know that both the Apple Watch Series 9 and Ultra 2 will feature a new, more powerful S9 chip.
The new chipset is based on Apple's A15 Bionic – the same processor found in the iPhone 13 Pro, 13 Pro Max, and iPhone 14, 14 Plus. The new chip could bring a sizable upgrade to the Apple Watch Ultra 2's processing power and performance alongside efficiency for improved battery life.
That new processing power could be best put to use by the release of watchOS 10 later in the year. The operating system upgrade for Apple Watch devices looks set to feature Smart Stack widgets, full-face apps, reactive watch faces, and topographic and 3D map and compass features.
Outlook
Visually, it's unlikely that much will change for the Apple Watch Ultra 2. However, under the hood, we can expect a fair amount of refreshes to both hardware and software that should keep Apple's smartwatch feeling fresh for another year ahead.
For news, rumors, and updates on everything Apple Watch related, and all things tech, follow Laptop Mag on Twitter, Facebook, and Flipboard for the latest word as it arrives.
Stay in the know with Laptop Mag
Get our in-depth reviews, helpful tips, great deals, and the biggest news stories delivered to your inbox.
Rael Hornby, potentially influenced by far too many LucasArts titles at an early age, once thought he'd grow up to be a mighty pirate. However, after several interventions with close friends and family members, you're now much more likely to see his name attached to the bylines of tech articles. While not maintaining a double life as an aspiring writer by day and indie game dev by night, you'll find him sat in a corner somewhere muttering to himself about microtransactions or hunting down promising indie games on Twitter.