I review tech, and these are my top docking station deals for Black Friday and Cyber Monday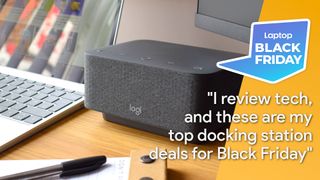 (Image credit: Laptop Mag / Rael Hornby)
Black Friday is one of those rare occasions where we can justify splurging a little extra on tech — especially if it's outside of our usual price bracket. And, when it comes to tech that typically takes a toll on your wallet, few can deny the sting of a top-tier docking station.
More ports and power to maximize the potential of your PC or laptop, who could possibly turn down that? Well, anyone who's home doesn't contain an indoor swimming pool full of doubloons à la Scrooge McDuck, for one. While small in stature, these devices can exact a tall order when it comes to price — which brings us back around nicely to Black Friday.
Why are docking stations so damn expensive? Well, probably because they're so damn useful. Thankfully, Black Friday sets itself up as the ideal time to strike when it comes to picking one up. There are discounts across the board of some of our most well reviewed docking stations of the year, and some that I've had the chance to try out in advance of reviews to come. Rest assured no deal in this list is present without my absolute seal of approval. But who am I, and why trust anything I have to say?
Why you can trust our recommendations:
I've been called many things in my time, but given my penchant for reviewing these port providing products I was once referred to as 'a bit of a dockhead.' At least I think I was, I wasn't really listening and my lipreading needs a little work when it comes to making out vowels.
But I can assure you, if that was the case, then 'dockhead' is accurate. Over the last year I've been reviewing a number of devices from major and minor brands to help decipher our list of the best docking stations available today.
I (unironically) love a good docking station, and truly believe there's no more important device to build a setup around — especially in an age where port availability on thinner laptops is reaching an all-time low. I like to maximize the potential of my setup, keep my laptop topped up with power, and have all my cables neat and tidy in the process.
For all of those reasons, I believe a docking station is essential. The docks that I've recommended in this article adhere as closely to those principals as possible, and have been tested by myself and other Laptop Mag staff members for their ability to get the job done right.
So, without further ado, let's get to the docks.
Plugable Thunderbolt 4 & USB4 Quad Display Docking Station
Plugable Thunderbolt 4 and USB4 HDMI docking station
Logitech Logi Dock
CalDigit Thunderbolt Station 4
Monoprice 13-in-1 Dual HDMI + DP MST Dock
BenQ BeCreatus Hybrid Dock
Plugable USB-C Tablet/iPad/Phone Stand w/ docking station
Stay in the know with Laptop Mag
Get our in-depth reviews, helpful tips, great deals, and the biggest news stories delivered to your inbox.
Rael Hornby, potentially influenced by far too many LucasArts titles at an early age, once thought he'd grow up to be a mighty pirate. However, after several interventions with close friends and family members, you're now much more likely to see his name attached to the bylines of tech articles. While not maintaining a double life as an aspiring writer by day and indie game dev by night, you'll find him sat in a corner somewhere muttering to himself about microtransactions or hunting down promising indie games on Twitter.