Ubisoft Black Friday sales: Save up to 85% on Assassin's Creed, Ghost Recon, The Division, and more!
It's open season on open world classics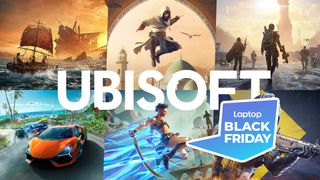 (Image credit: Ubisoft)
Ubisoft make some of the greatest game franchises there are for PC and console. And, ahead of Black Friday, you can save big on them all at the Ubisoft Store. From tackling the Templar threat throughout time in Assassin's Creed to perfecting every gap and grind in Riders Republic, there are impressive discounts on PC titles to be found – so why not build up that Ubi library for less this Black Friday week?
With so many titles on offer, we've narrowed down out selection to just a few top franchises, like saving 20% on fan-favorites like Assassin's Creed: Mirage now available for $39.99, saving 40% on racing title The Crew Motorfest now available for $41.99, or 50% on the extreme sports mayhem of Rider's Republic now just $49.99.
However, there are a ton of other popular games, DLCs, and expansions to save big on all included in the Ubisoft Store Black Friday Sale. Better still, you can redeem a $10 Ubisoft Store coupon when you spend $19.99 or more in a single transaction from your Ubisoft Wallet.
Ubisoft Black Friday deals: Assassin's Creed
Ubisoft Black Friday deals: The Crew
Ubisoft Black Friday deals: Ghost Recon
Ubisoft Black Friday deals: The Division
Ubisoft Black Friday deals: Other deals