Is Apple customer service good? 2023 rating
I pretended to be my dad to determine if Apple's Tech Support had improved since last year.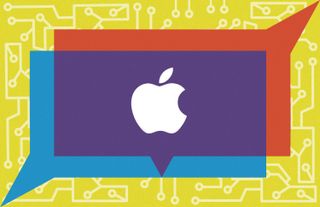 (Image credit: Laptop Mag)
Apple's Tech Support used to be the team to beat as it held tightly to the top spot in our Tech Support Showdown for several years running. However, in the last couple of years, Apple has fallen down our ranks a bit. Could this be the year the Fruit monikered tech giant regains the crown? I put on my digital disguise, and dusted off my acting skills to see if Apple has resolved its issues and stepped up its game.
Is Apple Customer Service Good? 2023 Rating
Apple has always been known for its tech support, from its sometimes speedy Twitter replies and extensive FAQ on its website to the friendly folks at the Apple Store Genius Bar. The Pope of Cupertino has his troops prepared to answer all your questions and guide you to a solution quickly.
It is a unique challenge to stump them or get one of their reps flustered. I know this because I tried my darndest, as I went full-on 84-year-old computer no0b on them all to no avail.
I tried my best to break them. I used confusion, repeating what they said. I even cracked old dad jokes. But would my confused tech elder fool them? Would I break them with my disoriented, newbie senior act, work? Yes and no, mostly they giggled at my jokes, were very patient, and each displayed kindness and professionalism that actually warmed my heart.
During my calls to Apple's phone support, I mainly experienced smooth, effortless interactions with three team members. Each team member slowly guided me to a solution, even when I would repeat myself and them over and over or sidetrack to a story about my son or my day. Each one was friendly and informative.
My X, formerly known as Twitter, Live Chat, and App experiences, were uneventful, and each time I was directed to the Support Page at Apple, I quickly found easy-to-use instructions on how to resolve most day-to-day issues that can arise. Overall, my experience with Apple's Tech Support and Customer service was excellent this year, with no missteps, unlike last year when I asked if I could download Microsoft Edge for Mac, and the representative flat out said no, which was incorrect. This year, they handled that differently and went above and beyond to slowly inform old man Ramirez. By the way, I deserve an Oscar.
Apple tech support
Swipe to scroll horizontally
| | | | | | | | | |
| --- | --- | --- | --- | --- | --- | --- | --- | --- |
| Overall | Web Score | Mobile App Score | Social Media Score | Phone Score | Warranty Score | Avg. Call Time | Phone Number | Web Support |
| 96/100 | 20/20 | 13/15 | 13/15 | 3030 | 20/20 | 10:41 | 800-275-2273 | Link |
Phone hours (EST): 24/7
Apple tech support number: 1-800-275-2273
Average call time: 11:05
Apple tech support virtual chat link: Apple support
Live chat, Twitter and Apple Support app
In 2023, Apple still doesn't do Facebook, I mean, at this point, nobody supposedly cares about Facebook; it's dying a slow death as it's been surpassed by TikTok and Instagram, which Meta owns. However, there are three other ways for you to contact them. I started with X to see how quickly they would respond and if that response was accurate and helpful. At 8:40 p.m. EST, I tweeted @AppleSupport that I was having boot-up issues with my brand-new MacBook Air.
The following day, a little after 10:57 a.m., I received a response on Twitter that led me via a link to the Apple Support page, which helped me figure out what my made-up issue was. Also, if I needed more help, I could have easily initiated a chat with customer support. The Apple Support page was so informative, that I kind of went down the rabbit hole and learned more about fixing boot-up issues than I ever wanted to know. Although I was hoping for a faster response time, Apple's support team did leave me with the right answer and foiled my ruse.
This experience had me more determined to catch the next person, stump them, and irritate them with my computer-feigned illiteracy. I contacted a live chat agent and made sure he knew immediately that I was a laptop no0b, and I was very upset that I couldn't get images from my phone onto my MacBook Air, using Apple's AirDrop. I used my acting skills to convince him that I thought my phone was perfect for this and led him astray, as I couldn't figure out what phone I had or which operating system it used. However, Phillip was so absolutely charming and warm-hearted that he just patiently guided 84-year-old me along until he helped me realize that I couldn't use a Google Pixel Fold with AirDrop because it uses Android OS.
In just 10 minutes, Phillip not only guided me via chat through learning the difference between the two operating systems, but he also taught me two different ways I could get the images from my Google Pixel Pixel Fold onto my MacBook Air.
I also pulled the meandering side talk thing my mom used to do, and Phillip handled that with aplomb as he patiently sat through my stories while picking up that Bluetooth confused me and helped me figure out an issue I was having. He taught me that I had to make sure that the earbuds I was attempting to connect had to be discoverable so that my MacBook Air could see them and connect. He even reminded me to be sure I turned off the caps lock because some may find it annoying. I apologized for that, and we shared a laugh.
Finally, I tried to see if last year's stumper would get Philip, so I told him how I really liked the Edge browser I had on my old PC and was wondering if I could get it on my MacBook. Phillip was quiet for a brief moment, not responding immediately. He then explained that yes, I could download it and that I should do a Google search for it if it's not available on the Apple app store.
Then I said, well, what's better, Google Chrome, Edge, or Safari? I quickly followed up with, "Which one is more secure?" Phillip explained to me that they were all good and that I should be safe on any of the three. He then went on to say it was a matter of preference. The fact that A) Phillip did not deny the existence of Edge like the person did last year, and B), Phillip didn't try to hard sell me on Safari left me super impressed with him, and I applaud him for how professionally he handled it. Somebody get Phillip a raise.
The final thing I wanted to try before phoning Apple was the Apple Support app on my phone, which I never use because I prefer calling people up. Let's remember part of my ruse this year is that I am using a Google Pixel Fold and do not own an iPhone. Sadly, there is no Apple Support app for Android devices, and you need either an iPhone or iPad to use the Apple support app.
However, last year I did use the app, and it was very straightforward and welcoming, and it remains so. Initially, the app offers you three options, The first is Self-Solve, where you can get helpful information via the app to rectify an issue. The second allowed me to get help via a live chat or a phone call. Lastly, the app allows you to schedule a repair at a Genius Bar or an authorized Apple service provider.
Once you hit continue, you're taken to a screen within the app. You can do everything mentioned and check your device's performance, subscriptions, purchases, passwords, security, update, and backup. It's a very user-friendly experience. The screen shows you all your Apple devices and the time you have left on AppleCare or the manufacturer's warranty. In the last year, Apple added a YouTube channel filled with informative videos, how-tos, and even some tricks to improve your Apple device's performance and user experience. So it's nice to see Apple's dedication to its app remains the same.
Phone support
My first call was very short, as I attempted to do so from the laptop via the Apple Support page. Sadly, at 10:05 PM it was suggested that I make an appointment for the next morning, where an Apple support person would call me between 10:15 and 11:15 AM. They called at 10:15 a.m. on the dot, but I was on a business call and they left a message which was a recording.
Apple did try to call me again at 10:30 AM, but I was in my morning work meeting. Once my meeting was over, I tried calling the number that had dialed me, but was told this was not a number to call and was directed to call Apple at the correct number.
At 11:45 a.m. I got a hold of someone and due to an audio issue on my end couldn't get their name. I explained to them that was the actual issue –– that I was dealing with a patchy audio signal using my wireless earbuds. She guided me through disconnecting and then connecting my earbuds. However, I was still experiencing the issue, in her kindest voice she asked when was the last time I charged them. I made an oops noise, we laughed and I thanked her for reminding me to do so. She then said it's okay, my Pop forgets to charge stuff too sometimes, and it made me feel understood. In total, we were on the phone for 10 minutes and 28 seconds.
I attempted calling again at 6 p.m. via the Support page and was directed to make an appointment which I did for 9:00 PM. But much to my surprise, at 7:59 p.m., I was speaking with Brie. She asked me what my issue was and I stated that I was struggling with using my phone's hotspot to connect to my MacBook Air so I could go online. I then explained that I had an Android phone and I was wondering if that was the problem. She said thank you, that she was sure that wasn't going to be the issue and she would connect me to someone at Tech Support. I said thank you, and she placed me on hold for two minutes of music.
After the short hold, Darius came on, asked me for my full name, and then asked me how he could help me. I explained to him my hotspot issues, and he said no worries, we will get you set up. Even though I tried to sidetrack Darius, complaining about my kids, which he chuckled at, he was super professional and guided me through three solutions for connecting my Android phone to my MacBook Air so that I could use the internet. The first solution was using a USB-C cable to connect my Android phone to my MacBook Air, and then tethering it. He himself is an Android user, so he taught me exactly how to do it. Then he quickly taught me how to do it via my Android device hotspot. Lastly, he taught me that I could do it via Bluetooth as well, which was that little extra step that I really appreciated.
I did as I had with everyone else, I acted like many of my elders do when I am explaining techy things to them, and Darius treated me like a favorite uncle, with warmth, kindness, patience, and professionalism. No matter how much of his time I tried to eat up, he was like "I'm here for you old fella." In total, the call took 11 minutes and 32 seconds. I could have kept him on longer, but I learned one thing from my dad, as he got older, he talked less on the phone.
Warranty
With Apple, you get free telephone technical support within the first 90 days of product ownership. If you require service after the first 90 days, you will have to purchase an AppleCare plan. Apple has changed things up a bit this year, creating different tiers based on which device you have purchased. Our MacBook Air falls under the Apple Care+ plans for Mac, which will run you $34.99 annually or $99 for three years if you pay the cost upfront. This new setup is actually far more affordable, as it used to cost $99 for one year of regular Apple Care and $299 for three years of Apple Care+. If you want to have a look at Apple's care plans you can do so here, and if you want to see how much time you have left on your warranty, use the Apple Warranty Check link.
Bottom line
After using Apple's Support page, the Apple app, Live Chat, Twitter, and calling into Apple's Tech Support, I was impressed with the whole experience as each team member I interacted with was professional, friendly, patient, and informative.
Last year, I felt the human element was lacking. This year, Apple blew me away with how smoothly each different method of seeking support went. From online chatting to phone calls, each member really took extra time to explain to my senior character that it was okay that I was just learning, and that they were there to help me and were in no rush. It was very comforting that each person went the extra step to gently explain things to me multiple times and put up with my jokes, side-tracking, and going off-topic. The agent who picked up on me having another issue without me asking also impressed me and took extra time to make sure I understood the issue and then taught me how to make it all work.
The average call time was 10 minutes and 41 seconds this year, which is more than acceptable, especially when dealing with an elderly person or someone new to the world of Apple. Overall, my experience with Apple's Tech Support this year was outstanding, and they deserve to be king of the hill once again.
Stay in the know with Laptop Mag
Get our in-depth reviews, helpful tips, great deals, and the biggest news stories delivered to your inbox.
Mark has spent 20 years headlining comedy shows around the country and made appearances on ABC, MTV, Comedy Central, Howard Stern, Food Network, and Sirius XM Radio. He has written about every topic imaginable, from dating, family, politics, social issues, and tech. He wrote his first tech articles for the now-defunct Dads On Tech 10 years ago, and his passion for combining humor and tech has grown under the tutelage of the Laptop Mag team. His penchant for tearing things down and rebuilding them did not make Mark popular at home, however, when he got his hands on the legendary Commodore 64, his passion for all things tech deepened. These days, when he is not filming, editing footage, tinkering with cameras and laptops, or on stage, he can be found at his desk snacking, writing about everything tech, new jokes, or scripts he dreams of filming.