Skip the MacBook Pro M3! Now is the perfect time to buy an M2 Pro, M2 Max
Take advantage of major discounts on M2 models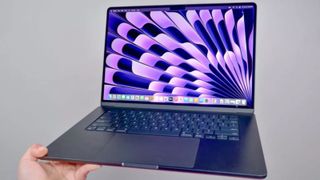 (Image credit: Future)
Apple's new M3 MacBook Pro models might be all the rage right now following the Scary Fast event, but they may not be the smartest MacBook to splurge on right now. The M3 Pro and M3 Max MacBook Pros are incredibly beefy, speedy workhorses, but for the average consumer, it's almost too much power, and investing in a cheaper M2 Max or M2 Pro model may be the optimal choice.
Forbes notes that there's a small percentage of Apple's user base that will actually need the "ultimate amount of power" an M3 Pro/Max MacBook Pro can offer. So if you're planning to buy a MacBook this Black Friday season, read up on the Apple M3 first, but then consider buying an M2 Pro or M2 Max MacBook Pro instead of running to pre-order MacBook Pro M3 models.
Take advantage of M2 MacBook Pro Black Friday deals
Apple's MacBook Pros with M2 Pro and M2 Max chips just launched earlier this year in January, and they both offer more than enough power for the average user. In our MacBook Pro 16-inch (M2 Max, 2023) review, we raved about its powerful overall performance, gorgeous Liquid Retina XDR display panel, and its incredibly capable gaming prowess.
The only con we could think of was its price. And with the M3 Pro and M3 Max MacBook Pro models announced, the price of an M2 Max MacBook Pro is going to dip even further. Now "outdated" by a newer MacBook Pro model, the Black Friday MacBook Pro deals should be great.
You can catch some early Black Friday deals on Apple's M2 MacBook Pros, or wait until we're closer to Black Friday for even better savings. Right now, you can save $200 off a 14-inch MacBook Pro M2 Pro or $300 off a 16-inch MacBook Pro M2 Max.
Or, if you know your performance needs aren't super high, save even more by opting for a MacBook Pro or Air with a plain old M2 chip. During early Black Friday deals, you can get $300 off a 15-inch MacBook Air M2 or $250 off a 13-inch MacBook Pro M2.
Apple's MacBook Pro M3 models are incredibly exciting, but don't get caught up in the hype. If all you need is a MacBook Pro for basic tasks and the occasional game, the M2 Pro or M2 Max models will deliver plenty of performance power and save you quite a bit of money.
Stay in the know with Laptop Mag
Get our in-depth reviews, helpful tips, great deals, and the biggest news stories delivered to your inbox.