Save up to $1,400 on MSI laptops, monitors, and accessories this Cyber Monday!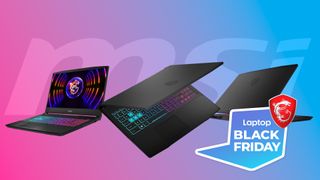 (Image credit: MSI)
UPDATE: Black Friday has come and gone, but Cyber Monday is keeping these deals going strong! Time is running out, thought. You'll only have a limited time to snag these incredible savings on MSI tech, so don't delay!
Black Friday is so close you can reach out and touch it. On your calendar, anyway. Black Friday arrives on Nov. 24 this year, and that's where you're likely to catch some of the hottest deals on top-tech all year. However, in the meantime, online retailers have flipped the switch early and let the deals flow free.
Its deals mayhem out there. I don't know if you've looked out of your browser window lately but its raining cats and dogs on the old interwebs, except the cats are cheap laptops and the dogs are discounted smartwatches. It's madness, but the good kind that leaves cash in your pocket and a new TV on your wall.
Latest to join the fray? MSI, or Micro Star International if you want to get all formal about it. MSI's bread and butter is high quality laptops, and that typically means expensive laptops. However, it's Black Friday week. That means retailers have begun using inverted controls on their pricing guns. Up is down, down is up, and your insides are now your outsides (you should probably get that seen to, chap).
In layman's terms, expect incredible savings on MSI laptops, monitors, and accessories all across this glorious World Wide Web of ours, savings that you can take advantage of this very minute. I've included them below so you can dive right in. Have at it readers, spend responsibly.
MSI Black Friday deals: MSI laptops
MSI Black Friday deals: MSI monitors
MSI Black Friday deals: MSI accessories