I'm a laptop reviewer and this is the best gaming laptop under $1,500
Lenovo knocks it out of the park with the Legion 5 Pro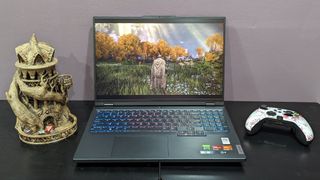 (Image credit: Laptop Mag/Momo Tabari)
Finding an excellent affordable gaming laptop isn't easy, especially when shopping under $1,500. This is a price point where significant aspects of the hardware get tossed onto the chopping block. But once a while, a glimmering nugget of gold shimmers within the pile of underpowered gaming laptops. And in this case, that is the Lenovo Legion 5 Pro.
With the power of an RTX 4070, this laptop excelled in all of our performance benchmarks and demolished more expensive competitors without a sweat. Beyond that, it boasts a perfectly balanced keyboard, moderately vibrant and bright display, and a sturdy exterior with a strong hinge. I couldn't believe its sub-$1,499 price point, as even when not considering its amazing value, it's one of the best gaming laptops in general.
The Lenovo Legion 5 Pro is a sub-$1,499 champion
The Lenovo Legion 5 Pro model we tested is built with a Nvidia RTX 4070 graphics card, AMD Ryzen 7 7745HX processor, 16GB of RAM, a 1TB M.2 PCIe SSD, 16-inch, 2560 x 1600 IPS display at 165Hz refresh rate and can be purchased for $1,449 on Lenovo's website. Just to illustrate how amazing the value of this laptop is, we're giving it the benefit of the doubt and pitting it against more expensive competitors like the MSI Katana 15 ($1,599), Origin EON16-S ($2,386) and Razer Blade 14 ($2,699). All of these laptops are also powered by RTX 4070.
What's especially impressive about this price gap is that this system yielded superior gaming performance on many titles. In both Borderlands 3 (110 fps) and Red Dead Redemption 2 (78 fps), the Legion 5 Pro was superior to the Razer Blade 14 (88 fps, 76 fps), EON16-S (99 fps, 50 fps) and Katana 15 (91 fps, 48 fps).
It still did really well during Far Cry 6 (97 fps), defeating the Razer Blade 14 (85 fps) and Katana 15 (94 fps), but the EON16-S (99 fps) just barely pulled ahead. And when testing the highly demanding Metro Exodus Enhanced Edition, we put it to the test in three different graphic settings. The Legion 5 Pro achieved 107 fps on High, 84 fps on Ultra and 53 fps on Extreme.
Competitors seemingly stood no chance, as the Razer Blade 14 (High 88 fps, Ultra 76 fps, Extreme 48 fps), Katana 15 (High 91 fps, Ultra 74 fps, Extreme 48 fps), and EON16-S (High 99 fps, Ultra 78 fps, Extreme 50 fps). Keep in mind some of these laptops are nearly $1,000 more expensive.
But graphical power isn't everything, as gaming laptops this affordable often sacrifice the display to maintain its price point. Yet Lenovo didn't seem content with a lesser visual experience, as the laptop offers a solid degree of brightness and color depth. It achieved 82.4% of the DCI-P3 color gamut, which is only better than the Katana 15 (46.1%), but isn't all that far behind the EON16-S (83.5%). The Razer Blade 14 was unsurprisingly far in first place (114.3%).
It also performed good-but-not-great in our brightness test, achieving 319 nits. This is once again only superior to the Katana 15, with the EON16-S (326 nits) being pretty close. The Razer Blade 14 (465 nits) continued to demolish, though.
So far the Legion 5 Pro has demolished in gaming performance and done decently with its display, but surely its productivity metrics suffer at this low cost? Not at all, as our Geekbench 6 overall performance test revealed the Legion 5 Pro's multi-core score hit 13,063. This is better than the Razer Blade 14 (AMD Ryzen 9 7940HS, 11,425) and Katana 15 (Intel Core i7-13620H, 12,562), but worse than the EON16-S (Intel Core i9-13900H, 14,068).
It continued doing pretty well, converting a 4K video into 1080p resolution with the HandBrake app, finishing in 4 minutes and 5 seconds. This is snappier than the Razer Blade 14 (4:45) and Katana 15 (5:04), although the EON16-S (3:46) is faster.
Although the Legion 5 Pro has taken a solid second place in productivity performance thus far, its SSD speed is at the front of the pack, which is especially surprising considering it's the most affordable of the bunch. Duplicating 25GB of multimedia files in 12.5 seconds at 2,150 megabytes per second, this is far better than the Katana 15 (1TB SSD, 784MBps), Razer Blade 14 (1TB SSD, 1,230MBps) and EON16-S (1TB SSD, 1,819MBps).
I adore this laptop, but not everything is peachy under the hood. The Legion 5 Pro's biggest drawback is its battery life, yet even that isn't egregious. It lasted a total of 4 hours and 38 minutes on the Laptop Mag battery test, which involves continuous web browsing over Wi-Fi at 150 nits. This is nowhere near as long as the Razer Blade 14 (8:35) and EON16-S (5:06), but it's way better than the Katana 15 (2:48).
If its amazing performance in contrast to its affordable price isn't enough to convince you this is the best budget gaming laptop out there, then consider that it is built with a solid speaker system that offered a loud, punchy sound alongside a near-perfect keyboard with my beloved number pad, 1.5mm of key travel, designated arrow key nook and normal-sized enter and shift keys.
Bottom line
The Lenovo Legion 5 Pro is a superb gaming laptop that performs at the top of many categories while securing a price point far below competitors. And even in the places where it isn't in first place, like its display, it still performs well enough to ensure that no aspect feels cheap. If you can deal with middling endurance, you'll absolutely fall in love.
It is without a doubt the best sub-$1,499 gaming laptop you can get your hands on right now, and I cannot recommend this investment enough. If you're on the lookout for an even better display with longer-lasting battery life, the Razer Blade 14 is a good alternative pick, but prepare to spend top dollar. Otherwise, the Lenovo Legion 5 Pro is a budget gaming champion.
Category
Back to Ultrabook Laptops
Brand
Processor
RAM
Storage Size
Screen Size
Colour
Condition
Price
Stay in the know with Laptop Mag
Get our in-depth reviews, helpful tips, great deals, and the biggest news stories delivered to your inbox.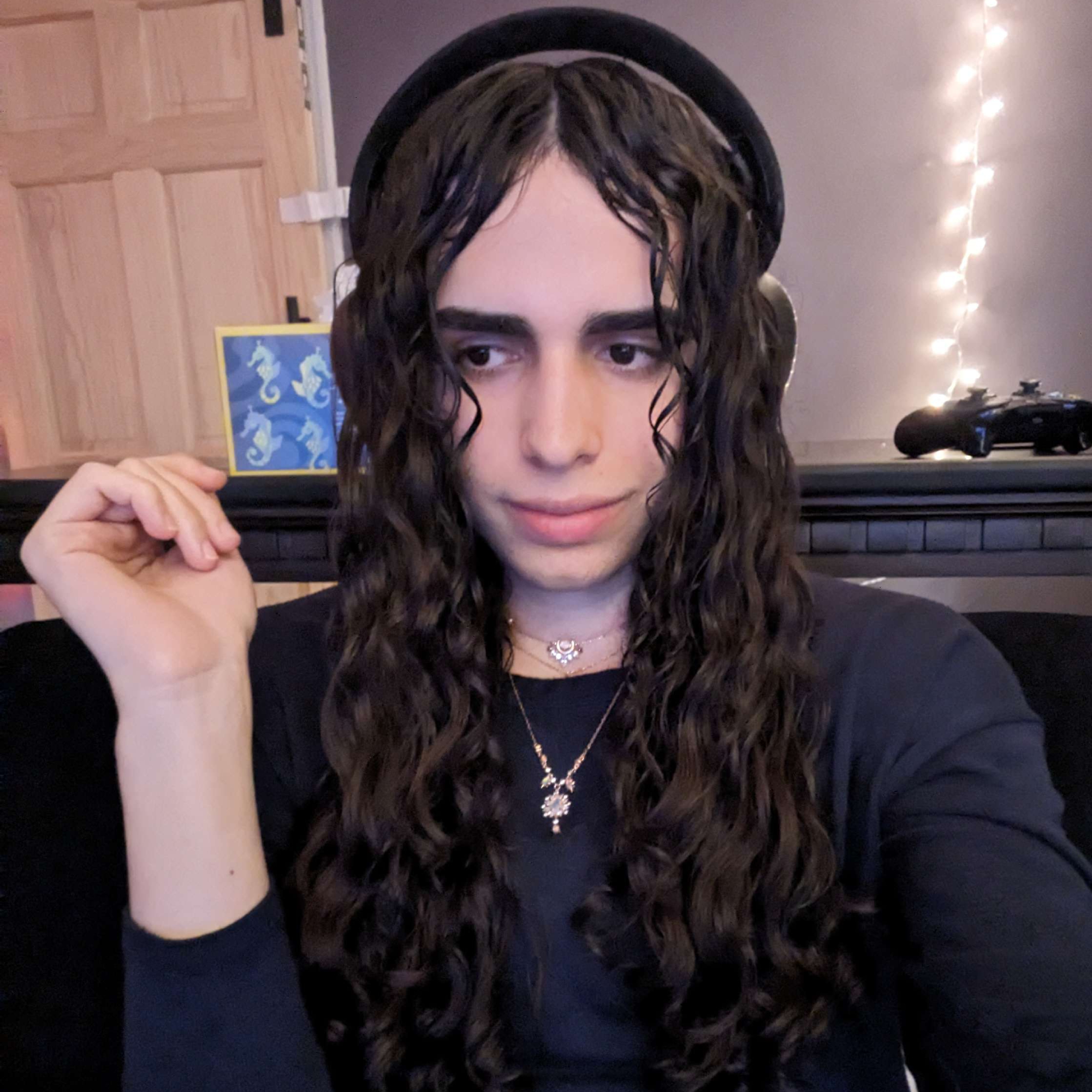 Self-described art critic and unabashedly pretentious, Momo finds joy in impassioned ramblings about her closeness to video games. She has a bachelor's degree in Journalism & Media Studies from Brooklyn College and five years of experience in entertainment journalism. Momo is a stalwart defender of the importance found in subjectivity and spends most days overwhelmed with excitement for the past, present and future of gaming. When she isn't writing or playing Dark Souls, she can be found eating chicken fettuccine alfredo and watching anime.