The Mac Mini M2 offers great performance in a compact shell with a nice amount of ports.
Pros
+

Great performance

+

Sleek, compact design

+

Affordabl
Cons
-

Can't upgrade or repair unit yourself
Why you can trust Laptop Mag Our expert reviewers spend hours testing and comparing products and services so you can choose the best for you. Find out more about how we test.
Mac mini M2 specs (as reviewed)
Price: $799
Processor: Apple M2 (8-core CPU, 10-core GPU)
RAM: 8 GB
Storage: 512GB SSD
Ports: 2 Thunderbolt 4, 2x USB-A. HDMI out, Ethernet, 3.5mm headphone jack
Size: 7.8 x 7.8 x 1.4 inches
Weight: 2.6 pounds
Now, I know what you're thinking. What is a Mac Mini doing on Laptop Mag? But here me out, weighing a scant 2.6 pounds, the Mini is lighter than a lot of laptops on the market and a lot more compact. With that out of the way, let's talk about what we've got here. The Mac Mini M2 delivers all the power of Apple's M2 silicon in a lightweight box that can slip into a backpack or purse.
And with a starting price of $599 ($799 reviewed), the Mac Mini M2 is a mobile marvel that will pique the interest of many a consumer. It'd just be nice if you could swap out or repair the system yourself. My one complaint aside, the Mac Mini is a viable option for shoppers looking for a powerful, compact system under $1,000. Just be sure you have a nice display handy.
Mac Mini M2 pricing and configuration
Affordability, thine name is Mac Mini M2. The base model of the system costs $599 and has an 8-core (4 performance cores, 4 efficiency cores) M2 chip, 8GB of unified memory, a 256GB SSD, 10-core GPU and 16-core Neural Engine. My review unit has double the storage which jacks the price up to $799. The M2 Mac Minis can be configured with up to 24GB of memory and 2TB SSD, which will of course, cost more.
If you want more performance oomph, Apple offers a Mac Mini M2 with a 10-core (6 performance cores, 4 efficiency cores) CPU with 16GB of memory, a 512GB SSD, a 16-core GPU and the 16-core Neural Engine –– all for $1,299. The memory can be expanded to 32GB while the storage can reach 8TB.
Mac Mini M2 design
Instead of asking what's in the box, we need to talk about the actual box. It's a vision of silvery modern minimalist functionality. The Mac Mini M2 doesn't deviate from the Mac aesthetic which means rounded corners, a shiny half-eaten apple logo on the top and a big black round cover on the bottom. It's all encapsulated by a silver anodized silver case. The Mini's rear is a black connectivity haven as it houses all the ports (more on that later).
And before you get any ideas about and DIY upgrades or repairs, that bottom cover doesn't grant access to the device's internals as Apple wants to keep any potential tinkering in house. It's a shame because it seems like it be so simple to slide in some extra memory or storage. C'est la vie.
At 2.6 pounds, 7.8 x 7.8 x 1.4-inches, the Mini is small and lightweight enough to fit in a small to medium book bag or purse. The Mini M2 Pro is slightly heavier at 2.8 pounds.
Mac Mini M2 ports
Apple's loaded up the Mac Mini M2 up with a gaggle of ports. You name it, this thing's got it –– within reason. You get a pair of USB Type-A ports, two Thunderbolt 4 ports, a HDMI port, a headset jack and a port for the power cable. If you're interested with the Mac Mini M2 Pro iteration of the device, you get an extra pair of Thunderbolt 4 ports.
Mac Mini M2 performance
My review unit is equipped with a M2 chip. And it's got plenty of performance to spare. I ran 65 Google Chrome tabs with a mix of Google Docs, Sheets and Presentations, along with a few YouTube videos, Twitter, Facebook and a few news websites. The Mini didn't stutter.
That's all well and dandy, but how did the Mac Mini do on our synthetic tests? Pretty well actually. On the Geekbench 5.5 overall performance test, the Mac Mini M2 achieved 9,048. Our sister site, Tom's Guide, reviewed the Mac Mini M2 Pro which notched 15,038.
During the Handbrake test, the Mini M2 took 6 minutes and 46 minutes to transcode a 4K video to 1080p. The Mini M2 Pro was significantly faster at 4:26.
Swipe to scroll horizontally
Geekbench 5.5 results

| | |
| --- | --- |
| | Mutli-core score |
| Mac Mini M2 | 9,048 |
| Mac Mini M2 Pro | 15,038 |
On the Photoshop benchmark, the Mac Mini M2 reached 812 while the Mac Mini M2 Pro posted 963. On the Premiere Pro test, we saw scores of 454 and 847 from the Mini M2 and Mini M2 Pro.
And on the BlackMagic Read/Write test, the Mini M2's 512GB SSD achieved 3,220.1MBps/2,933.7MBps. The Mini M2 Pro with its 1TB SSD produced speeds of 5,057.1MBps/6,186.5MBps.
Mac Mini M2 graphics
Are you a photographer, filmmaker or musician? How about a gamer? Then the Mac Mini and its 10-core GPU might be what you're looking for, yes even gamers. The diminutive boxes have a mighty big punch, especially the Mini M2 Pro with its 16-core GPU. Still, I saw smooth gameplay without lag as I made my way through Lady Dimitrescu's castle as I avoided her while hunting down her murderous daughters on the Mac Mini M2. However, I had to downgrade the graphics to medium at 1920 x 1080 to do so.
The differences between the M2 and M2 Pro became clear during our benchmark, with the Mini M2 only reaching 27 frames per second during the Rise of the Tomb Raider test (1080p). Meanwhile, the M2 Pro reached an impressive 53 fps.
On the Sid Meier's Civilization VI: Gathering Storm benchmark, the Mini M2 produced 45 fps, compared to the Mini M2 Pro's 50 fps.
Swipe to scroll horizontally
Sid Meier's Civilization VI: Gathering Storm (1920 x 1080)

| | |
| --- | --- |
| | 1920 x 1080 |
| Mac Mini M2 | 45 fps |
| Mac Mini M2 Pro | 50 fps |
Mac Mini M2 software
Just like the MacBook Pro 14 and 16-inch laptops, the Mac Mini M2 runs macOS Ventura. The operating system is smooth and intuitive as Apple optimized how well Ventura assigns multithreaded tasks to the CPU cores. The OS intelligently disseminates tasks between the performance and efficiency cores, with a focus on delivering optimal performance and endurance. This is accomplished by utilizing advanced power management features.
Ventura brings seamless connectivity between all your iDevices including youryour MacBook, iPad, iPhone and Apple Watch. Handoff, for examplef, allows you to start writing an email on your iPad or iPhone and pick up right where you left off on your MacBook or Mac Mini. Airdropping between iDevices has become even easier. The Universal Clipboard allows you to copy and paste text or images from an iPhone or iPad right into a document on the MacBook.
And there are a few new GPU-centric features via Metal 3, allowing the system to render high-res graphics faster. That means games and content creation apps like Final Cut Pro are less taxing on the system, taking less time to render and load. There's even Ray Tracing that shifts the weight of all that complex rendering over to the GPU, freeing up the CPU for other tasks.
The Mac Mini M2 ships with a one-year limited warranty. See how Apple fared during Tech Support Showdown and Best and Worst Brands, our annual reports.
Bottom line
Yes, the Mac Mini is a little different than what I'm used to reviewing. But after spending time with the diminutive device, I don't think it's out of my wheelhouse. I'm an absolute fan of the tiny form factor and I could see myself traveling with it, if only to my office for some quick plug-and-play action. It's got a nice amount of ports and that M2 chip has plenty of power on for productivity and GPU-heavy tasks, even gaming as I discovered first hand.
And while the Mac Mini is indeed powerful (and très affordable!), I recommend upgrading to the M2 Pro iteration of the device as you'll get even more power on both fronts. Again, my only gripe is that you can't swap out components even though that big rounded cap on the bottom says otherwise. Still, the Mac Mini is a great choice for people looking for a mini-computing selection for under $1,000.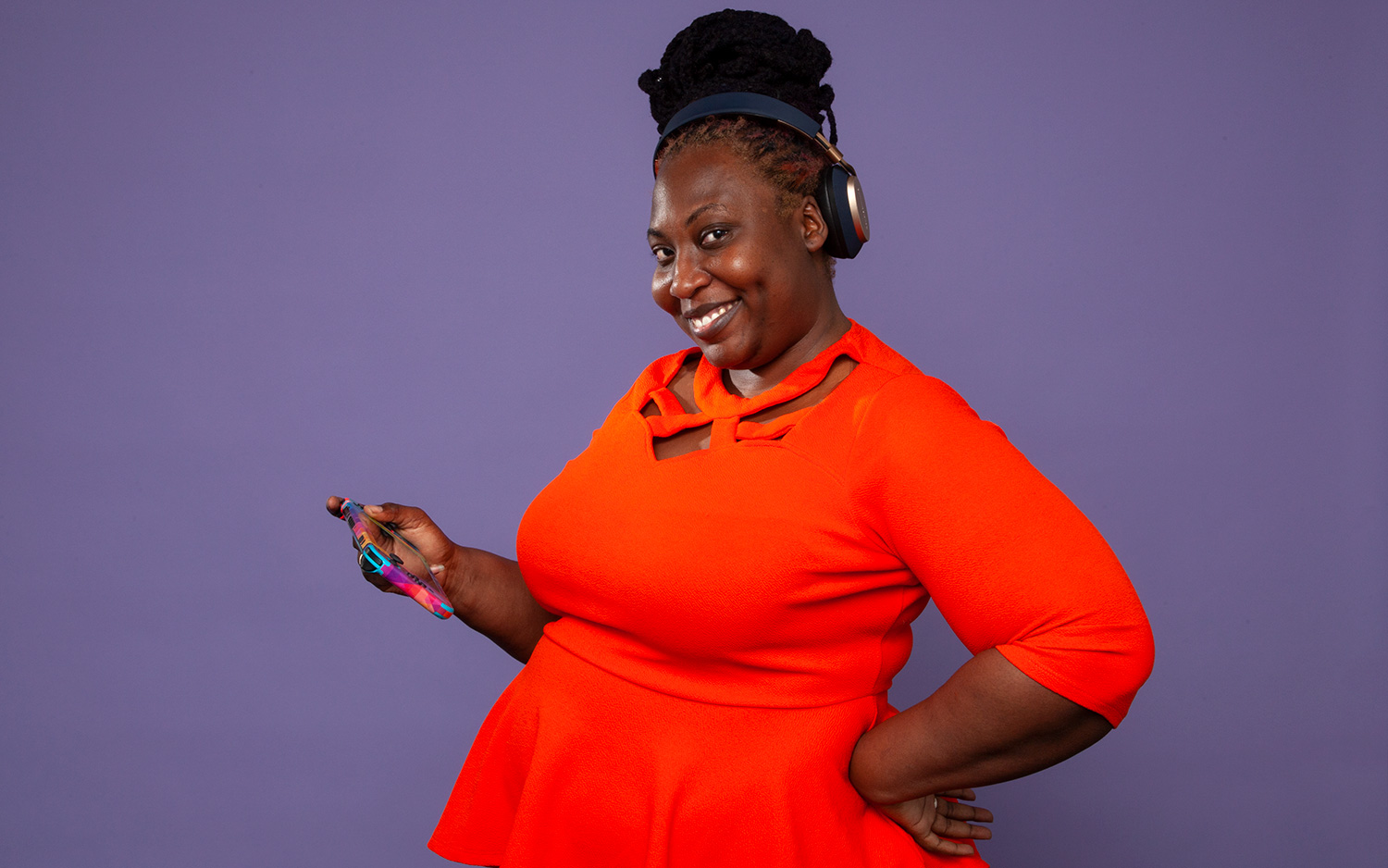 Sherri L. Smith has been cranking out product reviews for Laptopmag.com since 2011. In that time, she's reviewed more than her share of laptops, tablets, smartphones and everything in between. The resident gamer and audio junkie, Sherri was previously a managing editor for Black Web 2.0 and contributed to BET.Com and Popgadget.