3 reasons to buy the M3 MacBook Pro 14, and 2 reasons to skip
The M3 MacBook Pro 14 is fantastic, but should you buy one?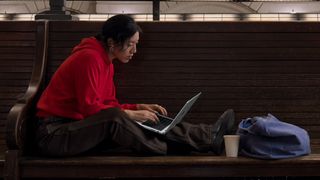 (Image credit: Apple)
At Apple's recent 'Scary Fast' event, the company announced some new M3 devices, including the highly anticipated M3 MacBook Pro 14 model. With Apple retiring the 13-inch MacBook Pro, then this 14-inch model will be the smallest, cheapest MacBook Pro in the new lineup.
Despite its attractively speedy 3nm chip, the upcoming MacBook Pro 14 won't be the perfect laptop for everyone. Here are three reasons the M3 MacBook Pro 14 is definitely worth your money, and two reasons why you might want to skip this flashy new device.
Buy it if you want a premium gaming experience
The M3 standard chip—not just the M3 Pro and M3 Max—is equipped with new graphics architecture and multiple exciting features that'll make playing games on your Mac smooth and immersive. Apple claims "the M3 GPU is able to deliver the same performance as M1 using nearly half the power, and up to 65 percent more performance at its peak."
Apple's M3 family of chips features Dynamic Caching, which Apple says "allocates the use of local memory in hardware in real time." In simpler terms, this means an M3 MacBook Pro uses as much memory as it needs for a task—nothing more, nothing less—and improves gaming performance as a result.
For the first time ever, MacBooks will be equipped with hardware-accelerated ray tracing thanks to these 3nm M3 chips. With ray tracing support, game developers can add in shadows and reflections, and ultimately make their titles more immersive on macOS.
Buy it if you want an amazing battery life
It's not a secret that MacBooks consistently rank highly among laptops with the best battery life. The 16-inch MacBook Pro with an M2 Max chip we reviewed lasted almost 19 hours in our standard battery test, and the MacBook Pro 14 with an M3 chip is supposed to last even longer.
Apple notes that its efficiency cores in the M3 chip are "up to 50 percent faster than the efficiency cores in M1, so everyday tasks are faster than ever, while allowing the system to maximize battery life." The company reached a battery life of almost 22 hours during tests with a 16-inch MacBook Pro with an M3 Pro chip, and the 14-inch M3 MacBook Pro will likely have a similar battery life.
If you want to be cable-free while working at a coffee shop or carting your laptop around campus all day, the exceptional battery life on an M3 MacBook Pro is hard to beat.
Buy it if you create music or videos
Creators will love Apple's new M3 MacBook Pro 14 thanks to its enhanced Neural Engine that can accelerate machine-learning models. With this new MacBook Pro, you'll have access to powerful AI image processing tools, improved features in Adobe Premiere and Final Cut Pro, and an advanced media engine that provides "hardware acceleration to the most popular video codecs."
The AI capabilities of the enhanced Neural Engine mixed with the promised performance of an 8-core CPU, a 10-core GPU, and up to 24GB of unified memory, the M3 MacBook Pro 14 will be worth upgrading to if you're a creator. Honestly, creators might even consider splurging on the M3 Pro or M3 Max chips for the best value.
Skip it if you already have an Apple Silicon MacBook Pro
If you already own a MacBook Pro with an M1 or M2 Apple Silicon chip, ditching your old laptop for a new M3 MacBook Pro 14 is probably a waste of money. MacBooks with an M1 or M2 chip perform more efficiently than most other laptops on the market—from Apple or otherwise.
Most Macs receive about 7 years worth of support after its original release date, so even original M1 devices from 2020 should receive software and security updates until around 2027. Even if this support cuts off early in 2025 or 2026, that's still a few years away. Until your existing laptop stops receiving updates, it's probably not worth upgrading unless you're after a specific feature.
Skip it if you only need a laptop for basic tasks
If you need a laptop to carry out basic work- or school-related tasks, like managing emails, doing online research, using presentation or document software, or streaming videos and music, there's no need to spend all your hard-earned money on a new M3 MacBook Pro 14.
You can save quite a bit of money by buying an older (but still new to you) MacBook. Check out our list of the best MacBooks in 2023, with a wide range of budget-friendly M1 models and premium M2 Max options you can play games on.
Stay in the know with Laptop Mag
Get our in-depth reviews, helpful tips, great deals, and the biggest news stories delivered to your inbox.