Apple is retiring the 13-inch MacBook Pro, and this could be why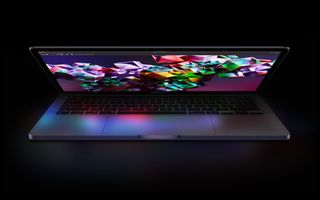 (Image credit: Apple)
Apple's "Scary Fast" event was packed with surprises including new MacBooks and an iMac, all powered by new M3 Apple Silicon processors. And while we get to welcome Space Black back to the Mac, Apple also announced that the 13-inch MacBook Pro will be no more.
Apple's 13-inch notebook had its time to shine, offering portability and performance in equal measure. However, ever since Apple's ARM-based Silicon M-Series chips took center stage, the 13-inch MacBook Pro has become an awkward middle child – unable to outshine its MacBook Air counterpart, and incapable of measuring up to its bigger brothers in the 14, and 16-inch MacBook Pro lineup.
That being said, Apple simply wouldn't call "Uncle!" on this particular model, even offering it an M2 refresh just last year. So, why the sudden shift?
New MacBook Pro lineup gets some early Spring cleaning
Apple's catalog of MacBooks is impressive, but it was getting a little confusing, especially where its two product lines overlap. The 13-inch space for MacBooks was kind of a mess, with both the Air and Pro models taking up exactly the same space with near identical specs, and a $100 difference between the two.
The 13-inch MacBook Air has been the better buy for almost the entirety of the Apple Silicon era thanks to its lower price point and solid specifications. Leaving its MacBook Pro counterpart feeling like a legacy inclusion. So it makes all the sense in the world for Apple to finally cut the cord and lay its littlest Pro model to rest.
The resulting lineup is a much clearer and neater one, with the 13-inch MacBook Air assuming the role of a 'lite' 14-inch MacBook Pro – and the 15-inch MacBook Air similarly complimenting the 16-inch flagship MacBook Pro. It's simple, without overlap, and just makes sense.
But what if there's another reason for the cut? What if Apple are simply freeing up resources for something else entirely?
Room for something new?
Time are hard, and throwing $1,000+ dollars down on a new MacBook isn't something everyone is capable of. But you don't have to take my word for that, Apple Analyst Ming-Chi Kuo states the same in a recent post to social media site X.
In the post, Kuo explains how a slump in sales is causing Apple to consider a more affordable option in order to boost its waning shipments. It's not the first time this idea has been floated either.
Reports from earlier in the year back this notion further, claiming that Apple is hard at work on a new MacBook model focusing on the education market — potentially as a way to conquer the Chromebook's budget-friendly dominance.
Or room for something old?
A MacBook with an ultra-low price point would be alluring to many, though Apple would find themselves in a similar position if they once against brought out an entirely new 13-inch MacBook model and re-cluttered their catalog.
But for Apple to target such a low price point and to offer a unique product that won't step on the toes of the rest of its catalog, could it be time to lay the 13-inch MacBook Pro to rest, and revive the 11-inch MacBook Air?
Outlook
We can't say for sure what Apple's future plans are, but word of a low-cost MacBook being on the horizon is one of the least audacious rumors currently making its rounds. A smaller 11-12-inch MacBook model would help keep the price of the device down while at the same time help differentiate it from the rest of the MacBook lineup.
Interestingly, Apple may also opt to simply convert their similarly sized iPad Pro models for a more laptop-like experience. According to Bloomberg's Mark Gurman, the iPad's Magic Keyboard is due for a refresh, likely to be revealed alongside M3 iPad models at some stage next year. The new Magic Keyboard has an aluminum frame, and larger trackpad — more closely mimicking the deck of a traditional MacBook model.
How these purported rumors play out remains to be seen. Though, if they're to be believed, Apple may have closed the book on the 13-inch MacBook Pro to start a new chapter elsewhere.
Stay in the know with Laptop Mag
Get our in-depth reviews, helpful tips, great deals, and the biggest news stories delivered to your inbox.
Rael Hornby, potentially influenced by far too many LucasArts titles at an early age, once thought he'd grow up to be a mighty pirate. However, after several interventions with close friends and family members, you're now much more likely to see his name attached to the bylines of tech articles. While not maintaining a double life as an aspiring writer by day and indie game dev by night, you'll find him sat in a corner somewhere muttering to himself about microtransactions or hunting down promising indie games on Twitter.