We asked 10 dads which tech gifts they want for Father's Day — here's what they said
From pizza ovens to smartwatches, 10 dads got candid about what they want for Father's Day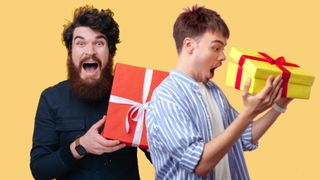 (Image credit: Getty Images/Khosrork/Cristalov)
The best Father's Day gifts are difficult to find because — let's be honest — when we ask our dads what they want for the occasion, they often give some modest, self-effacing, saccharine answer like, "Anything that comes from the heart!" or "I'm just happy to spend time with you."
Uh-huh. Sure Jan.
If you gave 'em some truth serum, the honest answer would be "peace, quiet, and a sign that says, 'Leave me the hell alone' for my mancave door." But unfortunately, while Intangible gifts are cool and all, they don't help keep the lights on at Laptop Mag, so I demanded that 10 of my coworkers — dads, of course — tell me about Amazon-purchasable gifts our readers can buy for their fathers, stepdads, and the like.
So dear reader, if your father tends to play the ol' "Oh, I don't want anything!" game (when you and I both know that they secretly want to be spoiled with something special on their wishlist), stick around because the dads featured in this shopping roundup didn't mince words about what they want for the upcoming heartwarming occasion.
1. TechRadar Managing Editor Matthew Hanson wants this portable stove that can cook dinner and charge devices — at the same time
Matthew, father of a four-year-old daughter named Kitty, told me that he wants the BioLite Campstove 2+, a portable camping stove that can generate a vortex of smokeless flames to cook dinner and charge your devices while you're roughing it out in the wilderness.
If your dad happens to be a great-outdoors enthusiast, the BioLite Campstove 2+ gives him the opportunity to escape the hustle and bustle of everyday life, but at the same time, he can still remain somewhat connected with his family because — you know — there are no outlets in the woods. The BioLite Campstove 2+ solves that problem, allowing users to transform fire into multiple sources of power, whether he wants to grill a meal or electrify his gear.
---
Where to buy? The BioLite Campstove 2+ is at Amazon for $149.95
---
2. Tom's Hardware Editor-in-Chief Avram Piltch wants the Lenovo ThinkPad X1 Carbon Gen 11
Avram, a father of two, wants to get his hands on the new Lenovo ThinkPad X1 Carbon Gen 11. The Lenovo ThinkPad X1 Carbon series is "up there" in the best-selling laptops realm alongside the Dell XPS 13, the MacBook Air, and the HP Envy 13. As it turns out, I'm currently reviewing the new ThinkPad X1 Carbon Gen 11 laptop — and I can see why Piltch has it on his wishlist. I'm a sucker for a great keyboard and this Lenovo laptop nails it in that department. Don't underestimate the importance of a fantastic keyboard! A laptop can have everything I want — great battery life, a stunning display, and top-of-the-line performance — but if it has a mushy keyboard, it's automatically trash.
If your dad has been typing on the same ol' worn-out laptop for years, trust me, he's in dire need of an upgrade and he'd be elated to unwrap a shiny new Lenovo ThinkPad X1 Carbon on Father's Day — but only if he's a Windows user. (Do not get your father this laptop if he's a macOS fan; he will resent you.)
---
Where to buy? ThinkPad X1 Carbon Gen 11 has a starting price of $1,391 at Lenovo
---
3. Laptop Mag Editor Rami Tabari wants a Pixel Watch
Rami, father of an adorable nine-month-old daughter, told me that he wants the Google Pixel Watch because it's an easy, accessible way to keep track of his kid's schedule as well as his own Google Calendar.
If your father has an Android phone, the Pixel Watch is one of the best gifts you can give him. (Please don't give your dad the Pixel Watch if he has an iPhone; he will resent you.) It's excellent at fitness tracking, features the ultra-useful Google Assistant for quick answers to your questions, and it delivers notifications right to your wrists. It also features an ECG app that checks for atrial fibrillation (AFib), an irregular heartbeat issue. It can track your dad's sleep, too.
---
Where to buy? The Pixel Watch is $299.99 at Google
---
4. Tom's Guide US Editor-in-Chief Mike Prospero wants this pizza oven
Mike, father of a four-year-old daughter, wants the Ooni Karu 16 Multi-Fuel Pizza Oven, the first pizza oven that is recommended for domestic use by the Associazione Verace Pizza Napoletana, the international authority on Neapolitan pizza. Yum!
Allow me to wow you with it's incredible features with the following bullet-point list:
It climbs to 950 degrees Fahrenheit in just 15 minutes
You can cook with wood or charcoal right out of the box
It comes with a built-in digital thermometer that tells you its interior temperature
It can fit up to a 16-inch pizza
It doesn't only cook pizzas of course; it can also roast meats, sear vegetables and bake bread, and more
This gift is a win-win for your dad and yourself. If he loves to cook, he gets to have a spectacular pizza oven to facilitate his love for the culinary arts — and you get to eat the delicious outcomes of his passion. Get in my belly, you delicious wood-fired pizza!
---
Where to buy? The Ooni Karu 16 pizza oven is at Amazon for $799
---
5. Tom's Guide Senior Editor Anthony Spadafora wants to add some RGB decor to his backyard
Anthony, father of a one-year-old son, wants to wow visitors who come to his home with these $200 Govee Outdoor Neon Rope Lights. They're 32 feet long, and they're super flexible, too, so they can be placed anywhere in your backyard for an eye-catching RGB look that you thought only the best gaming laptops could deliver. (In my opinion, it gives your home a Miami nightlife vibe.)
Here are some other cool features of the Govee Outdoor Neon Rope Lights:
It can intelligently detect music and sync lighting effects to the beats
It uses festive RGBIC technology, allowing you to choose from 64 scene modes to add a pop of color to lawns, gardens and backyards
Don't worry about rain and other elements; it has an IP67 waterproof rating
It's easy to install; it comes with 30 mounting clips and screws
You can use Alexa and Google Assistant to manage the lights — or the Govee companion app
If your dad loves to entertain — and he has a knack for having BBQs for friends and family — getting him these striking RGB lights for Father's Day would be a delight for him.
---
Where to buy? The Govee Outdoor Neon Rope Lights for $199 at Amazon
---
6. Laptop Mag Assistant Managing Editor Sean Riley wants this smart mug
Sean Riley, father of two, and I spotted the Ember Travel Mug 2+ at CES 2023, which features Apple's FindMy Support. This means that losing your mug is a thing of the past. It comes with built-in tracking and it will play a chime to help you find it when it's lost.
"It'll also help me find out when my wife or daughter has stolen my mug," Riley joked.
It has temperature control, too. Thanks to the companion app, you can use your phone to set it at the best temperature for you. For example, if you want your coffee to maintain a temperature of 120 degrees, you can do just that — and it will stay that temperature for three hours.
If your dad is a coffee or tea lover, you can't go wrong with the Ember Travel Mug 2+.
---
Where to buy? The Ember Travel Mug 2 is at Amazon for $194
---
7. Tom's Guide Global Editor-in-Chief Mark Spoonauer wants this snap-and-charge portable battery
Mark. father of two (one is in college and the other in high school), is eyeing this snap-and-charge portable battery called the Anker MagGo. This 5000 mAh battery supports the iPhone 12, iPhone 13 and iPhone 14.
If you're low on battery, you don't need to fumble around for a wired charging cable — just snap this bad boy on your iPhone and you're good to go. As a cherry on top, the Anker MagGo features a built-in kickstand, so it can prop up your iPhone at a convenient angle for FaceTime calls and content consumption.
It comes in a variety of cool colors, too, including Interstellar Gray, Buds Green, Dolomite White, and Misty Blue.
---
Where to buy? The Anker MagGo is at Amazon for $69
---
8. TechRadar's US Editor-in-Chief Lance Ulanoff wants this multi-directional shaver
Lance, father of a 25-year-old and 28-year-old, wants the Pitbull Platinum Pro Head and Face Shaver, an ergonomic dream for top-of-the-line comfort that easily fits the contours of your hands. Thanks to its unique design, it can access all the difficult-to-reach areas, delivering immaculate results. It's also made with best-in-class materials and four 360-degree floating blades.
It's water resistant (IPX5 rating), too, so your dad can feel free to use this electric razor while he's in the shower — or he can opt for a dry shave.
---
Where to buy? The Pitbull Platinum Pro Electric Razor is at Amazon for $199
---
9. Laptop Mag Staff Writer Mark Anthony Ramirez wants this smokeless fire pit
Mark, father of four, wants to get his hands on the Solo Stove Bonfire 2.0, which can be a wood-burning fireplace or a portable outdoor firepit. It has a removable ash pan that rests under the removal base plate (catching all of that ash all in one place), a 360-degree airflow design, and it delivers more flame and less smoke, so you can enjoy the fire without that funky smokey smell lingering on your clothes and hair.
Another great gift for dads who love backyard parties and the great outdoors.
---
Where to buy? The Solo Stove Bonfire 2.0 is at Amazon for $344
---
10. PC Gamer Hardware Writer Jorge Jimenez wants a smart meat thermometer
Jorge, father of a two-year-old son, said he's fully succumbed to the suburban dad lifestyle and he's looking forward to receiving any grill-tech devices, particularly this Meater Plus device.
"It pings your phone via an app to let you know when your meat is at the perfect temperature," Jimenez said excitedly.
It's compatible with both iOS and Android devices, making it easier for you to take out all the stressful guesswork out of the cooking process. (Jimenez also told me that he wouldn't mind getting this Darth Vader apron for Father's Day.)
---
Where to buy? Meater Plus is at Amazon for $79
---
Stay in the know with Laptop Mag
Get our in-depth reviews, helpful tips, great deals, and the biggest news stories delivered to your inbox.
Kimberly Gedeon, holding a Master's degree in International Journalism, launched her career as a journalist for MadameNoire's business beat in 2013. She loved translating stuffy stories about the economy, personal finance and investing into digestible, easy-to-understand, entertaining stories for young women of color. During her time on the business beat, she discovered her passion for tech as she dove into articles about tech entrepreneurship, the Consumer Electronics Show (CES) and the latest tablets. After eight years of freelancing, dabbling in a myriad of beats, she's finally found a home at Laptop Mag that accepts her as the crypto-addicted, virtual reality-loving, investing-focused, tech-fascinated nerd she is. Woot!