If you're a student one of the best college laptops can help you ace your exams and then let you unwind by streaming TV or playing games. But with so many choices at so many different prices, finding the very best laptops for students can feel like extra homework.
The school year is underway, but if you find yourself in need of a mid-semester upgrade we've got you covered with a continuously updated list of the best college laptops. If you are on the lookout for a great deal, the MacBook Air M1 is still available for $799 (opens in new tab) as of this writing, so if you don't mind macOS that's hard to beat.
What should you look for when buying a laptop for school? Make sure it has long battery life and fast CPU performance. You will find a lot of these units in our main best laptops page too, which gives you a wide selection of the top notebooks to choose from. And if you prefer to take notes by hand, buy one of the best 2-in-1 laptops for a blended laptop and tablet experience. We've also ranked the best gaming laptops for those who like to unwind after the coursework is wrapped up.
We feel strongly about the HP Envy 13 and MacBook Air (M1, 2020) as the best laptops for college students due to the price to performance, and excellent support. Need higher-end performance or a larger display? Consider the MacBook Pro or a Dell XPS 15. Without further ado, here are the best college laptops, including some budget picks to make sure you can still make your tuition payments.
Best college laptops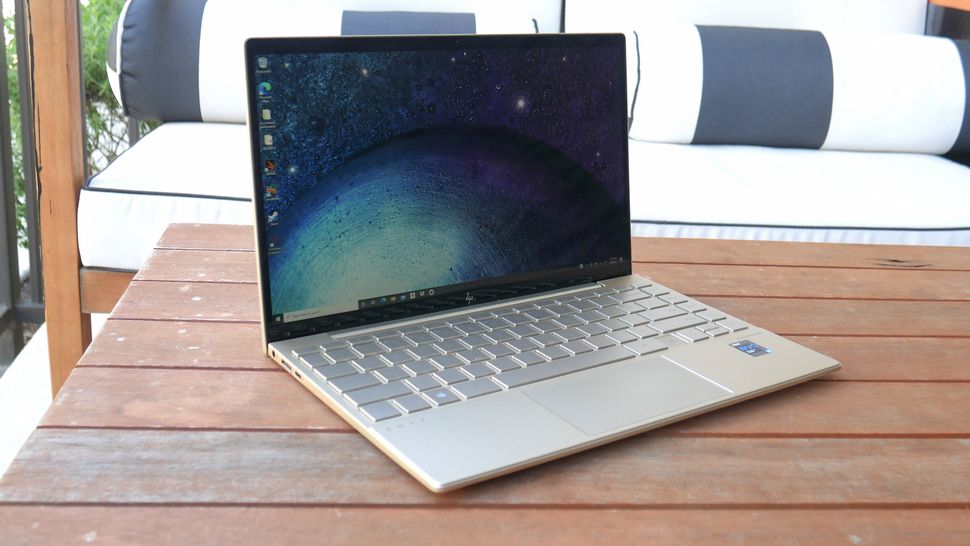 The HP Envy 13 is the best sub-$1,000 laptop for students or anyone who needs a portable machine with loads of power and long battery life (11 hours and 15 minutes on the FHD model).
With slimmer bezels and faster performance, the 2021 model can still hang with much pricier laptops. Combine those features with a sleek chassis, bright and vivid 1080p display and plenty of performance from an 11th Gen Core i5 CPU, and it's easy to see why the Envy 13 is the best college laptop for students.
And frankly, given that this is a budget laptop compared to many of the others on this list, the Envy 13 is an awesome all-around choice for anyone that doesn't need gaming performance. If you need a larger display, see our HP Envy 14 review.
See our full HP Envy 13 (2021) review.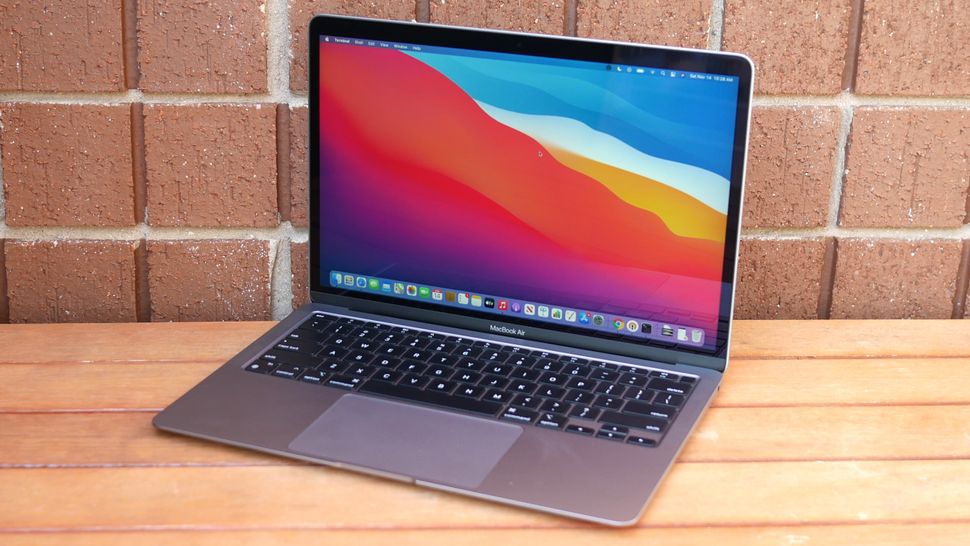 If you prefer macOS to Windows 11, then go with the Apple MacBook Air. While the MacBook Air M2 is now available, many users will still be perfectly happy with the MacBook Air M1, which comes in under $1,000 and can is available for $899 to students even when it's not on sale.
That affordable pricing mixed with its outstanding performance along with 14 hours and 41 minutes of battery life make it hard to beat for college students that are looking to get the most bang for their buck.
Why buy the MacBook Air instead of the Pro? While the Pro has better sustained performance, the MacBook Air is cheaper and is pin-drop silent because it doesn't have a fan. And, of course, Apple's least expensive 13.3-inch model is the most portable, coming in at only 0.6 inches thick and 2.8 pounds.
The MacBook Pro is a strong option as well, it appears later on this page, but considering all of the factors for a college laptop, the MacBook Air is going to be the better choice for most macOS fans looking for their perfect college laptop.
See our full Apple MacBook Air (M1, 2020) review.
See our full Apple MacBook Air M2 review.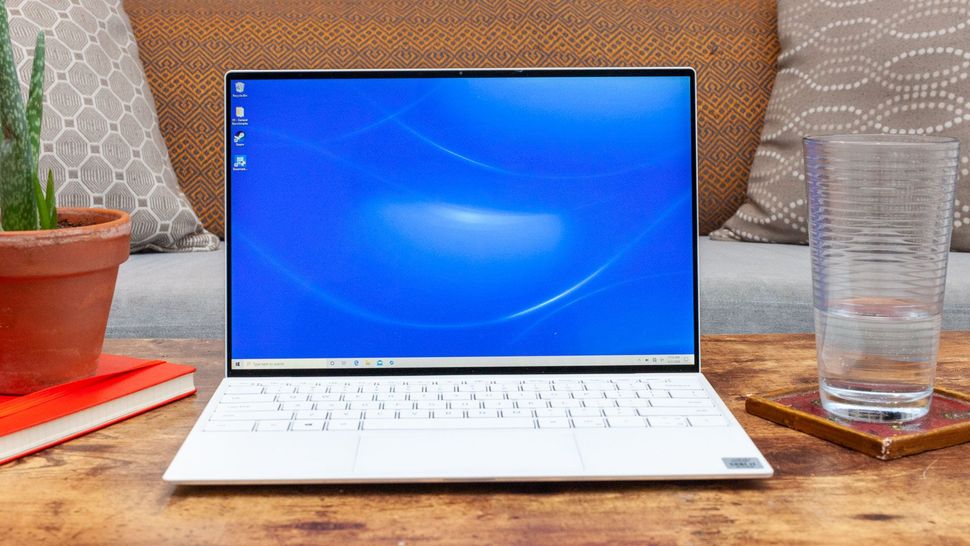 The Dell XPS 13 is a serious workhorse and the best premium laptop for college students. Powered by an 11th Gen Intel Core i7 processor with integrated Intel Iris Xe graphics, the notebook is ready for work or play. And with more than 11 hours of battery life, you've got plenty of time for both. The laptop consistently performed either better or on par with competing systems.
But rest assured, the XPS 13 is just as pretty as it is powerful. The company managed to make a laptop that's smaller and lighter than previous models. Despite the smaller size, Dell added some big changes, including a larger trackpad and keyboard. Plus, you get a 13.4-inch, near-bezelless display on every side –– the first in the world to do so.
It's an exercise in patient restraint, improving the notebook in a bunch of small ways that add up to a big leap for the system. If you're looking for the total package, the Dell XPS 13 is the laptop for you.
See our full Dell XPS 13 (Model 9310, 4K) review.
Need a screen upgrade for video or photo editing? See our full XPS 13 OLED review.
The last-gen Swift 5, packed with an 11th Gen Intel CPU, blew us out of the water with its 13-hour battery life, stellar performance, attractive design, and palatable price tag. Now, the current-gen Swift 5 is $200 more, but the minor price hike is worth it. It's got a faster SSD, zippier performance, impressive video transcoding, breakneck file-transfer speeds — and it still manages to be lightweight and pleasing to the eye with an attractive dark-green-and-gold color scheme.
The Swift 5 does inherit a couple of the same complaints from the previous model with annoying bloatware apps and weak speakers. The first just means spending 15 minutes or so deleting the bloatware and the second means you'll likely want a good pair of wireless headphones, but overall this remains one of the best laptops of 2022 and an excellent fit for a college student that wants solid performance in a thin-and-light form factor.
See our full Acer Swift 5 (2022) review.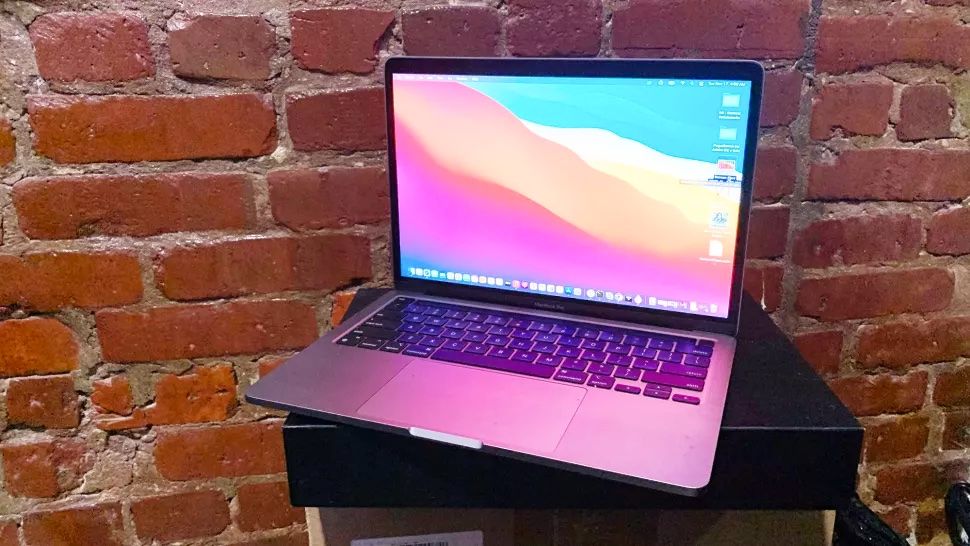 While the design is unchanged, the M2 inside the MacBook Pro 2022 gives another performance and battery life boost to Apple's already outstanding laptop.
The MacBook Pro is more powerful than nearly every PC on the market, including some workstations. And despite cramming so much power into such a slim and sleek chassis, the Pro lasted for a ludicrous 18 hours and 20 minutes on our battery test, which simulates real-world usage.
Thanks to the image processing unit, the webcam (sadly, still 720p) is better than its 720p rivals and since it runs on Apple's ARM-based architecture, iPad and iPhone apps are available on Mac.
While the 14-inch and 16-inch MacBook Pro models may tempt some users with high-end needs, the MBP 13-inch with M2 remains a strong option at a far more affordable price point for those that need just a bit more juice than the MacBook Air.
See our MacBook Pro (13-inch, M2, 2022) review
Productivity, multimedia and even a bit of gaming — the Dell XPS 15 can do it all and do it well. The XPS 15 offers an attractive, slim design that's bursting with power. While that might seem minor, the four-border InfinityEdge bezel has made possible one of the highest resolution displays on the market, and now it comes with gorgeous OLED technology for those who don't need the longest battery life.
And if that isn't enough, check under the hood and you'll find an 11th Gen Intel Core i7 Comet Lake H-Series processor and an Nvidia GeForce RTX 3050 Ti. The laptop dominated all of our benchmark tests including our graphics test. That means you could get a solid gaming session going in a pinch. It's a jack-of-all-trades system that excels at just about everything.
If you like what the XPS 15 offers but need an even larger display, consider the Dell XPS 17.
See our Dell XPS 15 OLED (2021) review.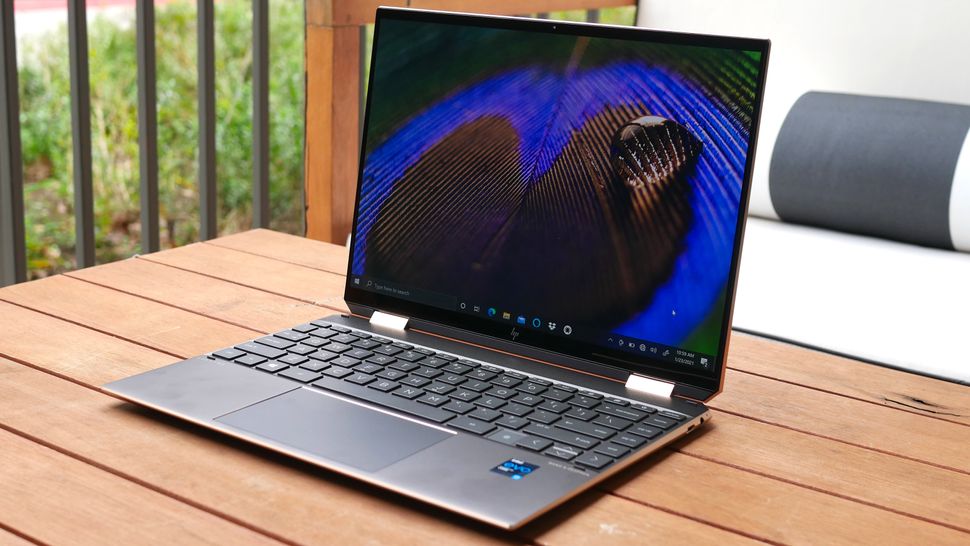 The Spectre x360 13.5 once again earns our Editors' Choice badge and cements itself as one of the best 2-in-1 laptops on the market. The stunning design, productivity boosting 3:2 aspect ratio OLED touchscreen and outstanding performance are tough to beat.
Add to that a generously sized touchpad that is silky to the touch as well as a comfortable (albeit shallow) keyboard, excellent security options (fingerprint sensor and facial recognition) and a good selection of ports, and well, it's easy to see why we like this laptop so much.
We recommend buying the Spectre x360 13.5 over the Envy 13 if you have the money, especially if you need the flexible design. In fact, the Spectre x360 13.5 is arguably best laptop if you want a convertible notebook, period. Sure, it has a few faults, but those are easily forgotten once you get this beauty in your hands.
See our HP Spectre x360 13.5 review
If you want to save some money, consider the excellent HP Spectre x360 13.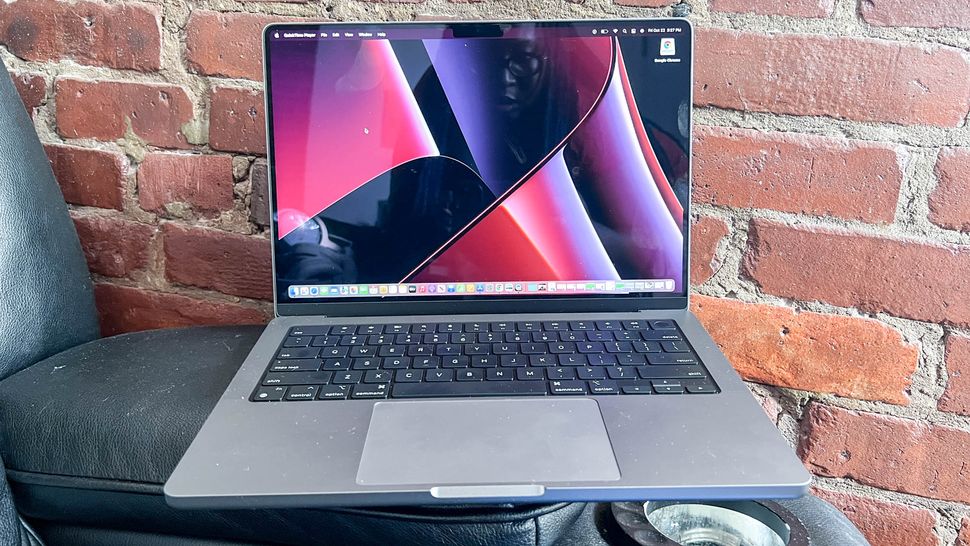 The MacBook Pro 14 combines a little bit of old with a whole lot of new for a tantalizing product that MacBook fans have been waiting years for — especially content creators and consumers. For the average student this is massive overkill, but if you need this kind of performance and either prefer or require macOS software, it's hard to beat.
The notebook's design is lightweight and sleek with plenty of room for a full HDMI and an SDXC card reader. And the M1 Pro chip brings even more power, battling some of Intel and AMD's heavyweights and winning handily. Plus, it's serving up over 14 hours of battery life with a formidable quick charge, a show-stopping display, a super comfortable keyboard and an excellent audio system.
What's the catch? As per usual with Apple it's the price tag, $2,899 is a lot to swallow, even with trade-ins and payment plans. And that $1,999 starting price isn't much better. It would have been nice if Apple would have offered a lower-end option, maybe one with last year's M1 chip packed into the new hardware. But for everything the MacBook Pro 14 is bringing, it's a worthwhile investment.
If battery life is your biggest concern the 16-inch MacBook Pro with the M1 Pro will outlast anything in its class with remotely similar performance. For those that need every last bit of processing power they can get their hands on the M1 Max in either the 14-inch or 16-inch MacBook Pro is as good as it gets short of an even pricier workstation or desktop.
See our full 14-inch MacBook Pro review
Finding a reliable laptop under $1,000 that doesn't sacrifice build or performance is difficult to come by these days. Given that this is one of the most highly targeted price ranges for a college laptop, that can be particularly frustrating. Fortunately, Asus has delivered us another option this year with the Asus Vivobook S15 OLED.
The Asus Vivobook S 15 OLED excels at everything most college students need with commendable performance, thanks to its 12th Gen Intel chip, quality on-screen entertainment with its 15.6-inch OLED display, and enough battery life to get you through all but the longest marathon study session. Oh, and its special Asus Antibacterial Guard is a nice touch for those who like a clean laptop.
The webcam was our biggest gripe, so if you do a lot of video calling you may want to invest in one of the best webcams, but otherwise you won't be disappointed with this budget-friendly laptop.
See our full Asus Vivobook S15 OLED.
The Samsung Galaxy Book 2 Pro 360 is an amazing feat of engineering that makes it a fantastic match for college students. The 15.6-inch AMOLED display in a 3.1-pound laptop remains remarkable while delivering a 2-in-1 form factor that makes it a dream laptop for college students. Not only that, but it more than doubles the Geekbench performance of its predecessor, meaning that unless you have incredibly demanding needs, this vanishingly thin laptop has more power than you will likely ever need.
The included S Pen just adds to the compelling package, allowing you to easily take handwritten notes when necessary or sketch if you are in a creative area of study. While the lack of a silo for the S Pen isn't ideal, hopefully you have a pen slot in your backpack to keep it safe. That leaves the webcam as my only real complaint — and that isn't relevant for everyone and is solved with an external webcam.
See our full Samsung Galaxy Book 2 Pro 360 review.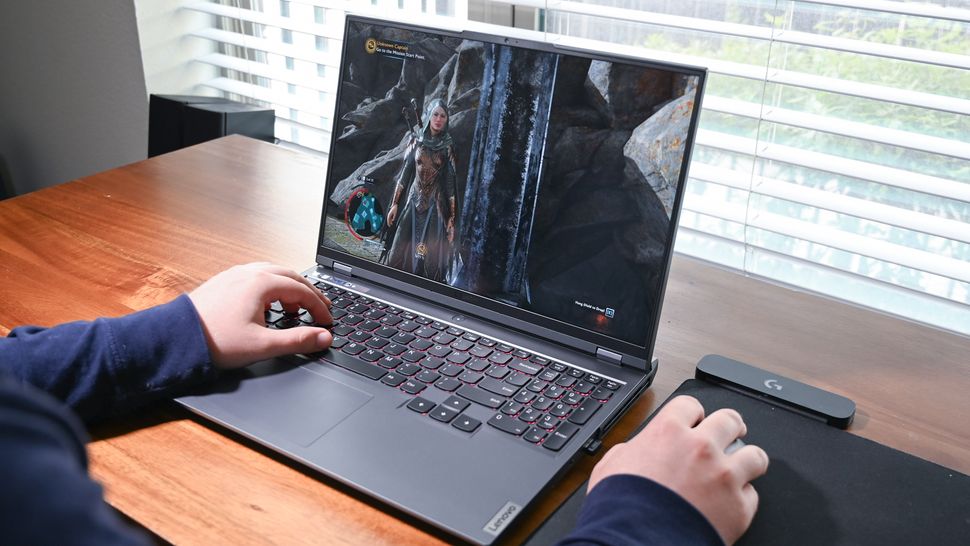 Lenovo's Legion 5 Pro proves what's possible when two opposing forces come together for the greater good. Those forces are AMD and Nvidia, and the greater good is the gaming community. Armed with an AMD Ryzen 7 5800 CPU and Nvidia GeForce RTX 3070 graphics, the Legion 5 Pro gives gamers the power they need to run the latest AAA titles at Ultra graphics settings.
What it lacks in flashy aesthetics, it makes up for with a gorgeous 16-inch QHD display, an exceptional keyboard and touchpad, plenty of ports, and outstanding performance from the one-two punch of an AMD CPU and Nvidia GPU. And despite harnessing so much power, the Legion 5 Pro delivers respectable battery life.
See our full Lenovo Legion 5 Pro review.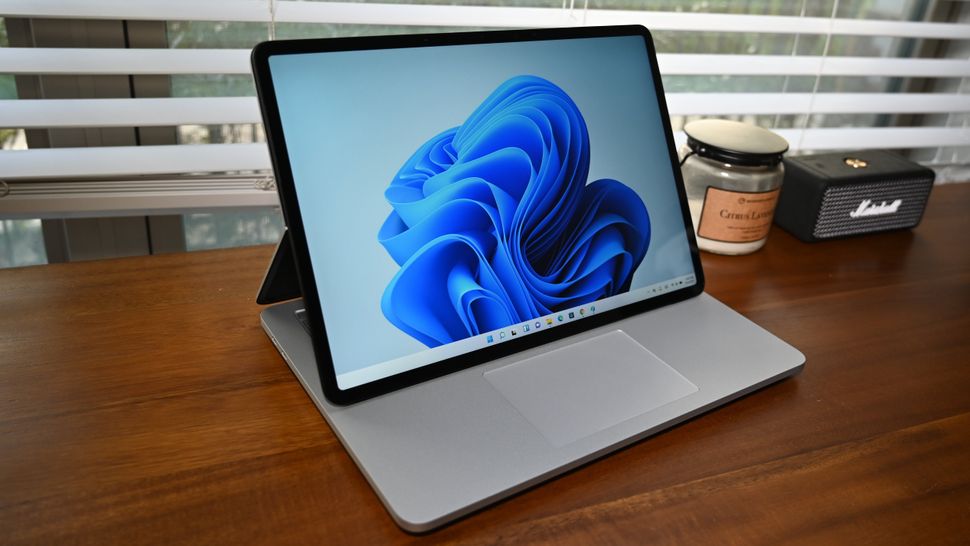 Microsoft has struck the right 2-in-1 balance. Instead of having a detachable lid like the Surface Book it replaces, or an attachable keyboard like the Surface Pro 8, the Surface Laptop Studio employs a unique hinge that allows the display to be pulled forward and positioned into different modes.
Not only can the Surface Laptop Studio be transformed into a digital drawing board, but it does so without compromising the standard laptop mode. This flexibility, along with excellent performance and long battery life, makes the Surface Laptop Studio a compelling option for creative professionals. Add in a fantastic keyboard/touchpad combo, powerful speakers, and a 1080p webcam, and the Surface Laptop Studio finds its place as one of the best college laptops.
See our full Microsoft Surface Laptop Studio review.
If you're a current Chrome OS user in need of an upgrade for your college laptop or are considering Chrome OS, then don't hesitate to buy the Acer Chromebook Spin 714. This excellent 2-in-1 laptop delivers a gorgeous 14-inch touchscreen and fast performance thanks to its Intel Core i5-1235U CPU.
The sturdy and flexible design make it a perfect fit for hauling around campus and getting work done anywhere. Add the stylus and you can easily add diagrams or handwritten sections to notes if you prefer, while the excellent keyboard will let you keep hammer out papers or keep pace with your professors.
Battery life is the one middling spec for the Chromebook Spin 714, at just over 7 hours in our testing, so if you are frequently spending your entire day without access to an outlet you may need to consider another option.
See our full Acer Chromebook Spin 714 (2022) review.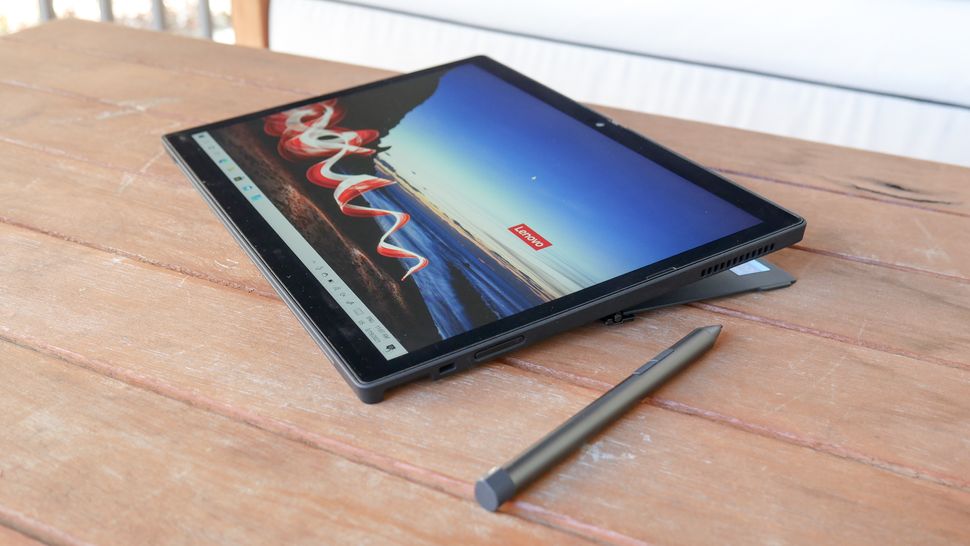 The Lenovo ThinkPad X12 Detachable is, in short, a better version of the Surface Pro 7. It has the same detachable form factor and uses a kickstand that can rotate to about the same 160-degree angle. The 12.3-inch display is almost identical to the one on the Surface and, like the Pro 7, the detachable keyboard is fantastic. You even get military-grade durability from its rigid chassis.
Why is it better than the Surface Pro 7 and Pro 7+? Because the ThinkPad X12 Detachable lasts longer on a charge, enduring for more than 11 hours, and it weighs slightly less than its magnesium alloy competitor. Better yet, the X12 Detachable comes bundled with the keyboard and pen, although you'll need to spend a pretty penny on this business-focused detachable.
If you need good speakers or a USB Type-A port, then you might go with the Surface Pro 7, otherwise, we prefer the X12 Detachable. If you prefer something less business-focused, consider the excellent Microsoft Surface Pro 8.
See our Lenovo ThinkPad X12 Detachable review
The Alienware m17 R5 (AMD Advantage) is overkill for most classwork, but if you are looking for a laptop that can also make the most of your downtime then this is a strong contender.
At 5.6 pounds you probably won't want to lug this around campus all day, but the performance may win you over with the AMD Ryzen 9 6900HX and Radeon RX 6850M XT GPU delivering big numbers, enough to give their Intel and Nvidia-powered competitors a run for their money more often than not.
The biggest complaint we had about the m17 R5 is its 720 webcam, but you can always pick up one of the best webcams if you need a sharper image. We're willing to overlook that one flaw in exchange for its gorgeous 4K display, excellent audio, Cherry MX keys and of course the aforementioned gaming prowess.
The Alienware m17 R5 (AMD Advantage) shouldn't be the first choice for most students, but if you have a lot of high-powered school tasks or you aren't giving up gaming while at college this is one to consider for its outstanding multimedia capabilities and flawless gaming performance.
How to choose the best college laptop for you
Why you can trust Laptop Mag Our expert reviewers spend hours testing and comparing products and services so you can choose the best for you. Find out more about how we test.
There are a number of factors students should consider before buying a laptop for college.
The first is portability, which goes hand-in-hand with screen size. 13-inch laptops are popular among college students because they offer a good balance between screen real estate and portability. The Dell XPS 13 is a great example. It weighs around 2 pounds and is just 0.5 inches thick, yet you get a 13.3-inch edge-to-edge display. We're also seeing more and more 14-inch laptops, like the Lenovo ThinkPad X1 Carbon, which is remarkably portable for the screen size.
Battery life is another key component of any good college laptop. If you plan to take the notebook to class or the library, don't count on there being an outlet! Consider a laptop that gets at least 9 hours of battery life, which should be enough to get you through a couple of classes with enough juice for studies.
When it comes to specs, we recommend buying a laptop with an Intel U-series or H-series Core i5 CPU, at least 8GB of RAM (16GB is great) and a minimum of 256GB of storage. AMD's chips are strong contenders in this arena as well, anything with a 4000-series or newer processor is going to be a great fit. Apple's M1 or newer M1 Pro and M1 Max naturally fit the bill as well, although the latter push the price up considerably. On the budget end, Chromebooks like the Pixelbook Go offer excellent value for college students.
Other things that will help you punch up a successful report or research complex topics include a comfy keyboard and sensitive touchpad. And when it's time to relax, be sure to get a laptop with a vivid and bright display (like any of those listed here).
How we test laptops
We put each laptop through extensive benchmark testing — both synthetic and real-world — before they end up in the hands of our reviewers. We evaluate each aspect of the laptop, including its performance, battery life, display, speakers and heat management.
In our benchmark testing, we use a Klein K10 colorimeter to detect the brightness and the sRGB and DCI-P3 color gamut of the laptop's display. For performance testing, we run the laptop through a gauntlet of benchmarks, including Geekbench 5.4 and 3DMark professional graphics tests.
To determine real-world performance, we task the laptop to convert a 4K video to 1080p resolution and to duplicate a 4.97GB multimedia file. Our real-world graphics test is the Sid Meier's Civilization VI: Gathering Storm benchmark with medium settings at 1080p and 4K resolution.
We also run heat tests by playing a 15-minute full-screen video and measuring temperatures in different areas of the laptop. Last but not least, our battery test consists of continuous web surfing over Wi-Fi at 150 nits of brightness. For MacBooks and premium Windows 10 or Windows 11 laptops, a runtime of over 9 hours is considered a good result whereas gaming laptops and workstations that can stay powered for longer than 5 hours deserve praise.
These tests are complemented with extensive hands-on testing from our reviewers who critique everything from the laptop's materials to the feel of its touchpad.