MSI has a massive lineup of notebooks that cover a gamut of uses. Although the company is widely known for its gaming notebooks, MSI also has workstations and multimedia machines in its stable. The company ranked fourth in last year's Annual Best and Worst Brands report, jumping up three spots from the year prior. It's plain to see that MSI has some serious momentum going.
But before you get overwhelmed by the sheer number of laptops and configurations that MSI offers, check out our list of favorite MSI laptops below along with our MSI cheat sheet, which explains the company's different product lines by name and product number.
Every year, our editorial team reviews over 150 laptops covering every price point and use case. Whether you're looking for a productivity workhorse, a badass gaming system or a multimedia machine to kick back and watch movies with, we can help you find your ideal MSI match.
In order to make the Best MSI Laptops of 2021 list, each laptop must earn a score of at least 4 out of 5 stars when reviewed, delivering on the things shoppers care about most. In our evaluations, we focus on design, comfort, display quality, the keyboard and touchpad, overall performance, battery life and especially value.
What are the best MSI laptops right now?
Our hands-down favorite MSI laptop of 2021 is the GS66 Stealth. With its slim 0.7-inch frame, stunning 1080p display and striking black, all-aluminum design, it should be easy to see why. But beyond its undeniable good looks, this is an incredibly powerful gaming laptop. Armed with an Nvidia GeForce Super 2080 GPU and 10th Gen Intel processor, the Stealth might play games, but it's not all fun and games -- if you catch my meaning. Plus, it has the largest battery the TSA will allow on an airplane, which adds some extra longevity.
If you're looking for something a bit beefier, there's no other choice than the MSI GT76 Titan. This laptop has undergone an extreme makeover, ditching the tired black-and-red for an pewter power-up. And while it is indeed a silver fox, the notebook's real beauty comes from its powerful specs, including an overclockable processor and Nvidia GeForce 2080 graphics. This is a gamer's desktop replacement.
But MSI isn't all gaming laptops, as the Prestige 14 can attest. This head-turning laptop has both creative and mobile professionals in mind. It has one of the lower-tier Nvidia cards, allowing for some photo and video editing, paired with an 10th Gen Intel processor for work and play. Plus, it offers a supremely comfortable keyboard and long battery life.
Here are the best MSI laptops of 2021
Yes, the Stealth is a little expensive, but that lofty price nets you a laptop with powerful gaming and overall performance thanks to a Intel Core i7-10850H processor and an Nvidia GeForce RTX 3070 Max-Q GPU. Throw in a speedy SSD and the largest battery available, and you've got a bonafide winner.
If you're looking for a near perfect combination of performance and endurance in an incredibly light, svelte chassis, the MSI GS66 Stealth is the way to go. From stellar graphics and overall performance to lightning-fast transfer speeds and surprising endurance, there's just a whole lot of win underneath that 0.7-inch chassis. And let's not forget the lovely display and cushy, customizable keyboard. For the power, this laptop is worth every penny, earning the top spot on this list.
See our full MSI GS66 Stealth review.
The MSI GT76 Titan is stepping out in all its silver, foxy glory. The Titan's new look is nothing short of stunning, and when paired with MSI's custom of employing the most powerful components available, the Titan is a force to be reckoned with, both performance-wise and financially. This laptop has just about everything, including an Intel desktop processor and dedicated Nvidia RTX 2080 GPU, which means it's plenty powerful for gaming and productivity.
We had a rousing good time with this beast of a gaming laptop. MSI's kitchen-sink approach ensures that hardcore gamers have all the power they crave and then some. Thanks to those high-powered specs, the system chewed through both our gaming and performance benchmarks.
See our full MSI GT76 Titan review.
Is there ever such a thing as too much power? If you ask MSI, the answer is an emphatic no, especially in the case of the MSI GE66 Raider Dragonshield. The notebook packs specs you'd expect to see in the likes of its massive sibling, the GT76 Titan. This baby's outfitted with an Intel Core i9 processor and an Nvidia GeForce RTX 2070 Super GPU. It's packing real power on the gaming and multitasking front.
Plus, it's got a 1TB SSD serving up blink-and-you'll-miss-it speeds, plus a pretty (darn sharp) display. But if you're looking for the most powerful 15-inch rig in the land and the latest entrant to our best gaming laptops page, look no further. With the MSI GE66 Raider, you get the power of a desktop replacement in a more portable 15-inch chassis. Gamers in pursuit of power, the MSI GE66 Raider sits at the pinnacle.
See our full MSI GE66 Raider Dragonshield review.
MSI's Prestige 14 is a lovely eyeful that's just as powerful as it is pretty. The laptop serves up a head-turning design and throws in a colorful display and solid performance by way of an Intel Core i7 processor and Nvidia discrete graphics. And despite that juice-hogging Nvidia GPU, the Prestige 14 has staying power with over 9 hours of battery life. This baby is made for multitasking.
The Prestige 14 is a pleasure to behold in its rose-pink aluminum chassis. It's a deep breath of fresh air in a sea of gray, white and black laptops. But the notebook is more than a pretty frame. During our testing, the laptop kept pace with its competitors, at times even surpassing them. It's a laptop of a different color for consumers looking to stand out in a crowd.
See our full MSI Prestige 14 (A105C) review.
The MSI GS75 Stealth will give you everything you ever wanted in a slim gaming laptop. The laptop's incredibly stunning design is packed with a powerful Nvidia RTX 2080 Max-Q GPU, a vivid 17.3-inch, 144-Hz panel and a great pair of top-firing Dynaudio speakers. However, if sleekness is your priority, MSI GS75 Stealth is one of the best light-and-slim premium gaming laptops you can buy.
See our full MSI GS75 Stealth review.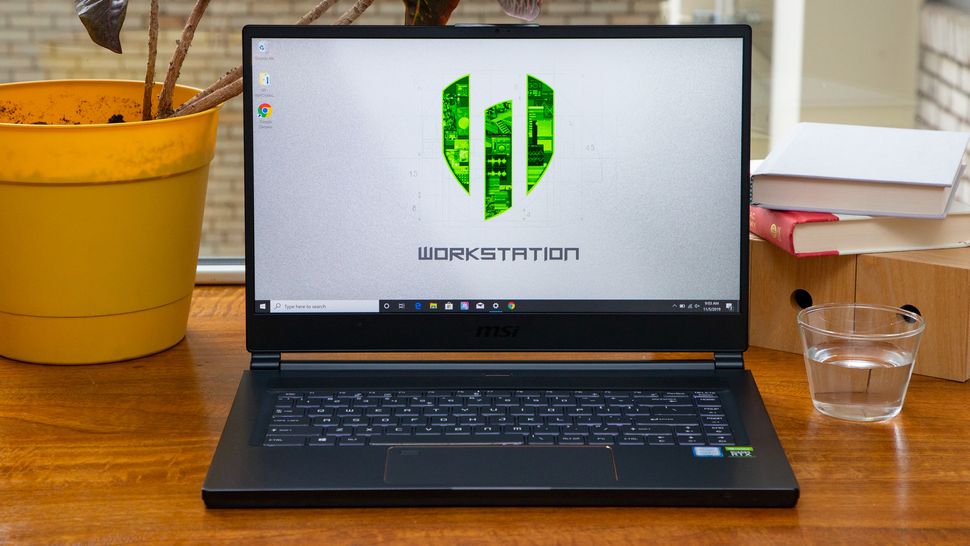 Between the MSI WS65's 4.3-pound and 0.7-inch thin durable chassis and its incredibly powerful Quadro RTX 5000 Max-Q GPU, it's no wonder that this is one of the best workstations that MSI has ever made. Take all of that and combine it with a 17.3-inch, 4K display that nails 393 nits of brightness and covers 251% of the sRGB color gamut. Oh, and a battery that'll last 6 hours and 57 minutes on a single charge, which is impressive for a workstation of this caliber. You want one of MSI's best? Here it is.
See our full MSI WS65 9TM review.
Like an FDA-approved badge on a food product, an Intel Evo sticker gives consumers peace of mind that a laptop has been vetted to meet or exceed high standards for battery life, connectivity, internal hardware and more. We've tested the Prestige 14 Evo ourselves — and well — its Intel Evo badge is well-earned. The Prestige 14 Evo is stuffed with a beefy 11th-Gen Intel Core i7 processor and offers an impressive battery runtime of nearly 11 hours. It's also sleek, polished and damn-near weightless; slip this device into your bag and you won't even notice it's there. Content creators will also appreciate the Prestige 14 Evo's useful preinstalled software for photo and video editing.
See our full MSI Prestige 14 Evo review.
What makes the MSI WS66 10TMT so interesting? It isn't the chassis design or beautiful OLED display — it's how well-rounded of a machine you get. The tug-of-war between performance and battery life just doesn't exist in the WS66's world. You get stellar performance from a 10th Gen Core i9 CPU and 64GB of RAM along with 10+ hours of battery life (as tested). This, despite a relatively slim chassis that's tested to military-grade durability. It sure is expensive, but the WS66 also comes with the features you'd expect from a premium enterprise notebook, including a fingerprint sensor, IR camera and a decent selection of ports, to boot.
See our full MSI WS66 10TMT review.
Why trust Laptop Mag
Laptop Mag has been testing and reviewing laptops for over two decades. We test over 150 different models per year, subjecting each system to a series of rigorous benchmarks that provides a complete picture of performance, battery life and usability.
Our expert reviewers use each laptop for a variety of resource-heavy tasks, testing how each configuration looks and feels in everyday situations. Because we test drive so many different notebooks, we can give you an idea of how the average laptop stacks up in comparison.
How we test laptops
When we bring a laptop into our laboratory, our goal is to see how it would work if you brought it into your home or office. (Or home office.) While we use a number of industry standard benchmarks such as Geekbench and 3DMark, we focus heavily on real-world tests that have been developed in-house.
To test endurance, the Laptop Mag Battery test surfs the web at 150 nits of brightness until the system runs out of juice. To judge pure processing power, we use a giant spreadsheet macro that matches 65,000 names with their addresses; a video transcoder that converts a 4K video to 1080p; and the Geekbench 4 synthetic test. We measure graphics prowess with both 3DMark Ice Storm / Fire Strike and a series of actual game titles.
We use a colorimeter to measure screen brightness and color gamut while other instruments help us determine a laptop's key travel and ambient heat. Check out our How We Test Laptops page for more details on our benchmarking procedures.
How to find the best MSI laptop
When shopping for a laptop, there's a lot to consider. To help you choose a system, we've put our up-to-date list of favorite notebooks above, along with five points to keep in mind when choosing a system.
Budget: What you get for the money.
You can find good cheap Windows laptops and high-quality Chromebooks for under $500. However, better-equipped mainstream laptops usually cost more than $700, while premium Ultrabooks can run over $1,000. The best gaming laptops can cost $2,000 and up, but you can play the latest titles at decent frame rates on gaming laptops under $1,000.
Screen Size: 12 to 14 inches for Portability
Knowing a laptop's screen size tells you a lot about its portability overall. If you want to use your computer on your lap or carry it around a lot, go for one with a 12, 13 or 14-inch display. If you mostly want to use the computer on stationary tables and desks, a 15-inch model may provide more value. Some gaming rigs, media machines and workstations even have 17- or 18-inch screens, but they're obviously more cumbersome to carry.
2-in-1 or Clamshell?
More and more of today's laptops are 2-in-1s with screens that either bend back 360 degrees or detach so you can use them as tablets. If you like the idea of using your laptop in slate mode for drawing, media consumption or just using it while standing up, a 2-in-1 could be for you. However, you can often get better features (or a lower price) by going with a traditional clamshell-style laptop.
Battery Life: 8+ Hours for Portability
Unless you only plan to use your laptop at your desk, battery life matters. Even within the home or office, having plenty of juice enables you to work on the couch or at the conference table, without being chained to the nearest outlet. For the best portability, we recommend getting a laptop that lasted at least 8 hours on our Laptop Mag Battery Test. The longest-lasting laptops endure for over 10 hours.
Specs: 1080p Display / Core i5 CPU / 8GB RAM are Best Bets
You can spend a lot of time delving into specs, but here are the key components to think about. If you just want really good mainstream performance, look for a Core i5 CPU, 8GB of RAM, a 256GB SSD and a 1080p screen. The rest is gravy.