A totally new keyboard. A bigger display with thinner bezels. And gobs of power with up to an 8-core Core i9 CPU, 8GB of video RAM and 8TB of storage. The new 16-inch MacBook Pro is a beast, but it's the improved typing experience that's winning me over so far.
Starting at $2,399, the 16-inch MacBook Pro is not cheap -- and the port selection has not changed -- but it has practically everything I was hoping for in an Apple laptop, and has the potential to make it to our list of the best laptops. Here's my first impressions so far, and stay tuned for our final rated review.
16-inch MacBook Pro price and release date
The 16-inch MacBook Pro is available to order today (November 13) online at Apple.com and will be available in stores Friday, November 15. It should be hitting other online retailers shortly.
The 16-inch MacBook Pro starts at $2,399 for the standard model with a Core i7 CPU, AMD Radeon 5300M GPU and 512GB SSD. This model replaces the 15-inch MacBook Pro, which started at the same price. The $2,799 model steps you up to the faster Core i9 CPU, faster Radeon Pro 5500M graphics and 1TB SSD.
Magic keyboard: Now this is more like it
The first thing you'll notice about the 16-inch MacBook Pro is its large display, but the first thing you'll want to touch is the new Magic Keyboard. Yup, Apple ditched the controversial Butterfly keyboard on this laptop for a scissor mechanism, and it added a new keycap structure that's more concave and a rubber dome underneath for support.
The result is a much improved keyboard that delivers a better 1mm of travel (compared to less than .8mm before). It feels pillowy soft on the way down with a firm click at the bottom, without the rock-hard flatness I hated before. In fact, the 16-inch MacBook Pro's keyboard feels so comfy that I don't want to go back to my 13-inch MacBook Pro.
Apple also listened to customers by adding back an Escape key and an inverted T arrow key setup so you can move the cursor more easily by feel. Yes, the Touch Bar is shrunken on this MacBook Pro, but I don't mind.
16-inch MacBook Pro display: More pixels, less bezels
Not surprisingly, this is one of the brightest and most colorful panels around. The 16-inch panel on the MacBook Pro packs a resolution of 3072 x 1920 and a high brightness of 500 nits.
The slimmer borders makes content feel more immersive, whether you're editing video or binge watching shows. And true pros will appreciate the ability to change the refresh rate on the display. When watching a trailer for The Mandalorian, I could make out the fine vents on the dirtied Storm Trooper helmets mounted on spikes.
This is not a 4K screen, though. Apple likely opted for this resolution to save on battery life, but I still think professionals would prefer a 4K option.
Design: Minor tweaks with a little more beef
The 16-inch MacBook Pro looks very much like other MacBook Pros we've reviewed, complete with a comically large touchpad and a solid but unexciting aluminum design in your choice of two colors: Silver and Space gray.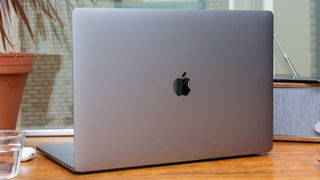 The only notable difference between this and the 15-inch MacBook is that the newed model has narrower bezels on the sides, thought the top bezel is relatively thick compared to systems like the Dell XPS 15.
The 16-inch MacBook Pro weighs 4.3 pounds, compared to 4.02 pounds for the previous 15-inch MacBook Pro. The new Pro measures 14.09 x 9.68 x 0.64 inches, compared to 13.75 x 9.48 x 0.61 inches for its predecessor. The XPS 15 weighs 4.5 pounds and measures 1.1 x 9.3 x 0.5-0.7 inches.
Killer sound, killer mics
The audio from the 16-inch MacBook Pro is even more impressive than the visuals. There's a 6-speaker sound system on board with force-cancelling woofers. This system also offers beefier bass that's half an octave deeper.
You get amazing sound quality without the distortion or vibration that can plague other laptops. When I fired up Lizzo's Good as Hell on Spotify and maxed out the volume, the 16-inch MacBook Pro filled our video studio with her soaring vocals.
If you create content, the 16-inch MacBook Pro sports a studio-quality, 3-mic array that's designed to rival the best dedicated Yeti mics out there. There's 40 percent less hiss, so you should feel comfortable recording podcasts and definitely feel more confident when you're on conference calls.
16-inch MacBook Pro specs and performance
16-inch MacBook Pro Specs
Price: From $2,399
CPU: 9th gen Core i7, 9th Gen Core i9
RAM: 16GB (up to 64GB)
Storage: 512GB to 8TB
GPU: AMD Radeon Pro 5300M (4GB), Radeon Pro 5500M (up to 8GB)
Display: 16 inches (2072 x 1920 pixels)
Battery: 100-watt-hour up to 11 hours
Size: 14.1 x 9.7 x 0.64 inches
Weight: 4.3 pounds
Ok, so what about speed? The 16-inch MacBook Pro is one of the most powerful laptops period with your choice of 6-core Core i7 processor or an 8-core Core i9 CPU. You get 16GB of RAM to start but it can accommodate up to 64GB of memory. And there's 512GB of SSD storage that's configurable up to 8TB. No, that's not a typo.
MORE: Best Laptops of 2019
On the graphics front, the 16-inch MacBook Pro should be able to handle any workload with ease. The AMD Radeon Pro 5300M is the starting GPU but you can upgrade to the Radeon 5500M and max out with 8GB of video RAM. Apple says to expect up to 2.1 times faster performance with the standard config and up to 80 percent faster performance with the highest-end option.
Battery life
Even with all of this power, the 16-inch MacBook Pro should provide plenty of endurance. It ships with a 100-watt-hour-battery. That's 16 additional watt hours than before, which Apple says will provide up to 11 hours of web surfing time.
Outlook
So far the 16-inch MacBook Pro looks -- and feels -- like the best Apple laptop in years. The keyboard feels a lot more comfortable than any Butterfly MacBook keyboard I've tried. I also appreciate the slimmer bezels, sharper display and especially the booming sound. And while we need to test the battery life, on paper this MacBook Pro lasts an hour longer than its predecessor.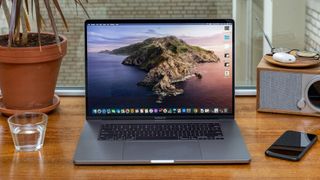 What don't I like? This machine is a bit heavier and thicker than the 15-inch MacBook Pro. I also would have liked to see Face ID for unlocking the system, even though Touch ID is pretty easy to use. And some pros will lament the lack of a 4K display and the continued lack of full-size USB ports and a memory card slot.
But overall the 16-inch MacBook Pro is shaping up to be a very satisfying laptop for power users who have been waiting for a better typing experience.