MacBook Air 15 — from big screen bore to M3 best-seller in 12 months time?
Be still your pre-ordering heart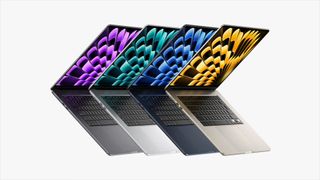 (Image credit: Apple)
Whether it was Apple's original plan, a result of troubles at the TSMC chip foundry, or a need to get some sort of mainstream hardware out of the door alongside the Apple Vision Pro, the Cupertino brand's most boring product in years was unveiled at this year's WWDC in the form of the 15-inch MacBook Air.
The MacBook Air 15 was revealed in a 30-second spotlight video to the tune of a corporate-sanitized rip-off of Yello's 1980s classic Oh Yeah but it took just about 8 seconds to get to understand everything you needed to know about Apple's latest device — it's bigger. Wow?
Its saving grace came in the form of Apple taking a Sledgehammer to its usual pricing standards and offering a relatively affordable price tag of just $1,299, giving it a real sense of competition with some of the best Ultrabooks on the market. That being said, you still shouldn't buy one — no matter how hard they Push it! Because Apple is reportedly already hard at work on the product that the MacBook Air 15 should have been in the first place.
Don't you (forget about M3)
If you buy into the MacBook Air 15 hype now, you could find yourself on a highway to the Danger Zone — of buyer's remorse. According to Bloomberg's (sometimes inaccurate) Mark Gurman, Apple already has Men at Work on the next iteration of its latest MacBook Air 15 model and it looks set to feature the long-awaited Apple Silicon M3 chip.
We'd heard Time After Time that the MacBook Air 15 was initially planned to make the Jump to an M3 chip, though it would seem Apple settled on reverting to the M2 after chip manufacturer TSMC found itself Under Pressure to meet the demands of a 2023 deadline due to 'tool and yield' issues.
In the face of the slightly damp squib that is the MacBook Air 15, the M3 MacBook Air 15 is in contrast a genuine Thriller and absolutely something to Shout about. The next generation of Apple Silicon chips is expected to offer speed improvements of up to 15% alongside a 30% power reduction — a sizable upgrade that would drive incredible performance and battery life.
Outlook
Against all odds, the MacBook Air 15 is still a pretty endearing device thanks to its svelte looks, larger screen, and competitive pricing. However, if we're really on The Final Countdown to Apple priming its devices with M3 chips, then I'd rather not throw away my Money for Nothing on this one.
Gurman believes we'll likely see M3 chips in Apple devices appear in 2024, with iMac and 13-inch MacBook Pro models likely to be among the first to feature the new SoC. Is it True? We can't say for sure, however, given how little has changed (beyond more screen real estate and a few extra speakers) with the MacBook Air 15 it could be wise to fend off your Temptation — at least for now.
Stay in the know with Laptop Mag
Get our in-depth reviews, helpful tips, great deals, and the biggest news stories delivered to your inbox.
Rael Hornby, potentially influenced by far too many LucasArts titles at an early age, once thought he'd grow up to be a mighty pirate. However, after several interventions with close friends and family members, you're now much more likely to see his name attached to the bylines of tech articles. While not maintaining a double life as an aspiring writer by day and indie game dev by night, you'll find him sat in a corner somewhere muttering to himself about microtransactions or hunting down promising indie games on Twitter.