M3 MacBooks could be more expensive than predicted — here's why the iPhone 15 is to blame (report)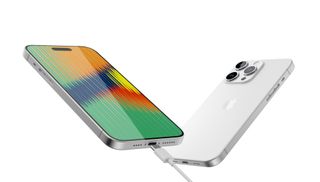 (Image credit: N/A)
A recent report from EE Times seems to corroborate word online about Apple supplier TSMC's struggles with meeting demand over production of the latest 3nm A17 Bionic chips. The chips, bound for the iPhone 15 and iPhone 15 Pro, face an uphill battle to meet desired specs and demand ahead of an expected September launch thanks to the rising cost of production and a slow increase in yields.

TSMC's issues are also likely to have a knock-on effect on the manufacturing of Apple's new M3 chip, which it will also produce — that could result in similar performance issues or a price hike on M3 devices to offset the increased manufacturing costs.
TSMC's tech troubles
Taiwan Semiconductor Manufacturing Co. (TSMC) is one of two manufacturers currently capable of producing the 3nm spec chips, the other being Samsung. With such a small pool of available manufacturers, TSMC is reportedly feeling the strain due to a higher level of demand than expected and 'tool and yield' issues slowing the ramping up of production.

A senior analyst of Arte Research reportedly believes TSMC's 3nm yields for A17 and M3 processors are "at around 55%." Meaning that just under half of all manufactured 3nm chips are below standard or defective. While this sounds bad, it's actually fairly normal — with yields increasing as the manufacturing process becomes more efficient over time.

However, that process has been hampered with TSMC having to delay both the introduction and ramp-up of its 3nm node due to the high cost of required tools in order to refine production. TSMC CEO C.C. Wei believes that 3nm will become fully utilized in 2023, though he also admitted that "customers' demand for N3 [TSMC's terminology for 3nm] exceeds our ability to supply."
The increase in production costs and time to manufacture could severely impact the availability of Apple's latest chips — and potentially be the reason we "probably" won't see the M3 make its appearance this year at Apple's WWDC in June.

In contrast, TSMC reportedly began to sample Apple's 5nm A14 Bionic processors in October 2019 and announced an average yield of ~80% by December of that year — giving the manufacturer plenty of time ahead of the release of the iPad Air and iPhone 12 devices that would ship in 2020.

The slow utilization of TSMC's 3nm production could be due, in part, to the foundry's FinFET transistors nearing their limitations — making the 3nm (and future 2nm) a more time and money-consuming venture.
Outlook
The slow ramp-up of A17 chip manufacturing and higher cost of development could result in one of two things: Apple pushing the increased production costs onto consumers, or the M3 and A17 bionic chips taking a sizable performance hit.

It's well known that Apple's devices come at a premium, with the average cost to manufacture the iPhone 14 Pro Max being around $454, despite its $1,000+ retail price. Apple likes to ensure that its costs are covered and then some, and while a proposed price increase to the iPhone 15 has already been rejected by Apple, there's no guarantee that the company will make a similar decision regarding its future M3-based devices.

How Apple decides to handle this situation remains to be seen. However, TSMC has faced similar struggles in the past and managed to pull it all together at the eleventh hour. Can they do it again? Time will tell.
Stay in the know with Laptop Mag
Get our in-depth reviews, helpful tips, great deals, and the biggest news stories delivered to your inbox.
Rael Hornby, potentially influenced by far too many LucasArts titles at an early age, once thought he'd grow up to be a mighty pirate. However, after several interventions with close friends and family members, you're now much more likely to see his name attached to the bylines of tech articles. While not maintaining a double life as an aspiring writer by day and indie game dev by night, you'll find him sat in a corner somewhere muttering to himself about microtransactions or hunting down promising indie games on Twitter.