iOS 17: Download now on iPhone and enjoy these top features!
It's right around the corner!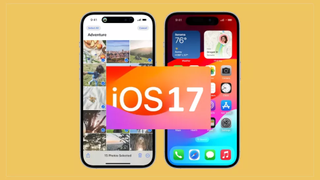 (Image credit: Apple/Future)
Apple's Wonderlust event was big news, but the brand's new iPhones are only half the story. iOS 17 is knocking on our door and it's the secret ingredient to making Apple's devices both new and old some of the best smartphones on the market for another calendar year.
The event saw the unveiling of the iPhone 15 and 15 Plus making the dynamic island their own, not to mention the iPhone 15 Pro and 15 Pro Max showcasing incredible camera and gaming technology. All of which will be handled and delivered to full effect by the iPhone's real key feature – iOS 17.
Apple didn't go too deep into iOS 17 during the Wonderlust keynote, but we did get a healthy look at what to expect from it back in July's WWDC 2023 showcase. However, today iOS 17 has finally released worldwide, along with who can, when you can, and how you can download it.
iOS 17 release date
Apple has confirmed the date! Eligible iPhone owners will be able to download the iOS 17 update from today, Monday, Sept. 18, 2023!
Looking at Apple's past history here's what time iOS 17 will go live on the day around the world:
United States: 10 a.m. PDT; 11 a.m. MDT; 12 noon CDT; 1 p.m. EDT
Canada: 10 a.m. PDT, 1 p.m. EDT, 2 p.m. ADT
United Kingdom: 6 p.m. BST
Europe: 7 p.m. CEST, 8 p.m. MSK/EEST/TRT
India: 10:30 p.m. IST
iOS 17: Which devices are supported?
Not all iPhones will support the upcoming iOS 17 update. Owners of the iPhone X and earlier will unfortunately miss out on the software and its key new features. They will however, still have full access to iOS 16 and any future security updates Apple release for the OS.
Here is the complete list of iPhone models that will support iOS 17:
iPhone 15, 15 Plus, 15 Pro, 15 Pro Max
iPhone 11, 11 Pro, 11 Pro Max
iPhone XS, XS Max
iPhone XR
iOS 17: How to download iOS 17
Thanks to Apple's easy-to-use UI, nobody should have a problem with getting the new iOS update installed onto their device. The process has been streamlined over the years and is now an effortless task with very few potential hiccups in your way.
That being said, if you're a little cautious about making the jump come September 18, take some time to back up your iPhone's data to ease your mind, before diving Settings, and tapping on General to see if the software is available to download in your region.
If it is, you'll see a banner along the top of this section saying "Software Update Available," from here you'll likely see the option to "Upgrade to iOS 17." Simply follow the instructions from here and you'll be up and running in no time at all.
iOS 17: What to expect
There are a ton of new features to talk about when it comes to iOS 17, probably too many to fully keep your attention with an exhaustive list. However, we've been covering a number of cool and interesting things making their way to Apple's update over the past few months and even laid out some guides to help you hit the ground running with each one.
Contact Posters: Contact Posters are a great way of customizing what people see when you call them. The feature lets you control how you're seen by members of your contact list when you reach out to them. Allowing you to use your most up to date selfie, share an in-joke, or give people a visual reminder of who is on the other end of the line if you have a somewhat generic name. Check out our guide on how to make a Contact Poster in iOS 17.
Live Voicemail: Live Voicemail transcribes your voicemail message in real-time as they happen. This allows you to screen your calls and avoid any potential autodialers, scammers, or marketing calls and to know if an incoming call is urgent and needs your immediate response. It's a brilliant feature and incredibly easy to set up, find out more with our guide on how to use 'Live Voicemail' on iOS 17.
Visual Look Up: Visual Look Up lets you use your phone's camera to identify real world objects, landmarks, animals, books, art, and more! It can even decipher the strange hieroglyphics on your clothing tags – as we recently discovered while writing our guide on how to use Visual Look Up in iOS 17.
StandBy mode: One of the most stand-out features of iOS 17 is the new StandBy mode. This allows your iPhone to switch into an all-new nightstand-like smart display while charging and placed on its side. This isn't just for the nightstand either, as it can allow your iPhone to become a digital infopanel for calendar events, appointments, the weather forecast, and even the progress of your latest Uber Eats order while your hands are otherwise occupied. Learn more about this impressive new feature with our guide on how to set up and use StandBy mode in iOS 17.
Personal Voice: Personal Voice is a new accessibility feature for iOS 17 that uses machine learning to generate an artificial version of your voice for text-to-speech purposes. While it sounds creepy and ominous at first, the tool is great for users with speech conditions who may struggle without synthesized assistance. Here's our guide on how to set up and use Personal Voice in iOS 17.
Check In: We've all said it or heard it, "message me when you get home, so I know you're safe!" However, by the time we make it home, very few of us likely have the energy to pick up our phones, or have simply forgotten all about the concerns of those around us. The Check In feature goes some way streamlining this process by quickly creating a Check In event on your phone as you leave which will automatically let them know you're home safe and sound once your iPhone recognizes you're at your destination. Here's our guide on how to use Check In, in iOS 17.
Outlook
Of course, there's plenty more on offer with iOS 17 than what we've covered here and you can find out more about it on our original coverage of its unveiling during Apple's WWDC 2023 event.
For breaking news and updates on all things Apple and iPhone, follow Laptop Mag on Twitter, Facebook, and Flipboard for the latest word as it arrives.
Stay in the know with Laptop Mag
Get our in-depth reviews, helpful tips, great deals, and the biggest news stories delivered to your inbox.
Rael Hornby, potentially influenced by far too many LucasArts titles at an early age, once thought he'd grow up to be a mighty pirate. However, after several interventions with close friends and family members, you're now much more likely to see his name attached to the bylines of tech articles. While not maintaining a double life as an aspiring writer by day and indie game dev by night, you'll find him sat in a corner somewhere muttering to himself about microtransactions or hunting down promising indie games on Twitter.