iPhone 15 or iPhone 15 Plus? Bigger doesn't mean better
One of these things is just like the other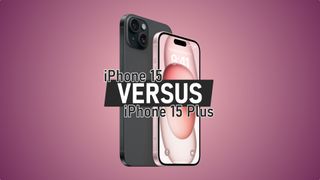 (Image credit: Apple)
Apple has unveiled the latest iPhone lineup by way of the iPhone 15, iPhone 15 Plus, iPhone 15 Pro, and iPhone 15 Pro Max. It's another successful reveal for Apple with plenty to offer — the Cupertino crew have even managed to create a bit of distinction between the iPhone Pro and Pro Max models, to better differentiate each device's unique selling points and audiences. However, can the same be said for the iPhone 15 and the iPhone 15 Plus?
I can rest easy knowing that we're in no danger of being called out for comparing apples to oranges on this one. But, a face-off against two Apples, one of which being slightly larger than the other, may cause us some grief for putting together one of the most boring and repetitive articles known to man.
As a writer, it's my job to try and keep you hooked and entertained for long enough to read as much of this article as possible — while subconsciously absorbing the adverts that appear in your peripheral vision. Eventually, this article should reach some sort of crescendo, whereby the victor is revealed and we can all feel like learned something new today.
However, these are effectively the same phones and the bigger one probably isn't worth $100 more. There won't be some Peter Jackson-esque epic adventure spanning over hills and yonder for this face-off. It is what it is, I'm afraid. But if you need more convincing or want to know more about the pair's, few and far between, differences then read on for our comparison of the iPhone 15 and iPhone 15 Plus.
iPhone 15 Vs. iPhone 15 Plus: Specifications
Swipe to scroll horizontally
| Header Cell - Column 0 | Apple iPhone 15 | Apple iPhone 15 Plus |
| --- | --- | --- |
| Price | $799 | $899 |
| Processor | A16 Bionic | A16 Bionic |
| RAM | 6GB | 6GB |
| Display | Super Retina XDR | Super Retina XDR |
| Display size | 6.1 inches | 6.7 inches |
| Refresh rate | 60Hz | 60Hz |
| Resolution | 2532 x 1170 | 2778 x 1284 |
| Storage | 128GB, 256GB, 512GB | 128GB, 256GB, 512GB |
| Battery | 3,877 mAh | 4,912 mAh |
| Charging | USB-C, MagSafe, Qi wireless | USB-C, MagSafe, Qi wireless |
| Rear cameras | 48MP (main, 26mm, f/1.6), 12MP (ultrawide, 13mm, f/2.4) | 48MP (main, 26mm, f/1.6), 12MP (ultrawide, 13mm, f/2.4) |
| Front camera | 12MP | 12MP |
iPhone 15 Vs. iPhone 15 Plus: Price
The iPhone 15 and iPhone 15 Plus will be available for preorder from Friday, Sept. 15, and available to buy in store from Friday, Sept. 22 for $799 and $899 respectively.
The iPhone 14 Plus was the target of criticism by many for its $100 markup for a little extra screen real estate, but it seems it wasn't enough to cause Apple to second guess its valuation of the product leading into the iPhone 15 release.
The price differential accounts for the additional 0.6-inch disparity in screen size between both models and a ~20% expanded battery capacity for the iPhone 15 Plus. Is this worth splashing the extra cash? That's going to be something you need to judge for yourself, however, personally, the iPhone 15 appears to be a well-rounded device with everything you truly need in a smartphone.
When was the last time you truly thought to yourself "I wish I had half an inch more screen space to send this WhatsApp message on"? And if battery life is everything to you, check out some of the best portable chargers with the money you saved avoiding the Plus, and enjoy even more power throughout the day for less.
iPhone 15 Vs. iPhone 15 Plus: Design and display
Comparing the iPhone 15 to the iPhone 15 Plus is as predictable as you'd expect: one is bigger than the other. Both phones share the same countoured stainless steel frame, frosted and textured matte glass back, and Super Retina XDR display. However, the Plus packs a larger body, allowing it to house a display measuring 6.7 inches in size. The base iPhone 15's smaller size restricts it to the exact same, though smaller, screen at just 6.1 inches.
Otherwise, Apple's entry-level devices are practically identical, and you'd be hard-pressed to tell them apart from individual images. Both OLED panels have a refresh rate of 60Hz, feature Apple's Dynamic Island, and similarly share an identical design available in the same color options@ Pink, Yellow, Green, Blue, and Black.
The Plus' larger display will afford it a higher 2778 x 1284-pixel resolution when compared to the iPhone 15's 2532 x 1170-pixel panel, though this is solely due to screen size and won't affect pixel density in any meaningful way.
Both of Apple's smartphones will also feature a USB-C port, MagSafe compatibility, and support for Qi wireless charging. One of the iPhone 15's key new components is the inclusion of an upgraded U2 ultra-bandwidth chip for improved location tracking — the first upgrade to this essential component since 2019's iPhone 11 Pro.
Which is better is another matter of preference, likely dictated by the size of your hands, and which device feels comfier to use. The two devices are practically identical, and overcoming the difference in display size is as easy as moving the iPhone 15 ever so slightly closer to your face.
iPhone 15 Vs. iPhone 15 Plus: Performance
Both of the entry-level iPhone 15 models will feature Apple's A16 Bionic processor and 6GB of LPDDR5 RAM. Meaning performance will generally strike a balance between the two. It won't be the flagship performance of the 3nm A17 Pro Bionic, but the 4nm A16 is a proven powerhouse after featuring in last year's iPhone 14 Pro models.
As for how these phones perform when it comes to battery life, both the iPhone 15 and iPhone 15 Plus have been granted a sizable boost in uptime thanks to a new stacked battery system.
The new stacked battery system (similar to that found in electric vehicles) makes use of 100% recycled cobalt and has afforded the iPhone 15 a fitting 15% increase in battery capacity, and the iPhone 15 Plus a decent 12% more. Theoretically, this could see the iPhone 15 reach a 10+ hour battery life and the iPhone 15 Plus easily surpassing a 13-hour lifespan when compared to our in-house battery testing of the iPhone 14 and 14 Plus.
While performance will almost certainly be a deadlock, the iPhone 15 Plus is clearly the better option if you're looking for a longer-lasting device. Whether or not that increase in battery capacity is worth an extra $100 of your cold hard cash is another thing altogether.
iPhone 15 Vs. iPhone 15 Plus: Cameras
The iPhone 15's cameras are, unsurprisingly, another area where both phones are outfitted identically. Both devices have received an impressive 48-megapixel main shooter — inherited from the iPhone 14 Pro models of 2022.
Speaking of, the iPhone 15 and iPhone 15 Plus will also take on the same ultrawide and selfie cameras as found in the iPhone 14. While it's not a downgrade, it won't feel much like an upgrade, especially in the face of the main lens' noticeable jump.
The major movers when it comes to camera upgrades are clearly the iPhone 15 Pro models with their periscope lens and sensor refreshes. As for Apple's base iPhone 15 models, it's a much more humdrum affair outside of its main snapper with absolutely nothing to split the two apart.
Outlook
Frankly, the differences between Apple's devices are so negligible that it might as well be down to perspective — with the iPhone 15 Plus only seeming bigger because it's slightly closer to you. We wish there was something with a little more substance on show here to sink our teeth into for this face-off but I've seen more meat on a vegan chicken wing — and comparing these two devices almost feels like splitting hairs.
Does this make them bad? Not at all, though it will result in the choice between them being a subjective decision based on your own personal preferences and how much you're willing to spend to get your hands on Apple's latest smartphone.
Personally, the base iPhone 15 seems like the obvious choice. However, had Apple granted the iPhone 15 Plus a few extras to sweeten the deal, then this conclusion might not have been reached so easily. However, as it stands, it was.
For breaking news and updates on all things Apple and iPhone as it arrives, follow along with our Apple September event live blog or catch Laptop Mag on Twitter, Facebook, and Flipboard for the latest word as it arrives.
Stay in the know with Laptop Mag
Get our in-depth reviews, helpful tips, great deals, and the biggest news stories delivered to your inbox.
Rael Hornby, potentially influenced by far too many LucasArts titles at an early age, once thought he'd grow up to be a mighty pirate. However, after several interventions with close friends and family members, you're now much more likely to see his name attached to the bylines of tech articles. While not maintaining a double life as an aspiring writer by day and indie game dev by night, you'll find him sat in a corner somewhere muttering to himself about microtransactions or hunting down promising indie games on Twitter.