Today's best Microsoft Surface deals feature notable discounts on Windows laptops and tablets. We're seeing solid markdowns on the latest Surface Laptop 5 and deep discounts on the previous-gen Surface Laptop 4.
For example, the Microsoft Store is slashing up to $646 its Surface Laptops. Prices start at $599 for the AMD Ryzen 5 Surface Laptop 4 and from $899 for the 12th Gen Intel Core Surface Laptop 5. Microsoft's creator-focused Surface Laptop Studio is now up to $400 off . Prices start at $1,399 for a limited time.
If you're looking for a super-portable PC, save up to $120 on the Surface Laptop Go 2 starting from $599.
These are just sample of the best Microsoft Surface deals going on right now. Shop today's best surface deals below.
Best Microsoft Surface deals
Best Microsoft Surface deals
The Surface Laptop 5 aims to afford you everything you need to balance work and play. Suitable for productivity and casual gaming, it combines 12th Intel Core Evo platform processing power with Intel Iris Xe graphics. The base model packs a 13.5-inch (2256 x 1504) touch display, 12th Gen Intel Evo Platform Core i5-1235U, Intel Iris Xe graphics, 8GB of RAM and 256GB of SSD storage.
In our Microsoft Surface Laptop 5 review, we liked its sleek, great-sounding speakers, tactile, clicky keyboard and slim, premium design. Although we expected better performance and battery life out of it, a Windows 11 software update seems to have since fixed the issue. Satisfied owner reviews at Best Buy for example praise the laptop's fast performance, battery life and sophisticated design.
The ideal notebook PC for students and remote workers, it's powered by Windows 11 and includes a free 30-day free trial of Windows 365 Family to get you started. When you're not getting things done, take advantage of the free 30-day trial of Xbox Game Pass Ultimate.
Microsoft's Surface Laptop Studio is ideal for digital artists and other creative pros. The base model packs a 14.4-inch (2400 x 1600) 120Hz display, 2.6-GHz Intel Core i5-11300H 4-core CPU, 16GB of RAM, and 256GB SSD.
In our Surface Laptop Studio review, we praise its unique hinge design and gorgeous, 120Hz display. We were also impressed by its long battery life and excellent speakers. We gave the Surface Laptop Studio an overall rating of 4.5 out of 5 stars and crowned it with our Editor's Choice award.
If you're looking for a versatile, creative laptop, the Surface Laptop Studio should be on your radar.
Microsoft's Surface Laptop 4 has a starting price of $999 and $1,299 for the 13.5-inch and 15-inch base models, respectively.
Side by side, the Surface Laptop 4 looks identical to the Surface Laptop 3. Like its predecessor, it has an attractive metal design, comfortable keyboard, and gorgeous, 13-inch and 15-inch display options. Available in 11th Gen Intel and AMD Ryzen 4000 series CPU options, Surface Laptop 4 aims to deliver faster performance and longer battery life than the Surface Laptop 3.
Best Buy and Microsoft are running the same Microsoft Surface Laptop 4 preorder deal which bundles it with free Surface Earbuds (a $200 value). This is the first and best Surface Laptop 4 deal we've seen so far.
The 2020 Microsoft Surface Book 3 has a starting price of $1,599 for the 13.5-inch base model, and $2,229 for the 15-inch version. Luckily, retailers offer significant discounts on this laptop/tablet hybrid to ease the blow to your bank account.
So far, the lowest price we've ever seen the base model on sale for is $1,236 around around Presidents' Day 2021. Meanwhile, its 15-inch sibling hasn't gone for less than $1,993 on Amazon.
As we note in our Surface Book 3, we like this laptop's bright, high-res display, attractive, premium design, and long battery life. Although we wish it had more than just single USB-C port on board, we gave the Surface Book 3 an overall rating of 4 our of 5 stars.
Over its predecessor, the Surface Go 2 brings longer battery life, thinner bezels and better performance. Prices start a $399 for this lightweight iPad Air competitor.
As we note in our Surface Go 2 review, we like its vivid 10.5-inch display, sleek magnesium design, and long battery life. This tablet is outfitted with an impressive webcam as well as an IR camera for secure Windows Hello login. We gave the Surface Go 2 an overall rating of 4 out of 5 stars.
When it comes to design, outside of its thinner bezels, the Surface Go 2 is the spitting image of the first generation Surface Go. Weighing a mere 1.2-pounds, and measuring 9.7 x 6.9 x 0.3 inches, it's on par with the original Surface Go (0.3 inches, 1.15 pounds) and iPad Air (0.2 inches thick, 1 pounds).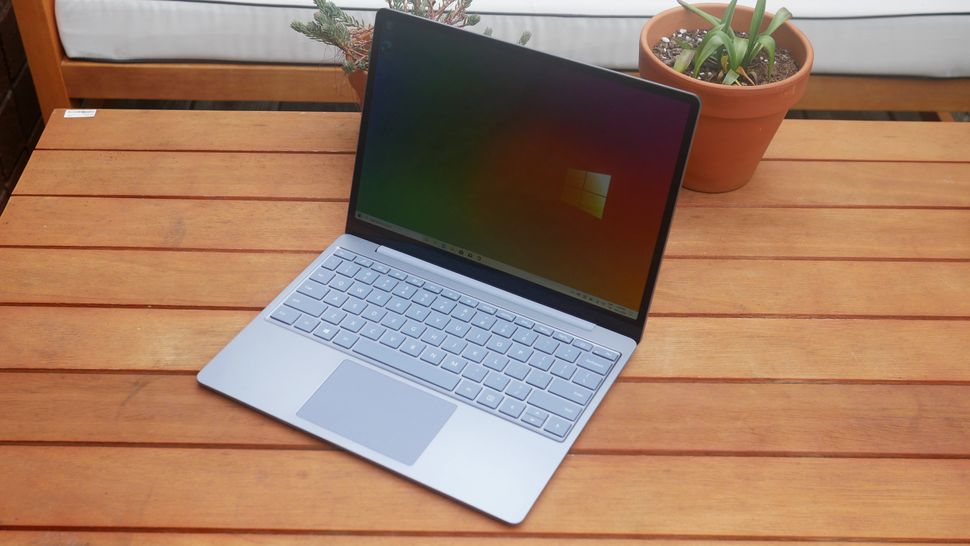 The Surface Laptop Go is Microsoft's fantastic mid-range portable. With a starting price of $549, it's Microsoft's most affordable and lightest laptop. With the base model, you get a 10th Gen Intel Core i5 CPU, 4GB of RAM and 64GB of eMMC storage.
For multitaskers, the Surface Laptop Go can be configured with 8GB of RAM and 128GB SSD or 256GB SSD for $699.99 and $899.99, respectively. The higher capacity models tend to see higher discounts of as much as $200 off.
We reviewed the Surface Laptop Go, and found its premium design and class-leading keyboard impressive. Its 1536 x 1024-pixel 12-inch display looks sharp and vivid whether you're creating documents or streaming movies.