Forget PlayStation Plus and Xbox Live Gold — 3 reasons Amazon Prime Gaming is the best game subscription around
It wears a crown for a reason...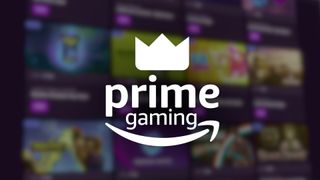 (Image credit: Laptop Mag / Rael Hornby)
Prime Gaming is one of the more criminally underrated benefits of having an Amazon Prime membership, and (for some, at least) it might just trump other popular game subscriptions like PlayStation Plus and Xbox Live Gold — at least in terms of value.
Prime Day 2023 is just around the corner, which means Amazon Prime members are about to gain exclusive access to some of the best gaming deals of the year. There are even some early Prime Day deals to snag. If you're not already a Prime member, there's no better time to sign up than today. Not only will you be able to save a fortune on tech over the next few days, but you'll also be able to take advantage of a ton of Prime membership benefits including Amazon Prime Gaming.
If you're already a Prime member, you may not even realize what a treasure trove of gaming content you already have access to including free games, exclusive content drops, cloud gaming through Amazon Luna, and unique Twitch benefits. If you're gaming on PC and you aren't aware of this service, you're missing out on one of the best gaming subscriptions out there. So let's dive into what makes Amazon Prime Gaming so good.
More games, more variety, less limits
While game subscriptions for consoles like Xbox Live Gold and PlayStation Plus hand out two or three games per month on average, the PC market is a much more rewarding space, especially since the Epic Games Store adopted its 'pick me' approach to building an audience through offering free weekly games. However, when it comes to gaming subscriptions on PC, there is one that stands out above all others — Amazon Prime Gaming.
Prime Gaming offers a curated bundle of titles for members to claim every week, featuring anything from AAA titles, popular indies, arcade hits, casual games, and some of the best must-play classics of yesteryear. Prime Gaming members can typically count on the platform offering at least four games per month, through each month can feature bonus titles that bump that number up dramatically.
One of 2022's better months featured a whopping 33 titles to claim. The sheer amount and variety of what's on offer makes other subscriptions pale in comparison, with only the Humble Bundle approaching it in terms of scope and value.
Not only that but, unlike other many other game subscriptions, everything you claim during your Prime Gaming membership is yours to keep forever. If you decide to end your subscription, you won't have your library of games held to ransom until you renew your membership. You'll have complete and total access to any titles you previously claimed. No catches.
In-game rewards
Not only will you be able to give your game library an impressive boost each month, but you'll also be able to claim in-game boosts with untold value across a wide range of PC and mobile titles. From in-game currency to item unlocks, cosmetic bundles, loot, and even subscriptions to online games and services.
If you're a fan of MMO's then there's a huge selection of in-game content for you to choose from across titles like World of Warcraft, Warframe, Lost Ark, Black Desert Online, Runescape, Phantasy Star Online 2 New Genesis, Guild Wars 2 and The Elder Scrolls Online. You'll also be able to claim items, cosmetics, and supply chests for Amazon's own MMO New World.
Beyond MMO's, Prime Gaming also offers a ton of in-game content for MOBA, FPS, action, strategy, and mobile games including Call of Duty: Warzone, Overwatch 2, League of Legends, Diablo IV, FIFA 23, Fall Guys, Rainbow Six Siege, and Company of Heroes 3. These rewards cycle throughout the month, meaning there's almost always something new to lay claim to whenever you return to the Prime Gaming homepage.
Amazon Luna cloud gaming
Cloud gaming is something companies have been clamoring over themselves to provide gamers with in recent years, often with mixed results. While Google's failed attempt to pioneer cloud gaming with Stadia was a slow-motion trainwreck you couldn't look away from, the enduring efforts of Amazon Luna have flown under the radar for many.
However, Prime Gaming members can enjoy a sampling of Amazon Luna's cloud gaming platform across PC, Mac, Chromebook, mobile, tablet and smart TVs with a revolving selection of games each month at no extra cost. Each month sees a fresh 4-6 titles available for Prime Gaming members to enjoy with previous months including Fortnite, Devil May Cry 5, Far Cry 4, Metro Exodus, Yakuza Kiwami, LEGO DC Super-Villains, Resident Evil 2, and Batman: Arkham Knight.
If you're sold on how the game streaming service works for you, you can access Amazon Luna's full library of over 100 games by subscribing to Luna+ for just $9.99 per month. You can even link to your Ubisoft account and play through titles you already own over Amazon Luna's cloud gaming platform from anywhere with a high-speed internet connection.
Outlook
Prime Gaming's benefits are only outdone by its impressive value. You can access everything listed above as well as granting you Prime status on Twitch, a unique chat badge, exclusive Twitch chat colors and emotes, and a monthly channel subscription ($4.99 in value) to support your favorite streamers all from within your standard Amazon Prime membership.
You can sign up for an Amazon Prime membership today for just $14.99 per month or $139 annually. Amazon offers a sizable Amazon Prime Student membership for just $7.49 per month and $69 annually.
If you'd like to take Amazon Prime and its laundry list of benefits for a test spin first, sign up to Amazon today for a free 30-day trial of the service. You can even use this trial period to access some of the incredible Prime Day 2023 offers set to go live over the next few days.
Stay in the know with Laptop Mag
Get our in-depth reviews, helpful tips, great deals, and the biggest news stories delivered to your inbox.
Rael Hornby, potentially influenced by far too many LucasArts titles at an early age, once thought he'd grow up to be a mighty pirate. However, after several interventions with close friends and family members, you're now much more likely to see his name attached to the bylines of tech articles. While not maintaining a double life as an aspiring writer by day and indie game dev by night, you'll find him sat in a corner somewhere muttering to himself about microtransactions or hunting down promising indie games on Twitter.