I bought the Logitech Pebble M350 and it's minimalist perfection — best wireless mouse I've ever used *Chef's kiss*. After a month of daily use, I still can't get over how quiet this thing is. Mouse clicks and scrolling are virtually silent and satisfying.
Right now, you can get the Logitech Pebble M350 Mouse (Off White) for $19 at Amazon. Normally $30, that's $10 off and the lowest price we've tracked for this Logitech mouse. Amazon also offers the Graphite color scheme Logitech Pebble M350 for $24 ($6 off).
Logitech Pebble M350 deal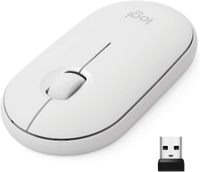 Logitech Pebble M350: $29 $19 @ Amazon
Now $20 off, this Logitech Pebble Mouse is a steal of deal. Enjoy silent clicking and scrolling with the perfect portable mouse for minimalists. It works Windows, macOS, Linux, ChromeOS, iPadOS, and Android devices.
Logitech is known for its quality PC accessories and the Pebble Mouse M350 is no exception. It features quiet clicking and scrolling, precision tracking, as well as dual connectivity. This means you can connect using Bluetooth or the included USB receiver. It ships with a pre-installed AA battery that will keep your mouse going for up to 18 months.
The Pebble mouse's premium build is sleek, comfortable, minimalist design and makes it a pleasure to use. Logitech affords you a variety of colors from which to choose from to match your laptop, tablet or workspace decor.
Living up to its name, the Logitech Pebble features a slim, pebble-shaped, ambidextrous design that feels natural in the hand. It's flatter than standard computer mice, however its subtle ergonomic palm rest provides comfort.
Now just $20, the Logitech Pebble mouse is at its best price yet. It works with Windows laptops, MacBooks, Chromebooks, IPads, and Android tablets.