If you're looking for one of the best laptops under $300, you're going to have to make some sacrifices, but that doesn't mean you have to be stuck with a bad notebook. There are laptops under $300 that offer 1080p displays, long battery life and even 2-in-1 functionality that have landed on our best laptops page. 
If you're against getting even the best Chromebooks, you might want to reconsider, especially because those devices will most likely run a lot smoother with a weaker processor compared to a Windows 10 machine. Check out our best cheap laptop deals to catch the best deal on an affordable laptop. Looking for a tablet on sale? See the best tablet deals and sales.
We've tested some of the best laptops under $300 to help you determine what's a good deal and what's just cheap. If you're willing to extend your budget, take a look at our best laptops under $500 page, but if you're looking for something for your kid, consider looking at our best kids tablets page. We also recently reviewed the HP Pavilion 14 (2020), which is just under $500. Recently, Acer unveiled upgraded Chromebooks — and they come at a bargain price.
What are the best laptops under $300? 
If you're shopping for a laptop under $300, your options are pretty limited. If you need a laptop that's incredibly cheap and still functional, you can get the HP Stream 11. For just $167, you get an adorable 11-inch laptop with all-day battery life and performance that knocks out its competitors. The display doesn't look good, and you'll have to deal with a worse-than-usual webcam. But if you need a laptop for dirt cheap, the Stream 11 works. 
Want an inexpensive Chromebook with a large display? The HP Chromebook 14 is a solid choice. A significant upgrade over the AMD model, the Intel version of the Chromebook 14 lasts all day on a charge and has a comfortable keyboard. The notebook also has a sleek white design and the 1080p display is a luxury at this price point. While other similarly priced Chromebooks offer better performance, the Chromebook 14 is a good all-rounder for basic tasks.
If you're looking for a 15-inch Windows 10 laptop for under $300, consider the Lenovo IdeaPad 330. It has a sturdy chassis and a comfortable keyboard, perks that budget laptops rarely offer. The IdeaPad 330 even has a DVD drive, which isn't something we typically encounter on laptops anymore. Unfortunately, a poor display, short battery life, and below-average performance spoil the fun.
If you want a smaller Chromebook, try the Lenovo Chromebook C330, which is an 11-inch convertible that has a lot in common with its competition. That includes both its best feature -- nearly 10 hours of battery life -- and its worst -- an unimpressive low-res screen. We do like that it comes with an HDMI port, which is fairly unique in this price range, as well as the comfy keyboard, but you shouldn't expect the swiftest performance.
The best laptops under $300 you can buy today
HP Stream 11 (2018)
Lenovo Chromebook Duet
HP Chromebook 14 (Intel)
Lenovo IdeaPad 330
Lenovo Chromebook C330
The HP Stream 11 is one of the best laptops under $300 and the best Windows 10 laptops you can find at this price. The Stream's cute, 11-inch chassis is packed with all-day battery life and relatively strong performance. You shouldn't expect much out of the Stream 11, but its Intel Celeron N4000 processor with 4GB of RAM was able to handle 10 Microsoft Edge tabs as well as a 1080p YouTube video. Of course, you should expect some serious slowdown if you try to do anything more intensive.
This laptop is also incredibly portable, weighing in at 2.5 pounds and measuring just 0.7 inches thick. And even though its keyboard can be a little cramped, it offers decent key travel. You won't find a better Windows laptop for under $200.
See our full HP Stream 11 (2018) review.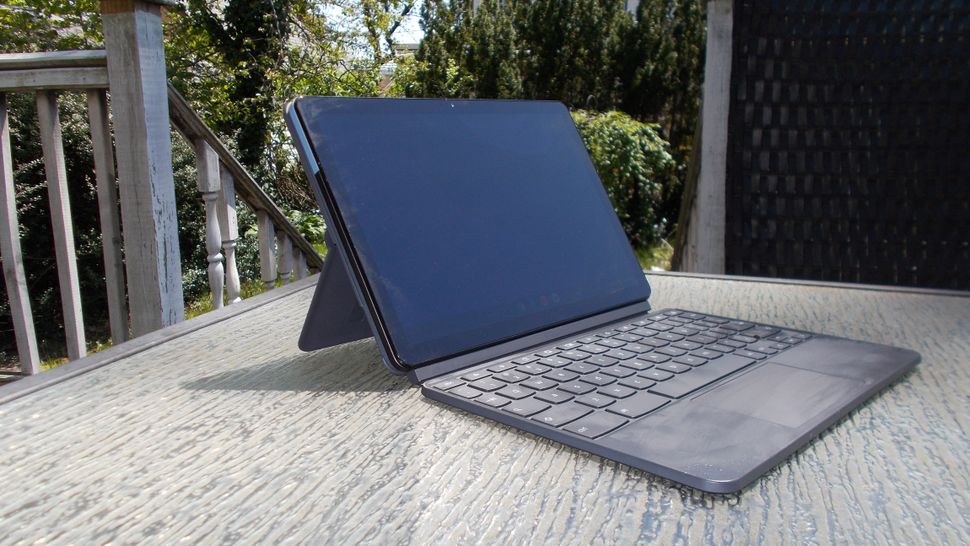 At first glance, The Lenovo Chromebook Duet (reviewed at $279) looks like an innocuous journal, but open that bad boy up, and it's a small laptop with a colorful 10.1-inch display. 
But this device's transformative capability isn't its only alluring feature — the Lenovo Chromebook Duet lasted almost 13 hours on our battery test, which beats the 10-hour average runtime for Chromebooks. The price is another big selling point of the Lenovo Chromebook Duet. For under $300, you can own a lightweight machine that can endure all your intensive web multitasking.
The Lenovo Chromebook Duet sports a 10.1-inch, 1920 x 1200 display that's impressively colorful. However, the tablet's screen has chunky bezels that might turn you off if you're seeking a more modern look. But the Duet is a budget-friendly Chromebook, so we can concede the lack of slim bezels as a reasonable trade off.
See our full Lenovo Chromebook Duet review.
The Intel version of the HP Chromebook 14 is a solid improvement over its AMD counterpart, making it one of the best laptops under $300. For just under $300, you get an attractive laptop with a 14-inch, 1920 x 1080 display, which is an incredibly rare combination at this price point. To top it all off, HP's Chromebook 14 features a comfortable keyboard and a battery that will stay powered up for an entire workday. The laptop endured for a very good 9 hours and 18 minutes on our battery test. 
Armed with an Intel Celeron N3350 CPU and 4GB of RAM, the Chromebook 14 has enough power for simple day-to-day tasks, but don't try running demanding apps on this budget machine. If you're looking for a Chromebook that doesn't scream elementary school, then the HP Chromebook 14 is the one to get.
See our full HP Chromebook 14 (Intel) review.
We wouldn't call the Lenovo IdeaPad 330 one of the best laptops around, but for under $300, it's pretty decent. Its design is pretty standard, but the chassis itself is actually sturdy, not giving into pressure when flexed. Additionally, Lenovo's gold-standard keyboard design remains intact on this budget machine. The subtly curved chicklet-style keys are nicely sized and fairly clicky. 
However, be wary of its short, 5:52 battery life and its subpar Celeron N4100 processor. There was no need to run our typical workload on the IdeaPad 330 (Intel Celeron N4100, 4GB of RAM) to discover that its performance is only adequate for basic tasks, like sending emails or browsing the web. It took nearly a minute to load Laptopmag.com with only four other Google Chrome tabs pulled up. If any other tabs were open, the IdeaPad 330 slowed to a halt.
See our full Lenovo IdeaPad 330 review.
The Lenovo Chromebook C330 gets nearly 10 hours of battery life as well as a neat HDMI port, which is somewhat rare for a Chromebook. Additionally, Lenovo understands that just because you've got a tight budget doesn't mean you should be stuck with a lousy typing experience. This 11-inch convertible is also pretty light and thin, coming in at 2.8 pounds and 0.8 inches thick. Plastic through and through, the Lenovo Chromebook bears an off-white hue that reminds us of vanilla ice cream. 
But as much as it has notable bright spots, there are some flaws – namely, its underwhelming performance and dull display. You don't get much multitasking prowess from the MediaTek MT8173C processor (with 4GB of RAM) in the Chromebook C330, as I heard the audio stutter when I split its screen between a 1080p video and five Chrome tabs.
See our full Lenovo Chromebook C330 review.
How to choose the best laptops under $300 for you 
As we mentioned earlier, there isn't a lot of room to be picky when you're searching for the best laptops under $300. However, there are a few choices that you need to make. Firstly, do you need a Windows 10 laptop? If not, we recommend going with a Chromebook, as the OS doesn't require as much performance to keep it going. The next question is what screen size you're looking for?
If you're looking for a small Windows 10 laptop, your best bet is the HP Stream 11. On the other hand, you could get a Chromebook, which'll net you some extra performance, since the ChromeOS is a stripped down operating system. The HP Chromebook 14 (Intel) is a solid Chromebook for the price and even the size. If you need a smaller Chromebook, then consider the Lenovo Chromebook C330. However, if you're dead set on a Windows 10 laptop and could do with a bigger size, try the Lenovo IdeaPad 330.
How we test the best laptops under $300 
We put each laptop through extensive benchmark testing — both synthetic and real-world — before they end up in the hands of our reviewers. We evaluate each aspect of the laptop, including its performance, battery life, display, speakers and heat management.
In our benchmark testing, we use a Klein K10 colorimeter to detect the brightness and sRGB color gamut of the laptop's display. For performance testing, we run the laptop through a gauntlet of benchmarks, including Geekbench 4.3 and 5.0 and 3DMark professional graphics tests. 
To determine real-world performance, we task the laptop to convert a 4K video to 1080p resolution and to duplicate a 4.97GB multimedia file. Our real-world graphics test is the Dirt 3 benchmark with medium settings at 1080p resolution.
We also run heat tests by playing a 15-minute full-screen video and measuring temperatures in different areas of the laptop. Last but not least, our battery test consists of continuous web surfing over Wi-Fi at 150 nits of brightness. For MacBooks and premium Windows 10 laptops, a runtime of over 9 hours is considered a good result whereas gaming laptops and workstations that can stay powered for longer than 5 hours deserve praise. 
These tests are complemented with extensive hands-on testing from our reviewers who critique everything from the laptop's materials to the feel of its touchpad.