The USB-C iPhone marks a new era for Apple — one where it's no longer in control
The EU forced Apple to adopt the USB-C connector. Is Apple still in charge of its own products?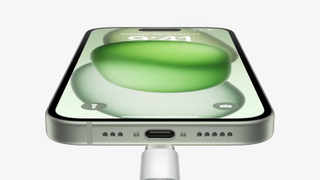 (Image credit: Apple)
In 2012, Apple debuted the Lightning port on the iPhone 5, superseding the 9-year-old 30-pin connector. It was a huge deal, and at the launch keynote, it waxed lyrical not only about how Lightning was superior, but also about how it plans to ease the transition for the millions of existing 30-pin users with accessory partnerships and dongles.
Apple's then-marketing chief Phil Schiller called it "a modern connector for the next decade." So over a decade later, as Schiller promised, the Lightning port has run its course.
For its latest iPhone 15 series, Apple announced it's doing away with Lightning in favor of the more universally accepted USB-C port. Except this time, in spite of the billion-plus iPhones active in the wild today, Apple spent barely a minute, across its 90-minute presentation, on USB-C, why it decided to switch, and whether people can continue to use their current Lightning cables (they can with a $30 dongle) or if not, how they can responsibly discard them. And I suspect there's a reason for that: switching to USB-C wasn't Apple's decision; it was forced to do so.
Design by legislation
Last year, Europe passed legislation that made it mandatory for any portable device, including a smartphone, to come equipped with a USB-C port as it will help cut down on electronic waste and save people the cost as well as the burden of buying multiple chargers for different devices. It specifically targeted the Lightning port, and said that while other manufacturers will eventually adopt USB-C on their own, Apple won't without "regulatory intervention."
Apple wasn't on board. It pushed back, claiming the strict law will stifle innovation in charging tech. But its efforts didn't work, and after a year, here we are with a USB-C iPhone. Apple's no stranger to losing regulatory battles but the sheer magnitude of a government entity imposing a design change on its most successful product sets a significant precedent and more importantly, marks the beginning of a new product era — one where Apple is no longer in control.
"Obviously, we'll have to comply. We have no choice," said an Apple exec in 2022 when asked if Apple plans to adhere to the EU's order.
Are these changes good for consumers?
Since its inception, Apple has built its business on the back of ambitious and bold bets, from ditching traditional ports on its computers to switching to ARM-based chips to killing the headphone jack. And it's done so each time of its own accord. However, in the last few years, Apple's products have been increasingly shaped by regulators who look to break up the firm's anti-competitive walled gardens.
In 2021, for example, after months of mounting pressure from regulators and activists, Apple announced the Self Service Repair program, which allowed users to order spare parts, and fix their devices on their own. For years prior, Apple had lobbied against right-to-repair laws and even managed to postpone them by stoking fears over how consumers might hurt themselves if they accidentally punctured the flammable lithium-ion batteries.
There may be a lot more to come. Regulators may soon force Apple to kill MagSafe in favor of standardized wireless charging tech, make its batteries easily replaceable, allow sideloading apps like Android, and enable access to third-party App Stores and payment systems.
Over the years, Apple has — often too stubbornly — dictated the terms of its products, and expected buyers to embrace them. Sometimes they proved to be a triumph like in the case of the death of the headphone jack, and others, not so much, where Apple had to backtrack them. Most recently, for instance, Apple brought back beloved features like MagSafe and standard ports on pro MacBooks and killed the highly controversial Butterfly keyboard.
However, as governments across the world crack down and scrutinize each of Big Tech's practices, Apple's future appears far more controlled. No longer will Apple have the luxury to build monopolistic systems to boost its revenue. Case in point: the arrival of the non-proprietary USB-C port effectively shutters Apple's MFi program, which enabled the iPhone maker to earn a commission each time someone buys a third-party accessory with a "Made For iPhone" stamp and on top of that, charge accessory companies a $99/year licensing subscription.
Similarly, Apple has historically restricted how third parties can use its devices' NFC chips, enabling itself to offer a superior experience for services like digital payments. An EU investigation, however, soon may put an end to that, and despite Apple arguing it's unsafe to open up the NFC chip for others, its fate doesn't look like it's in its hands anymore.
Outlook
Government intervention will continue to shape Apple in the future, especially with the company gearing up for a host of experimental technologies like mixed-reality glasses, self-driving cars, and ChatGPT-like AI chatbots. Most of what regulatory pressure has resulted in so far, though, has been for the better, including better repairability, and the end of the proprietary Lightning port. Whether that will take away what has made Apple so successful, however, remains to be seen.
Stay in the know with Laptop Mag
Get our in-depth reviews, helpful tips, great deals, and the biggest news stories delivered to your inbox.
Shubham Agarwal is a freelance technology journalist from Ahmedabad, India. His work has previously appeared in Business Insider, Fast Company, HuffPost, and more. You can reach out to him on Twitter.