This is the cheapest RTX 3080 gaming laptop we've ever seen: Daily Deals
Don't miss this huge RTX 3080 gaming laptop saving!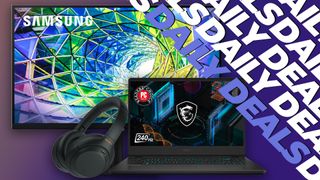 (Image credit: Future)
Today, you can get an RTX 3080 gaming laptop from MSI for just $1,799 — a ludicrously low price for what you get.
Outside of Black Friday, we never thought we'd see a super powerful portable system this cheap. But, this is one of the few times we are happy to be proven wrong!
The rest of today's deals include a $200 discount on a Samsung 4K monitor, a secret discount code to get an even cheaper RTX 3070-armed Alienware m15 R4 and more.
Today's best deals: TL;DR
Today's best deals: In more detail
Looking for more deals?
Every day, we scour the internet for the best bargains for your buck. Check out these lists for the most up-to-date curated selection of savings worth every penny.