Sorry gamers, the Apple Vision Pro can't do this one thing the Meta Quest 3 can
The Vision Pro can't satisfy the needs of VR gamers — yet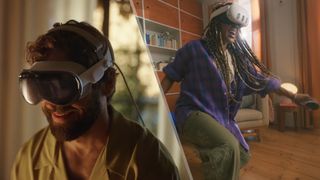 (Image credit: Apple)
The Apple Vision Pro is arguably one of the most enthralling technological feats we've seen in years. It has mind-blowing eye and hand tracking that can pick up every minute action you make with your retinas and fingers. (The Meta Quest 3 has hand tracking, too, but it's far less sophisticated.) It can scan your face and create a "Persona," a lifelike avatar that represents you in FaceTime. On top of that, the Vision Pro is capable of recording experiences in 3D, allowing you to capture memories in an immersive new dimension and perspective.
However, notably missing from Apple's shabang of a showcase at WWDC 2023 was VR gaming. Sure, we got a glimpse of a user playing Apple Arcade's NBA 2K23 with a PS5 DualSense controller, but Apple was clearly more focused on positioning the Vision Pro as an AR/VR extension of the Mac, allowing you to stream movies, be productive, and interact with friends in a whole new way.
Now that Apple has rolled out the hardware and visionOS, it's giving developers a chance to drop some game-changing apps. However, as it stands now, we have no idea whether the Vision Pro can meet VR gamers' needs, which is particularly concerning given its $3,500 price tag — and I don't think this first-generation iteration ever will.
The one thing the Meta Quest 3 can do that the Vision Pro can't
Not only can Meta Quest owners play games from the Quest Store. but by simply attaching this $80 link cable (or this much cheaper third-party alternative) to the headset's USB-C port from a VR-ready PC, they also have access to Steam's vast VR library, too. I'm talkin' Half-Life:Alyx, The Elder Scrolls V: Skyrim, Microsoft Flight Simulator, No Man's Sky, and more, allowing users to play more demanding games that the Quest 3's chip can't handle.
The Apple Vision Pro doesn't have a USB-C port that can harness the CPU and GPU power of beastlier computers (there are rumors that there's a mystery USB-C adapter floating around, but it may just be for developers). Some may say, "So what? The Vision Pro is packed with the M2 chip and the R1 chip. That should be powerful enough."
Is it though? I'm not quite sure. (No one is, really, until we can test it next year.)
It's certainly more powerful than the middling second-generation Qualcomm Snapdragon XR2 reportedly inside the Meta Quest 3, but the reason I'm skeptical is because Bloomberg's Mark Gurman said that sources close to the Vision Pro project told him that the M2 chip and the R1 chip are "not powerful to output graphics at a level Apple ideally would like." It's the second-generation Vision Pro, Gurman said, that is expected to be a performance powerhouse (the one that VR gamers would salivate over) — it's expected to pack either the M3 or M4 chip.
Still, I could be wrong. Perhaps the Vision Pro can, indeed, output power that is comparable to the class-leading CPU and GPUs the Meta Quest 3 can leech from the best VR-ready laptops and PCs, but I'm unconvinced.
Apple's walled garden may be its own undoing
Even if the Vision Pro could run a demanding VR game like Microsoft Flight Simulator, which made headlines for bricking even the most specced out laptops when it launched in 2020, visionOS likely won't be compatible with software like SteamVR. (Come on, we know how closed off Apple can be with its ecosystem.) In other words, compared to Meta Quest 3 owners, access to the vast portfolio of games on the market will be limited for Vision Pro gamers.
There was a point in time when SteamVR did support an Apple-based operating system (macOS) — that was six years ago. However, in 2020, Steam announced that it ended its support for Macs. "SteamVR has ended macOS support so our team can focus on Windows and Linux," Valve said in a short press release three years ago. Sigh.
On the plus side, the Cupertino-based tech giant boasted that 3D games built on the Unity engine can be ported over to the Vision Pro headset, this includes Beat Saber, Superhot, and Fruit Ninja VR. Three games you'll find on the Meta Quest 3, too.
No haptics is a bummer
When I told my co-workers that I was expected about the prospect of potentially playing Superhot with nothing but my fists on the Vision Pro, they crushed my dreams when they said, "Yeah, but there are no haptics." Damnit, they're right. I'd miss the subtle vibrations that I'd feel after socking those glassy, red enemies and watching their bodies shatter right before my eyes.
"And what about first-person shooter games?" Laptop Mag Editor-in-Chief Sherri L. Smith said. "What would you use to simulate the feeling of pressing a trigger?" Dejectedly, I accepted defeat. Hand tracking-only sounded cool in theory, but perhaps Apple didn't think this one through. Or better yet, Apple just doesn't care to make the first-gen Vision Pro a gaming headset (for now) — it wants it to be a productivity, entertainment and social VR device for the time being.
Tech influencers and journalists who've tried the Vision Pro gushed about its avant-garde hand tracking. Packed with 12 cameras and five sensors, the headset can pick up on users' slight maneuvers like a hawk-eyed sentinel. However, keep in mind that the lucky folks who tried the Vision Pro did not get to experience hand tracking in the realm of gaming. As such, I suspect that the hand tracking is, indeed, superior above all other headsets, but it still may not be zippy enough to catch up with the fast-paced demands of gaming.
This is supported by a report from The Information. According to a leaked Slack conversation from an Apple engineer, the Cupertino-based tech giant likely did not focus on VR gaming because the Vision Pro's hand-tracking isn't sufficient for "tasks that require [...] precise interactions, something that is crucial for gaming."
Bottom line
Perhaps Laptop Mag staff writer Rael Hornby was spot on: the Vision Pro is just a $3,500 developer's kit. And Apple is praying on its knees that someone — anyone — comes up with a killer game or two that facilitates its explosive visionOS success. (When we asked 5 experts whether the Apple headset would flop or succeed, almost all said that a successful ecosystem of apps and games is the deciding factor.)
I don't think Apple wants the first-gen Vision Pro to be a gaming headset; it's clearly not their mission. However, I'm hoping this reaches VR gamers who may get the impression that the Vision Pro will fulfill their needs — it likely won't. I'm sure the Apple headset is capable of delivering visual fidelity far beyond the Meta Quest 3's capabilities, thanks to its dual micro-OLED 4K displays, but the question is, will it support game-changing, mind-blowing games that will show it off? Only time will tell.
Stay in the know with Laptop Mag
Get our in-depth reviews, helpful tips, great deals, and the biggest news stories delivered to your inbox.
Kimberly Gedeon, holding a Master's degree in International Journalism, launched her career as a journalist for MadameNoire's business beat in 2013. She loved translating stuffy stories about the economy, personal finance and investing into digestible, easy-to-understand, entertaining stories for young women of color. During her time on the business beat, she discovered her passion for tech as she dove into articles about tech entrepreneurship, the Consumer Electronics Show (CES) and the latest tablets. After eight years of freelancing, dabbling in a myriad of beats, she's finally found a home at Laptop Mag that accepts her as the crypto-addicted, virtual reality-loving, investing-focused, tech-fascinated nerd she is. Woot!