We asked 5 VR experts: Will the Apple Vision Pro be a success or a flop?
Because we're tired of hearing about the Vision Pro from n00bs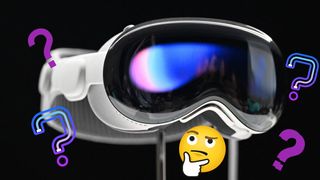 (Image credit: Getty Images/Josh Edelson)
Many of you have your opinions, thoughts and concerns about whether the Apple Vision Pro will be a success or flop. But the truth is, unless you have some sort of expertise in VR hardware, you can't truly make an informed forecast on the matter, right?
I, too, had my predictions about the Apple Vision Pro — even before the long-rumored AR/VR headset was announced and was practically an open secret. I suspected that it would be a PR hit, making shockwaves across the social media landscape for its funky design and inaccessible price tag, but sales may struggle to hit expected projections.
I was right about that first part, but anyone could have seen that coming. Apple could release a new sock line for all people care and it would still cause an internet frenzy. However, the Vision Pro's $3,500 price tag is low-key a loyalty test. Will the company's staunchest fans — those who'd forgo rent payments and other fixed expenses — show up for Apple? Are there enough early-adopter enthusiasts who will snag the Vision Pro? Will it appeal to enough cool kids to help Apple hit, and even exceed, its goals?
I have no idea, and quite frankly, I'm too much of a novice in this field to give an accurate prediction. That's why I tapped into five VR experts to help me get a better understanding of what's in store for Apple, and as it turns out, the success of the current-gen Vision Pro doesn't necessarily matter. Read on to find out why.
Expert #1
VRDirect CEO Rolf Illenberger
"It's not going to really matter if the first edition of Vision Pro is a flop or a success from a sales standpoint — simply because Apple knows the device, as well as its app and content lineup, is going to need a few iterations before it becomes a truly compelling [business-to-consumer] product," Illenberger said.
"A fair comparison might be HDTV, in say, 2006 or 2007. The motivation to announce Vision Pro now was to stimulate and nurture the ecosystem of app developers and content creators to invest in the new device, which was already happening once rumors about the device started to emerge several months ago. Hence, Vision Pro is already a great success for Apple. They have, once again, taken a new technology from the nerds to the cool kids," he concluded.
---
TLDR: It's narrow-minded to think you can determine the Vision Pro's success from first-gen sales figures. Apple isn't looking for immediate gratification. It is giving developers an opportunity to create an ecosystem of visionOS apps that will benefit future, cheaper, more accessible iterations of the Vision Pro headset. As such, the Vision Pro is already a huge hit.
---
Expert #2
VR analyst, YouTuber Brad Lynch (he also leaked details about the Meta Quest Pro, Quest 3)
"I have been covering XR as an enthusiast user for seven years," Lynch said. "And with all of the leaks, rumors, and trademarks leading up to this announcement, the Apple Vision Pro introduction still exceeded my expectations.
I started in this medium as a gamer, but as time went on, I became less interested in that side of things. I got into social VR and found an amazing, glimmering potential with being able to do what is now coined 'spatial computing' while I am in a VR space. The hardware, however, wasn't perfect for this use case — not even in the Meta Quest Pro that was marketed purely for it.
With all of the introductions and WWDC developer talks about what Apple is doing with their hardware and platform, I cannot help but feel they are nailing it on aspects I could only hope for. I think the product will be a 'low-volume success' to carve out this medium's future. Just like buying a $4,000 computer in the 1980s. Adoption can only get faster as this minimum viable product gets cheaper and competitors quickly build their answers to this device," he speculated.
---
TLDR: The first-gen Vision Pro will be a success in that Apple will generate satisfactory profit from the people it's targeting: early adopters, businesses, developers, and more. Will it appeal to the mass market? Not yet. However, as time begets cheaper iterations, the Vision Pro is bound to win over users' hearts, especially since it trumps the Meta Quest Pro in many ways.
---
Expert #3
Aneesh Kulkarni, CTO of Strivr, an enterprise-focused VR training company
"Apple's Vision Pro announcement last week is very likely to be one of the 'watershed moments' for the VR/AR industry," Kulkarni said. "This is potentially the iPhone moment for mixed reality. It gives a boost, and hopefully, greater confidence to the space now that two of the biggest tech companies in the world (Meta and Apple) will be competing for market share. For us at Strivr, we are excited, as Apple's entry into the industry will accelerate interest from consumers and enterprises, and lead to wider adoption across both use cases," he added.
"Apple has positioned this as a 'spatial computing' device that will be a part of everyday life, just like other Apple devices that we've come to know, use, and love in our day-to-day personal and professional lives. If you consider the technologies that have been adopted expansively by consumers, and then by enterprises, there's a strong connection and understanding from individuals as to how it benefits their life, work, and well-being. That's when more and more people start to use it in their personal and professional lives, leading to widespread adoption. Price, design, use cases, apps and content are going to prove critical if the Vision Pro is to be successful. We can expect that iterations and future generations of the headset will improve the form factor taking it closer to the style of glasses and to a lower price point, growing the audience of users across consumers and enterprises by benefiting them in the flow of life and work," Kulkarni concluded.
---
TLDR: It depends. If Apple can roll out some killer apps with the Vision Pro, it will gain widespread adoption.
---
Expert #4
Kevin Wang, Director at Altman Solon, a firm with deep expertise in the mainstream AR/VR market
"Apple's Vision Pro launch is generating so much buzz because we've seen this playbook before: Apple waits until a category reaches peak fragmentation and then pounces to consolidate the market." Wang stated. "Apple did it with the smartphone, smartwatch, headphone, and tablet – and looks like they are repeating the pattern for AR/VR headsets. It is causing seismic reverberations in a sector that has seen a number of promising developments but no significant consumer adoption yet. What has held back the industry so far is the seamless integration of comfort, device capability, and available applications. Like it did with the iPhone, Apple will work to control the app development market for the AR/VR realm, making them the go-to marketplace for developers and consumers." he said.
"Vision Pro's price ($3,499) is giving the public sticker shock, but so did the first iPhone when it debuted at $500 in 2007. Apple's device is significantly more expensive than the Meta Quest, but like it did with the iPhone, Apple is positioning Vision Pro for the "Ultra Premium" categories of AR/VR products, which previously was dominated by enterprise-grade devices. The first version of the product likely won't see mass adoption, but it should create a loyal, growing community of users. Given Apple's track record of creating and marketing devices consumers want to buy, the Vision Pro will be a success in the longer term. Initially, it will seem more like a niche product, but following Apple's proven playbook, the Vision Pro could bring about the next iPhone moment," Wang concluded.
---
TLDR: People are appalled by the Vision Pro's $3,500 price tag, but when Apple debuted the iPhone nearly two decades ago, people were taken aback by its price, too — and look where the iPhone is today. Apple will attract a growing, loyal customer base for the Vision Pro, and its future iterations, in no time. Success is in its future.
---
Expert #5
Avi Greengart, tech-adoption analyst and founder of Techsponential
"Apple's Vision Pro will be a success," Greengart said. "How big a success will depend on what apps and services are developed that take advantage of the unique capabilities it offers. Apple will have to bring down the weight and price over time to appeal to mainstream consumers, but even in its current form Apple will have no trouble finding early adopters – the Vision Pro offers a remarkably polished user experience.
It is also worth noting that there are all sorts of enterprise use cases where the Apple Vision Pro is both far more capable and actually less expensive than existing solutions. Apple mostly showed off consumer and personal productivity use cases at WWDC, but the company has made steady gains in the corporate world with the iPhone and Mac; CIO's looking to solve business problems will be among the first to test what VisionOS can do."
---
TLDR: Future-gen Apple Vision Pro headsets will likely get lighter and cheaper, so it's poised to be a success. Hell, even the first-gen Vision Pro is likely to be a hit among early adopters.
---
Bottom line
It's unanimous! I asked five VR experts about the fate of the Apple Vision Pro headset — and every single one of them predicted that the head-mounted display will be a success for the Cupertino-based tech giant. The pundits all said the same thing in similar words: instant mass-market success isn't Apple's mission at this point. Apple is playing the long game. It's banking on developers rolling out mind-blowing visionOS apps that will make the Vision Pro too alluring to pass up.
As Apple rolls out cheaper and lighter successors to the first-gen Vision Pro, it's only a matter of time before the headset becomes the new iPhone of the virtual-reality market (i.e., an explosive success).
Stay in the know with Laptop Mag
Get our in-depth reviews, helpful tips, great deals, and the biggest news stories delivered to your inbox.
Kimberly Gedeon, holding a Master's degree in International Journalism, launched her career as a journalist for MadameNoire's business beat in 2013. She loved translating stuffy stories about the economy, personal finance and investing into digestible, easy-to-understand, entertaining stories for young women of color. During her time on the business beat, she discovered her passion for tech as she dove into articles about tech entrepreneurship, the Consumer Electronics Show (CES) and the latest tablets. After eight years of freelancing, dabbling in a myriad of beats, she's finally found a home at Laptop Mag that accepts her as the crypto-addicted, virtual reality-loving, investing-focused, tech-fascinated nerd she is. Woot!