Apple VR headset rumors: specs, price, release date, design, and more
Everything we know about the Apple VR headset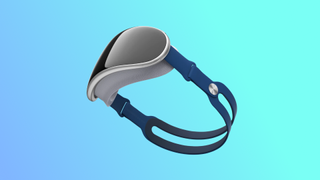 (Image credit: Laptop Mag / Rael Hornby)
Update 6/5: Apple just introduced the long-awaited Apple AR/VR headset at WWDC 2023. It's called Apple Vision Pro. For in-depth details on its price, release date, specs, features, and more, check out our Apple Vision Pro is here and we're never leaving the house — here's everything it can do article.
Feel free to continue perusing through this rumors article to determine whether the gossip from the grapevine matched Apple's revelations at WWDC 2023. (Hint: the specs and features were spot on, but other aspects were slightly off.)
---
The Apple VR headset is a long-rumored virtual-reality project that the Cupertino-based tech giant has up its sleeves, and all the gossip is trickling in to give us insight into Apple's vision for its place in the headset market.

According to insider information obtained by Bloomberg BusinessWeek, there's been a secret unit at Apple — shh, don't tell anyone — working on a VR headset for about eight years. But delays and setbacks plagued the VR unit due to strong-minded Apple hotshots butting heads on how to best design the VR headset for maximum market disruption. Now, it may be set to be announced at WWDC 2023 in June.

Now, if you think that's juicy, stick around to ingest all the riveting information we've gathered from Apple insiders and leakers for a more fascinating insight into Apple's mixed-reality headset, including specs, release date, price, and more.
Apple VR headset latest rumors and news (updated June 5)
Apple VR headset release date
The rumored release date for the Apple mixed-reality headset is June, just in time for the Worldwide Developers Conference (WWDC 2023), an annual gathering typically held at Apple Park in California.
Keep in mind, however, that there have been reports revealing that Apple's AR/VR headset has been delayed several times. For example, according to The Information, the Apple VR headset has previously been slated to hit store shelves in 2022.
According to Apple analyst Ming-Chi Kuo, the mixed-reality headset was reportedly supposed to be revealed in January 2023, but of course, that time frame as come and gone.
Although insiders claim that the mixed-reality headset is slated for a June release, Kuo recently tweeted that there's a chance that Apple may, once again, delay the head-mounted display to late 2023. I hope he's wrong!
If you are feeling skittish about the first-gen mixed reality headset, a new projection from Kuo indicates that Apple's second-gen headset will arrive in 2025, including a more affordable model.
Apple VR headset price
According to The Information, the Apple AR/VR headset will reportedly cost a whopping $3,000, which mirrors the price tag of other premium systems such as Magic Leap's $2,295 AR goggles and Microsoft's $3,500 Hololens 2. However, this price may have been reduced to somewhere between $2,000 to $2,500, according to Kuo.
According to the Financial Times, Apple is only expecting sell around one million units of the headset in the first year. This hints that the Cupertino-based tech giant expects this AR/VR headset to be a niche product that only a few can afford. The Financial Times also added that Apple expects to cater to the enterprise market with this device, so this mixed-reality headset will likely not cater to the average Joe.
If you're feeling discouraged about the $3k price tag, don't worry! According to Medium blog post from Kuo, the Cupertino-based tech giant is reportedly rolling out an affordable option of the Apple AR/VR headset during its second-generation era. Kuo didn't specify a price point, but it will surely be less expensive compared to the $3K model.
Fans should expect the affordable, second-gen AR/VR headset to hit the market by the first half of 2025.
However, Apple better watch out! Although the $3,000 Apple VR headset is expected to have some bells and whistles cheaper alternatives can't match, Meta just announced that the Quest 3, due for a late 2023 release, is only $300. Opting for this headset instead nets you a sweet savings of $2,700!
Apple VR headset official name
According to trademark fillings believed to be associated with Apple, the forthcoming headset could be branded as "Reality Pro."
If you're curious about the name of the operating system, however, it's reportedly xrOS, according to Bloomberg journalist and respected Apple leaker Mark Gurman.
Apple VR headset design
One of Apple's biggest obstacles with the AR/VR headset is finding a way to pack powerful hardware into a sleek design that could potentially upend the VR market. Unfortunately, the secret Apple AR/VR unit (known as the Technology Development Group or TDG) kept running into issues with overheating.
TDG, spearheaded by Mike Rockwell in 2015, decided to rectify the overheating problem by unburdening some of that powerful hardware from the headset. Rockwell then made the move to construct a small stationary hub, which resembles a small iMac, that would accompany the VR headset.
This Mac-like hub would connect to the VR headset wirelessly, and it would help the system retain its svelte form while still remaining competitively powerful thanks to the stationary hub — and that would be the end of the overheating problem. However, there was someone at Apple who hated Rockwell's stationary hub idea: former Apple Design Chief Jony Ive.
Ive envisioned an all-in-one headset for the Apple VR headset — no additional peripherals needed. Rockwell disagreed. With the hub he designed, the VR headset would blow its rivals out of the water. Without it, consumers would have to settle for a less-powerful headset. But in the end, Apple's big wigs sided with Ive. They wanted to sell an Apple VR headset sans the hub.
So what does Apple's working VR headset look like now? Reports from the Financial Times and The New York Times say that Apple's mixed-reality headset look like ski goggles (see illustration below).
It reportedly features a carbon fiber frame and a "reality dial" to increase or decrease real-time video overlays from the world around the user. To reduce the device's weight, the AR/VR headset will come with an external battery pack, according to the New York Times.
According to Bloomberg's Mark Gurman, it resembles Apple's MagSafe battery pack, but it's larger (as big as an iPhone) and thicker. It will connect to the headset via a proprietary port and cable that lets users lock the battery pack into place so that users can leave it attached without worrying that it will fall off.
Unfortunately, Gurman said that the Apple mixed-reality headset can only last two hours on a charge.
For a more realistic image of what the Apple VR headset may look like, check out 9to5Mac's 3D render above.
Apple VR headset specs and software
Despite Apple VR's secrecy, we've gathered a ton of information on specs and features you can expect from the Apple VR headset.
Two 4K displays - Insiders say that the Apple VR headset's display performance will be so spectacular that it will be difficult for users to differentiate reality and computer-generated simulations.
Twin M2-based processors - Apple supply chain analyst Ming-Chi Kuo added this detail in a recent round of spec leaks, suggesting performance well beyond any standalone headset we've seen to-date.
External 3D-sensor cameras - The Apple VR headset will be equipped with cameras that can map the user's surroundings, including silhouettes of nearby people, furniture and rooms. According to The Information, the VR headset will reportedly have 12 optical cameras. Not only for tracking eye and hand movements, but also for the ultra-high-resolution displays.
Video-conferencing capability - The Apple VR headset can double as a super high-tech communication system for virtual meetings. It will likely have the ability to make multi-person calls, too.
Video-streaming capability - Users will be able to enjoy immersive film and TV show experiences with the Apple VR headset. According to the NYTimes, the mixed-reality headset will function has a high-resolution TV with custom-made video content from Hollywood filmmakers (e.g., Jon Favreau, the man behind "Iron Man.")
Siri voice command - What's an Apple device without Siri?
A virtual keyboard - According to a Bloomberg article published in January, the Apple VR headset will feature a virtual keyboard or "in-air typing"
You'll have the ability to dive into AR drawing - The device will allow artists to draw and create with AR strokes superimposed upon their real-world environment.
It will reportedly act like an external Mac monitor, according to a May Bloomberg report.
Apple VR headset apps
The home screen on the Apple VR headset is reportedly reminiscent of the iPad. On top of that, users will have access to millions of third-party iPadOS apps that users are familiar with, according to a mid-April Bloomberg report.
Apps that will immediately be accessible by the wearer include the following:
Podcasts
Maps
Safari
Photos
Notes
Music
Stocks
Weather
Messages
Apple TV
Apple Music
Reminders
FaceTime
The Apple VR headset's FaceTime app is particularly fascinating because it will allow users in one-on-chats to be represented as full-body avatars in virtual reality. Plus, you can choose which meeting room environment you'd like to converse in, making it seem like you and your FaceTime partner are communicating inside the same room. Keep in mind, however, that this feature is only available for two-person video calls because the required processing power is too high.
For clarity, you can still have multi-person video calls, but beyond two people, additional participants will not be represented as full-body avatars — just icons and Memojis.
Here are some other apps and services Apple has been tweaking for its VR headset:
Apple Books - users should have the opportunity to read their favorite digital books inside the VR headset
A meditation app - calming graphics, sounds and voice-overs will help users reach a state of zen and mental peace
Fitness+ - workout with holograhic-esque instructors who will guide you through exercises and stretches
Freeform app - collaborate with colleagues, friends and family on a whiteboard
What we want from Apple's VR headset
Consumer-friendly pricing. Apple products are known for costing an arm and a leg. However, companies such as Facebook have a strong foothold in the mainstream VR market with competitive pricing seen in products like the $399 Oculus Quest. If Apple's VR headset is financially inaccessible, it may struggle to win over consumers. Expecting an affordable VR headset from Apple is just wishful thinking, though. Perhaps VR will be friendlier on the pockets in the future.
Comfortable VR headsets. Many VR enthusiasts complain that most systems on the market are uncomfortable, clunky — and well — not very 2020. On the plus side, the rumors indicate that sleek headsets are on Apple's top-priority list. Some VR gamers also complain about mental fatigue and nausea after using a VR headset, so hopefully, Apple can find a way to circumvent these issues.
A tetherless design. Being bound by wires while gaming in virtual reality is no fun. But unfortunately, according to leaks, Apple's vision for its VR headset includes an attached battery pack.
Decent specs and features. We'd love to see specs that make a VR system awesome, including wide-ranging human movements translated into the VR world, high-resolution displays, higher refresh rates, top-notch tracking and more. The Apple VR headset will likely not disappoint, according to the leaks.
Stay in the know with Laptop Mag
Get our in-depth reviews, helpful tips, great deals, and the biggest news stories delivered to your inbox.
Kimberly Gedeon, holding a Master's degree in International Journalism, launched her career as a journalist for MadameNoire's business beat in 2013. She loved translating stuffy stories about the economy, personal finance and investing into digestible, easy-to-understand, entertaining stories for young women of color. During her time on the business beat, she discovered her passion for tech as she dove into articles about tech entrepreneurship, the Consumer Electronics Show (CES) and the latest tablets. After eight years of freelancing, dabbling in a myriad of beats, she's finally found a home at Laptop Mag that accepts her as the crypto-addicted, virtual reality-loving, investing-focused, tech-fascinated nerd she is. Woot!