This one secret Tidal feature brings audiophile sound to your computer
Give your computer a massive audio boost with this one Tidal hack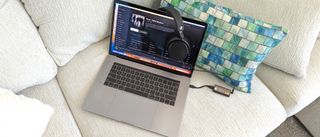 (Image credit: Alex Bracetti/Future)
How often do you play music on a computer and notice sound quality issues? Either the bass is too aggressive or frequency range is unbalanced, causing you to miss small details that musicians purposely place within sections of their recordings. That has been my MacBook listening experience, and it's likely been yours too.
Some of the best laptops and desktops feature powerful specs (e.g., Dolby Atmos audio drivers, Hi-Res Audio certification, sound cards) that deliver excellent audio performance. However, that level of sound usually comes at a hefty price that the average consumer can't afford.
The best wireless headphones and wireless earbuds will help improve what you hear on a Mac or PC. A premium tier subscription from a hi-res music service is even better, specifically Tidal. Jay-Z's favorite streaming platform grants access to over 90 million tracks that you can listen to in CD-quality sound. It also supports advanced audio formats such as FLAC and MQA (Master Quality Authenticated), plus immersive sound technologies like Dolby Atmos and Sony's 360 Reality Audio. All these hallmarks make Tidal the essential streaming platform for audiophiles.
But did you know there are several hidden Tidal features available to maximize your subscription? In fact, there's one that will significantly enhance your computer's sound quality. That feature is Passthrough MQA.
What is Passthrough MQA?
Award-winning audio tech company iFi explains the feature in their FAQ section: "Passthrough bypasses the software decoding in the TIDAL application to the DAC, which has the full Decoder technology." In other words, you're allowing a digital-to-analog converter to process Tidal Master tracks instead of the streaming platform, so you can hear the purest translation of an original recording.
You may be thinking that it isn't practical to spend extra on an external DAC to achieve audiophile sound on a computer. Think of it this way: would you rather spend more on additional computer hardware, which will run you between a few hundred to a grand, or spend less on a DAC and headphones to get audiophile results?
Does any DAC or headphone work with Passthrough MQA?
Tidal designed Passthrough MQA to work with most DACs, including older models. I've had the $599 iFi Audio XDSD Gryphon connected to my MacBook Pro and paired to my Sennheiser Momentum 4 headphones for months, basking in stronger sound performance than before. Even the more affordable $269 Questyle M15 Portable DAC has sufficed when recharging the XDSD Gryphon, though the latter is a superior device that supports full MQA decoding, which is Tidal's paramount codec.
Wired headphones are required, though any pair of hi-fi-compatible wireless headphones with an aux port can be used as well.
How to access and enable Passthrough MQA
You don't need the Geek Squad to get Passthrough MQA up and running on your computer. It's a simple 5-minute task that requires testing and some patience.
First, download the Tidal desktop app and log in. Hit the ellipsis icon on the top right next to your account name and select Settings. Tap the Streaming tab, make sure Quality is set to Master, and scroll down to the Sound menu where Sound Output appears. Connect the external DAC to your computer and wait for it to appear on the list of available devices. Press the dropdown menu and select it.
Lastly, hit the speaker icon on the music player to access more settings. Turn on Passthrough MQA and your DAC will perform the full MQA audio decoding. Voila!
What are the results?
Passthrough MQA raises audio to the next level. The subtle nuances on MQA tracks sound more authentic and natural. It takes a trained ear to pick up on details that would go unnoticed if heard on standard headphones, but Tidal's secret mode combined with the decoding prowess of a DAC make them very transparent. Frequency range is also balanced better with lows, mids, and highs receiving equal treatment.
There is another computer-only Tidal feature that might also be of service: Exclusive Mode. This locks out your machine's audio handling and puts Tidal in control to produce the highest quality playback possible. It does this by sidestepping the operating system's audio mixer, giving the music app permission to assign the specific bitrate and sample rate relating to Tidal audio files. Try it if you're just using wired or wireless headphones. Just remember that Passthrough MQA is the more powerful sonic solution.
More from Laptop Mag
Stay in the know with Laptop Mag
Get our in-depth reviews, helpful tips, great deals, and the biggest news stories delivered to your inbox.