I test wireless headphones for a living – here's what I recommend for every budget
These headphones give you the most value for your dollar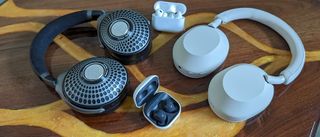 (Image credit: Alex Bracetti/Future)
Shopping for wireless headphones can be daunting, especially on a limited budget. Those with low funds want the best performance for the lowest price. Others with extra cash may look to spend big on the highest-performing models that money can buy. Wherever you stand, there's a pair of wireless headphones and earbuds for you.
I've tested hundreds of headphones over the past six years and continue to review the market's most coveted releases. That experience has given me a critical understanding of what consumers want (and should expect) from models in every price range. From bass blasters to noise-cancellers, entry-level deals to hi-fi steals, these are the wireless headphones and earbuds I recommend for every budget.
Best headphones and earbuds under $50
Anker Soundcore Life Q20
Acceptable sound and ANC for a bargain
Anker has several wireless headphones at attainable prices, from the terrific $79 Life Q30 to the underrated $150 Space Q45. While considerably older, the Life Q20 remains a solid pick for budget-conscious shoppers wanting decent audio and active noise cancellation (ANC). Powerful bass makes up for the limited high range and keeps sound energetic for lengthy listens. Don't expect complete silence on a flight or in rowdy environments, but Anker's ANC technology is sufficient to minimize common distractions such as chatty pedestrians and loud TVs. What you're really buying the Life Q20 for is lengthy playtimes: 40 hours with ANC on and 60 hours with ANC off.
Donner DoBuds One
Budget buds with delightful sound and noise cancellation
Unless you're familiar with instruments, the name Donner may not mean much to you. Well, it's time to get familiar, because they sell the best wireless earbuds under $50. Dynamic sound, highly responsive touch controls, and satisfying ANC in a familiar design make the DoBuds One one of the better AirPods alternatives out there. Battery life is rated higher than the original AirPods Pro at 6.5 to 8 hours. Donner's feature set is also bountiful for the price: you won't find many sub-$50 buds with an EQ and low latency mode.
Best headphones and earbuds under $100
1More SonoFlow
Affordable ANC with everlasting power
1More is best known for their dual-driver wired earbuds, but they've recently gained popularity with their inexpensive, well-received wireless headphones. The SonoFlow is one of them. These over-ear cans come with energetic sound that can be tweaked through 12 "studio-grade" EQ presets, along with LDAC compatibility for hi-res audio at a higher bitrate. That just means you can stream lossless sound from hi-res music platforms (e.g., Tidal, Deezer) at fast speeds with every detail and nuance accounted for. ANC is acceptable for blocking out low-frequency disturbances. Then there's the 70 hours of playtime (50 hours with ANC on) that keep the headphones powered on for weeks.
Samsung Galaxy Buds 2
Premium power at an entry-level price
Samsung's mid-range buds uphold many of the series hallmarks such as lively, customizable sound, strong noise cancellation, and multiple charging solutions. The tiny oval design rests comfortably on ears and creates a tight seal for optimal fit. You can operate the buds in several ways: touch controls, voice activation or directly on your Galaxy watch. AKG-tuned drivers dish out impactful bass that blends nicely with crisp mids and striking highs for vibrant sound. ANC blocks out external background noise by 85%, and you can assign the feature to one bud for pressure relief. Galaxy phone owners get exclusive features like a low-latency Gaming Mode and PowerShare to charge the buds wirelessly by placing the case on the back of a compatible Galaxy device.
Best headphones and earbuds under $200
Cleer Enduro ANC
Monstrous battery life for half the price of most premium headphones
Cleer disrupted the cheap headphone market when they launched the Enduro ANC. Engaging sonics, tenable ANC, up to 60 hours of listening time, and cool features like tap-to-pair NFC for only $150 (currently marked down to $129) is amazing. Other perks like a 10-level transparency mode, Bluetooth 5.0 with aptX Adaptive lossless support, and a customizable EQ raise its stock as a superb cost-effective audio investment.
Sony WF-1000XM4
A sonic powerhouse with Sony's bells & whistles
The WF-1000XM5 buds are practically confirmed at this point, but as we wait for their arrival, there's still phenomenal upside to owning their predecessor and the best wireless earbuds overall. Sony equipped the WF-1000XM4 with many of the same high-end features as its over-ear counterpart (WH-1000XM4), including 360 Reality Audio for 3D sound and DSEE Extreme to upscale lo-fi recordings. Sound is where the buds excel most, thanks to exceptional stereo imaging that places instruments and vocals accurately on tracks. The customizable EQ lets you easily personalize sound in the Sony Headphones Connect app. LDAC support allows for lossless streaming on hi-res music platforms. Sony's redesign is another major selling point with a sharper-looking, optimized design that boosts ANC performance.
Best headphones and earbuds under $300
Sennheiser Momentum 4
An excellent Bose and Sony alternative
The Momentum 4 is overshadowed by industry favorites like the Bose 700 and Sony WH-1000XM5, but it stands strong as one of the best noise-cancelling headphones available. These headphones deliver equally great call quality and noise cancellation, and far better sound than Bose's flagship offering. Not to mention they come with longer battery life than both rivals: up to 60 hours with ANC on. A powerful 42mm transducer system, Hi-Res playback, multiple EQ settings, and lossless codec support (aptX Adaptive) create an audiophile experience that no headphone at this price point matches. Smart features like Sound Check and Sound Zones automatically adjust the soundstage to your hearing and environment. Sennheiser's ANC technology also adapts to environments to silence 90% of noise, which it does magnificently, no matter the frequency.
AirPods Pro 2
Best AirPods overall
For the common iPhone or Mac user, there is no better option than the AirPods Pro 2. Improvements in ANC, battery life (now up to 7 hours), and Spatial Audio speak loudly. The biggest change comes in sound quality, as Apple paired a new low-distortion driver and custom amplifier with their adaptive EQ to adjust and reproduce music accurately. You'll notice richer bass and clearer presentation when listening to Apple Music tracks. Additions like responsive touch volume controls and a built-in speaker on the charging case with Find My (AirPods) support are serviceable gems. Lastly, these buds come with unbeatable iOS integration for instantaneous connectivity with all Apple devices and limitless functionality that continues to expand with every major software update.
Best headphones and earbuds under $500
Sony WH-1000XM5
The perfect combination of ANC and sound
Sony's latest noise-canceller continues the Mark Series progressive streak of rivaled ANC and superior sound. The bass-booming presence of past entries has been toned down to create a well-balanced, spacious soundstage that complements all content (e.g., music, movies, games, podcasts). Signature features like the multi-band EQ, DSEE Extreme, and LDAC high-res codec support are all retained. Spatial audio fans can also turn on 360 Reality for impressive 3D sound with compatible media. Battery life remains strong at 30 to 40 hours, depending how you use the headphones. But it's Sony's noise cancellation that makes the WH-1000XM5 a must-own since it neutralizes noise better than any other model in the category that isn't named the Bose 700.
Bowers & Wilkins Pi7 S2
Flagship sound and craftsmanship in true wireless form
This sequel blends hi-res audio and unique capabilities into the most gorgeous true wireless design out there. Dual hybrid drive units with individual amps and Qualcomm's aptX Adaptive codec produce fantastic sound quality that's even more dynamic on hi-res streaming platforms. Noise cancellation handles disruptions across the frequency spectrum very well. Popular features like control customization and an EQ are missing from the companion app. However, you're given other awesome functions that enhance performance such as the ability to increase streaming quality and use the charging case as an audio transmitter for wired sources. Speaking of the case, concerns about ANC playtime are understandable (5 hours per charge), but you do get 24 hours total from the accessory with a 15-minute charge generating 2 hours of listening time. A water- and dust-resistant design also keeps these beauties from sustaining serious damage.
Best headphones and earbuds under $1,000
Focal Bathys
Hi-fi headphones with surprisingly great connectivity
Most luxury audiophile headphones have a wire and a four-figure price tag attached to them. Focal set out to change this, not only releasing a relatively affordable hi-fi model that preserves the brand's supreme build quality and sound, but also comes wireless with a ton of features. The Bathys shares the elegant appearance of other Focal headphones and boasts proprietary 'M'-shape aluminum/magnesium drivers that pump out accurate, expressive, and wide sound. There's an onboard DAC to boost fidelity on standard music files. The companion app has an EQ to tweak the sound signature, which is excellent right out of the box, and the inclusion of aptX Adaptive/aptX HD allows for streaming at the highest quality. Multiple connection options, robust ANC, and up to 42 hours of battery life round things out.
Shure Aonic 5
Modular earbuds with sensational sound
Shure has quietly been at the forefront of modular earbuds, releasing several hybrid models that can be used wired or wirelessly. The Aonic 5 is a crowning achievement that delivers legacy sound in a fit-to-form design. Numerous accessories come bundled with the purchase, including Comply foam tips that mold perfectly to your ears and replaceable filters that customize frequencies for neutral, bright, or warm sound signatures. Sound is accurate and mature with outstanding levels of detail. The secure fit adapter is required to go truly wireless, and though it comes at a premium, the add-on frees you of tangled messes without compromising sound. Grab the bundle pack from Amazon to save a few bucks.
Stay in the know with Laptop Mag
Get our in-depth reviews, helpful tips, great deals, and the biggest news stories delivered to your inbox.