My eSIM disaster: Upgrading to iPhone 15 or Pixel 8 could be a mess
A three-second swap became a three-hour headache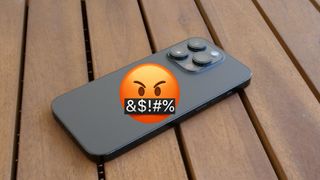 (Image credit: Laptop Mag)
There was plenty of wailing and gnashing of teeth when Apple announced the iPhone 14 was eSIM only last year. Apple's presentation made it sound incredibly convenient that everything would just happen digitally and you wouldn't have to worry about SIM tools or a physical card anymore, it'll just work! But to quote Dr. Suess "Except when they don't. Because, sometimes they won't."
In that case, oh the places you'll go is your carrier's store or waiting on hold for customer service and see if they can help you over the phone (assuming you have another working phone). Now if something goes wrong with a physical SIM card that is a trip to the carrier store too, but in roughly 15 years of owning phones that use SIM cards I have yet to experience that. The crux of the problem for eSIM is on activation and if anything happens to go awry on the backend of your account.
We saw plenty of the former following the release of the iPhone 14, so I wanted to take a look at one example there as a new wave of eSIM-only phones like the iPhone 15 and perhaps Google Pixel 8 are coming soon, and I'm not convinced the carriers have gotten much better at it. The latter is the problem that I experienced as my daughter's phone needed to be switched to eSIM and it ended up fouling up my phone and hers in the process, I'll touch on that thrilling experience last.
eSIM purgatory
We walked you through how to set up eSIM on iPhone 14 ahead of the launch last year and while it isn't as simple as "remove the SIM from your old phone and put it in your new phone," it was still only six steps and of course, no digging around for a SIM tool was needed.
Now that process went off without a hitch for some people, I had no problems activating the eSIM in the iPhone 14 Pro that I was reviewing at the time. However, for those that the eSIM gods failed to smile upon, it was a vastly different and incredibly frustrating experience.
Kevin The Tech Ninja recounted his experience on his YouTube channel and it mirrored that of many others. He was making the switch from an iPhone 13 to an iPhone 14 on Visible (an MVNO that runs on Verizon's network) and everything was going as planned until he reached the activation stage. It indicated that he should wait up to five minutes for the new phone to activate, but he just kept waiting and it never happened. He reset both the old and new phone and was once again greeted by an endlessly stalled activation screen. The cherry on top was that now neither phone was connected to his account, so Kevin was just completely cut off and at the mercy of getting in touch with Visible's online support which was unsurprisingly buried in other victims of eSIM activation.
Now some of this can be chalked up to carriers being unprepared and not well versed in eSIM, but a year later that doesn't seem to have changed much as I'll cover in my own tale of woe.
Surprise! Your phone doesn't work
As I said, activation was fine for me, my eSIM adversity came about due to an issue with my daughter's iPhone 13 Pro. She was constantly getting the SOS on iPhone message and while we temporarily fixed it each time, it just kept coming back. My conclusion was that either the SIM card or SIM slot was faulty, so off to the T-Mobile store we went. I recounted the problem to them and rather than try another SIM card, we decided to go straight to eSIM as that would eliminate the most possibilities if she still was having problems after the switch. (On a positive note, she hasn't seen SOS on iPhone once now since the switch, so that was the right choice.)
So the T-Mobile employee made the switch, which took about 10-15 minutes, and then we were off on our way with her phone up and running again. It wasn't until we were about halfway home that she looked at a text she just received and realized that it was for me. They had inadvertently switched my line to her phone and deactivated my eSIM in the process. Now this is entirely human error and not the fault of eSIM, but it is a problem that couldn't happen with a SIM card.
I had to get home for a meeting and then finish out my work day completely cut off from my phone, but then it was back to the T-Mobile store with my iPhone 14 Pro and my daughter's iPhone 13 Pro. The employee was incredibly helpful, but completely unversed in this particular situation, so he had to call his manager several times for help. After about 45 minutes he got the appropriate eSIM on both phones, which would seem like the end of the story, but neither phone would actually connect to the network.
As it turned out, the T-Mobile store doesn't have the ability to cure eSIM problems that run this deep, he needed to reach out to their own customer service. This next step took roughly an hour as he was disconnected from customer service multiple times and whatever arcane magic releases or assigns eSIMs must take several minutes to attempt. Eventually, all of the demons were cast out from the phones though and we were each back on our own respective lines and it only cost me my patience and three hours of my finite time on this earth between driving and waiting.
Outlook
Was this a complete disaster that ruined my day, my week, my month, or even my year? No, not really. It was annoying as I am pretty much always strapped for time, but I was near my home and not stranded or anything like that, but it highlights the potential problems. What if I had been traveling and trying to make an eSIM switch only to be left disconnected entirely? What if I was relying on my phone as the digital key to my car?
As someone who reviews phones for a living, this impacts me more than most, but even for those who may face this once every few years it is an element of chaos that is completely out of your control, which is not something I ever want in my tech. I don't believe that continuing to include a SIM slot in our phones was actually a design problem for manufacturers, this simply feels like a play for added control over our devices, and one that the industry was not well prepared for. I have no doubt that eSIM will be more reliable and steadier as time goes on, but for now, just be a little cautious about when and how you go about making these swaps as the carriers are still learning the ropes and the manufacturers pulled the safety net.
Stay in the know with Laptop Mag
Get our in-depth reviews, helpful tips, great deals, and the biggest news stories delivered to your inbox.
Sean Riley has been covering tech professionally for over a decade now. Most of that time was as a freelancer covering varied topics including phones, wearables, tablets, smart home devices, laptops, AR, VR, mobile payments, fintech, and more. Sean is the resident mobile expert at Laptop Mag, specializing in phones and wearables, you'll find plenty of news, reviews, how-to, and opinion pieces on these subjects from him here. But Laptop Mag has also proven a perfect fit for that broad range of interests with reviews and news on the latest laptops, VR games, and computer accessories along with coverage on everything from NFTs to cybersecurity and more.