I spent a week using the iPad Pro as a laptop — I ran back to Windows so fast
The iPad Pro cannot replace your laptop, but not for the reasons you might think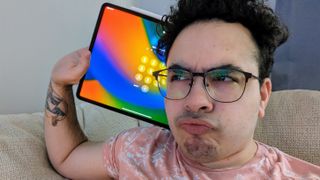 (Image credit: Future)
I recently reviewed the Apple iPad Pro 12.9-inch Gen 6, which is easily the best tablet, killing everything in its radius that dares challenge it in terms of performance. I even liked the keyboard so much that I could see myself using it as a daily driver, which, of course, got Editor Kimberly Gedeon egging me on to use it for a whole week to see if that statement held up. I mean, I gave it a near-perfect score, how bad could it be?
Ugh. As you could probably tell by everything leading you up to this moment — well, it was bad. BUT! Not because it's a tablet— on the outside at least. It's because it's a tablet on the inside! Ahah! See? There's a difference. What the hell am I saying? Let me explain.
The Apple iPad Pro is a stellar piece of hardware that I could easily switch to as a daily device because of its power and flexibility. It's iPadOS that is the trash dumpster fire that won't let me use this potential laptop replacement as anything but a tablet.
What I loved about using the iPad Pro for a week
From a distance, the Magic Keyboard looked like it could get blown over by a stiff breeze, but I found myself pleasantly wrong in my initial review with the keyboard. When I first tested it, I hit 75 words per minute on the 10fastfingers.com typing test, which is just short of my 78-wpm average. After spending a week with it, I retested myself and actually hit my average exactly, indicating that users can grow accustomed to the keyboard with time.
A solid keyboard is great and all, but what makes the iPad Pro a serious contender for a laptop replacement is the built-in stand for the Magic Keyboard. At first, I thought it was silly that the iPad floated with only a part of the stand and didn't even flip 90 degrees. Then I realized that its angle is intended to leverage the weight of the iPad, ensuring that the tablet doesn't tip over or crumble into the case like most tablets tend to do. This lets me place the tablet on a flat surface, a couch or even my lap without it tipping over. Sometimes I need to apply pressure to the deck, but that's it.
Obviously I am going to be trash talking iPadOS, but the one thing that makes the iPad even remotely usable as a daily driver is Stage Manager. This feature acts similar to a browser and its tabs in the sense that the tabs (apps in this case) you're working on are tucked away in the corner of the system and represented with little icons. This means I can easily swap between Slack, Google Docs, and Google Chrome pretty quickly.
TL;DR
The Magic Keyboard is surprisingly sturdy, making the iPad Pro quite comfortable in a clamshell form factor
Stage Manager is a feature that lets you switch between apps fairly quickly, which is useful and convenient for users seeking to use the iPad Pro as a laptop
What I hated about using the iPad Pro for a week
iPadOS is actually a good operating system — for a phone. And that's the problem. Apple slapped the iPadOS title onto iPads back in 2019, but the company still treats it as iOS leftovers. There are few features that make iPadOS unique, but what makes it dead-on -arrival as a laptop replacement are the restrictions of mobile software. The first thing I did when I picked up the iPad was download Google Chrome, log into my Google Account and try to open Google Docs. Doesn't sound like much of an issue, right? Well, it was.
Google Chrome treated me as if I was using it with some lowly phone, but I'm using a $2,000+ tablet damnit. Give me the respect I deserve! Chrome is clearly not optimized for the iPad's screen. However, after tweaking some settings, I managed to improve the UI despite its mobile-first perspective. Easy enough, right? Then there's Gmail, which looked like a gross nightmare — seriously, everything was disorganized and set up like a scam version of the real site. "Okay, I guess I'll just download the app," I told myself. Then I went to Google Docs and guess what? I couldn't access it unless I downloaded the app. A true first-world nightmare.
If you own an iPhone, you know exactly what it's like to own an iPad. There's very little difference as far as the software is concerned. Yes, you get a bigger screen, a keyboard if you can afford it, and a few neat features like Stage Manager. But overall, it acts just like a phone — that's the last thing you want from a laptop replacement. This was especially obvious while writing this very piece and editing my co-worker's articles. Selecting text was super weird because you can't just click and drag, you have to double click and then manually select the highlighted text on the screen. And any search bar I've ever used in a browser does not automatically select the text field when I click it — I had to click it twice. For someone whose job it is to write, iPadOS is a pain.
iPadOS isn't the only thing wrong with the iPad Pro as a laptop replacement though. The Magic Keyboard does a lot right with the space that it has to work with, but it still couldn't fix the small touchpad. Don't get me wrong, it works as well as it can, but it's a bit uncomfortable to go from typing to scrolling. You might even find yourself using the screen to navigate as opposed to the touchpad. To top it all off, I experienced some slowdown using apps like Google Chrome with the touchpad scrolling.
Can I get used to using apps to do all of my work? Yes. Can I get used to the restrictions that the mobile software presents to me? Sure. Do I want to? Hell no. Do you know how much this iPad Pro costs? $2,477. You can buy a fully decked out gaming laptop with that money, or more contextually relevant, a baseline 16-inch MacBook Pro.
TL;DR
Popular apps, like some from the Google platform, are not optimized for iPadOS
Using iPadOS feels limiting — as if you're working on an iPhone
The small touchpad on the Magic Keyboard isn't conducive to hours-long productivity work
There were some slowdowns using certain apps with the touchpad
It makes more sense to purchase a macOS laptop — the iPad Pro doesn't even give you a price break
What could make the iPad Pro a true laptop replacement?
Let's not mince words — it's macOS. macOS is the only thing that could sell me on using the iPad Pro full time. Well, it's not the only thing. If we're being technical, which we love being at Laptop Mag, the iPad Pro can become a true laptop replacement with any operating system that works with applications in a desktop format.
Apple already has macOS, so why not use it? It's not like the iPads can't handle it — they share the same freaking hardware as the MacBooks. The day that iPads become fully desktop formatted is the day that I will praise it as a laptop replacement — and not a day sooner.
Stay in the know with Laptop Mag
Get our in-depth reviews, helpful tips, great deals, and the biggest news stories delivered to your inbox.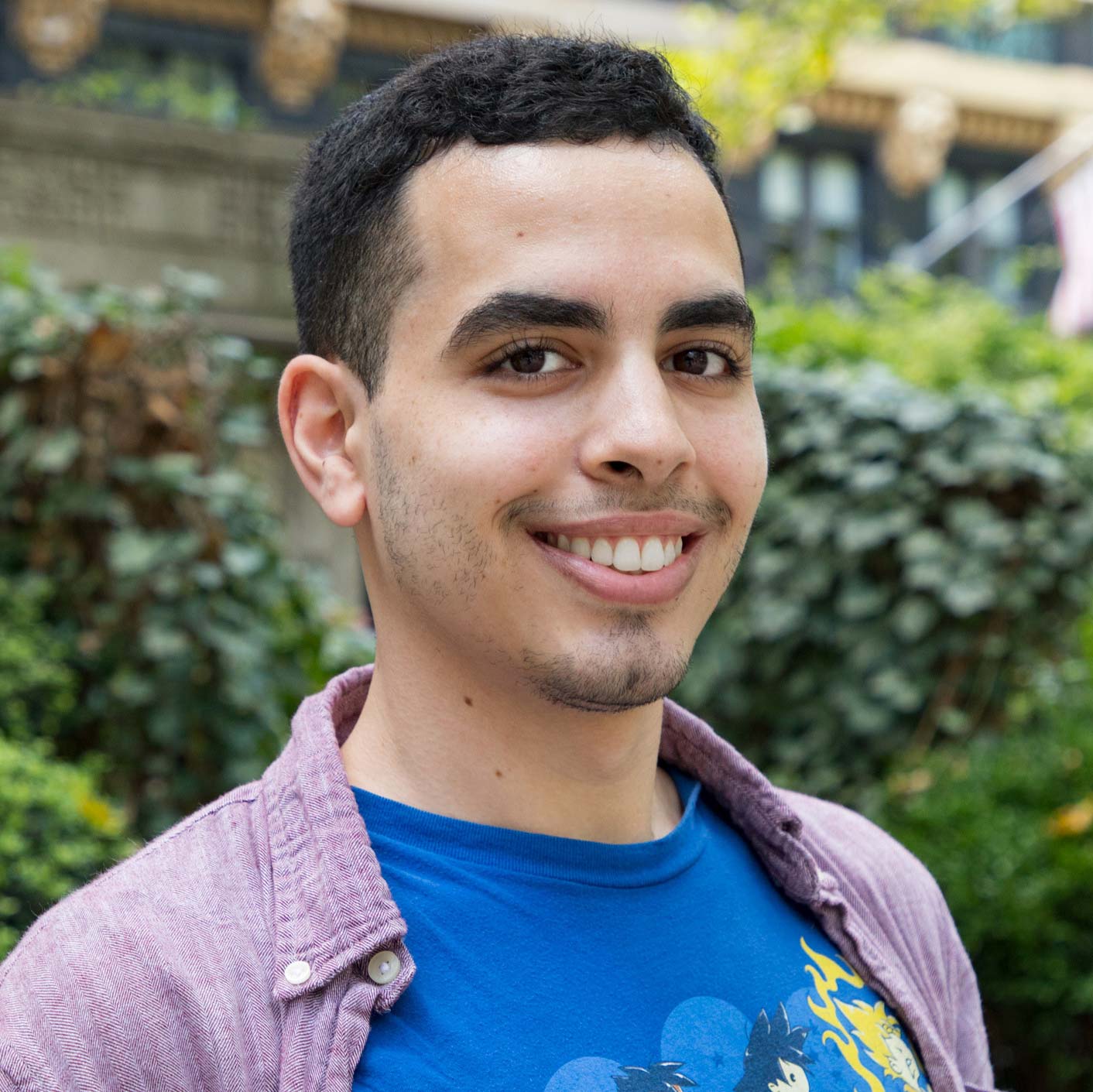 Rami Tabari is an Editor for Laptop Mag. He reviews every shape and form of a laptop as well as all sorts of cool tech. You can find him sitting at his desk surrounded by a hoarder's dream of laptops, and when he navigates his way out to civilization, you can catch him watching really bad anime or playing some kind of painfully difficult game. He's the best at every game and he just doesn't lose. That's why you'll occasionally catch his byline attached to the latest Souls-like challenge.