Android tablets don't stand a chance against the iPad — 3 things Google can do to compete
From subpar hardware to the infected Play Store, Android tablets are sunk if they don't fix things quick.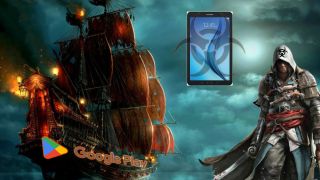 (Image credit: Future)
The tablet market is ever-expanding, like our universe, and to be honest, only a few tablets hit the mark perfectly. These slates seem to understand their purpose and function and stay within themselves without trying to be laptop replacements.
Apple's iPad Air and Pro are the pinnacle of tablets, as much as it pains me to say so, and I have used both to devour content for work and leisure. I have also used both professionally, during photo and video shoots, and they've worked flawlessly in several capacities. I even used an iPad Pro to edit videos in DaVinci Resolve, sigh.
Why the sigh? I have been a huge supporter of Google's Android OS since its inception. I even owned the very first G1 Google phone.
I was so anti-Apple, iPhones, MacBooks, just everything Apple because it felt elitist and because Apple tech owners tend to be snobbish, obnoxious, and now I am one, sigh. Long live the elite!
However, I have held out hope for an excellent Android-based tablet for a while now. My recent review of the OnePlus Pad was very exciting for me because it has just the right touches of everything so many have failed to achieve.
It's a damn good tablet, but still, it's not an iPad. I can't really edit videos on the scale I need to, but I can push documents all day on it and play some games. I will add that the Amazon Fire tablets seem to perfectly understand their place, and Amazon has done an excellent job with them.
Because Android OS is available to anyone, the Android tablet market is saturated with an endless sea of hot garbage that feeds the opinion of many tech journalists and the public that Android tabs are awful and useless. Many also believe the iPad is an abhorrent demonic device pulled from Satan's 9th ring of iniquity, a smoldering hot fraud, a would-be laptop that should be cast back to the hellish place from whence it came.
Anyway, after some contemplation, I have three ideas that I hope will reach someone at Google so that Android tablets can be improved going forward (It won't. Nobody cares what I think, just ask my 13- year-old), and maybe they can use this as a guide to what serious tablet users want and need.
Keep improving Google Workspace
I, like many, have moved on from Microsoft Office and have converted to Google Workspace. Most businesses I've worked at over the last few years have made the switch, and it has gone very smoothly as Google created an excellent MS Office-like environment that also makes it easy to share work and freely collaborate.
Workspace is good, but not perfect. There are times when its limitations are quite frustrating or lead one to have to download extensions that give us the willies because we wonder if will it be infected and cause me to be inundated with ads all day while I am trying to push this endless load of documents.
The answer is sometimes yes, but mostly no. You just have to be very careful which extensions you choose. However, as Workspace continues to be improved, I hope there will be less need for extensions as Google continues to adapt it to fully meet the needs of most users.
A native PDF editor would be good to have. Yes, you can edit PDFs in Google Docs, but it doesn't work naturally, and it's a struggle. Editing photos within Workspace is flat-out awful, and that needs serious improvement.
Lastly, I was an early adapter to Gmail and have always loved it because I, like most, love free. Free is the best. However, as of late, free is costing me time, as I sit here constantly closing the abusive amounts of ads that now populate my free Gmail account like an invading hoard of silver senior ads, prostate cancer ads, and an endless stream of shopping ads that make we want to live off the grid making my own clothing from the husks of coconuts.
Set hardware standards
The other major issue with Android tablets is since anyone can slap the OS into any device possible, there are no hardware standards for makers. Which, fine, a cheap tab does make a great e-reader (sometimes), but many need more in a lightweight content-devouring device.
I have seen Android displays range from barely HD (720p) to 4K in an Android tablet. Look, nobody wants to watch anything in 720p, not even my elderly aunts and uncles. They want crisp, clean images, bright colors, high contrast, and a smooth touch interface. I know because they've told me. Which, BTW, those of you making devices geared at retirees, pay attention; do not treat them like arthritic-thumbed children; they hate it. Give them the quality they have earned and similar potent specs we find in tablets geared toward the young. My Titi and Tio like to make their TikTok dance videos too.
If Google set a hardware standard, we would see a huge upgrade in tablets follows. The hardware standard is no small part of why Apple's iPad is such a great tablet. Apple's tablets combine potent specs (Bionic chipsets, solid cameras) that can handle the kind of applications that many wish worked on Android tablets. Because, let's be clear, I've used some Android tablets that are so close to excellent but fail to reach the lofty space Apple has created. All Google needs to do is set the standard for chipsets, cameras, and RAM, which will level up the overall Android experience. Although a hardware standard would help, there is one other massive reason Android tabs remain a failure of epic proportions.
The Google Play Store is more infected than a Pirate ships crew in the 1800s
The Google Play Store is a leaky pirate ship spreading more viruses than conquering colonists. The Google Play Store is the smallpox-infested blanket of app stores, and I could go on with endless historical references and share articles to prove my point, but it's such a well-known thing I must digress.
Google's Play Store also needs better developer standards. In comparison, Apple App Store is damn near a fortress, although the occasional uninvited infected barbarian horde challenges the code ninja monks that reside in the dark, inaccessible regions that lay behind the circled walls of Cupertino, ready to defeat them. Apple always reacts quicker than a Bruce Lee one-inch punch to security threats.
Meanwhile, just recently, it was pointed out that there are over 60,000 infected apps roaming freely like sick buffalo in the Play Store. In May, we reported that over 620,000 Android users were infected with subscription trojans, and there are more stories. There are always new stories of infection from Google's app store. They should change the name from Play Store to Walk-In Clinic or Play at your own risk camp because it's constantly happening, and Google should be ashamed of itself.
Google needs to work harder to regulate what internet terrorists upload to its app store. They should also tighten the reins on developers a bit to ensure the safety of apps, which also would protect the data of users. At some point, Google has to be responsible, or consumers could find a way to hold the company accountable in court.
Final thoughts
I will be as brief as possible here. Google needs to patch up its ship a bit. Android is a great operating system, but it could be safer. I personally love the Oxygen skin found on OnePlus devices. It's tight and secure, in my experience, and it runs wonderfully.
Suppose Google can continue to improve upon Workspace to make it the premier productivity suite, establish a higher minimum standard for Android tablet hardware, and clean up the Google Play Store. In that case, it can make Android tablets into a much more credible iPad rival. Alright, I have to go make a TikTok with my iPad, have a good weekend, folks.
Stay in the know with Laptop Mag
Get our in-depth reviews, helpful tips, great deals, and the biggest news stories delivered to your inbox.
Mark has spent 20 years headlining comedy shows around the country and made appearances on ABC, MTV, Comedy Central, Howard Stern, Food Network, and Sirius XM Radio. He has written about every topic imaginable, from dating, family, politics, social issues, and tech. He wrote his first tech articles for the now-defunct Dads On Tech 10 years ago, and his passion for combining humor and tech has grown under the tutelage of the Laptop Mag team. His penchant for tearing things down and rebuilding them did not make Mark popular at home, however, when he got his hands on the legendary Commodore 64, his passion for all things tech deepened. These days, when he is not filming, editing footage, tinkering with cameras and laptops, or on stage, he can be found at his desk snacking, writing about everything tech, new jokes, or scripts he dreams of filming.