I test headphones for a living – these are the 5 most underrated wireless earbuds
These true wireless models deserve more recognition for their elite performance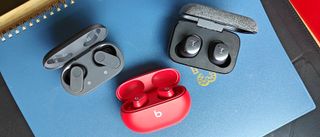 (Image credit: Alex Bracetti/Future)
For every AirPods Pro, there are a handful of superb wireless earbuds that get lost in the true-wireless shuffle. This can be blamed on bad timing, poor marketing, or in most cases, lack of popularity. Apple has done an impeccable job of selling consumers on efficient, high-quality audio products that work perfectly within their ecosystem. Other top brands like Bose and Sony have their respective cornerstones in active noise cancellation (ANC) and sound quality, which certainly influence consumers seeking premium AirPods alternatives.
But if you look beyond the big three's heavily advertised offerings, you'll discover some amazing wireless earbuds that perform similarly to, if not better than, the AirPods and company. Some excel in key areas (e.g., audio, battery life, call quality), while others offer greater value at a much lower price point.
Having tested over a hundred models these past 7 years, I felt compelled to share the market's most overlooked and more affordable true wireless options. These are the 5 most underrated wireless earbuds based on performance, price, and purpose.
Most underrated premium wireless earbuds
Sennheiser Momentum True Wireless 3
It's shameful that Sennheiser's flagship buds haven't gotten their due. They're equally excellent to the AirPods Pro 2 and Bose QuietComfort Earbuds 2, almost rivaling the latter in ANC and producing sound that is superior to both models. The updated design looks beautiful, boasts touch-accurate controls, and rests comfortably on the ear. Battery life is sufficient at up to 7 hours, while the attractive fabric-woven charging case holds an extra 28 hours. Then come Sennheiser's smart features, which reside in the companion app.
The adaptive sound settings on the over-ear Momentum 4 are present, including Sound Check and Sound Zones, which tailor sound to your ear and automatically tweak the EQ based on your location. Sennheiser's adaptive noise cancellation adjusts to your surroundings and reduces ambient noise at an incredibly high level. Lastly, functions like Auto-Accept Call and Smart Pause provide unique ways to interact with the buds.
All that functionality and style for only $199 makes these fancy in-ears the best premium earbuds deal out there.
Read our full Sennheiser Momentum True Wireless 3 review.
Most underrated wireless earbuds for voice and video calls
Jabra Connect 5T
Jabra revamped their entire wireless earbuds collection when it was unnecessary. The Elite Active 75t are still considered by brand enthusiasts to be the best wireless earbuds after three years on the market. All the newest Elite models have been well-received, but none are the jaw-dropping successes that were Jabra's older releases. That's what makes the Connect 5T such a special product. These buds are a return to Jabra's glory days and stand out as some of the best earbuds for voice and video calls.
Jabra's mic array is powerful and picks up vocals loud and clearly, especially during Zoom chats. That performance carries over to voice assistance for superb Google Assistant and Siri use. Strong connectivity with multipoint technology to pair the buds to two devices simultaneously makes switching between a smartphone and laptop (and vice versa) a breeze. Let's not forget that they also work for music listening and produce warm, rich sound that can be customized in the Jabra Sound+ app, along with other signature features (e.g., ANC, Call Experience). The Connect 5T does share the same architecture and design as the Elite 5, but they look more sophisticated and come with a chic wireless charger that makes for attractive workstation décor. Simply put, these are the work-from-home buds you want in your ears to enjoy vibrant-sounding music and take business calls at will.
Check out Tom's Guide Jabra Connect 5T review.
Most underrated wireless earbuds for iOS/Android users
Beats Studio Buds
It took long enough, but Apple finally created platform-neutral buds that play nicely with iOS/macOS and Android devices. The Studio Buds operate smoothly on all platforms and are revered for their wide and well-balanced soundstage. Beats developed an 8.2mm, dual-element diaphragm driver and custom designed transducers that produce energetic hi-fi audio, while refining the brand's signature bass performance. Clarity and dynamic range shine on Apple Music, Spotify, and Tidal, no matter what device you're using. Apple's spatial audio comes included for surround sound listening with compatible Apple Music tracks. ANC also performs well and adapts to environments by measuring and minimizing noise levels.
While it's understandable to drool over their expansive feature set, the Studio Buds' greatest achievement is multiplatform support. Instantaneously pairing to iPhones and Android smartphones is massively convenient, plus access to key Apple features like Find My support and sound personalization via system-wide EQ are priceless. And what's not to love about the modernized oval design with logo plastered on the multifunctional button?
Now that the Studio Buds+ are official, these first-gen buds are due for a big price drop, and they're well worth the pickup when priced under $100, which is very often.
Read our full Beats Studio Buds review.
Most underrated mid-range wireless earbuds
Sennheiser CX Plus
You know how difficult it is to pull off flagship sound on low-midrange wireless earbuds? Sennheiser does, yet they made it look effortless on the CX Plus. This follow-up to the disappointing CX True Wireless is a significant upgrade that delivers signature Sennheiser audio with balanced, accurate results. Expect a dose of deep lows, rich mids, and detailed highs. Bluetooth 5.2 with aptX Adaptive makes for a more dynamic, fast-streaming music listening experience that boosts fidelity on lossless music platforms like Tidal.
The CX Plus don't just carry the soundstage of a luxury true wireless model. They're also terrific buds for voice and video calls, capturing vocals precisely and eliminating background noise effectively, thanks to strong ANC. Other notable hallmarks include companion app support with sound customization tools, powerful connectivity, and spot-on touch controls.
Read our full Sennheiser CX Plus review.
Most underrated wireless earbuds value
OnePlus Nord Buds 2
OnePlus' newest wireless earbuds are the company's most impressive to date. At only $59, the Nord Buds 2 pack adequate ANC, class-leading quick charging, and rich, versatile sound into a water-resistant design (IP55). Noise cancellation is sufficient for blocking out most low- and mid-frequency sounds. Playtimes seem a bit short at 5 to 7 hours, depending how you use the buds, but a 10-minute quick charge can generate 5 hours of listening time (with a 5VDC 0.9A adapter). Not to mention the charging case holds an additional 5 charges (27 to 36 hours).
Sound is where the Nord Buds 2 demonstrate their worth. OnePlus refined their sound profile by extending mids and highs for better-balanced audio. Bass remains impactful as it did on the previous version. The HeyMelody app offers sound personalization via custom EQ with 4 presets and BassWave technology, the latter producing emphatic bass on contemporary tracks. Then come upmarket features like Dolby Atmos, Dirac Audio Tuner, and spatial audio that create an immersive listening experience by giving media (e.g., movies, movies, videos) a more natural and realistic presence. Only OnePlus device owners get to access the latter trio, but all iOS and Android users can enjoy the Nord Buds 2's dynamic bass-forward presence.
Stay in the know with Laptop Mag
Get our in-depth reviews, helpful tips, great deals, and the biggest news stories delivered to your inbox.