The lightweight Portege X40K laptop is a utilitarian business laptop with enough performance and battery life to get you through your daily workflow, but its weak performing webcam and speakers steal from an otherwise solid showing.
Pros
+

Lightweight, durable build quality

+

Nice selection of ports

+

Good performance
Cons
-

Weak speakers

-

Dim, dull display

-

Below-average battery life

-

Antiquated webcam
Why you can trust Laptop Mag Our expert reviewers spend hours testing and comparing products and services so you can choose the best for you. Find out more about how we test.
Dynabook Portege X40-K specs
Price: $1,569.99 as tested Base model $1,349.99
CPU: Intel Core i7-1260P
GPU: Intel Iris Xe Graphics
RAM: 16GB
Storage: 512GB SSD
Display: 13-inch FHD (1920 x 1080)
Battery: 9:52
Size: 12.3 x 8.8 x 0.63 inches
Weight: 2.31 pounds
The Dynabook Portege X40-K is a lightweight, business machine designed for small businesses with big dreams. It comes with a capable Intel Core i7-1260 CPU, designed to grant users all-day battery life — and the X40-K achieves that. However, certain design quirks could keep the Dynabook off our best business laptops page.
Although the sturdy and stylish design of the X40-K is a win, the weak audio performance and webcam are concerning, especially for those who will be using it during video conferences. However, with nearly ten hours of battery life, the Dynabook X40-K could be a solid choice for some. Let's dig a little deeper and find out.
Dynabook Portege X40-K price and configurations
The Dynabook Portege X 40-K I tested costs $1,569.99 and has a 12th Gen Intel Core i7-1260P processor, 16GB of RAM, 512GB of SSD storage, and Intel Iris Xe graphics. The Portege ships with a 14-inch, FHD (1920 x 1080) display with an HD (720p) webcam found at the center of the display.
The base model Portege X40K starts at $1,349.99 and features a 12th Gen Intel Core i5-1250P CPU, 8GB of RAM, 256GB of SSD storage, and the same 14-inch FHD display.
Dynabook Portege X40-K design
At first glance, the Dynabook looks a little bland, but once the light hits, it shows its true colors. The chassis's color— Tech Blue Metallic — enhances the all-metal build, creating a bold appearance that most consumers will love. Combined with the slick brushed finish, the Portege stands out in a business world drowning in drab greys and black laptops. Its overall feel is a stylish blue business suit ready to take on the world and impress your colleagues.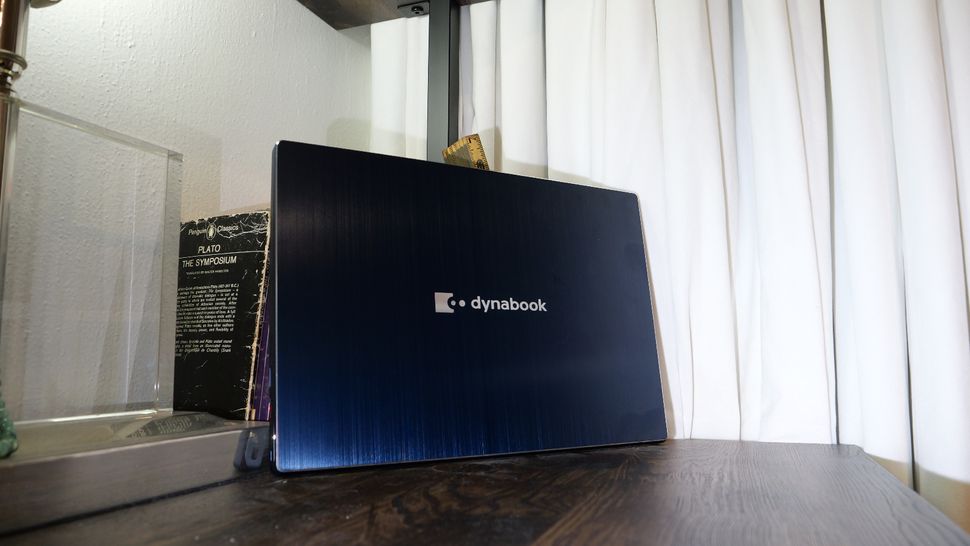 Once you open it up, you'll find the 14-inch FHD, 1080p display that's relatively bright and colorful. The screen has a black matte plastic slim bezel that houses a centrally mounted webcam. The keyboard deck matches the overall aesthetic with the same deep blue as the rest of the laptop but with a slightly recessed area where the keyboard resides. The fingerprint reader sits in the upper corner of the trackpad.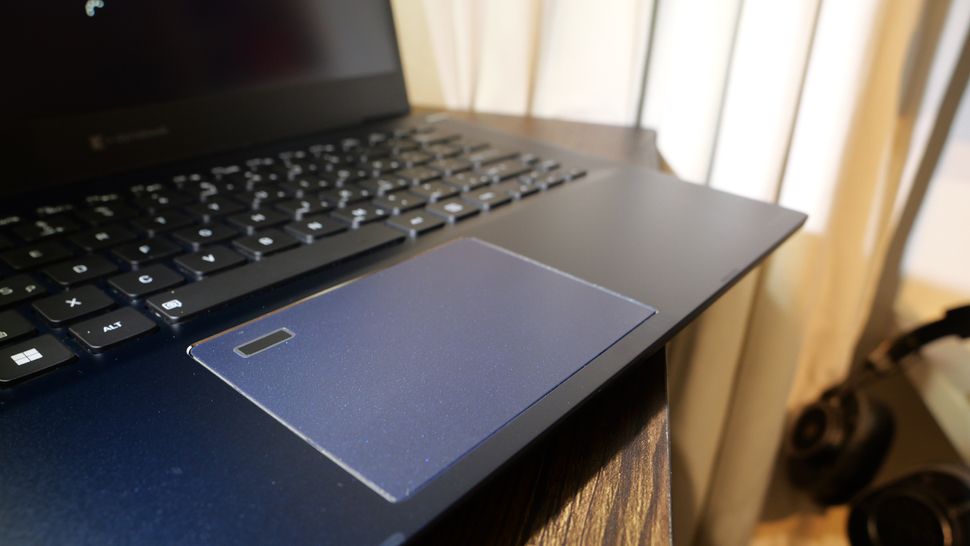 The Portege X40K measures 12.3 x 8.8 x 0.6 inches and weighs 2.2 pounds. Comparatively, the Dell Latitude 9420 2 in 1 weighs 3.2 pounds and measures in at 12.2 x 8.5 x 0.5 inches. The HP Elite Dragonfly G3, the Dynabook's second rival in this review, also weighs 2.2 pounds with dimensions of 11.7 x 8.7 x 0.64 inches.
Dynabook Portege X40-K security and durability
To cover your security needs, Dynabook has a physical security shutter for the webcam. You also have the fingerprint reader on the touchpad, allowing you to set up Windows Hello for easy, secure logins. There is also an integrated Trusted Platform Module (TPM), creating several layers of protection to keep your personal and business files safe and secure.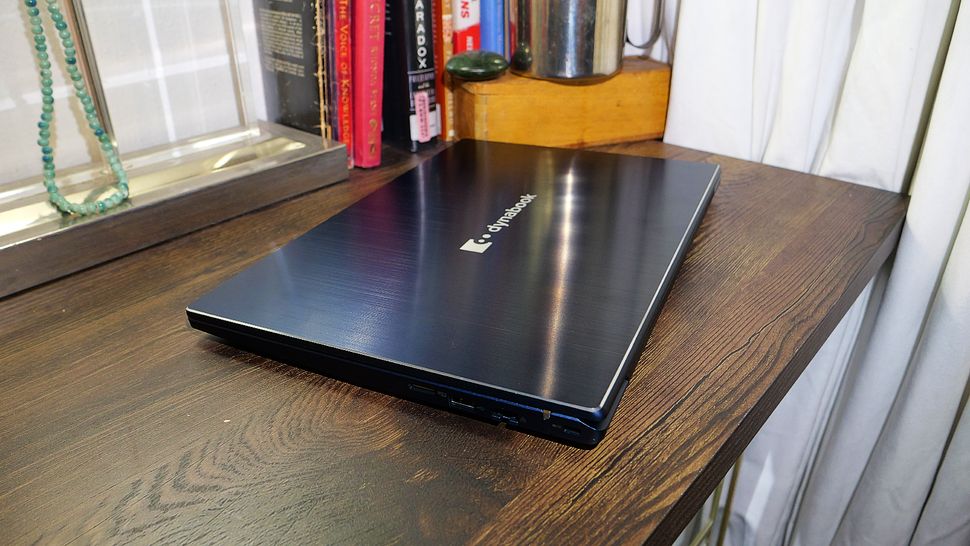 Let's not forget the nano Kensington lock in case you need to secure your laptop physically. Also, the Dynabook Portege may be a lightweight travel partner, but it's also fairly sturdy, having earned its MIL-STD 810H certification, a rigorous standard of testing developed by the US military that proves that it can withstand extreme temperatures, moisture, dust, shocks, and more.
Dynabook Portege X40-K ports
The Dynabook is lightweight and slim, but that doesn't mean it lacks ports. This ultraportable comes with a decent collection of ports, allowing for a great deal of connectivity.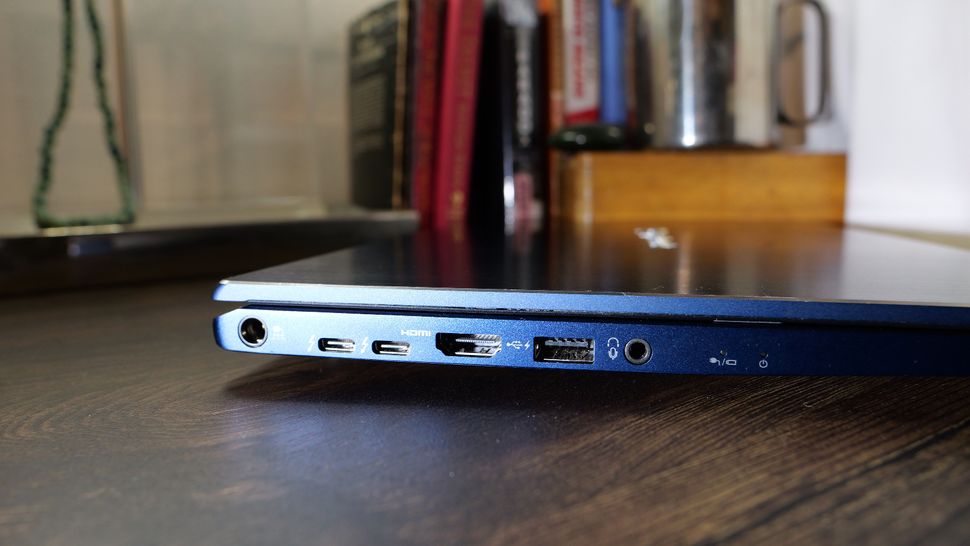 On the left, you'll find the AC power port, two Thunderbolt 4 ports, an HDMI port, and a combo audio jack.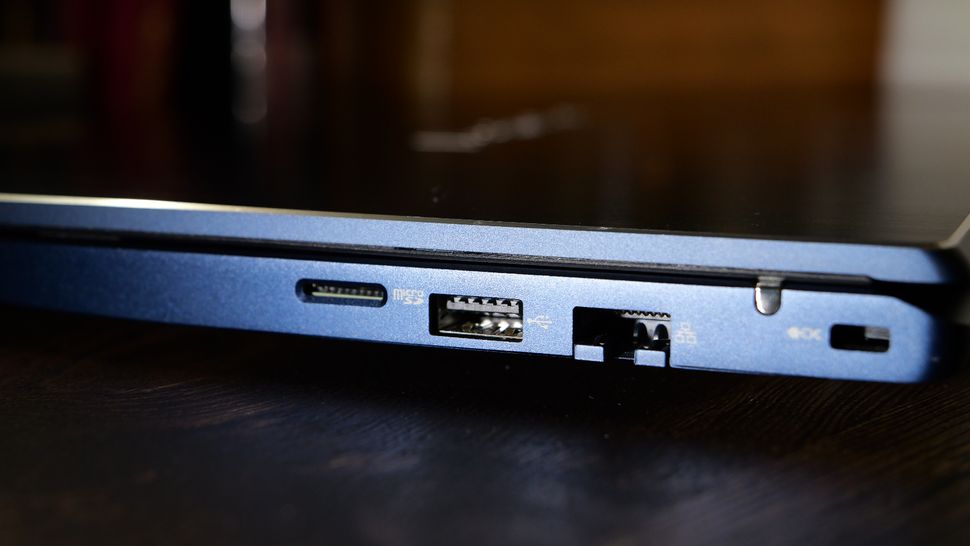 The right side features a microSD card reader slot, two USB-Type A ports, and a nano Kensington lock port. So your port needs are covered by the Portege, but if you need more, check out our list of the best docking stations that should do the trick.
Dynabook Portege X40-K display
The 14-inch, 1920 x 1080-pixel resolution display on the Portege is sufficiently vivid and bright enough, and the text is crisp and clear as I worked documents in Google Workspace and Microsoft Office.
I watched Marvel's Captain America: Civil War on Disney Plus, and the fight between Captain America and Iron Man popped off the display with Stark's hot white and yellow repulsor blasts glowing off of Cap's shield. The Portege's display does a good job of rendering color while nicely capturing skin tones and dark shadows within images.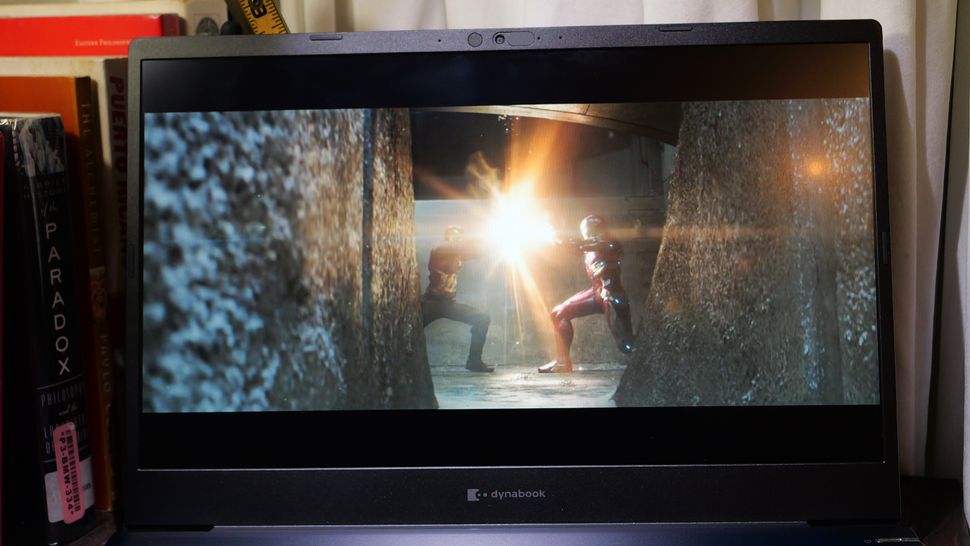 We measured the Dynabook's display with a colorimeter, and it covered 47.3% of the DCI-P3 color gamut, which is well below the average premium laptop (87.1%) —how disappointing.
Swipe to scroll horizontally
DCI-P3 color gamut

| DCI-P3 color gamut percentage | Header Cell - Column 1 | Header Cell - Column 2 |
| --- | --- | --- |
| Dynabook Portege X40-K | 47.3% | Row 0 - Cell 2 |
| Dell Latitude 9420 2-in-1 | 89% | Row 1 - Cell 2 |
| HP Elite Dragonfly | 80.2% | Row 2 - Cell 2 |
The Latitude led our group covering 89% of the DCI-P3 color gamut, followed by the Dragonfly, which covered 80.2% of the space.
Swipe to scroll horizontally
Display Brightness

| Display Brightness Average (Nits) | Header Cell - Column 1 | Header Cell - Column 2 |
| --- | --- | --- |
| Dynabook Portege X40-K | 237 | Row 0 - Cell 2 |
| Dell Latitude 9420 2-in-1 | 387 | Row 1 - Cell 2 |
| HP Elite Dragonfly | 370 | Row 2 - Cell 2 |
Next, we ran our display brightness tests, and again, the Dynabook's 237-nit display underperformed, scoring way below the average premium laptop (387 nits). Once again, the Latitude led our group averaging 477 nits; the Dragonfly averaged 370 nits.
Dynabook Portege X40-K audio
The Portege's speakers are nothing to write home about. The performance is a bit weak, despite the DTS tuning. The Dynabook's down-firing speakers are located on the front edge and simply do not pump out enough audio to be truly satisfying. Again, this is a business laptop, not an entertainment-focused one, so this is to be expected.
I fired up Spotify and listened to Megan Thee Stallion's "Her." The house music baseline hit pretty hard, but the Dynabooks speakers made what was supposed to be a strong low-end sound a little crunchy. High tones were reproduced adequately with occasional tinniness.
Next, I listened to John Coltrane's "My Favorite Things" album with its beautiful melodies, smooth piano, and soft jazz drums. If I kept it low, the speakers were passable, but if I turned it up, there was distortion in the audio, especially in the lower audio range.
Dynabook Portege X40-K keyboard and touchpad
The keyboard layout on the Dynabook Portege X40k is a well-designed Chiclet-style backlit keyboard that's super responsive and bouncy. The backlight is bright, and the spacing between keys is perfect. My gnarly mayhem mitts (i.e., my fingers) found the keyboard roomy as I managed a spritely 92 words per minute during the 10FastFingers.com test with 96% accuracy.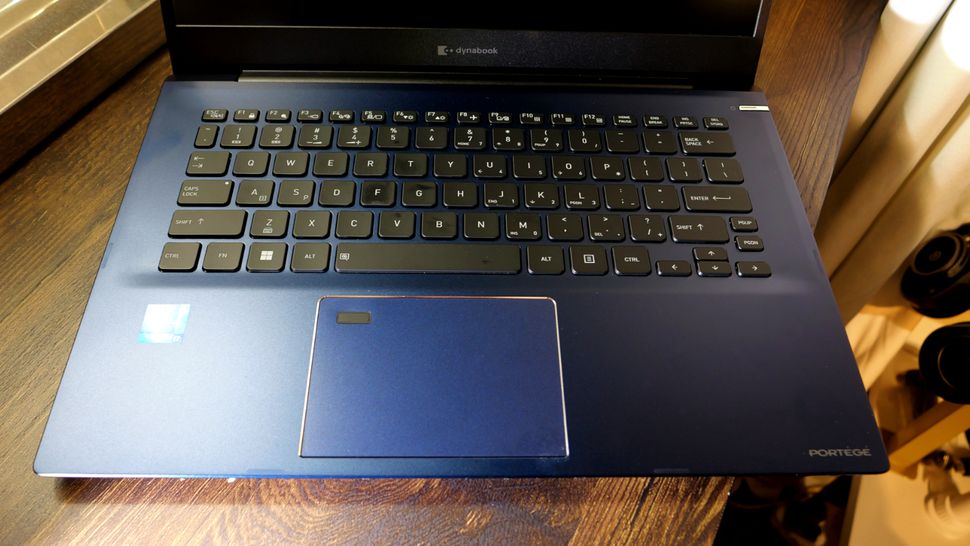 My average is 88 wpm with 91% accuracy, so I was slightly above my normal rate. The touchpad is centrally located beneath the keyboard and features attractive chrome edging. The 4 x 2.5-inch touchpad is very clicky and very responsive.
It quickly and smoothly handled all my Windows 11 gestures, including two-finger scrolling and pinch-to-zoom.
Dynabook Portege X40-K performance
The Dynabpook's Intel Core i7-1260P CPU, Intel Iris Xe graphics, 16GB of RAM and 512GB SSD are solid specs so I wanted to push it a bit. I cranked up Google Chrome and opened 45 tabs while working on some documents in Google Docs. Plus, I had three YouTube videos playing.I tried to bog it down, but it held up well with no laggy performance to speak of — and it remained relatively cool with little to no fan noise.
Swipe to scroll horizontally
Geekbench 5.4 results

| Multi-core scores | Header Cell - Column 1 | Header Cell - Column 2 |
| --- | --- | --- |
| DynaBook Portege X40-K | 7,486 | Row 0 - Cell 2 |
| HP Elite Dragonfly | 6,501 | Row 1 - Cell 2 |
| Dell Latitude 9420 2-in-1 | 6,037 | Row 2 - Cell 2 |
In our Geekbench 5.4 overall performance test, the Portege scored 7,486, which surpassed the premium laptop average of 6,985. So it rose to the occasion, and I was happy to see that it led our group in the category. The HP Elite Dragonfly's (Intel Core i7-1265U CPU) score of 6,501 placed it second and the Latitude (Intel Core i7-1185G7 CPU) closed us out with 6,037.
On the Handbrake video transcoding test, which tests how fast a laptop can convert a 4K video to 1080p resolution, the Portege took 8 minutes to do so while performing slightly better than the category average (8:47). The Dynabook headed up our group with the Dragonfly transcoding the same video in 13 minutes and 9 seconds and the Latitude finishing in 13 minutes and 35 seconds.
The 512GB SSD in the Portege X40K took 46 seconds to duplicate a 25GB multimedia file for a transfer rate of 581.49 megabytes per second (MBps).The premium laptop average is 1,239.54 MBps. The HP Elite Dragonfly's 512GB SSD said, "Hold my beer," and delivered 1,157.23 MBps, smoking the competition. The Latitude's 512GB SSD lagged behind at 401.9 MBps.
Dynabook Portege X40-K graphics
The Dynabook Portege X40K is a business laptop and its integrated Intel Iris Xe GPU is meant to handle document pushing and maybe some light image and presentation slide editing. It's not meant for gaming at all.
Swipe to scroll horizontally
Sid Meier's Civilization VI: Gathering Storm (1080p)

| | | |
| --- | --- | --- |
| Dynabook Portege X40-K | 41FPS | Row 0 - Cell 2 |
| Dell Latitude 9420 2-in-1 | 23FPS | Row 1 - Cell 2 |
| HP Elite Dragonfly | 25FPS | Row 2 - Cell 2 |
We tested the GPU using Sid Meier's Civilization VI benchmark in 1080p. The X40K scored 41 frames per second, which is below the premium laptop average of 48 fps. However, that's still better than the scores outputted by the Dragonfly (25 fps) and the Latitude (23 fps), which share the same GPU as the Portege..
Running the 3DMark Time Spy benchmark, the Dynabook tallied a score of 1,520, which sadly was way below the 3.357 category average. The Dell Latitude and Dragonfly were better with scores of 1,838 and 1,512, respectively, but still failed to match the average.
Dynabook Portege X40-K battery life
The Dynabook's battery life is solid as it lasted 9 hours and 52 minutes during the Laptop Mag battery test, which involves continuous web surfing over Wi-Fi at 150 nits of brightness. It came close to reaching the premium laptop average (10:02). The Dell Latitude (15:02) and HP Elite Dragonfly (14:20) demolished the Dynabook's runtime.
Dynabook Portege X40-K heat
During our heat test, which involves playing a 15-minute, 1080p video, the Portege's underside reached 92.5 degrees Fahrenheit, which is within our 95-degree comfort range. The keyboard hit 90 degrees while the touchpad was a cool 80.5 degrees.
Dynabook Portege X40-K webcam
The Dynabook Portege X40K's HD (720) webcam is quickly becoming a dinosaur in a world where most OEMs are switching to 1080p — at the very least. As expected, the images were soft and grainy, but it will do in a pinch. Low-light performance was disappointing and it struggled with accurately reproducing skin tones. Dynabook needs to upgrade the camera in the next version if it wants to keep up with its competitors.
If this is your home office webcam, I would suggest purchasing a higher-resolution external webcam to get a better experience and features. You can check out our best webcams list if you need help.
Dynabook Portege X40-K software and warranty
The Portege comes with a very clean Windows 11 Pro with barely any bloatware, except for the common offenders: Netflix, Spotify, and the Microsoft Solitaire collection. The X13s comes with an unusual three-year limited warranty. Most laptop OEMs tend to have a standard one-year warranty with options to buy more. Dynabook offers more, which should give consumers a bit of comfort.
Bottom line
If you're a mobile professional looking to outfit your team with a solid, durable laptop that looks good and gets the job done, the Dynabook Portege X40-K is a solid choice for your mobile productivity employees. Thanks to its Core i7 processor, it serves up a good performance and its lightweight chassis makes working on the go a seamless, easy experience. And we're never going to say no to a comfortable keyboard.
However, for the price. I'd expect a display with better brightness and color accuracy as well as a faster SSD and slightly longer battery life. And if you do a lot of video conference calls, you're going to need to purchase an external webcam. If those things are important, we'd recommend taking a hard look at the Dell Latitude 9420 2-in-1, which is available for $1,459 on Amazon.
Overall, the Dynabook Portege X40K is a solid business travelers' laptop meant for document pushers who need all-day battery life and a lightweight, easy-on-the-eyes system that will keep up with most workflows on the go.
Mark has spent 20 years headlining comedy shows around the country and made appearances on ABC, MTV, Comedy Central, Howard Stern, Food Network, and Sirius XM Radio. He has written about every topic imaginable, from dating, family, politics, social issues, and tech. He wrote his first tech articles for the now-defunct Dads On Tech 10 years ago, and his passion for combining humor and tech has grown under the tutelage of the Laptop Mag team. His penchant for tearing things down and rebuilding them did not make Mark popular at home, however, when he got his hands on the legendary Commodore 64, his passion for all things tech deepened. These days, when he is not filming, editing footage, tinkering with cameras and laptops, or on stage, he can be found at his desk snacking, writing about everything tech, new jokes, or scripts he dreams of filming.