Is the Pixel Tablet secretly a 2-in-1? Google has further plans in mind
Is the Pixel a portable PC?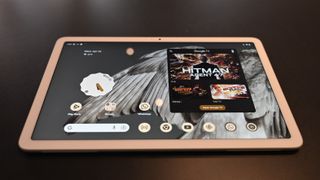 (Image credit: Future)
We had to wait an entire year to get a better look at the Pixel Tablet, first announced at Google I/O 2022. We eventually got a full rundown of what to expect at this years Google I/O event, but the question remains, "What took them so long?"
According to reputable tech-tipster Kamila Wojciechowska, the delay was down to the device simply not being ready for market – something she believes is still the case today.
A missing piece of the puzzle
Obviously, the Pixel Tablet is a complete product – there's no gaping holes or exposed wires to speak of at least. But that doesn't mean that the Pixel Tablet is the product Google fully intended it to be.
Wojciechowska points to two unreleased accessories as key examples of this, "Stylus for Pixel Tablet" and "Keyboard for Pixel Tablet." The Pixel Tablet's partnering peripherals are seemingly AWOL as of present, but were intended to be released alongside Google's slate. However, the delays that affected the Pixel Tablet seem to have had a knock on effect when it comes to these products also.
im not too surprised, they delayed the tablet a whole year because it wasnt ready and its still not finished now (the situation is about the same in case of the stylus/keyboard, its still in development)May 29, 2023
Outlook
Pairing the Pixel Tablet with a solid keyboard and stylus would allow the device to transform into a perfectly functional 2-in-1 for those who need something lightweight and ultra-portable to work with while on the move. Considering the Pixel Tablet's current split function as a home hub when docked, Google's initial vision for the tablet could have been that of a true all-round device with multiple functions.
Wojciechowska believes that the accessories are still in development, though as of yet there's no clear indication of when they could arrive.
Does the news of Google's future accessories for the Pixel Tab make it a more compelling device? Let us know, and keep your eyes peeled to Laptop Mag for the latest in news, features and reviews from the world of tech.
Stay in the know with Laptop Mag
Get our in-depth reviews, helpful tips, great deals, and the biggest news stories delivered to your inbox.
Rael Hornby, potentially influenced by far too many LucasArts titles at an early age, once thought he'd grow up to be a mighty pirate. However, after several interventions with close friends and family members, you're now much more likely to see his name attached to the bylines of tech articles. While not maintaining a double life as an aspiring writer by day and indie game dev by night, you'll find him sat in a corner somewhere muttering to himself about microtransactions or hunting down promising indie games on Twitter.