Google gaming project withers on the vine — RIP Chromebook gaming
Back to streaming for now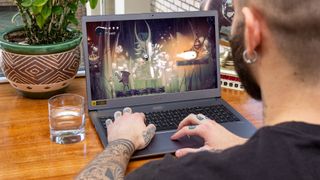 (Image credit: Future)
Google faces another setback in its seemingly never-ending Odyssey to find the first rung of the gaming ladder. Today marks the death of one of the brand's more promising ventures, Chromebooks with Nvidia GPUs.
Listen closely and you might just hear the flump as the body of the most anticipated Chromebook feature to date falls lifelessly into Google's gaming grave. Stadia can rest in peace, no doubt keeping a spot warm for the upcoming launch of YouTube Playables.
Gaming on ChromeOS? ChromeO-No
There were Great Expectations for gaming on ChromeOS after it was reported that Google would be bringing Nvidia RTX graphics to Chromebook. Combined with an ongoing collaboration with Valve to bring Steam to the machine's Linux-based operating system, the dream of Chromebook gaming was closer than ever.
However, the best-laid plans Of Mice and Men often go awry and Google's plans may have amounted to Moby Dick. According to comments found in Google code spotted by About Chromebooks, projects "Herobrine", "Hades", and "Agah" have all been canceled. The latter two being codenames of the Chromebooks said to have housed Nvidia RTX GPUs.
Holding out hope, or clutching at straws?
No doubt the news will leave Chromebook fans Les Misérables, but that's not to say that Google's dedicated graphics goals are completely Gone With The Wind - just that their partnership with Nvidia could no longer be on the cards.
It kind of defeats the idea of a Chromebook anyway, as the budget, small-form, on-the-go device would have to balloon in size, power, and price in order to accommodate such an upgrade. It'd still be a Chromebook, but the book in question would likely be War and Peace.
However, all hope might not be lost. In an entirely speculative notion, with no backing in reality whatsoever, While it was the technology of the Steam Deck that propelled Google to chase better gaming performance in its Chromebooks, there's potential for the technology that powers the ROG Ally to be what has made their Nvidia RTX dreams come to an end.
Other options exist
Powerful chipsets like the AMD Ryzen Z1 might be designed for handheld gaming, but they're considerably more powerful than integrated options and draw a level with desktop Nvidia GeForce GTX 1650 graphics cards. Could it be that Google has been lured away from Nvidia's ray-tracing GPUs by AMD's handheld workhorse?
Another option is Intel's new discrete option the Intel Arc mobile GPU. Intel's Arc may be a newcomer to the mobile laptop scene, but its first-gen offering hasn't been the disaster many thought it might be. While on the low end of the mobile GPU scale, future generations could greatly improve performance and eventually make Intel a key player in the mobile GPU space. Though, admittedly, at present it's practically The Invisible Man.
Outlook
It's unsure if Google has bid A Farewell to Arms comes to the Brave New World of true gaming Chromebooks, but this is a definite sign that things aren't going as smoothly as hoped. While there's still some hope for Google to make good on its plans, for now at least ChromeOS gamers may have to come to terms with a Paradise Lost.
For news, rumors, and updates on all things Chromebook and tech, follow Laptop Mag on Twitter, Facebook, and Flipboard for the latest word as it arrives.
Category
Back to Gaming Laptops
Brand
Processor
RAM
Storage Size
Screen Size
Colour
Condition
Price
Stay in the know with Laptop Mag
Get our in-depth reviews, helpful tips, great deals, and the biggest news stories delivered to your inbox.
Rael Hornby, potentially influenced by far too many LucasArts titles at an early age, once thought he'd grow up to be a mighty pirate. However, after several interventions with close friends and family members, you're now much more likely to see his name attached to the bylines of tech articles. While not maintaining a double life as an aspiring writer by day and indie game dev by night, you'll find him sat in a corner somewhere muttering to himself about microtransactions or hunting down promising indie games on Twitter.